Go On, You Have Chef Approval To Order The Steak Tips At IHOP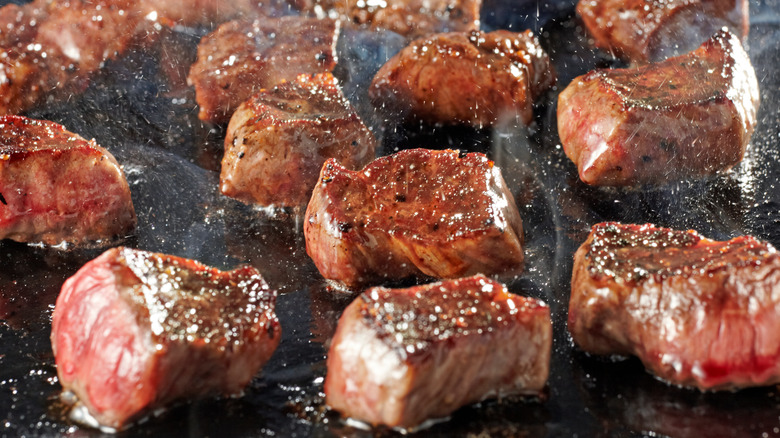 funny face/Shutterstock
The "P" in IHOP is what made the restaurant chain synonymous with breakfast, but if you are a true fan, you know there is more to the restaurant chain than just the pancakes. From burritos to roasted turkey dinners, they have everything to meet your breakfast, lunch, and dinner needs.
With such an extensive menu, it can be hard to decide what to order food that is not, well, pancakes. Besides, we all know better than to play Spin the Bottle with menus and find a random new favorite as a result. Being adventurous with food might not always be the best idea, but when it comes to IHOP, there are plenty of items you can safely branch out to besides breakfast.
We previously ranked some of the best and the worst foods you can order at IHOP, and obviously, its breakfast items were some of the tastiest on the list. One thing that didn't make the cut was the chain's steak tips, but as it turns out, they are delicious and worth trying.
IHOP's steak tips are chef-approved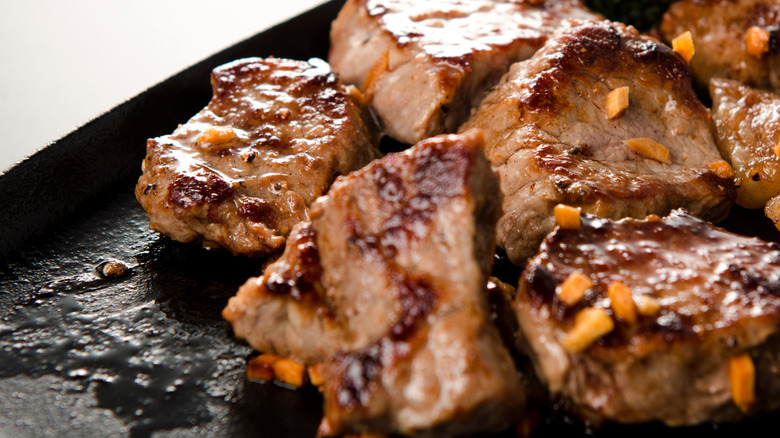 K321/Shutterstock
IHOP's marinated sirloin steak tips are sautéed with grilled onions and mushroom and served with two eggs, golden hash browns, and buttermilk pancakes. So the meal serves as a perfect bargain for those who can't decide if they want breakfast food or something a little more savory. Likewise, he dinner option has glowing reviews and garnered some fans even in the culinary world.
Chef Melica, the owner and chef at Zest N Spice Cuisine, would definitely treat herself to a plate of IHOP's steak tips. "I would order the steak tips because they marinate them for between eight and 24 hours in a sweet, tangy, and savory sauce, then add caramelized onions. The tips come out extremely tender and pan-seared to perfection," she told Insider.
The chef is not the only one who thinks IHOP makes mean steak tips. People online seem to love it, too. "When I go to IHOP I go for one thing, the Sirloin Tips Dinner! They melt in your mouth," one customer wrote on Tripadvisor. A Redditor raved about it and said IHOP makes "the best steak out of any restaurant in the world." " I would pay a hefty bounty to anyone who can find me the recipe for IHOP steak tips," they added. "I've been to very expensive fancy steakhouses and I swear to God the breakfast Steak Tips at IHOP are the best I've ever had," another Redditor wrote.