Yeti Is Recalling Millions Of Coolers And Gear Cases Due To Loose Magnets
Since its launch in 2006, Yeti has been considered one of the top tier brands for coolers, tumblers, lunch bags, backpacks, and even cargo storage. Though the company caters to fishermen, hunters, and outdoorsmen, its products appeal to a much wider demographic. After all, those one-gallon water jugs (you know, the ones that are cat-sized, according to Reddit) are all the rage right now. We should probably all be drinking more water every day, anyway.
However, for all the success Yeti has found over the last nearly two decades –- we're talking more than $1.5 billion in revenue in 2022 alone -– the company is now facing some challenges. On March 9, Yeti issued a voluntary recall of four of its products: the Hopper M20, the Hopper M30 1.0, the Hopper M30 2.0, and the SideKick Dry. Naturally, this kind of recall has everyone wondering what's going on with the affected Yeti coolers and what customers should do if they own one of the recalled products.
Everything you need to know about the 2023 Yeti recall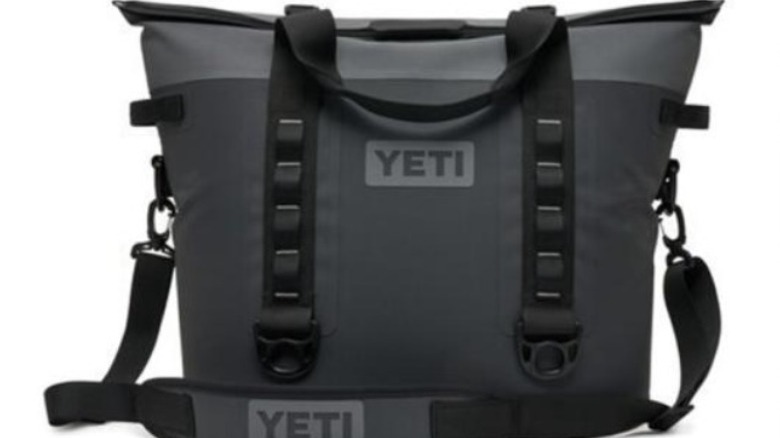 CPSC/Yeti
According to the U.S. Consumer Product Safety Commission, Yeti has recalled more than 1.9 million units due to a manufacturing problem with the magnetic closures in some of its soft coolers and gear cases. To date, Yeti has received 1,399 reports of these magnets either failing out or going missing entirely, but fortunately no one has reported any injuries or cases of ingestion.
Regardless, ingesting magnets can prove extremely dangerous, so Yeti is recommending that customers return all Hopper M20, Hopper M30 1.0, Hopper M30 2.0, and SideKick Dry products purchased between 2018 and now. Per Yeti's recall statement, customers can opt for a refund by means of a Yeti gift card or have their item replaced with a similar product. These replacement products include the Tundra 45 Hard Cooler, the Hopper Flip 18 Soft Cooler, the Tundra 65 Hard Cooler, and the DayTrip Lunch Bag/Box. Whatever you've gotta do to keep your lunch fresh, right?