Fast Food Value Menus Ranked From Worst To Best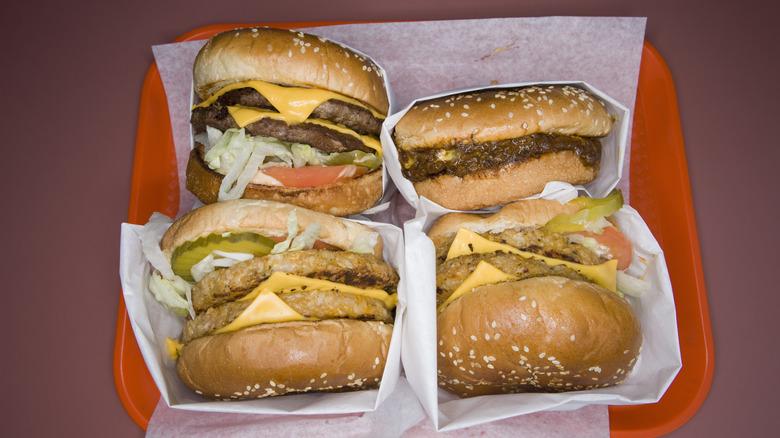 Sian Kennedy/Getty Images
Aside from the taste, oftentimes creative combinations of flavors, and the sheer convenience of fast food, there's also something to be said about the cost-effectiveness of these sorts of meals. Even when grocery prices are somewhat reasonable, it can still be cheaper to get fast food, especially if you need to stock up on a lot of ingredients just to make a basic meal at home. When you add in the existence of value menus at fast food restaurants, that can make it even cheaper to eat out.
While inflation has been on the rise and many fast food restaurants have severely limited their value menus (or done away with them entirely), there are still a few chains worth heading to when you need to save money on food. Yes, it's incredibly unlikely to see an actual dollar menu these days, but they do still exist. But even more expensive value menus might be worth it when you see what they have to offer. Here are some of the most popular fast food value menus ranked from worst to best.
14. Arby's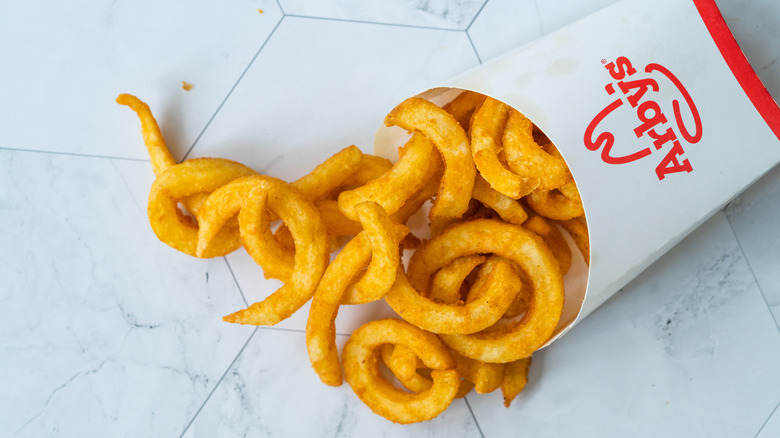 Alp Aksoy/Shutterstock
Possibly the worst fast food value menu out there is at Arby's. This chain has a lot going on, with hearty and delicious sandwiches, curly fries, and an array of sides that make the chain stand out from the rest. But when it comes to a value menu, Arbyt is severely lacking. In the past, the fast food joint offered a 2-for-$4 value menu that included tasty, albeit smaller, sandwiches like the famous beef and cheddar. People were big fans of those offerings and prices, but its value menu as of 2023 is less than stellar.
Instead of a 2-for-$4 value menu, Arby's has upped its prices to 2-for-$7. What's more, its sandwich selection isn't as appealing as it used to be. Customers shopping the value menu can choose from the Crispy Fish Sandwich, Spicy Roast Beef, or Classic French Dip sandwiches. Honestly, for that price, you would expect more from the chain because those options are so limited. It's pretty disappointing, especially considering how large the rest of the Arby's menu is. The chain is definitely not putting its best sandwich options on the value menu. For that price, you can do way better.
13. McDonald's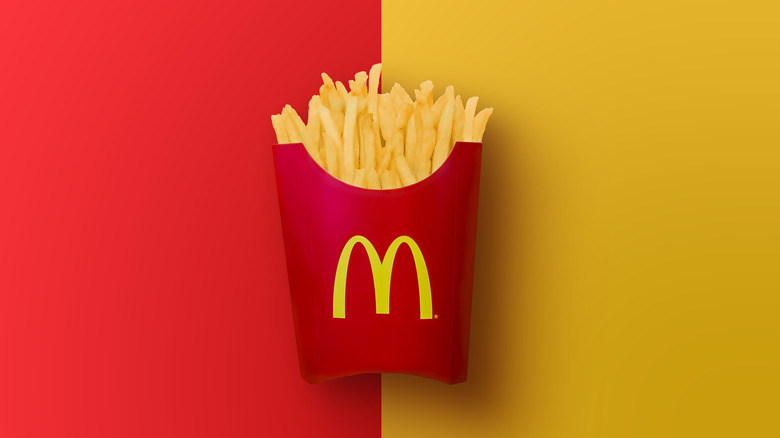 Nixx Photography/Shutterstock
Being one of the most well-known and popular fast food restaurants out there, you would expect McDonald's to have a pretty stellar value menu. But, honestly, when you look at its options, the chain's value menu is not all that impressive. McDonald's used to be known for its so-called dollar menu, which offered a large variety of menu items for only $1 each. Now, that menu has been renamed the $1 $2 $3 menu, because not much there is still only $1.
On its value menu, McDonald's offers a Sausage Biscuit, Sausage McMuffin, Sausage Burrito, Hash Browns, McDouble, McChicken, Chicken Nuggets, French Fries, and soft drinks. The options here are all pretty basic and shouldn't cost more than a dollar or two anyways, especially considering how small some of the items are. Additionally, McDonald's has dropped its $1 any size soft drink deal from most locations, meaning you can't even add a cheap drink to your value meal. The McDonald's value menu isn't the worst, but there are many better options out there to get more bang for your buck.
12. KFC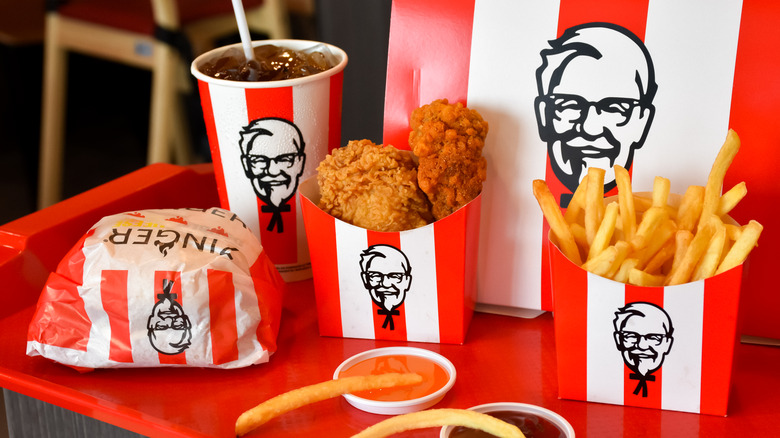 Patcharaporn Puttipon4289/Shutterstock
KFC is a heartier fast food restaurant, with large combos of fried chicken and sides that are sure to hit the spot and fulfill that comfort food craving. But as for its value menu? That's a little lacking. Technically speaking, KFC doesn't even have a dedicated value menu. The chain does offer some smaller items and combo deals that are actually pretty good.
If there's one thing KFC does well, it's obviously fried chicken. That's what makes its value offerings somewhat better than other fast food chains. You can order its famous fried chicken for lower prices and still get full. For instance, its 2 for $5 chicken wraps are filled with delicious, crispy fried chicken, but the wrap portion is much more filling. Additionally, the Chicken Little sandwich is a smaller version of the chain's fried chicken sandwich for less than $3. All of the KFC sides can be ordered separately for less than $3 each. So, while the KFC menu isn't that cheap, it's a lot more filling than other value menus. It's still lacking in variety, however, and KFC's customer service can also be somewhat inconsistent, so you're probably better off hitting up another chain. 
11. Little Caesars
Okay, technically, Little Caesars doesn't have a value menu because it's not your typical fast food restaurant. But, there's a good reason it's on this list, even with only one item that's considered of "value" at Little Caesars. You probably already know what it is: the Little Caesars Hot-N-Ready $5 Pizza. It's a great deal that should be taken advantage of whenever you're short on cash but have a large appetite or need to feed a lot of people. Where else are you going to find a large pepperoni pizza for that price?
Recently, Little Caesars has had to raise its prices to keep up with the increasing cost of ingredients. This means that, at most locations, the Hot-N-Ready pizza will actually run you about $5.55. Still, that's an unbeatable deal and the price increase reportedly means there is 33% more pepperoni on each pizza, which is never a bad thing. Still, Little Caesars is limited here, as the only cost-saving item is its Hot-N-Ready pizza, making it an extremely small value menu.
10. Whataburger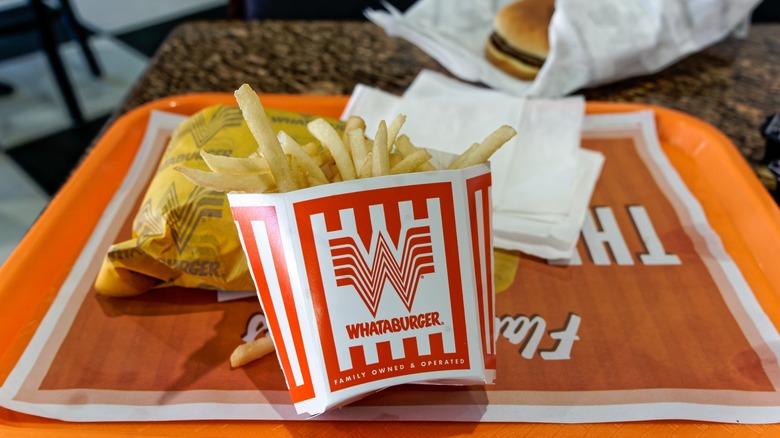 Rosemarie Mosteller/Shutterstock
Whataburger is a staple for many people in Texas and, once you've tasted something from this fast food joint, you'll understand why. Juicy, decadent burgers, crispy, flavorful chicken, and so much more make this southern chain well worth the prices that tend to be somewhat higher than the competition. And because of that, Whataburger doesn't have a dollar menu, but there are cheaper menu items and a section of the menu that can be considered "value" in some ways.
For instance, the chain's Lighter and Smaller menu has menu options that contain fewer calories and less fat than other Whataburger offerings. It also has some cheaper menu items that are well-suited to time when you want to save money while still eating well. With this menu, you can grab a Whataburger Jr. with Bacon and Cheese for $4.79, and a double-meat Whataburger Jr. for only $3.99. But the real value in the value menu comes with the breakfast items. An egg sandwich from Whataburger is $2.49, hash brown sticks are $1.89, and even a cinnamon roll is only $2.59. While the value menu isn't all that cheap compared to some other places, there are a few great deals at Whataburger.
9. White Castle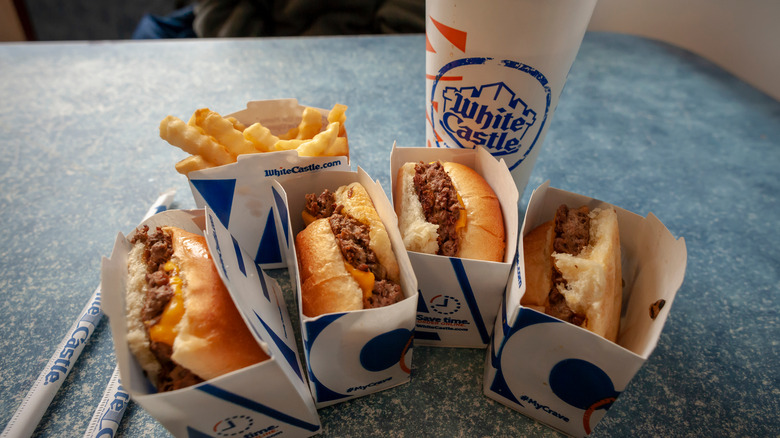 rblfmr/Shutterstock
One of the most mediocre fast food restaurants out there is White Castle. The chain isn't terrible, but it's usually not what people would call their favorite fast food place in the world. And the chain's value menu options are the perfect example of that. Like other fast food joints out there currently, White Castle doesn't have a dedicated value menu section, but rather their menu has several sections with lower-priced items that essentially form a value menu of their own.
For instance, White Castle is known for its sliders, and while one little burger might not make for a very filling meal, they're still cheap. An original slider from White Castle is only $0.77, so you could get a few of those and have a pretty decent meal. And you can add on sides like french fries for $1.81 to finish off the meal. Just beware that even though the sliders at White Castle might be cheap, they don't have the best reputation for fresh or tasty food.
8. Jack in the Box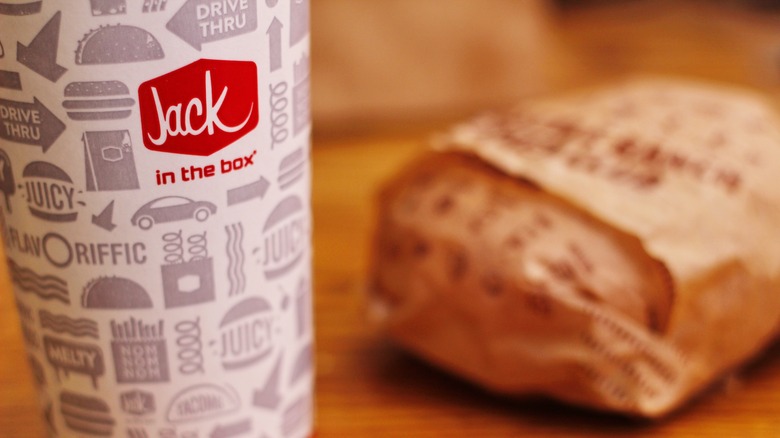 Birch Photographer/Shutterstock
Jack in the Box is one of those fast food restaurants that you sometimes forget all about until you see one while you're driving, or happen to see a commercial for one and then it's all you can think about. The chain is known for a multitude of offerings, everything from tacos to burgers to breakfast and more. And whether or not you're a huge Jack in the Box fan, there's no denying that they usually have something for everyone, and they have some great deals on their value menu, too.
For starters, their iconic crunchy tacos are still 2 for $0.99, an incredible deal if there ever was one. And that's not all. Jack in the Box also offers 2 for $5 Jumbo Jacks (those would be hamburgers), 2 for $3 Breakfast Jacks, 2 for $6 sausage croissants, and even 2 for $4 iced coffees. Those are some great deals, but there are actually still some better fast food value menus out there.
7. Carl's Jr.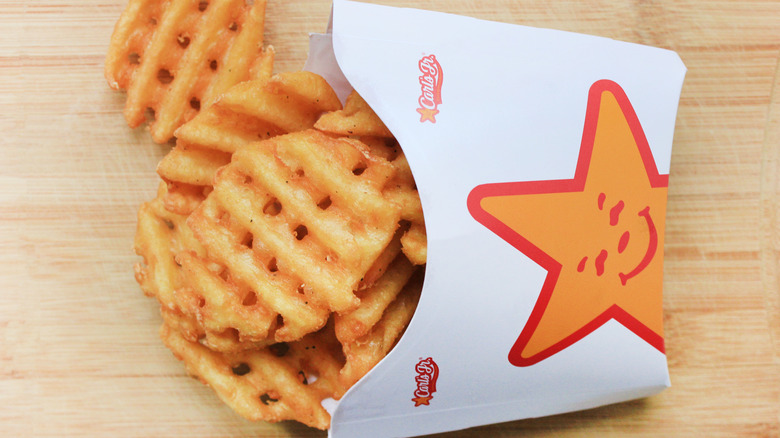 onajourney/Shutterstock
Another mediocre fast food restaurant that has a decent value menu is Carl's Jr. The chain is pretty popular and known for its burgers and sandwiches, but like every other fast food company out there, it's had to raise its prices significantly over the past few years. Still, there are a few items on the value menu that you can count on to fill you up, and save you money.
You can load up on a small hamburger for $1.49, a cheeseburger for $1.79, and an apple turnover for only $0.99. But those are basically all the great deals on the value menu, and unless Carl's Jr offers one of its limited-time "Big Bag" deals, the value menu isn't all that great. What's more, customers have noticed that the prices have gone up while the quality has stayed pretty much the same. So, while Carl's Jr. isn't terrible, we promise that there are definitely better options out there.
6. Dairy Queen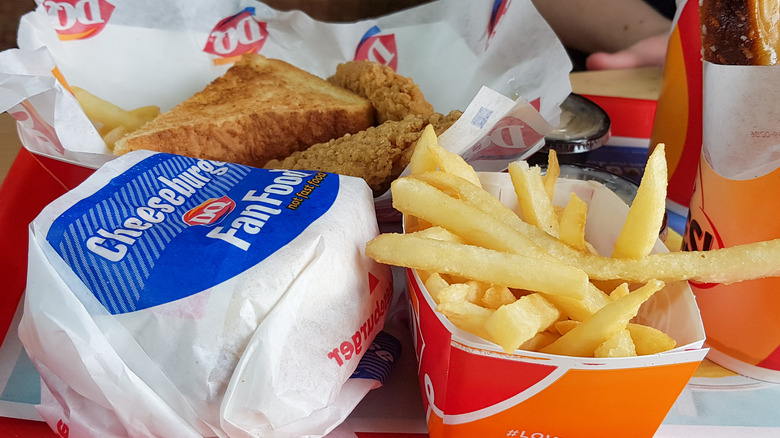 Rusty Todaro/Shutterstock
Dairy Queen is widely known for its ice cream treats like the famous Blizzard, as well as tasty food. Many menu items from Dairy Queen are reminiscent of old-school concession stand goodies and classic fast food bites. Some of its value menu items are pretty impressive, too, as these are items you won't often see at other fast food restaurants, especially for these prices.
More specifically, Dairy Queen has a 2 for $5 menu that can help you craft an entire meal. On the menu are the chain's original cheeseburger, a chili dog, french fries, a small sundae, pretzel sticks with queso, and any size soft drink. Dairy Queen's value menu offers a decent amount of variety, while the food items themselves are tasty, too. After all, a burger and an ice cream sundae for $5 is pretty unheard-of anywhere else, but Dairy Queen makes it happen.
5. Sonic Drive-In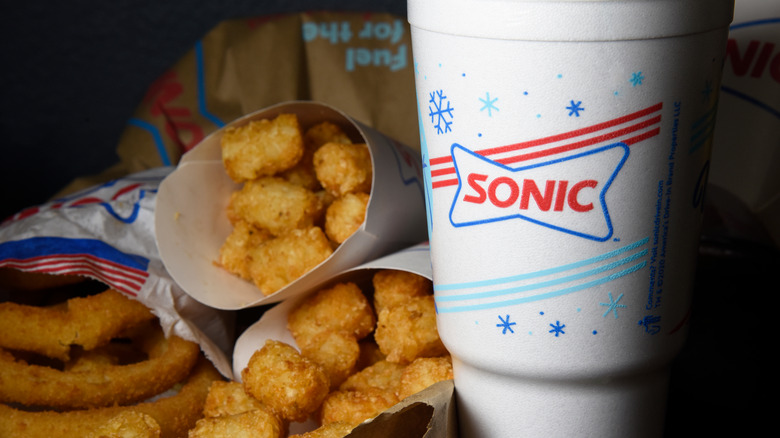 Wild As Light/Shutterstock
In the same way that Dairy Queen offers concession-style food, so does Sonic Drive-In. The fast food restaurant is known for having a drive-in style service, but its menu is pretty vast, too. At Sonic you can get a burger, jalapeño poppers, mozzarella sticks, ice cream, and corn dogs. The possibilities are seemingly endless. Even the chain's value menu is pretty expansive.
The Under $2 and $2 Craves menu features an Oreo and Snickers mini sundae, chicken slinger, quarter-pound double cheeseburger, and more. Even one of the most original menu items, the Fritos chili cheese wrap, is on the value menu, as well as a chili cheese coney and two kinds of cheeseburgers. Sonic's value menu is certainly impressive, but it's also a tad more expensive than similar value menus out there. When you look at what's on offer, though, you may want to pay a bit more anyway.
4. Del Taco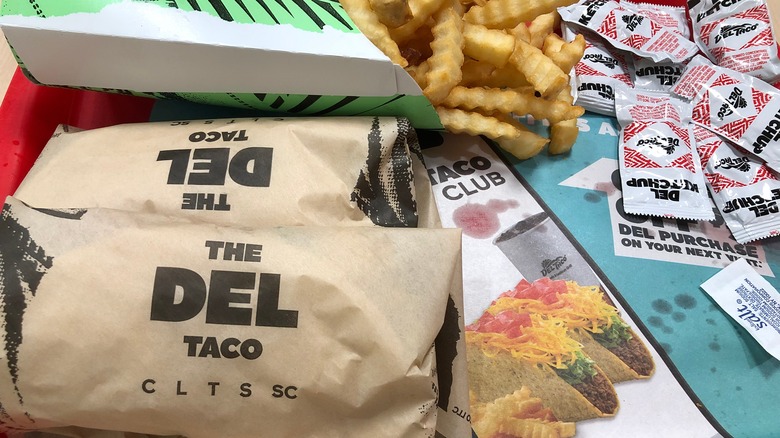 Sheila Fitzgerald/Shutterstock
If you live somewhere with a Del Taco nearby, you've no doubt tried most of the menu. There's a reason Del Taco has something of a cult following, after all. The chain's 20 under $2 menu is further proof that it's earned its status as many people's favorite fast food joint. On this menu, you'll find several kinds of chicken tacos, burritos, tostadas, nachos, a cheese quesadilla, mini churros, donut bites, and unique drink options. What makes Del Taco's value menu so great is the variety of tasty menu items.
The only reason the Del Taco value menu isn't ranked any higher here is the fact that Del Taco isn't as ubiquitous as other fast food joints. But so long as you can find a Del Taco location in your area, you'll find that the prices and options on its value menu are impressive and make for a filling and cheap meal.
3. Burger King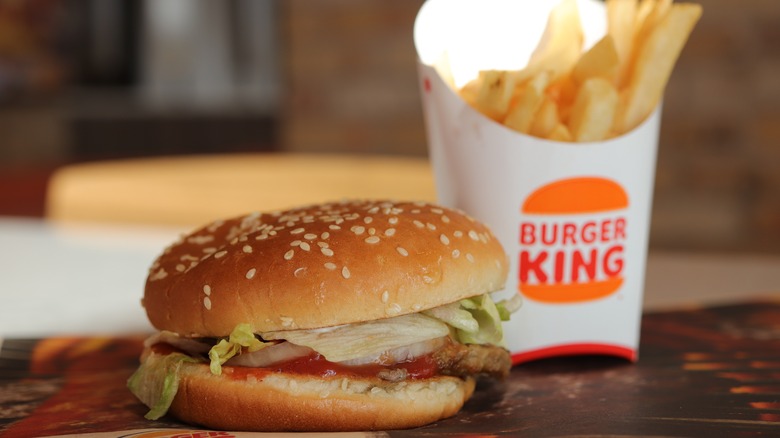 Deutschlandreform/Shutterstock
Everyone knows Burger King. The fast food chain has been cranking out its famous charbroiled burgers since 1954, and its prices have made the restaurant a fan favorite over the years, too. Even today, when so many fast food restaurants have foregone value menus or drastically decreased them, Burger King's value menu remains large and impressive.
Everything on the value menu is under $3, including treats like cheeseburgers, onion rings, french fries, chicken nuggets, drinks, and even dessert items like pie, soft serve, and cookies. It's all up for grabs from Burger King, and for cheap. The chain's value menu items are quite tasty, too. In our opinion, there is not a noticeable difference between Burger King's more expensive burgers and the value menu burgers, either. So, when you want a lot of options for not a lot of money, Burger King is clearly where it's at.
2. Wendy's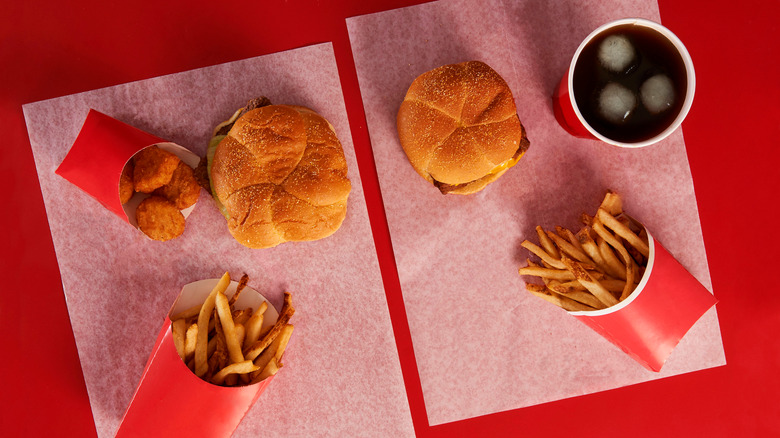 Banana Productions/Shutterstock
Wendy's is another hugely popular fast food chain that you can find in most towns across America. What sets Wendy's apart is the fact that its menu doesn't just consist of burgers and fries, either. This restaurant also sells chili, salads, frozen treats, and more. And one of the most popular things customers indulge in at Wendy's is its value menu meal deals. The chain's $5 Biggie Bags are beloved across the internet for serving up a large, filling meal for a small price. The Biggie Bag comes with four chicken nuggets, a small order of french fries, a small drink, and your choice of a Jr. Bacon cheeseburger, Crispy Chicken BLT, or a Double Stack.
But that's not all. Wendy's also offers a 2-for $6 menu, which sounds more expensive but comes with way more food for your money than you might expect. This menu includes selections like Dave's single, the spicy chicken sandwich, 10 chicken nuggets, and a medium lemonade. The meal deals at Wendy's are delicious, offer larger portion sizes, and are a great way to feed yourself for $6 or less.
1. Taco Bell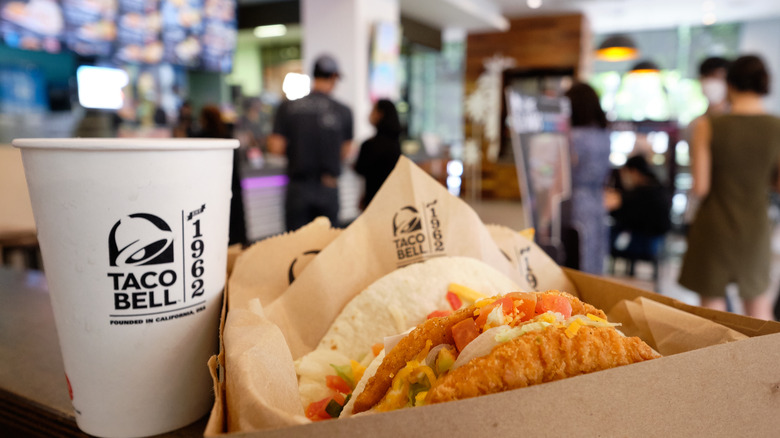 KULLAPONG PARCHERAT/Shutterstock
Finally, the best fast food value menu out there is easily at Taco Bell. Taco Bell is very popular, ranking as the fourth most-popular fast food restaurant in the world by sales and units. Most people recognize that Taco Bell food is already pretty cheap and delicious, but that becomes more obvious when you look at its value menu. Sure, you could get a regular combo for upwards of $7, but the value menu has truly worthwhile combos, too.
Not only is the Cravings value menu at Taco Bell full of cheap and delicious single items, but it also offers a $5 classic combo that's sure to satisfy your taste buds. For $2 or less, you can grab a Spicy Potato Soft taco, chicken or beef burritos, a cinnamon twist, a veggie burrito, or a cheesy roll-up. For $5, you can order a combo with a large fountain drink, a beefy five-layer burrito, a crunchy taco, and cinnamon twists. Now that's a large meal for a small price. And really, who doesn't love Taco Bell?