Reddit Is Divided Over Trader Joe's Returning French Onion Macaroni & Cheese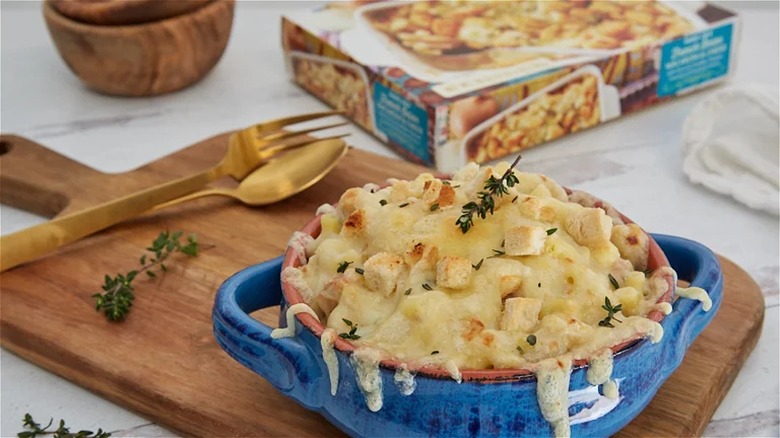 Trader Joe's
For some, Trader Joe's is probably like a big, ever-changing playground for food lovers. You never know what you're going to find on their store shelves! But there's a chance that fans will find something new, fun, and hopefully delicious. Along with new products, Trader Joe's shoppers get fired up about the return of their seasonal favorites. There are also products that people may be shocked to see make a return. Depending on which side of the divide a person is on, Trader Joe's French onion macaroni & cheese may be one of those products. First introduced in 2021, it appeared to capitalize on the rapidly growing demand for frozen food products that the Trader Joe's podcast highlighted (via Winsight Grocery Business). But the jury is still out on Reddit about whether or not this is a hit or a big cheesy miss.
On Reddit, a seemingly innocent post about Trader Joe's French onion mac and cheese had some people up in arms. Many users complained that this flavor is disappointing and sounds much better than it tastes. There were also comments that the flavor just doesn't compare to the original frozen mac and cheese or other specialty flavors like hatch green chile. User "TheMauveRoom" bluntly stated, "It's terrible. Do not recommend." Talk about wearing your heart on your sleeve! With all of the negative comments back and forth, there were also positive ones. Remember, every coin has two sides.
Divisive flavors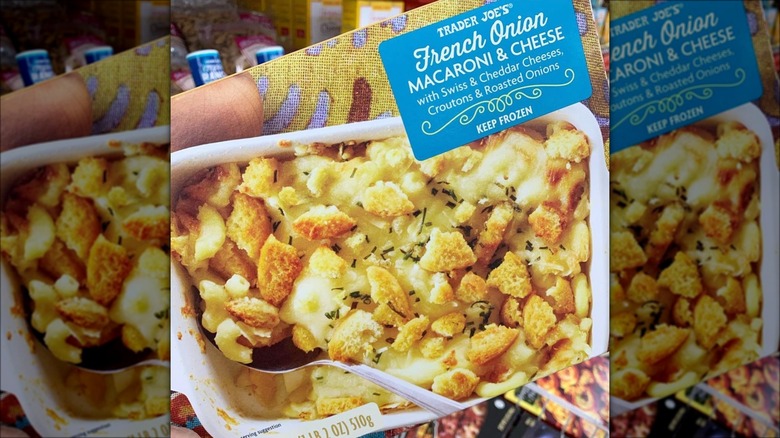 Instagram
Those who did enjoy the unique mac and cheese flavor on Reddit explained that you have to cook this frozen dish in the oven for the best results. This creates a much better texture than just a microwave. But oftentimes, when reaching for something like frozen mac and cheese, you're hungry and looking for something in a pinch. The microwave only needs eight minutes, while the oven needs at least 45. Yikes! But if time isn't an issue, try it in the oven. Reddit user "Road2health" is on the team French onion macaroni and cheese, sharing, "I loved it so so much. I think I bought like 3 of them!"
The conversation continues on even outside Reddit. A former Trader Joe's employee explained that this is a can't-miss product; she shared, "This is one you're going to want to run, not walk, to your store to grab a few boxes" (via The Kitchn). While combining something like classic, comforting French onion soup with macaroni and cheese isn't for everyone, others can't get enough and are happy it's back in stores.
Everyone knows how much Trader Joe's loves to shake things up, and this dish is no different. This frozen product sounds like a wild science project gone right or wrong, depending on who you ask. Trader Joe's French onion macaroni and cheese may not please the masses, and that's okay; that's what happens when you take risks and have fun with food.