TikTok's 'No-Peek Chicken' Is Only 5 Ingredients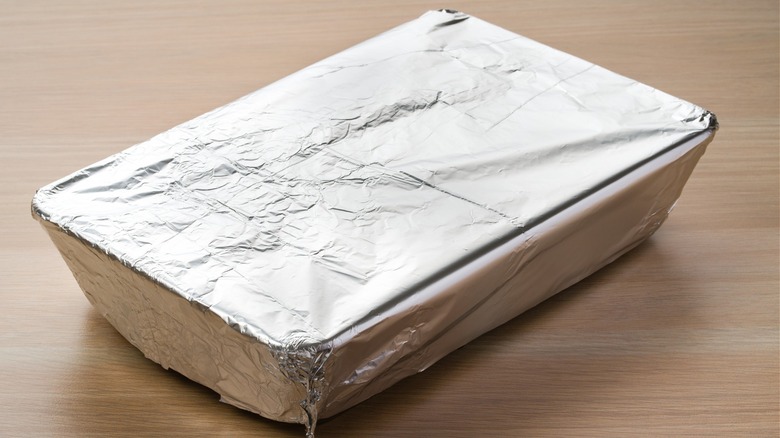 Estam/Shutterstock
Chicken breasts sometimes get a bad rap for being boring, dry, or tasteless. A boneless, skinless chicken breast is very lean, which is great for saving calories, but not great when it comes to flavor. The adage about fat equaling flavor means that chicken breasts need significant help to retain moisture and overall deliciousness. Thanks to the internet, there are tons of chicken breast recipes to keep you from getting bored or eating the same thing twice.
If a recipe is extra delicious, quick, easy, or unique, it may be lucky enough to go viral. In 2021, TikTok's feta pasta garnered a cult following from those looking for a quick and easy one-pot meal. One of 2022's most popular viral chicken recipes was Marry Me chicken, which was said to be good enough to result in a marriage proposal. Similar to the feta pasta, the Marry Me chicken is made with a rich tomato cream sauce and served over pasta. One of the inherent appeals of both recipes is that they are cooked in one pot. Not only does this make for a quick meal on busy weeknights, but cleanup time is drastically cut down by only using one pot. Luckily, another viral one-pot chicken dish has emerged, though this one offers a completely different flavor profile than tomato and cheese.
The trick is to not look
After a long day at work or at home, the last thing anyone wants to do is cook an elaborate meal and clean up a pile of dishes. The solution? TikTok's viral no-peek chicken recipe. This one-pan chicken recipe has racked up a staggering 2.1 million views and is a dish that couldn't be simpler to make. The hardest part is not constantly opening and shutting the oven to check if it is done. This chicken dish is made with just five ingredients: minute rice, creamed soups, boneless skinless chicken breasts, chicken broth, and onion soup mix. Then, the entire dish is covered in foil and baked for one hour.
The trick to ensuring this recipe gets perfectly cooked is to not peek in on it while it's in the oven, hence the name. Every time you open an oven while cooking, you're letting valuable heat escape. The more you open the oven, the more heat escapes, which in turn means your meal will take longer to cook. Using foil also locks in the heat and moisture, ensuring the flavors meld nicely and the dish cooks evenly. If you're worried about cooking your chicken to the USDA-recommended 165 degrees Fahrenheit, you can insert a wireless meat thermometer to ensure it's perfectly cooked after taking it out of the oven.