Curtis Stone Took Us On A Tasting Journey Of Waterloo's New Flavors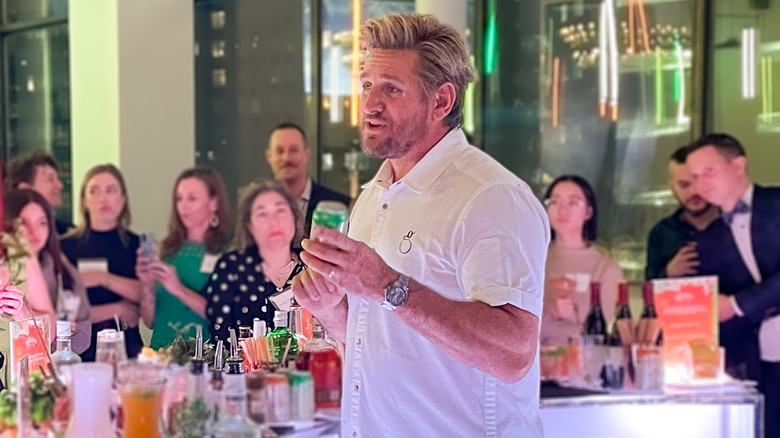 Jenny Kellerhals/Mashed
Plenty of cocktails get the star-studded chef treatment at this point, and now Waterloo Sparking Water has brought that same level of culinary beverage artistry to its purified sparkling water flavors. Not only does the growing beverage company employ a team of flavor artists to make sure the drinks have authentic, natural, and vivid flavors, but Waterloo has recently teamed up with Michelin-starred celebrity chef Curtis Stone to add a special touch to the company's two new flavors released earlier this month.
The newest sparkling water flavors include Orange Vanilla and Ginger Citrus Twist, both a little more intricate than some of the flavors the company has released since it launched in 2017. To illustrate just how dynamic the sparkling water flavors can be, Waterloo hosted a special tasting event in New York City complete with hand-crafted cocktails and mocktails, and a menu cooked by Stone and his team. The menu included three dishes that actually use Waterloo sparkling water as an ingredient in the dishes, not just as inspiration.
At the event, we got the chance to taste the new Waterloo beverages and one-of-a-kind menu, and we were also able to sit down with Stone for an exclusive interview. We chatted about this noteworthy collaboration, cooking tips, favorite flavors, and more. Here's everything you need to know about the new Waterloo Sparkling Water flavors, Stone's special recipes, and how you can recreate them all at home.
Curtis Stone's favorite Waterloo flavors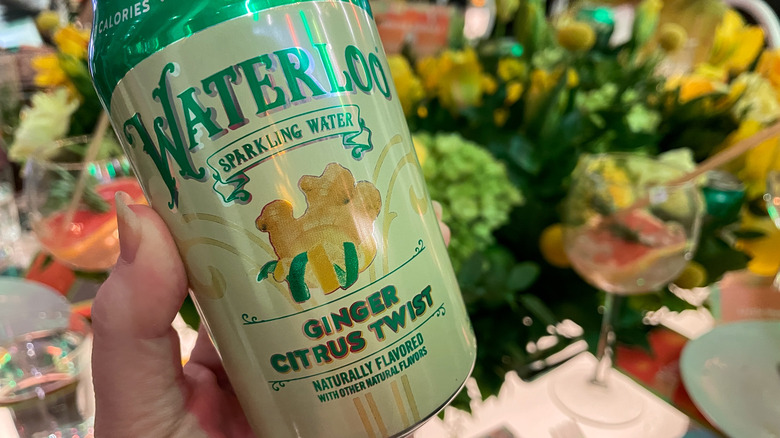 Jenny Kellerhals/Mashed
Waterloo currently offers 14 sparkling waters:13 flavored varieties and one original unflavored sparkling water. Adam Price, Waterloo's flavor development lead and senior vice president of operations, tells us during the tasting that Waterloo stuck to mostly single-flavor beverages when developing its original line of sparkling waters, but has taken on more complex challenges when developing flavors in recent years. It can take up to nine months to develop a single flavor, and this often means mixing, layering, and tasting 50 or more components before achieving the perfect taste.
But which flavors does Stone reach for the most? Of the two new flavors, Stone is especially excited about the Ginger Citrus Twist. "[It] has just that sort of perfect balance of brightness from the acidity, and ginger has an interesting sort of ... little warmth to it, which I really like," says Stone. But he's not just a fan of the new flavors. "You know, I never thought I'd be so partial to [it], but I love the watermelon."
After tasting both the Ginger Citrus Twist and the Orange Vanilla sparkling waters, we'd agree that the Ginger Citrus Twist is our favorite of the two new flavors. Lemon and lime sparkle on the front of the palate, while delicately sweet and spicy ginger follows it up. The Orange Vanilla is more subtle, with a floral orange scent and a super-light cream soda-like flavor that's both grown-up and nostalgic.
How Stone uses carbonated beverages in cooking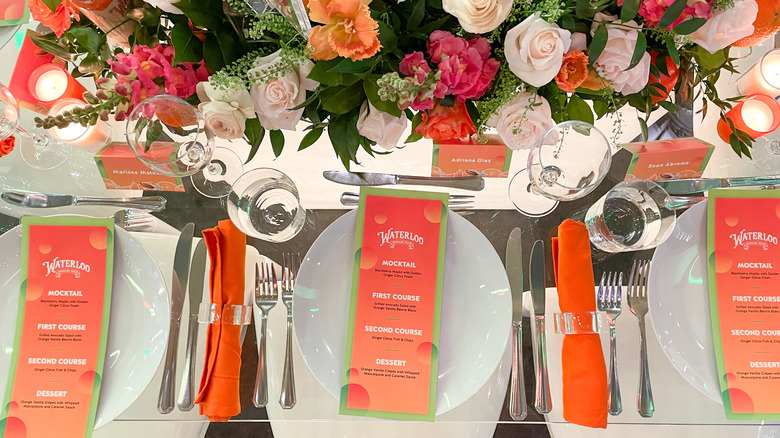 Jenny Kellerhals/Mashed
When it comes to cooking with sparkling water, the technique isn't quite as uncommon as it might sound. "You can use it a couple of ways, when you're baking or making batters," says Stone. "[Sparkling water] gives it a beautiful sort of effervescence ... that light bubble that you get in the cooking works really nicely in batters, but it also works really nicely in sauces." Stone used Waterloo's new sparkling water flavors to create a salad, entrée, and dessert recipe for the tasting, illustrating just how versatile it is as an ingredient.
"I've made champagne beurre blancs forever because you get that ... tiny little spritz on your tongue, and it's almost like putting a texture into a sauce," says Stone. For the first course, Stone uses this technique with Waterloo sparkling water to create a grilled avocado salad. He goes on to incorporate the beverage into the batter of the ginger citrus fish & chips entrée as well. Finally, he finds a way to seamlessly incorporate it into crêpe batter for our dessert.
Naturally, sparkling water is great for creating mixed beverages as well, which Stone has also gotten creative with. At the event, there were 4 specialty hand-crafted drinks on the menu, available in both mocktail and cocktail format, with your choice of spirits.
Stone's signature Waterloo drink, the Blackberry Mojito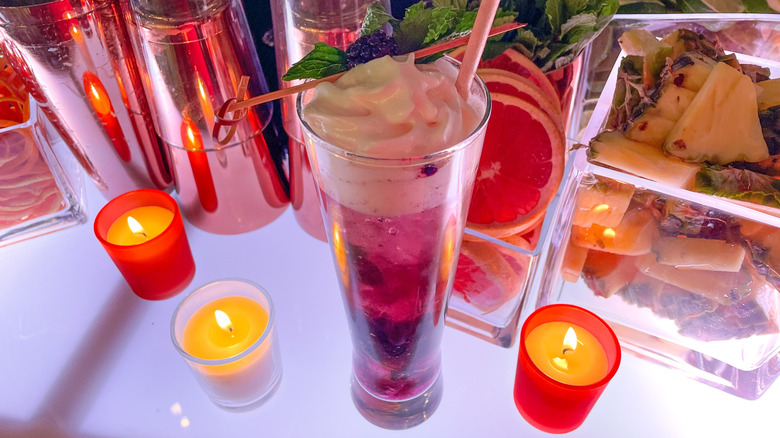 Jenny Kellerhals/Mashed
Of the four specialty cocktails served at Waterloo's tasting event, one was created in collaboration with Stone himself. Stone's signature drink is a Blackberry Mojito with Golden Ginger Citrus Granita. The mojito itself remains mostly true to the classic cocktail, including mint that gets muddled with fresh blackberries. Waterloo's Ginger Citrus Twist serves as the citrus component of the drink, with all of the natural sweetness coming from the fresh berries and natural flavors in the sparkling water.
If preparing the drink in advance, Stone suggests making a granita with the Ginger Citrus Twist sparkling water, fresh passion fruit, and agave syrup. It takes about 2 hours to create, breaking the icy treat up into finely shaved ice about every 30 minutes while it freezes. Alternatively, you can add the same ingredients to a whipped cream canister charged with nitrous oxide for a tropical and foamy drink topping.
We enjoyed this drink with and without alcohol and found it refreshing both ways. When asked what liquor he prefers with this cocktail, Stone says, "I would do a white spirit. So you could either do a white rum or maybe a vodka." So we tried it with white rum and were thoroughly smitten.
A mixed drink for everyone made with Waterloo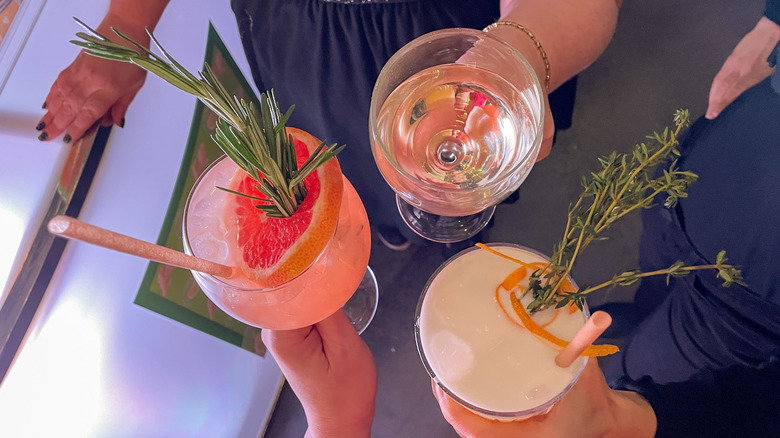 Jenny Kellerhals/Mashed
These days, it's easy to add a flavored sparkling water to just about any wine-based drink for a playful and invigorating spritz. While we think both of the new flavors would be great for a fizzy spritz, Waterloo has gone a step further. In addition to Stone's blackberry mojito, Waterloo crafted four additional mixed drink recipes that are easy to recreate at home for cocktail and mocktail drinkers alike.
Using the Orange Vanilla sparkling water, you can mix up an Orange Cream Fizz that's embellished with mango puree and coconut cream for a creamy and sweet tropical drink. Spike it with vodka for an adults-only poolside escape. The Orange Vanilla Sunrise Spritz comes together quickly with only a splash of grapefruit juice and a slice of fruit — perfect for an energizing breakfast or an afternoon pick-me-up. To make it a true spritz, add Champagne or your favorite sparkling wine.
Fans of a lighter rum punch will appreciate the Ginger Citrus CeLOObration Punch, predictably made with the Ginger Citrus Twist sparkling water, along with pineapple and orange juices, and fresh citrus slices. Finally, the Ginger Citrus Twist lends itself perfectly to the lighter Spicy Ginger Citrus Mule, which gets a kick from a few slices of muddled jalapeno. Using Waterloo's sparkling waters instead of juices and syrups keeps things light and reduces the high sugar content often found in mixed drinks.
Grilled Avocado Salad with Orange Vanilla Beurre Blanc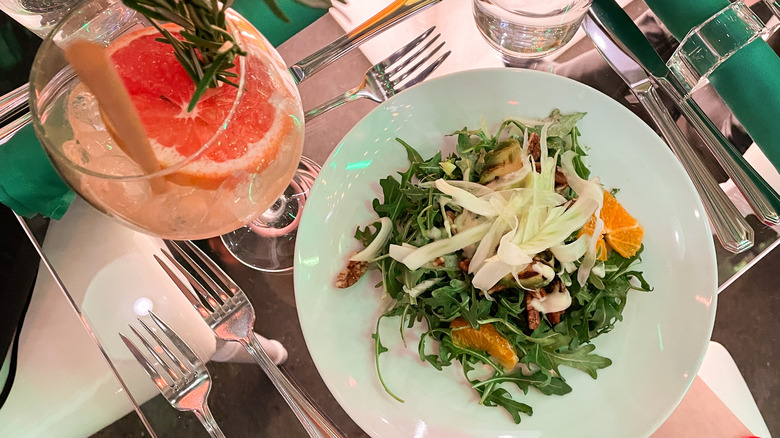 Jenny Kellerhals/Mashed
Beurre blanc is a traditional French butter sauce that comes together quickly and can be used on a wide variety of dishes. To make the sauce, a finely sliced shallot quickly sweats in a small amount of butter, before white wine vinegar and dry white wine are added. The liquid then reduces almost entirely to concentrate the flavor. Next, heavy cream is added, followed by butter cut into small pieces. The sauce is seasoned and strained if you prefer a smooth finish. The trickiest part can be keeping the sauce's emulsion intact, given how much fat it contains, along with the acid from the vinegar and the wine. It takes a practiced hand and a strong whisking arm to bring together, but is very satisfying to master.
For the Grilled Avocado Salad with Orange Vanilla Beurre Blanc, Stone uses the Orange Vanilla sparkling water in place of part of the white wine to add additional flavor and texture, but otherwise executes the sauce with the traditional technique. The beurre blanc serves as the base and dressing for the salad, which is made with baby arugula, grilled avocado, shaved fennel, mandarin oranges, and toasted pecans.
The dish is surprisingly airy, balancing the creamy beurre blanc and avocado with feathery strips of fennel and juicy mandarin orange. Even after finishing a full plate of this salad, we were plenty ready for another course and feeling good about having eaten some leafy greens first.
Ginger Citrus Fish & Chips Entrée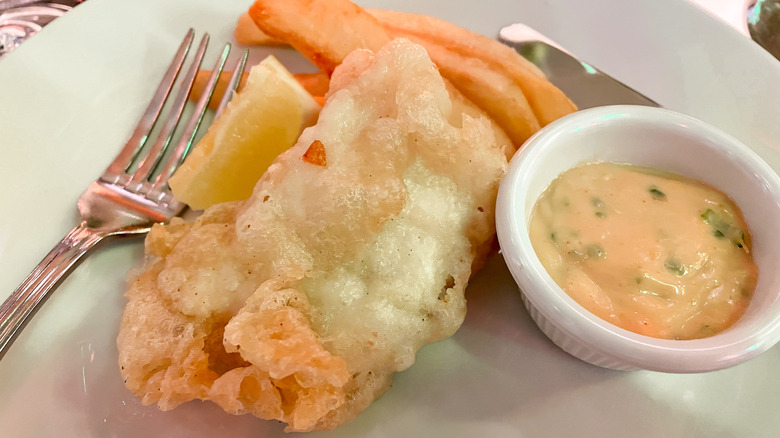 Jenny Kellerhals/Mashed
It's fairly common for fish and chips recipes to include beer in the batter for the fried fish. The carbonated beer provides texture, a slight aeration to the flour-based batter, and additional flavor to the mild-tasting cod (or similar flaky white fish). So it makes sense that you could use sparkling water instead of beer in a fish and chips recipe, a move that not only cuts down on the calories involved but also makes the dish a little more friendly to those who want to skip the alcohol.
Stone masterfully uses the Ginger Citrus Twist sparkling water in place of beer in the batter recipe for this dish, and also adds a teaspoon of active dry yeast to the mix. The combination of the two makes for a rich-tasting batter that's incredibly light and crunchy — almost like a tempura batter, but without the egg.
Stone tells us that, even though Americans commonly consider fish and chips to be a British dish, it's also very prevalent in Australia. He doesn't pull any stunts when frying the fish, sticking to fresh cod filets, and serving the fish the moment it comes out of the hot fry oil with a wedge of lemon and homemade miso tartar sauce. The final dish wasn't anything special at first glance, but was ultimately the juiciest and best-tasting fish and chips we've ever tried. Maybe sparkling water was the secret to perfectly fried fish and chips all along?
Orange Vanilla Crêpes with Whipped Mascarpone and Caramel Sauce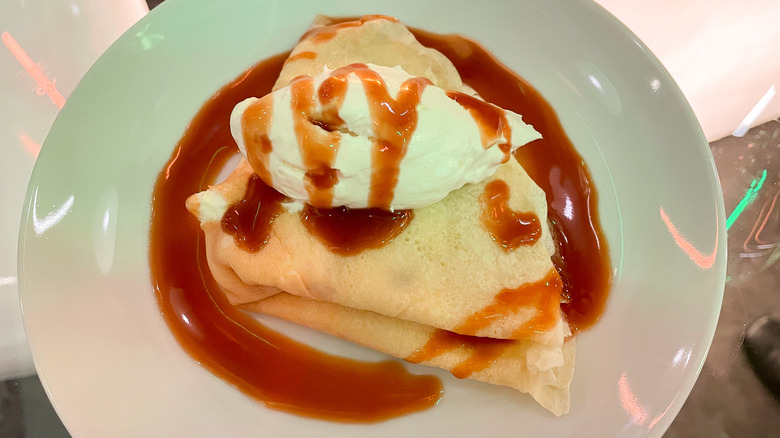 Jenny Kellerhals/Mashed
By the time dessert was served, we had seen and tasted enough to convince us that cooking with sparkling water was not only reasonable but also kind of genius. But like Stone, we've got quite the sweet tooth, and we weren't going to turn down a plate of crepes no matter how full we were getting — and they didn't disappoint.
Crêpe recipes typically contain just a few ingredients: butter, flour, milk, eggs, and a pinch of salt. Sugar can be added for dessert crepes, but it isn't necessary if your filling is going to be especially sweet. The magic happens in the pan as you swirl the batter into a perfectly thin pancake shape, cooking it until it's just barely golden but still tender. For Stone's crêpes, the milk is replaced with a combination of Waterloo Orange Vanilla sparkling water and heavy cream, but otherwise it looks like a classic crêpe batter. The crêpes were filled with a thin layer of whipped mascarpone and drizzled with caramel sauce, which we ate so quickly that we were sad when it was all gone. Each of us had a different favorite course, so all of Stone's sparkling water dishes ended up being winners. Thankfully, Waterloo provided us with the recipes for all of them, which we'll enthusiastically try to recreate at home very soon.