Free Cone Day Is Returning To Ben & Jerry's For The First Time In Years
For the last several years the world has been anxiously hoping for a return to normalcy, and with each new milestone — like restaurants resuming in-person dining and traveling for vacations — it feels like that normalcy is closer and closer. Today's announcement is one of the most optimistic signs yet of the return of beloved pre-pandemic traditions: Ben & Jerry's is bringing back Free Cone Day.
The company behind iconic ice cream flavors like Cherry Garcia, Americone Dream, and Chubby Hubby was forced to cancel its annual Free Cone Day for the past three years, and for good reason: The event is so popular that Ben & Jerry's shops are mobbed all day with lines out the doors, and with fears of coronavirus transmission the company did not want to risk the health of their customers or employees.
But now it's back. In a statement, Ben & Jerry's shares that Free Cone Day is happening on Monday, April. That's only a few weeks away, so prepare now. So we can only imagine that avid fans might be getting the day off and starting to dream about the 98-flavor possibilities for their free cones.
Here's how to get your free Ben & Jerry's ice cream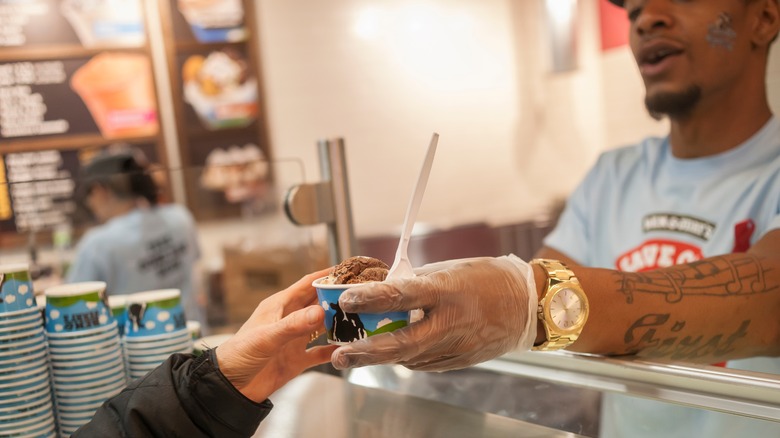 rblfmr/Shutterstock
If you've forgotten how to get ice cream on Free Cone Day (after all, it's been a few years), luckily Ben & Jerry's makes it pretty easy: Just show up! In its statement, the company says that fans can head to their local Ben & Jerry's shop on April 3 from noon to 8 p.m. and get a free scoop of any flavor they wish, in a dish or cone. They can even get back in line again to get more cones. Just be prepared to wait, because EVERYONE will be getting in line.
The annual tradition of giving away free ice cream began when Ben & Jerry's opened its original scoop shop in Burlington, Vermont back in 1979. It was the best way the founders could think of to reward their devoted fans, and not surprisingly, it's a highly anticipated event. The fact that Free Cone Day always takes place in springtime also makes it an unofficial kick-off to the warm weather, ice cream-eating season.
A lot has changed since 1979, including the cost of Ben & Jerry's ice cream. Per the Evening Standard, the brand's parent company, Unilever, made its highest quarterly price increases ever last year. But on April 3, that inflation will briefly melt away.
It's been a long wait, and that may make fans even more eager to enjoy a scoop of New York Super Fudge Chunk — or Phish Food or Chunky Monkey or any Ben & Jerry's flavor.