How To Blend Canola And Olive Oils To Avoid The Flavor Guessing-Game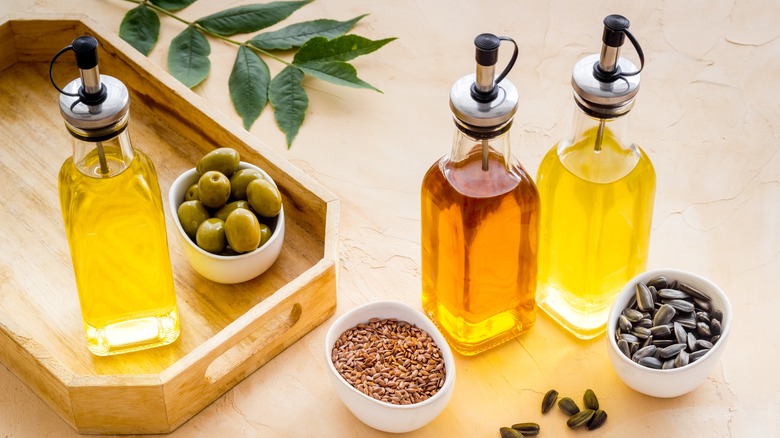 9dream studio/Shutterstock
For some foodies, olive oil is the gold standard for marinades, salad dressings, dips, and even sometimes for cooking. The distinctive herby flavor and health benefits make it both delicious and relatively guilt-free. Still, some find EVOO and other forms of olive oil a little strong for their palate, at least when it's served with foods that have a more delicate flavor profile.
Mixing a less refined olive oil like EVOO with a more neutral flavored vegetable oil like canola oil allows you to enjoy a hint of nutty olive goodness without overpowering the dish. It also works if you're cooking for friends or family who may not be big fans of olive oil. As an added bonus, you may find that making your own hybrid oil is a budget-friendly option that still tastes great.
The smoke point for EVOO is around 325 degrees Fahrenheit, while the smoke point for canola oil is around 400 degrees. More refined olive oils have a higher smoke point than EVOO, but some find it easier to cook with a blend of their favorite olive oil and something cheaper and more neutral like canola.
The best of both worlds?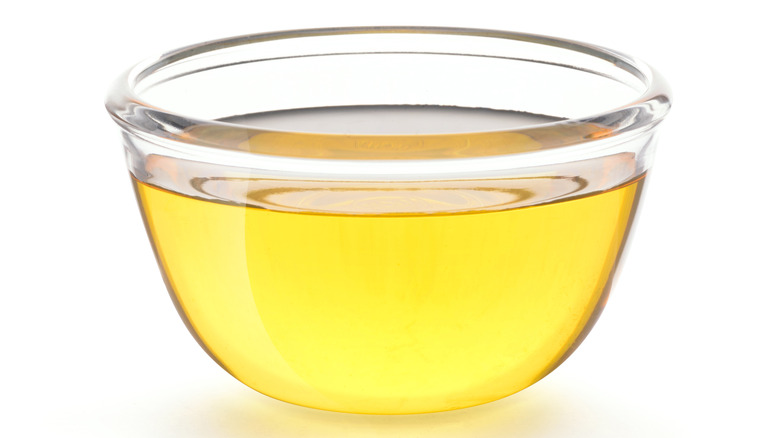 Photoongraphy/Shutterstock
If you only use olive oil for the taste, making your own olive-canola hybrid oil allows you to better control both the flavor and the price since you are able to decide the exact ratio you use.
If you use olive oil for its health benefits, you may feel wary of blending the two since canola oil sometimes gets a bad rap. As it turns out, there isn't much to worry about: Like olive oil, canola oil is low in saturated fats, high in monounsaturated fat, and contains phytosterols, which can help prevent the accumulation of cholesterol. Even so, some have concerns about using canola oil for a few reasons, including use of a solvent called hexane to extract the oil from the seeds. However, this process involves trace amounts of hexane that haven't been shown to be harmful. Still, if you prefer, another neutral vegetable oil can stand in, or you can opt for cold-pressed canola oil.
Depending on how much olive flavor you want you can vary the ratio in your own hybrid oil blends. For example, a 2:1 olive to neutral oil ratio may result in a milder final product but still offer that distinct flavor to your dressings and marinades. However, if you want an even milder-tasting blend, feel free to try a 3:1 or even 4:1 ratio.