Giada De Laurentiis' Espresso Martini Affogato Is Putting TikTok Into Party Mode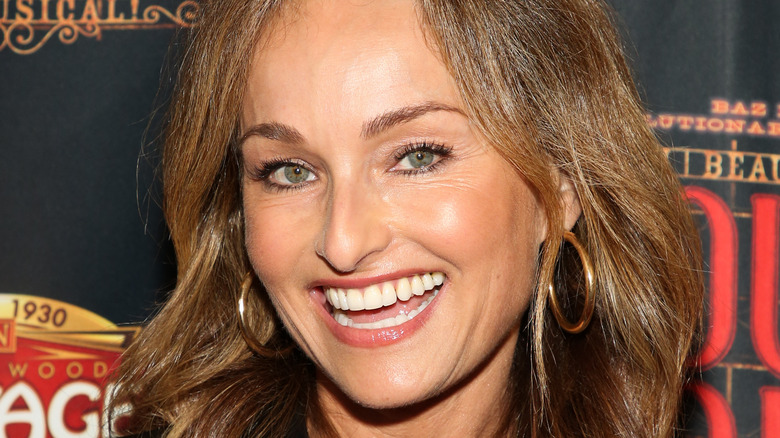 Paul Archuleta/Getty Images
Forget about canned hard seltzer. There's another trendy drink that's been on everyone's mind (and bar menus) lately, and that's the espresso martini. Beginning in 2021, the cocktail, which was originally popularized in the 90s, started its comeback. Then, Timothée Chalamet and Larry David were spotted sipping espresso martinis in New York City together, and the drink's popularity skyrocketed.
Now, it seems like everyone has their own signature version of the espresso martini cocktail. Because it is such a simple drink, often including a combination of vodka, coffee, coffee liqueur, and simple syrup, it's pretty easy to riff on. Ree Drummond, the Pioneer Woman, adds eggs to her espresso martinis to make them frothier, and Bobby Flay's head-turning espresso martini brings in Southwestern flavors. But Giada De Laurentiis opts for something a little sweeter: gelato. Her take on the espresso martini combines a classic Italian treat with the drink of the moment, and not only is it delicious, but it may even be a more responsible way to enjoy this high-octane cocktail, too.
Ice cream and booze
Giada De Laurentiis' take on the espresso martini, which she shared on TikTok, combines it with the classic affogato, a dessert of gelato served in a cup of espresso. Though an affogato is usually made with hot espresso, De Laurentiis keeps things cool in her martini recipe, shaking vodka and espresso with ice, then straining the mixture into a coupe glass over a dollop of vanilla gelato. The sweet creaminess of the gelato helps mellow out the strong flavors of the liquor and espresso, for a drink that can stand up to most desserts.
But it doesn't just get points for taste. De Laurentiis' spin could help you avoid the bad hangover so many get from espresso martinis. Having some food with your espresso martini, like a scoop of gelato, can help mellow its effects. For one, there will be something else in your stomach for your body to digest other than just alcohol and caffeine, and it will likely take you longer to consume the drink itself, which gives your body more time to process the alcohol (via Healthline). It's still a cocktail that packs a punch, and should be enjoyed in moderation, but thanks to De Laurentiis' hearty spin, you're less likely to find yourself feeling woozy after only one. Just don't forget to follow it with the ultimate nightcap: a glass of water.