Rumors Are Circulating About Who The Next GBBO Host Will Be
After the finale of Season 14 of "The Great British Bake Off" Matt Lucas made the surprising announcement on Twitter that he would step down as host. Fans can hardly be blamed for immediately starting to speculate on who his possible replacement will be. 
Lucas joined Noel Fielding as host of "GBBO" in 2020 and weathered some of the show's more difficult seasons that included pandemic restrictions, fan criticism of overly difficult baking challenges, and allegations of cultural insensitivity. Richard McKerrow of Love Productions, which produces "GBBO," shared with Deadline that they're striving for an improved Season 14, and hope to announce the new host very soon. 
One star that has been getting a lot of attention as a potential baking tent host is British comedian James Acaster, who appeared on a celebrity episode of "GBBO" in 2019. How this rumor began is a mystery — especially, it seems, to Acaster himself. The Independent shares that during an appearance on "The Jonathon Ross Show" Acaster said, "No one's spoken to me about it, and rightly so," joking that his 2019 stint on the baking show left him scarred and traumatized. 
Is Acaster just playing up "GBBO" fans ahead of the big reveal? Just in case he isn't, there are a few other names in the running as well. 
One name in circulation is a GBBO fan-favorite baker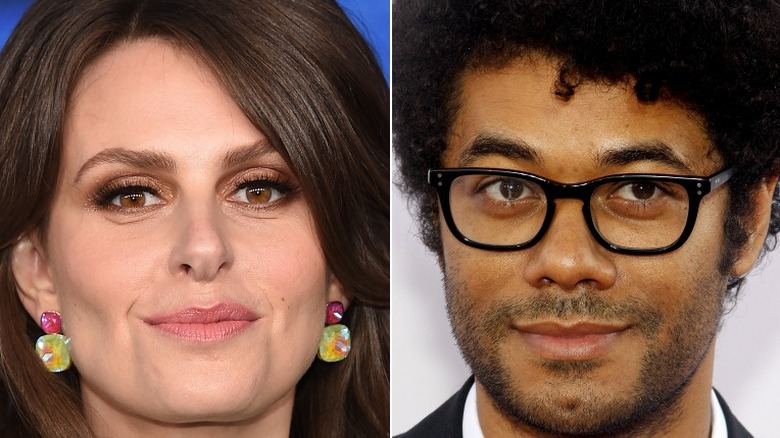 Tinseltown & DFree/Shutterstock & undefined
Just how seriously do the British take the next "Great British Bake Off" host discussion? They're placing bets on it. The U.K. gambling site OLBG shares that bets on the next "GBBO" host are currently focused around five potential celebrity candidates. The current frontrunner, whom OLBG gives an 18.2% probability, is comedian and actress Ellie Taylor who has appeared on several programs in Britain as well as the shows "Drunk History" and "Ted Lasso". Close behind Taylor is actor Richard Ayoade, who hosted several seasons of the show "Travel Man." Ayoade gets a 16.7% probability rating from the betting site, and his fans would likely be thrilled to see him reunited with his former "IT Crowd" co-star Noel Fielding on "GBBO." 
Whether he likes it or not, James Acaster is indeed in the running for the show's host position, coming in third on OLBG's list. Another candidate is Claudia Winkelman, who co-hosted the British competition "Strictly Come Dancing" and was a host on former "GBBO" judge Mary Berry's show "Best Home Cook." 
The final candidate, according to OLBG, is one that will really make "GBBO" fans' hearts flutter: season 12 finalist Crystelle Pereira. Though she's only given a 9% chance, the baker did tell Insider that she enjoyed Fielding's joking and chats during the competition — this and her cheerful good humor means she might just be a great fit as host of the next season.