Waffle Irons Are Having A Savory Moment On Social Media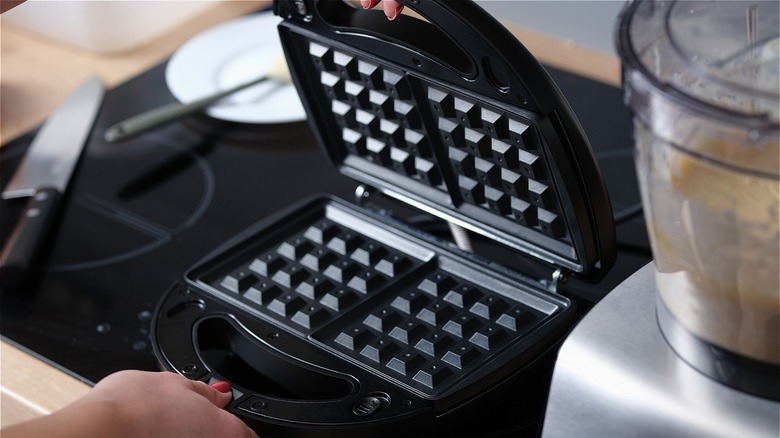 H_Ko/Shutterstock
With all the cooking appliances out there nowadays, it's pretty easy to get creative in the kitchen. The waffle maker is the perfect example. This hotel breakfast buffet classic has been found in kitchens since the mid-1800s, but it's evolved quite a bit since then. Not only have the design and shape options changed, but what people are putting in them has gotten much more inventive.
Take a look at social media these days, and you'll realize that there are so many more foods you can make in a waffle iron besides the classic pecan waffle — think savory recipes from sandwiches to pizza and even burgers. If you think about it, this tracks: A waffle iron is similar to a sandwich press in that it features two metal plates that heat up and crisp both sides of a food. With that in mind, people are taking to TikTok to share some of the savory creations they've found to be delightful in the waffle iron.
You can make keto sandwiches and more in a waffle iron
Eating keto? Make a "chaffle." TikTok user Melissa Vest shared a video of their mini cheese waffle creation, featuring two slices of Provolone cheese to substitute the bread in a salami and turkey sandwich. The cheese crisped up in the waffle maker, turning into a tasty vehicle for some cream cheese and everything bagel seasoning. Another cheesy pick proving to be popular on TikTok is the waffle iron quesadilla, which gets you a perfectly golden tortilla without the hassle of flipping it in a pan.
Some of the Pioneer Woman's favorite waffle iron foods include logical picks like pizza and omelets (or wafflets), but the savory waffle maker possibilities can be far more imaginative. The Waffle Boyz TikTok account is known for savory waffle sorcery, such as waffle iron corn dogs, green eggs and ham, and even crispy rice topped with orange chicken. The grid pattern of a waffle iron can level up the crunch of everything from burgers to hash browns. As a rule of thumb, just about anything that you can make in a panini press, you can make in a waffle iron.