Frank's RedHot Is Getting A Pickled Makeover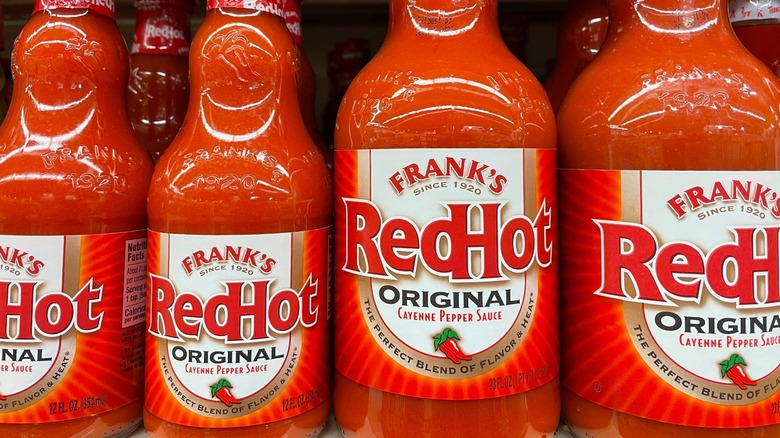 Billy F Blume Jr/Shutterstock
Dill pickle fanatics don't have to be told that there are a seemingly endless number of pickle-flavored foods available today. They watched and tasted with delight as pickle flavor crept into vodka, popcorn toppings, cotton candy, popsicles, and soda. Pickle producer Mt. Olive even sells gallon jugs of straight pickle juice to let dill devotees pour that flavor wherever they wish, like shots, cocktails, and marinades. 
Running parallel to this phenomenon is a trend of spicy pickle-flavored snacks — like potato chips, nuts, and again, cotton candy. What did sweet, innocent cotton candy ever do to deserve all this pickling?
Frank's RedHot is getting into the pickle game too with a new product: Dill Pickle Hot Sauce. The new sauce blends the well-known, fiery red, cayenne pepper sauce with a hefty dose of pickle juice and dill weed. Frank's hot sauce fans already "put that s*** on everything," but now they have even more spicy possibilities.
You won't find Frank's pickle hot sauce in stores
Frank's RedHot announced the new pickle-flavored hot sauce on Instagram. The brand's followers were really intrigued and left comments like, "SHUT. UP. Was this made 'specially for me? I think so." And naturally, those pickle and spice lovers want to know where to find it. For now, the Frank's RedHot Dill Pickle Hot Sauce won't be stocked on store shelves: It's only available online via McCormick's website, the parent company for the hot sauce purveyor and other brands like Lawry's and Old Bay seasoning. A two-pack of Frank's pickle hot sauce in 5-ounce bottles costs $6.49. 
While pickle fans wait for their sauce to arrive, they'll surely be dreaming about all the ways to add spicy pickle flavor to foods. Frank's RedHot gets the ball rolling with a few recipes like Spicy Chicken Pickle Sliders and Dill Pickle Shrimp Rolls, as well as suggestions for livening up popcorn or pizza with the condiment. Adding it to chicken nuggets, French fries, and burgers is a given, but this pickle hot sauce will also be a hit at breakfast: You can sprinkle it into Bloody Marys, over a plate of scrambled eggs, and inside breakfast sandwiches. Fans can even add a dash to their poor cotton candy if they wish.