TikTok's Cartoon Cakes Look So Real They'll Make You Do A Double Take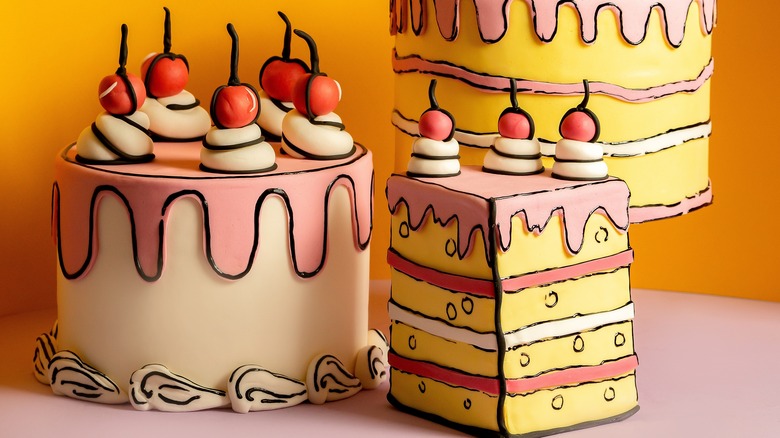 Ruben Dallakyan/Shutterstock
If you've spent much time on TikTok, you'll know that the app loves a cake trend. From layered cakes made entirely of potatoes to hyper-realistic cakes disguised as everyday objects (a trend so viral it even spawned its own Netflix reality competition show, "Is it Cake?"), cake-related content always seems to rise to the top of our feeds. We've even recently had the "Drake Cake" — a bizarre trend that, according to Buzzfeed News, sees amateur bakers on TikTok recreate the Canadian rapper in cake format, to, let's say, mixed results.
Another of TikTok's current cake crazes is a fresh take on hyperrealism that, at first glance, would be more at home in an art studio than a professional kitchen. It's the perfect trend for anyone interested in flexing their baking and decorating skills for a special occasion, and is sure to make any birthday celebration feel much more lively, or should we say, animated.
TikTok's cartoon cakes
The latest viral cake trend, which, according to 614, has an incredible 124 million views on TikTok, involves creating 2D cartoon cakes that look like they've jumped straight out of the screen. In a TikTok video, Melbourne-based cake artist Tigga Maccormack (@Tigga_Mac) demonstrates how to make the cute cartoon creation. She cuts the cake into triangles and lines each layer with frosting, before stacking them together to achieve a classic, exaggerated slice shape. She then frosts the cake and covers it with a yellow and pink fondant base, before applying lines of turquoise fondant to simulate frosting, and black fondant to replicate the Sharpie-drawn edges of an animated drawing.
TikTok users are loving it, with one person commenting, "How are people making everything look like cartoons?? That is so awesome," and another user admitting, "My brain got confused by it at the end." One commenter recognized the 2D trend as similar to another animation style, saying, "Why does this cake remind me of the 'Purple Place' game we used to play on our computers back in 2007?" referencing the nostalgic Windows Vista cake-decorating game "Purble Place."
If you want to make your own cartoon cake, there are plenty of helpful YouTube tutorials online that break down the process. Or, you could go along to an in-person tutorial — Our Cupcakery in Dublin, Ohio is hosting a comic-cake decorating class on Thursday, April 13, 2023, where you can learn how to pipe and outline cakes in the viral 2D style.