A Dunkin' Customer's Grilled Cheese Mishap Is Disturbing TikTok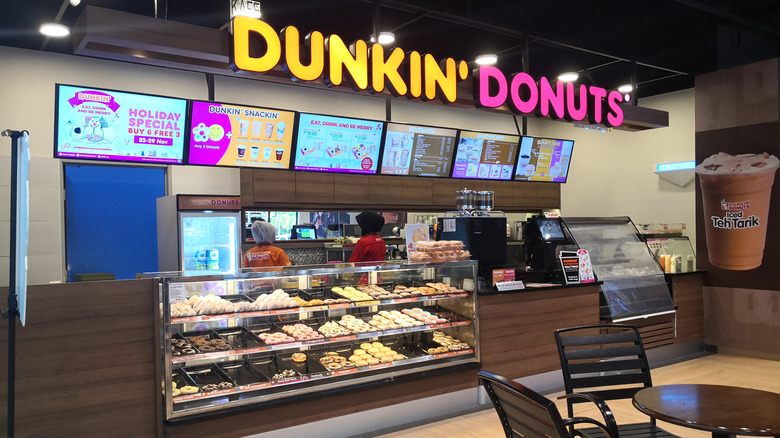 Mashka/Shutterstock
There's arguably nothing more comforting than a good grilled cheese, especially when dipped into a steaming bowl of tomato soup. Although we all love to enjoy it at home, fast-food restaurants are typically hit and miss when it comes to recreating the heartwarming lunchtime classic. Most of America's favorite chains have made their own versions to varying levels of success — from Dairy Queen, whose Texas Toast grilled cheese is a secret menu item, to Five Guys, who controversially slap two hamburger buns together and fill them with five (yes, five!) slices of American cheese. Likewise, even Dunkin' Donuts has its own grilled cheese to throw into the mix. 
Dunkin' Donuts might be somewhere most people associate more with coffee and, well, donuts, than sandwiches. But that hasn't stopped the chain from maximizing on the hype with its own grilled cheese. According to a 2021 press release, Dunkin' Donuts' Grilled Cheese Melt features both white cheddar and American cheese on sourdough bread for what sounds delightful and quite upmarket compared to some of the other options out there. But if TikTok is anything to go by, it seems Dunkin's efforts are a little lukewarm.
Dunkin's grilled cheese was less than perfect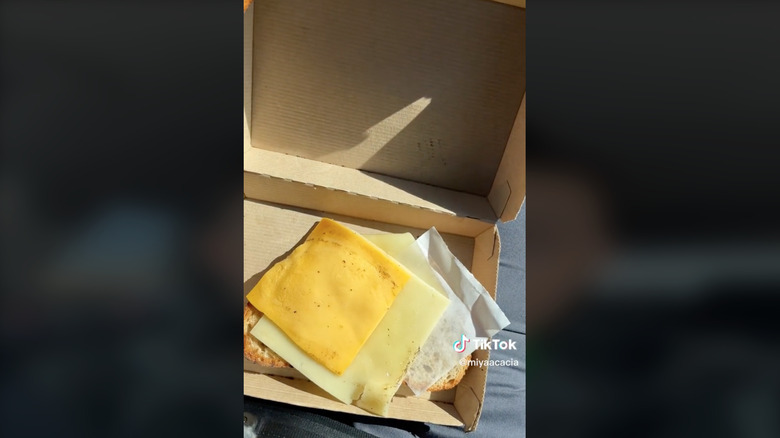 In the video posted to TikTok, user @miyaacacia explains that she was craving a grilled cheese, so she headed to the popular coffee and bakery chain to grab one in a "run of desperation." But what she actually received was an underwhelming-looking sandwich filled with a few flimsy, unmelted slices of cheese and a piece of cheese paper stuck between the bread. "Deliciouso," she mocked while laughing at the ridiculous situation. 
Other TikTok users in the comment section expressed their disappointment. "Please tell me you took it back inside," one person commented, with Miya responding, "Are you gonna believe me if I told you I threw it in the microwave and ate it?" "Starbucks would never," added another user — recommending the popular coffee brand's grilled cheese sandwich instead. This isn't the first time that Dunkin' has a scandal, either. From employees cursing at customers to allegedly using fake ingredients, it looks like the donut chain needs to clean up its act in a few areas. Maybe it could start by melting its cheese.