The Ultimate Grilled Cheese Sandwich Recipe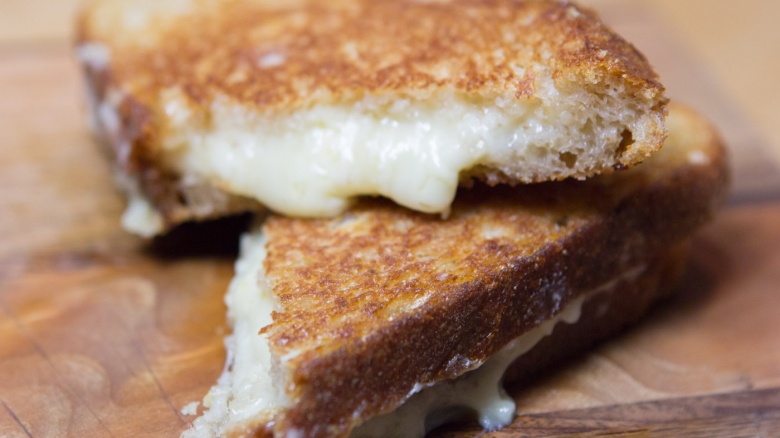 Prep time: 5 minutes. Cook time: 8 minutes. Servings: 1 sandwich.
Let's get real. Grilled cheese is the ultimate comfort food, no matter what age range you fall in. Sure, it's hard to go wrong with most types of hot, cheesy carb action, but do you ever wonder if you're settling when it comes to your grilled cheese game? While the worst cheese-stuffed sandwich is still totally palatable and an average one is pretty darn satisfying, an exemplary concoction can be downright transcendent.
To get us on the same page and avoid any future confusion, let's first define what a grilled cheese even is. It is a closed sandwich. While you can make an open-faced sandwich with cheese, that definitely takes it out of the grilled cheese category. Cheese must be the main ingredient of the filling. While add-in items may be acceptable to some, too much involvement from non-cheese ingredients is acceptable to none. The sandwich needs to be made using sliced bread only. You can use whole-crusted bread, but then you would be eating a panini. Grilled cheese is a hot sandwich with hot melted cheese inside — cold cheese slices turn your sandwich into a different one altogether. Lastly, grilled cheese must be cooked on a hot greased surface, whether that's a pan or griddle.
Onward. What takes grilled cheese from okay to out of this world? Well, there are actually multiple factors. The bread must be suitably hearty for griddling purposes — not flimsy but not so thick that the cheese can't melt. The crust must be golden brown and crispy but not even remotely burnt. If you're using only one type of cheese, you're on the path to mediocrity already. The antidote is a blend of just the right melting cheeses to give the sandwich depth of flavor. And, most difficult of all, the proportion of cheese to bread must be just so.
Here, hearty sourdough slices sandwich white American cheddar, Swiss-style Gruyere, and rich fontina. The outside of the bread slices are coated with a thin layer of mayo instead of traditional butter. Since mayo doesn't burn easily like butter, it lends the crust a crisp, golden exterior minus any burnt bits — plus it's a lot less greasy. While you're free to experiment with different types of breads and cheeses, remember to use high-quality bread slices and cheeses that will melt. It may seem like a lot of cheese for one sandwich, but trust me, the filling cooks down quite a bit. Enjoy.
Ingredients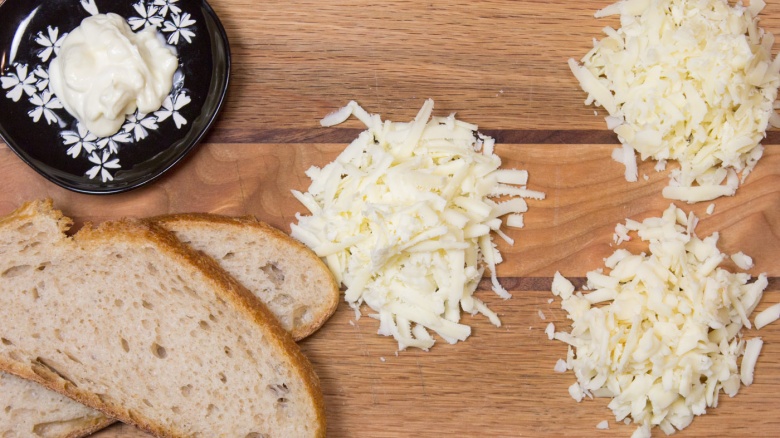 Shopping list


2 slices sourdough bread


1 tablespoon mayonnaise


¼ cup white cheddar cheese, shredded


¼ cup Gruyere cheese, shredded


¼ cup fontina cheese, shredded


Equipment


medium pan


heavy-bottomed pan


Prepare bread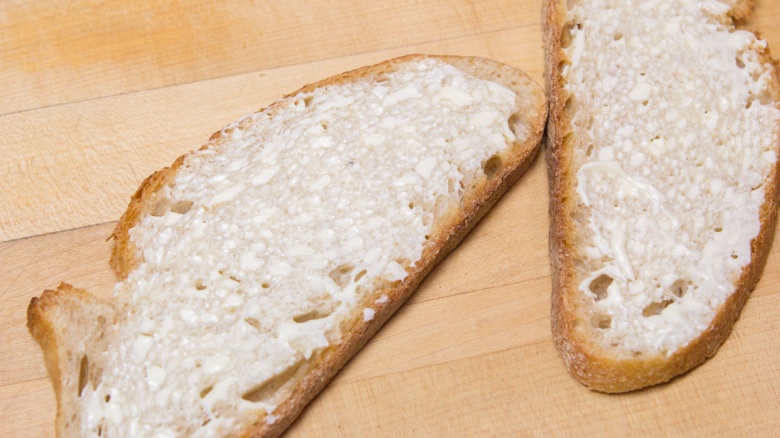 Place the bread slices on a clean, dry surface. Spread mayonnaise on one side of each slice, dividing evenly.
Blend cheeses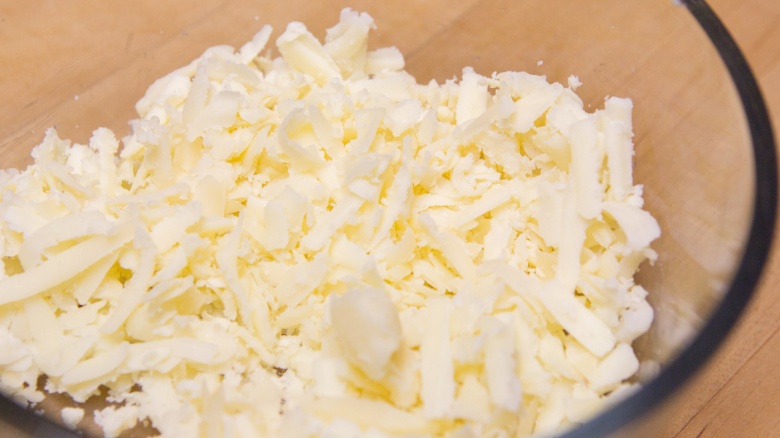 In a medium bowl, stir together the cheddar, Gruyere, and fontina cheeses.
Assemble sandwich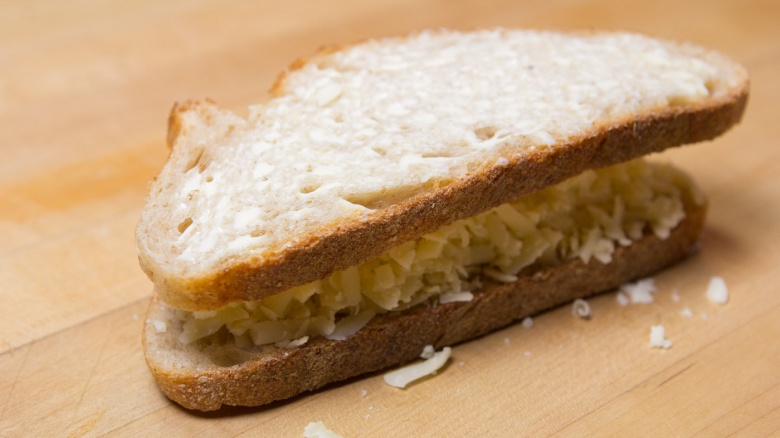 Turn the bread slices so they're mayo-side down. Divide cheese evenly between two slices of bread. Finish with remaining bread, mayo-side up.
Cook sandwich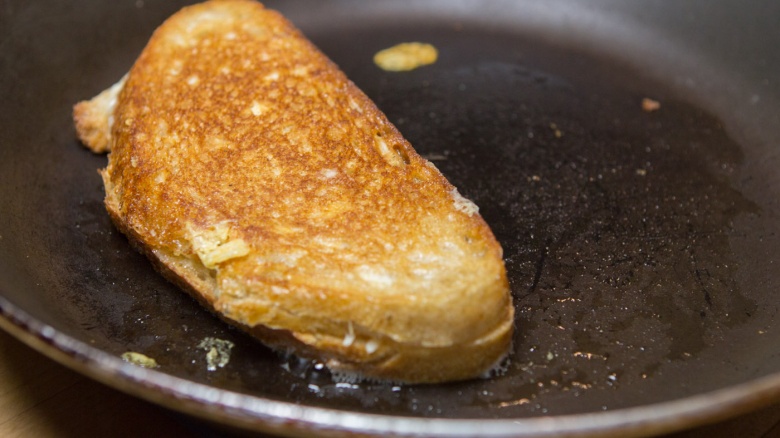 Heat sandwich in a medium pan over medium-low heat. Place a small heavy-bottomed pan on top of the sandwich to weigh it down. Cook until the bottom is golden, 2-4 minutes. Flip and continue cooking until the bread is golden and the cheese is melted, 2-3 minutes more.
Serve sandwich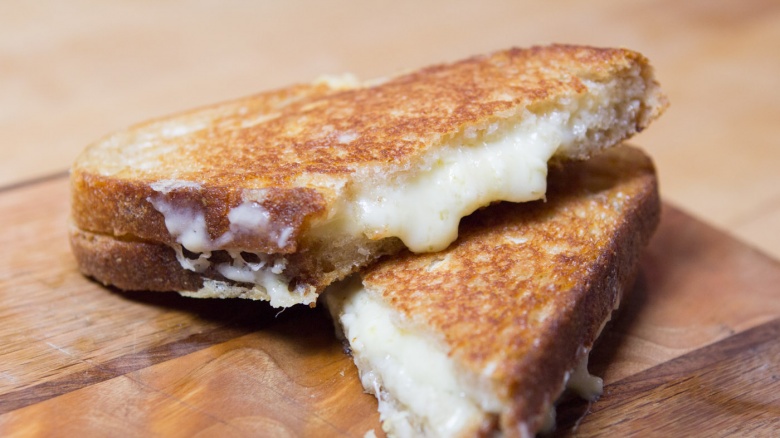 Halve the grilled cheese sandwich on a diagonal and enjoy while it's hot.