Celebrity Chefs Everyone Hates Working With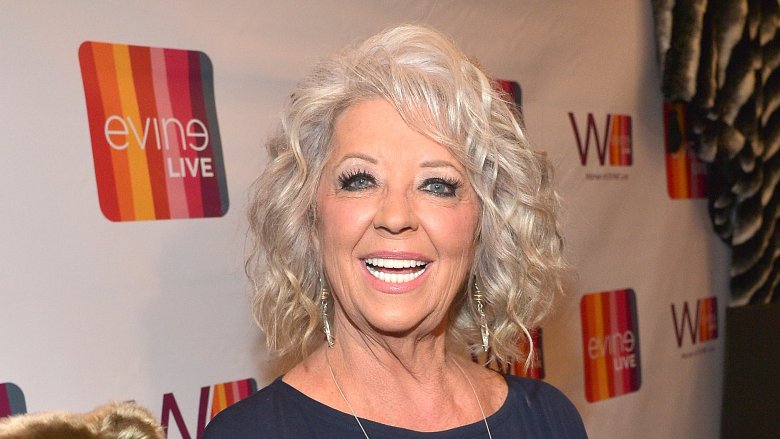 Getty Images
Anyone who has ever had a job has probably come across at least one co-worker who is difficult to work with. Maybe it was a constantly gossiping office mate, or a boss who was always yelling and made the work day more difficult. While the cooking industry might seem more exciting than a regular 9-5 job, the restaurant business is also filled with difficult colleagues. Some of the worst offenders are the chefs and owners of these restaurants.
Celebrity chefs in particularly can be difficult to work with. Some of them are impossible on the sets of their shows. Others treat their employees poorly. Whether it's the pressure of working in such a fast-paced industry, or they have just let their fame get to their heads, a lot of celeb chefs can be complete nightmares to work with. Here are some of the most notoriously difficult to work with celeb chefs on the cooking scene.
Guy Fieri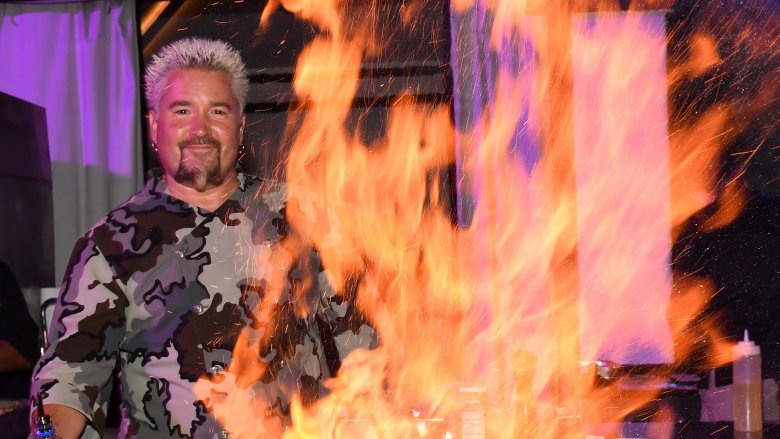 Getty Images
Guy Fieri might be one of the most notoriously impossible people to work with in any industry, let alone the cooking business. David Page, the creator of the Fieri-hosted show Diners, Drive-Ins and Dives told City Pages that working with Fieri was a nightmare, although he did admit that the celeb chef is a naturally talented performer.
According to Page, Fieri is prone to making tasteless jokes, but that's the least of things which make him an unsavory colleague. Fieri was also reportedly unable to look women in the eyes. "When cutting the show, you had to tell the editors to watch Guy's eye line, because it's always on breasts," said Page.
Fieri also allegedly didn't like working with LGBTQ people, saying he had to be warned before meeting with them because "those people weird me out." Yikes. Between the homophobia and the sexism, we wouldn't want to work with Fieri either.
Gordon Ramsay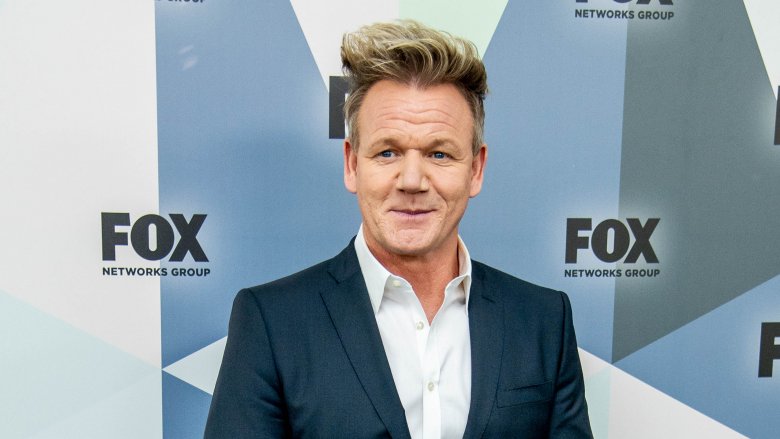 Getty Images
Anyone who has seen pretty much any Gordon Ramsay show knows that the celeb chef has an abrasive personality. But is he really the jerk he seems like on Kitchen Nightmares, or is all the shouting just for show? According to the many allegations brought against him by former employees, we're inclined to believe that Ramsay really isn't the easiest person to get along with.
Tash Pericic, a former assistant manager at Ramsay's restaurant Maze said that Ramsay was prone to profanity-laced rants, although his temper was nowhere near as bad as that of the head chef. Jason Atherton, Ramsay's former protégé, compared working with Ramsay to being in prison. "People think prison's tough, but compared to working for Gordon it'd be a breeze," he told the Daily Mail.
Ramsay has also been sued by former employees for not paying them enough for overtime hours. Ramsay's lack of respect for his co-workers isn't something he even tries to hide. When asked on Twitter what the hardest part of cooking is, Ramsay responded "The idiots I have to work with!"
Marco Pierre White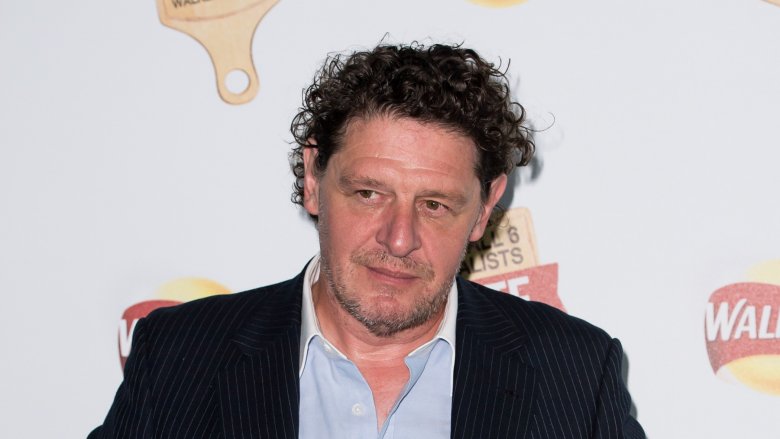 Getty Images
Anyone who is mean enough to make the notoriously hot-tempered Gordon Ramsay burst into tears is probably a person that no one ever wants to work with. Marco Pierre White might even be the reason that his former protégé, Ramsay, is such a nightmare. White was suspiciously tight-lipped when asked about the crying incident by The Washington Post in 2009, only commenting that the alleged scene took place "a long time ago." He also said that his reputation is exaggerated, although in his own book the chef describes himself as "nasty, vicious, aggressive and blunt."
In 2014, employees at White's Pear Tree Inn had enough of that bluntness and staged a walkout. They were reportedly so fed up with White's attitude that they simply walked out of the establishment. Locals were also unhappy with White's takeover of the long-standing gastro-pub, as he raised the prices of drinks after taking over the place. White ended up selling the business shortly after the walkout.
Mario Batali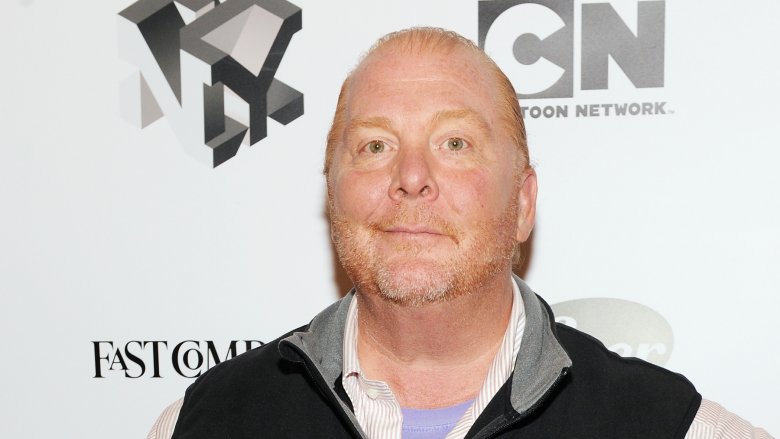 Getty Images
Thanks to a sexual harassment lawsuit, Mario Batali's name is pretty much mud these days. In 2017, the celeb chef was asked to step down from his co-hosting gig on The Chew after sexual harassment allegations surfaced. Women who had worked with Batali claimed that he would make sexually suggestive comments and would even feel them up and touch them inappropriately. NYPD did open an investigation of Batali, but https://www.cnn.com/2019/01/08...it was closed with no charges filed.
Sexual harrassment is terrible enough, but that isn't Batali's only crime. Batali's behavior was apparently particularly awful when he was drinking. Ben Peryer, who was working as a merchandising assistant at Vanity Fair when he delivered cookbooks for Batali to inscribe to guests at an upcoming party, told the Chicago Tribune that Batali screamed at him to "drink or die." Batali was allegedly intoxicated at the time, and pressured Peryer to drink along with him even though he declined repeatedly. The offense isn't as egregious as sexual misconduct, but it does establish Batali's pattern of ignoring his colleagues' boundaries.
Mike Isabella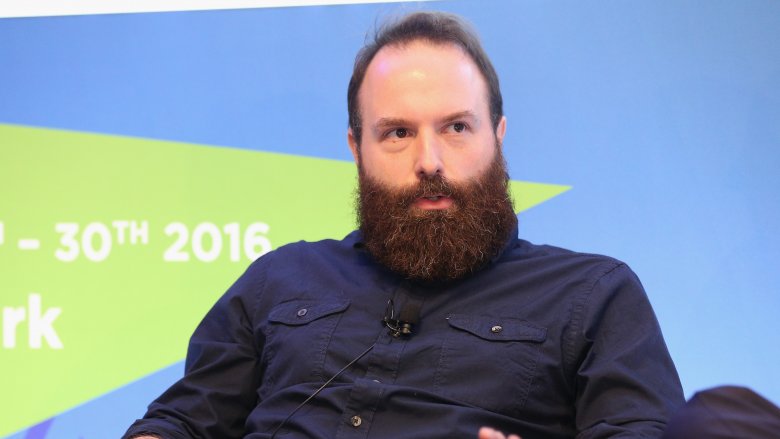 Getty Images
You would think that a professional chef would be able to, well, keep it professional, but it seems that word isn't in Mike Isabella's vocabulary. In March 2018, a former manager at one of Isabella's restaurants sued the Top Chef star for harassment. Naturally, Isabella denied the allegations and, while we firmly believe that a person is innocent until proven guilty, we have to admit that the lawsuit seems pretty credible.
The former manager, Chloe Caras, accused Isabella of creating a hostile environment for women. She told the The Washington Post that an intoxicated Isabella made lewd comments to her in late 2017. "I told him to stop, and he immediately got angry," said Caras."I tried to walk away, and he followed me into the kitchen, calling me a 'b****.' "
After Caras extracted herself from the situation, she was reportedly fired, although Isabella's legal team claims that she simply quit.
John Besh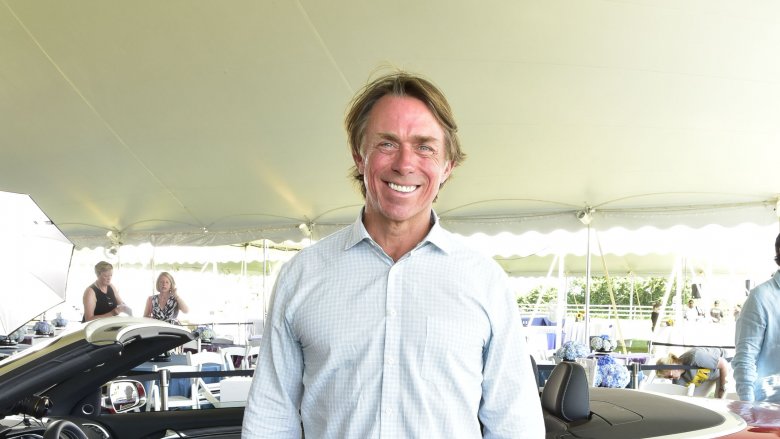 Getty Images
Will these celebrity chefs ever learn? John Besh is yet another cooking pro who was sued for sexual harassment. According to New Orleans Business News, Besh "fostered a culture of sexual harassment." The suit was brought together by 25 women who had worked at John Besh's restaurants. They claimed that women in Besh's restaurants were subjected to daily harassment and verbal abuse, and accused Besh of discriminating against them on the basis of their gender.
An eight-month investigation resulted in 25 current and former employees stepping forward, although only nine agreed to have their names published on the lawsuit. One employee, who refused to be named, said that on a work trip, Besh came to her hotel room and sexually assaulted her. Besh owned up to his mistakes, saying in a statement that he "regret[s] any harm this may have caused to my second family at the restaurant group." He also added an apology to  "anyone past and present who has worked for me who found my behavior as unacceptable as I do."
Paula Deen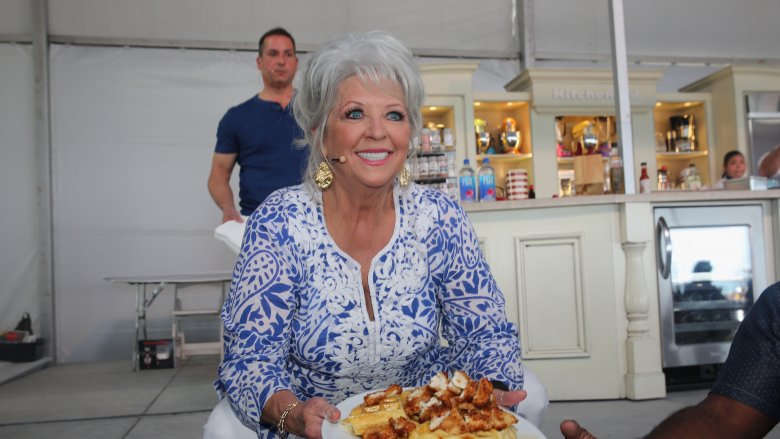 Getty Images
Paula Deen's infamous use of the "N word" cost the chef her reputation, but using the racial slur isn't her worst offense by a long shot. She also has a history of treating her employees unfairly, reportedly not paying some of them except in beer. "We were treated wrong," Sheldon J. Erving told Radar Online. Ervin formerly worked as a cook at Bubba's Oyster House, and also served at staff at some of Deen's parties, for which he says she didn't fairly compensate him.
Deen also allegedly took advantage of Dora Charles, a cook who worked with Deen at the start of her career and created many of the recipes used in Deen's restaurants. Deen claimed that Charles was her friend, and promised to bring her along with her when she made it big. Contrary to her promise to make Charles rich, however, Deen continued to pay her loyal employee just $10 an hour, even after she became a Food Network star.
Geoffrey Zakarian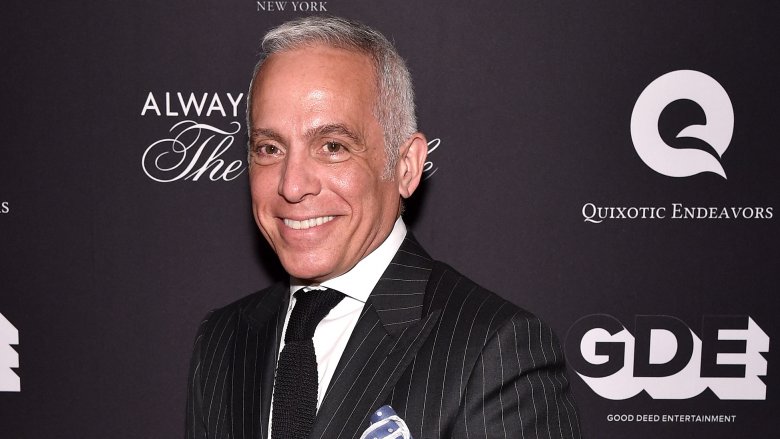 Getty Images
It's safe to say that if your employees band together to file a lawsuit against you, you're probably a real pain to work with. That's what happened to celeb chef Geoffrey Zakarian, after more than 150 former employees at his restaurant, Country, filed a class action lawsuit against the chef and his management firm. The allegations? Zakarian not only reportedly failed to properly compensate workers for overtime hours, but went so far as to falsify pay records and to dock money for staff meals that the staff never even received.
The former employees asked for $1 million in damages, plus another $250,000 in penalties. The legal costs rose so high that Zakarian filed for bankruptcy, although his publicist maintained that none of the allegations were true. Whether or not Zakarian is guilty, the lawsuit and the legal battle (not to mention the scandal) are enough to make any potential employee think twice about working for the chef.
Bobby Flay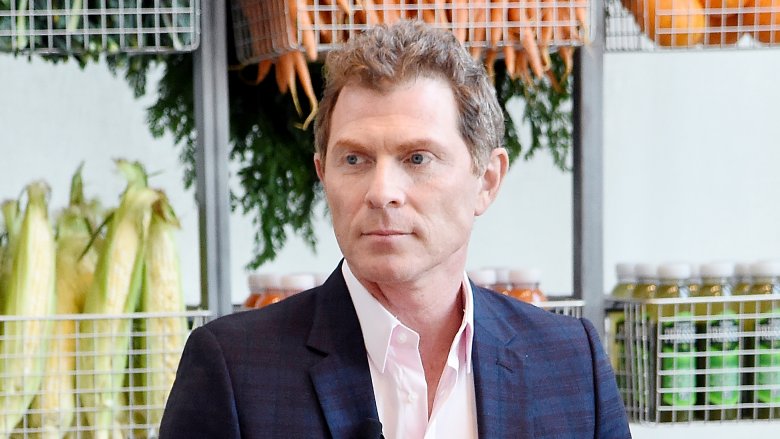 Getty Images
It seems that celeb chefs have a difficult time paying their employees for working overtime. This seems like a pretty basic thing to do, but Bobby Flay, like fellow celeb chef Geoffrey Zakarian, was sued by employees for failing to do just that back in 2009. The class action lawsuit brought together many people who had worked at Flay's several restaurants.
Flay wasn't just accused of not compensating his employees for working overtime, but he also cheated them out of tips. According to the lawsuit, he also forced his employees to buy and wash their own uniforms. Flay settled the lawsuit out of court in 2010. While he denied any wrongdoing on his part, he paid out $800,000 to the members of the class action lawsuit. According to the court documents, he didn't want to go to trial and so he instead forked over more than three quarters of a million dollars. Considering that tips are a pretty big part of working in the service industry, any boss who tries to cheat you out of them is not one you want to work for.
Anthony Bourdain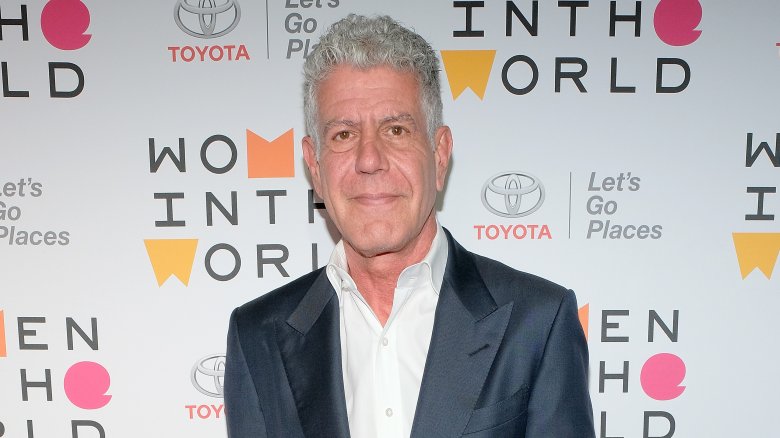 Getty Images
Anthony Bourdain, who passed away in June 2018, was so awful to his fellow celeb chefs that it was almost certain he was not fun to work with — at least for the chefs he had something mean to say about. In 2015, he went on a nationwide stand-up tour that was pretty much a roast of his colleagues, but we're not so sure that Bourdain was joking. Making fun of Guy Fieri's brightly-colored clothing could be considered funny if the two didn't have an ongoing feud, but when you crack jokes on stage and call your archival a "douche," there's probably some actual resentment behind the words.
Bourdain even ripped into Ina Garten, who is basically the sweet, kind grandma of the celeb chef world who always has cookies baking whenever you come visit. This is precisely what Bourdain seems to dislike about the chef. He said that he loved Garten (and her cooking chops) but implied that she might be a bit too overzealous. "I don't want to live in her house," said Bourdain. "It gets weird in Ina Land."