Savory Boneless Pork Chops And Mushroom Gravy Recipe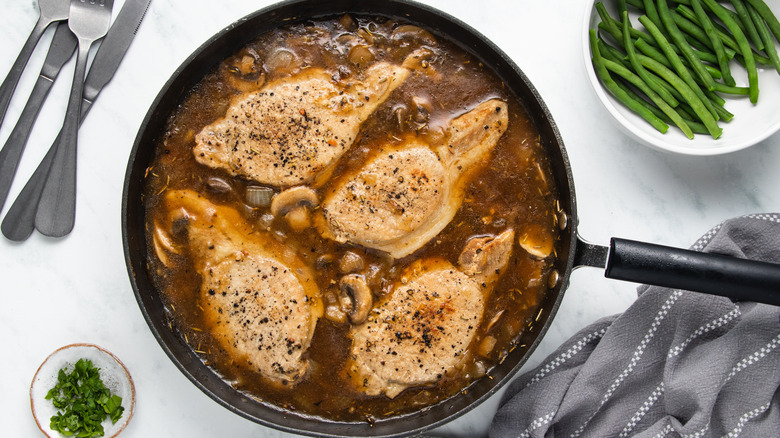 Catherine Brookes/Mashed
Pork chops, particularly the thin, boneless kind, don't take too long to cook, so they are something that's good to have on hand any time you want to make a fairly quick and easy dinner. While pork chops can be prepared in any number of ways, one of our favorites — and soon to be one of yours, too, we bet –- is to serve them smothered with a tasty mushroom gravy.
"These pork chops," says recipe developer Catherine Brookes, "are so flavorful and tender, yet deliciously browned on the outside." The gravy, she says, is "rich, savory, and packed with flavor," particularly due to one special ingredient she likes to add. "A splash of Worcestershire sauce helps to give the gravy that extra hit of umami flavor," she explains. As to where Worcestershire sauce gets its own umami from, you might be surprised to learn that it comes from anchovies, but don't let that put you off. A few drops of fish sauce won't hurt this dish and fact, they do it quite a bit of good, especially when paired with mushrooms.
Assemble the ingredients for the savory boneless pork chops and mushroom gravy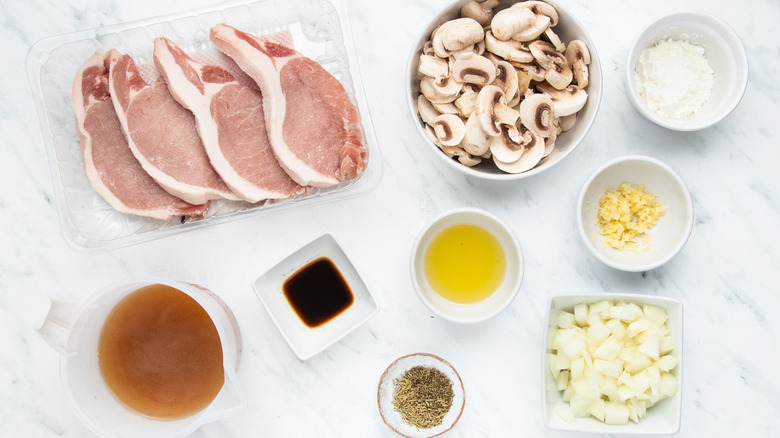 Catherine Brookes/Mashed
In order to follow this recipe, you'll need pork chops, of course, and olive oil for cooking. The gravy is made with mushrooms, onion, garlic, beef broth, Worcestershire sauce, and cornstarch and is seasoned with dried rosemary and thyme. Finally, you'll need a bit of salt and pepper to taste.
Brown the pork chops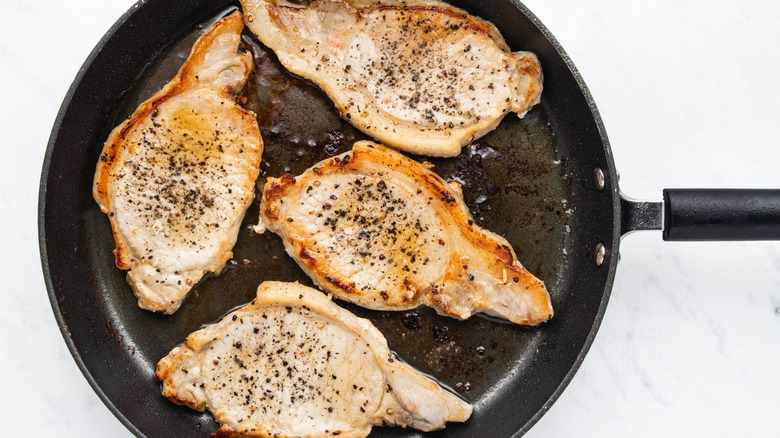 Catherine Brookes/Mashed
Sprinkle the pork chops with salt and pepper on both sides, then brown them in the oil which you've first heated up over a burner set to medium high. Brookes cooks her chops for 3 minutes per side, but tells us that "The pork chops I used were approximately ½-inch thick and the 4 together weighed about 1 pound."
If your chops are thinner and/or weigh less than 4 ounces apiece, you may not need to cook them for the entire 6 minutes because overcooking could dry them out. If they're thicker, they may need to cook a little bit longer. Keep in mind that the chops aren't done quite yet, though, as they'll be cooking for a few more minutes toward the end of the recipe.
Make the mushroom gravy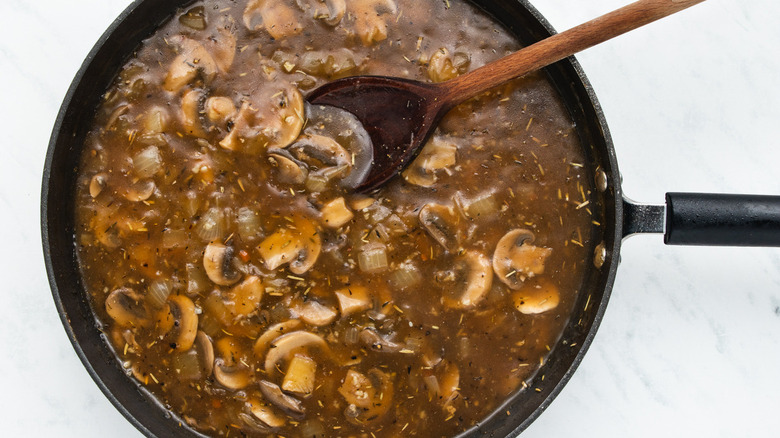 Catherine Brookes/Mashed
When the chops are brown, take them out of the pan and put the mushrooms and onions in. Cook the vegetables for about 10 minutes until they are soft and starting to turn brown, but keep an eye out that the onions, in particular, don't get too brown as this can make them bitter. Add the garlic and dried herbs to the vegetables and cook them for 2 minutes, stirring all the while.
Stir in the broth and Worcestershire sauce, then bring the gravy to a boil. Mix the cornstarch with a little cold water to make a slurry, then stir this into the gravy and cook it until it thickens up a bit. Taste the gravy at this point and add any salt and pepper that you think it needs.
Simmer the pork chops in the gravy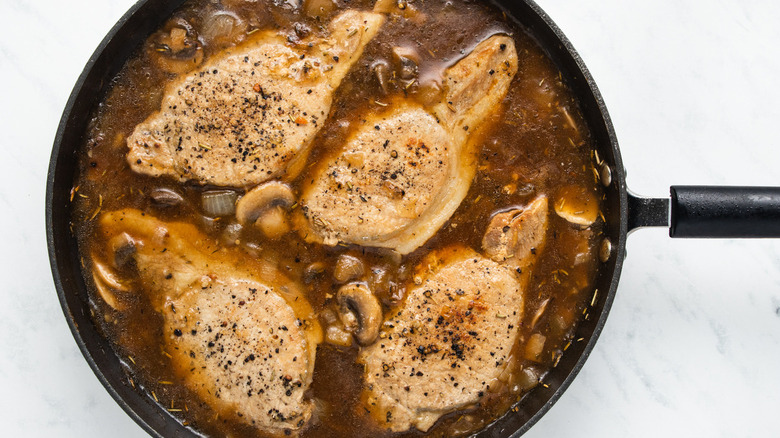 Catherine Brookes/Mashed
Return the pork chops to the pan and put a lid on it. Let them simmer in the gravy for 5 minutes. "The pork chops are ready to eat right away after simmering," says Brookes, so there's no need to rest them or anything like that.
The chops and gravy would go well with a side of mashed potatoes, buttered rice, or egg noodles. Anything starchy like that would help to mop up the great-tasting gravy, since you sure won't want to leave any of that on the plate.
Savory Boneless Pork Chops And Mushroom Gravy Recipe
These boneless pork chops come together in a savory, umami-rich mushroom gravy.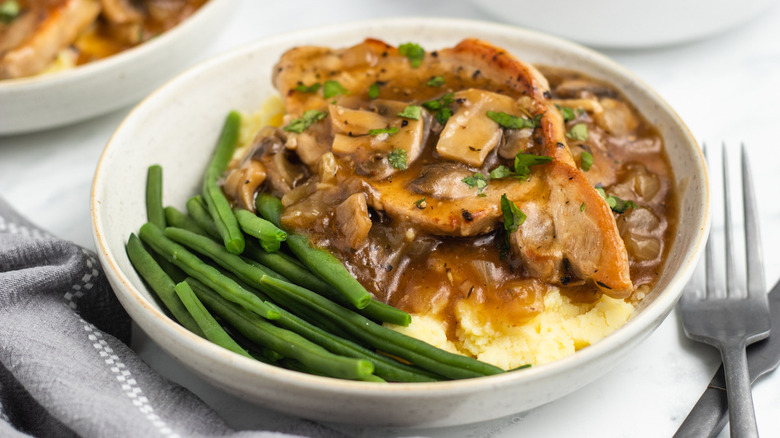 Ingredients
4 boneless pork chops
salt, to taste
pepper, to taste
2 tablespoons olive oil
6 ounces mushrooms, diced
1 onion, diced
4 cloves garlic, minced
½ teaspoon dried rosemary
½ teaspoon dried thyme
2 cups beef broth
1 teaspoon Worcestershire sauce
2 tablespoons cornstarch
Directions
Season the pork chops with salt and pepper on both sides.
Heat the olive oil on medium-high and sear the pork chops for about 3 minutes on each side, until they're brown.
Remove the pork chops from the pan and add the mushrooms and onion, cooking the vegetables for about 10 minutes until they are soft and starting to brown.
Add the garlic, rosemary, and thyme to the vegetables in the pan and cook them for 2 minutes, stirring constantly.
Stir the beef broth and Worcestershire sauce into the vegetables and bring the mixture to a boil.
Stir a small amount of water into the cornstarch to form a slurry and stir this into the gravy until it thickens slightly.
Season the gravy with salt and pepper to taste.
Return the pork chops to the pan and simmer for 5 more minutes.
Serve the pork chops with plenty of mushroom gravy on top.
Nutrition
| | |
| --- | --- |
| Calories per Serving | 404 |
| Total Fat | 21.3 g |
| Saturated Fat | 3.8 g |
| Trans Fat | 0.1 g |
| Cholesterol | 108.8 mg |
| | |
| --- | --- |
| Total Carbohydrates | 11.6 g |
| Dietary Fiber | 1.5 g |
| Total Sugars | 3.0 g |
| Sodium | 884.5 mg |
| Protein | 40.6 g |