The Worst Celebrity Chef Tantrums Of All Time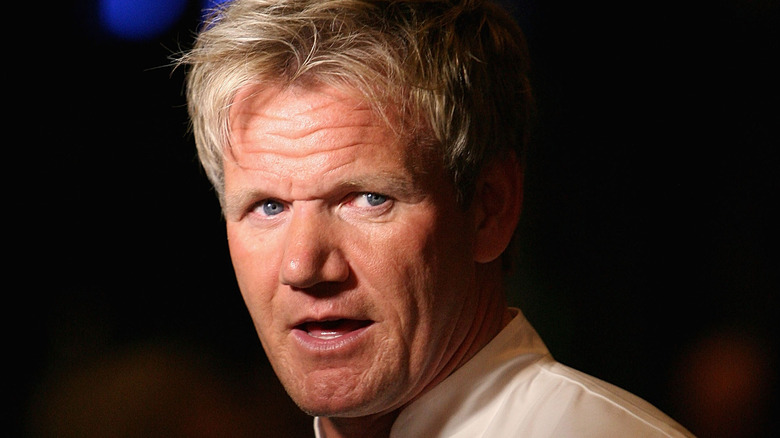 Robert Prezioso/Getty Images
You know what they say, "if you can't take the heat, get out of the kitchen", but what if you are the kitchen? Let's face it, being famous isn't always easy, and certain celebrity chefs have a tougher time handling the spotlight than others. While some chefs are brazen enough to unleash their wrath on camera, others prefer to engage in toxic behavior behind the scenes. Either way, celebrity chefs throwing tantrums has made for some wince-worthy moments over the years.
Celebrity chefs are passionate about what they do and sometimes that passion can be a little too, shall we say, intense. But who said that a Michelin star buys you class? And let's face it, most people watch "Kitchen Nightmares" because they know at some point during every episode Gordon Ramsay is going to blow his top. From a barrage of f-bombs, to self-indulgent tirades, and some unpleasant glimpses at the ugly truth, these are the worst celebrity chef tantrums — ever.
Mario Batali is drunk on power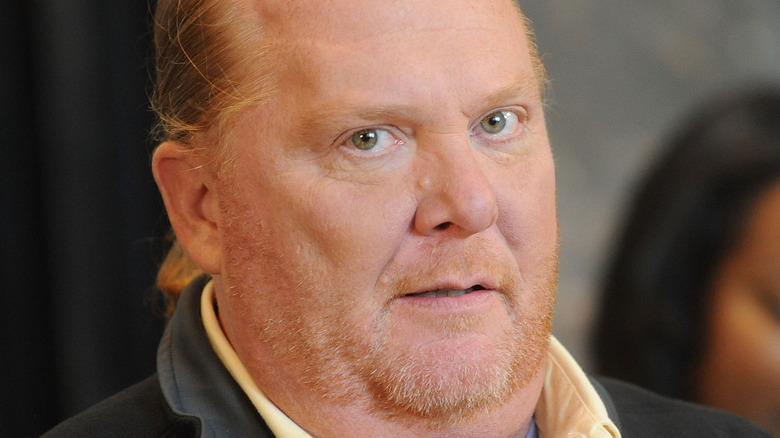 Brad Barket/Getty Images
Years ago, Mario Batali was best known for his ginger ponytail, orange clogs, and vast knowledge of Italian cooking. He dazzled viewers on Food Network's Molto Mario which ran from 1996 to 2004. His behavior was far less charming though when the cameras stopped rolling.
In his 2006 book "Heat," writer Bill Buford job-shadowed Batali at his acclaimed New York City restaurant Babbo, and saw another side to the typically genial chef. A passage in "Heat" describes Batali's volatile reaction upon realizing that Babbo's maître d' didn't promptly inform him that a well-known record producer had taken a seat at the bar. It went like this:
"'You f***ing moron. You f***ing motherf***ing moron'—and chased him out of the kitchen with such menace that I thought he was going to throw something."
A potty mouth and pent-up rage are common traits of world-class chefs but in the case of Mario Batali, it appeared to be more about control. The age-old showdown between restauranteur and food critic is nothing short of cinematic, but a critic named Adam Platt was taken aback when Batali mentioned him in an interview with food blog Grub Street, calling him a "miserable f*** (via Lit Hub).
Unfortunately, a tempestuous demeanor wasn't Mario Batali's worst quality. The celeb chef was one of many powerful men taken down by the Me Too movement when he was accused of over two decades' worth of sexual misconduct by several women. His career never recovered.
Don't hold back on us, Alvin Leung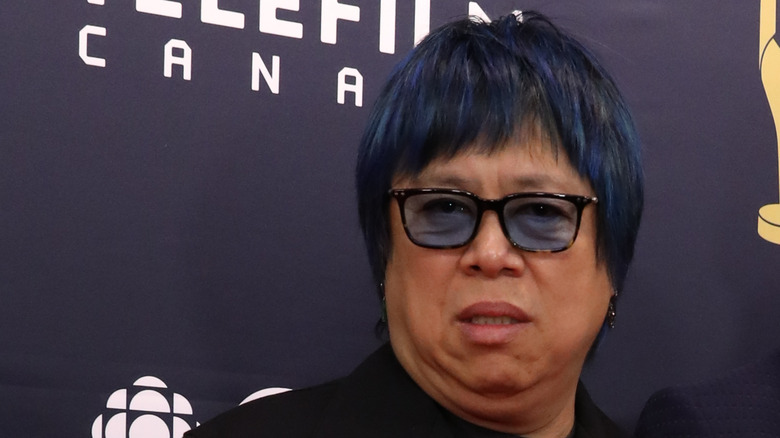 Shawn Goldberg/Shutterstock
Lest you forget, "MasterChef Canada" judge Alvin Leung is known as The Demon Chef for a reason ... the reason being that he gave the nickname to himself. Don't get us wrong, Leung seems like a decent guy but come at him with a pureed smelt croquette and you will provoke his ire.
Leung didn't just create a menacing nickname for himself, he also made up his own type of fusion cuisine called X-treme Chinese to go with his X-tremely touchy on-screen image. He has no problem telling it like it is to the home chef contestants on reality TV and viewers have come to expect it. The engineer-turned-chef has definitely earned the reputation as the scary one on the "MasterChef Canada" judging panel.
So how did Leung react when he lost one of his three Michelin stars? Pretty calmly actually. His Hong Kong restaurant Bo Innovation earned two stars in 2008 and Bo London earned one, but Hong Kong's Michelin guide rescinded a star in late 2019. Speaking on the matter to Post Magazine Leung said, "Of course, no one is happy about losing a star. But did I deserve to lose it? Yes, of course, because [Michelin] took it. It's their rules. It's not a human right."
Cake Boss' Buddy Valastro can't even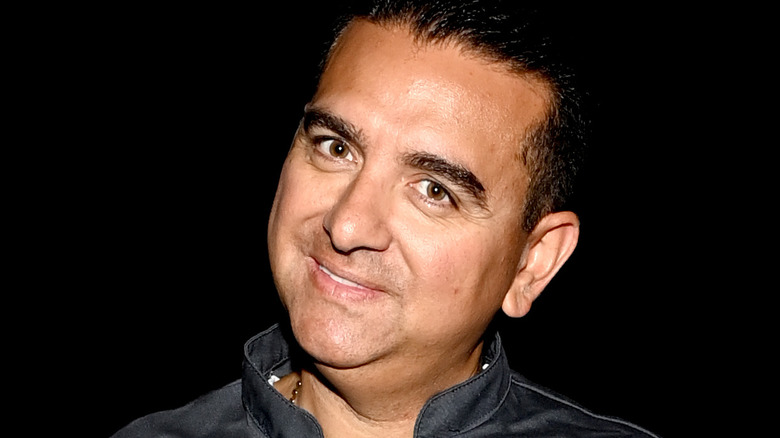 Dave Kotinsky/Getty Images
We have to admit, this one is justified. In a Season 1 episode of "Cake Boss" that aired in 2009, Buddy Valastro Jr. and family spent days constructing an elaborate cake for a Sweet 16 birthday party. The cake turned out great but proved to be a little too cumbersome for cousins Danny and Anthony to carry. While maneuvering down a stairwell, they quickly lost control, sending the multi-tiered confection airborne before it tumbled down a few steps and smashed onto the ground. When Valastro found out he went a little nuts, but not before uttering his highly quotable, panicked accusation, "What did youse do?!".
Truth be told, Buddy Valastro is a hard worker and good-natured person who is all about family. Yes, he tried to get out of a DUI in 2014 with the line, "You can't arrest me! I'm the Cake Boss", but as far as celebrity chef tantrums go, Valastro has a much milder reputation than some.
Marco Pierre White served high-end cuisine with a side of verbal abuse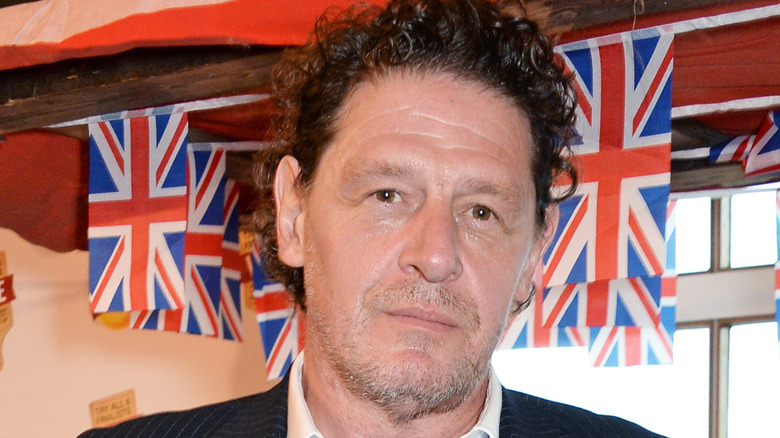 David M. Benett/Getty Images
British-born Marco Pierre White practically invented the moody chef persona and is widely considered the first celebrity chef — a label he dislikes as he stated to Destinations of the World News. White's management style is cut-throat and profanity-riddled, so it's quite poetic that he was a mentor to hot-head chef in training Gordon Ramsay back in the day. If you go to a restaurant and White is running the kitchen, you better not send any food back, unless, of course, you want to be thrown out.
White plainly explains that "rude" and "obnoxious" customers are not welcome in his establishments and he has no interest in taking their money. Video footage of White from the late '80s is a pre-reality show goldmine in which one professional acquaintance boils down his behavior as simply, "unpredictable." White's penchant for extreme action was in full force in 1999 when he gave up his three Michelin stars despite being the youngest person at that time to earn so many. His more recent stint as host of "MasterChef Australia" proves that his fiery temper hasn't simmered down with age.
When White addressed the widely reported rumor that he made Ramsay cry when he worked under White at the London restaurant Harvey's, he clarified the gossip by stating that "He made himself cry". Burn!
Joe Bastianich will totally trash you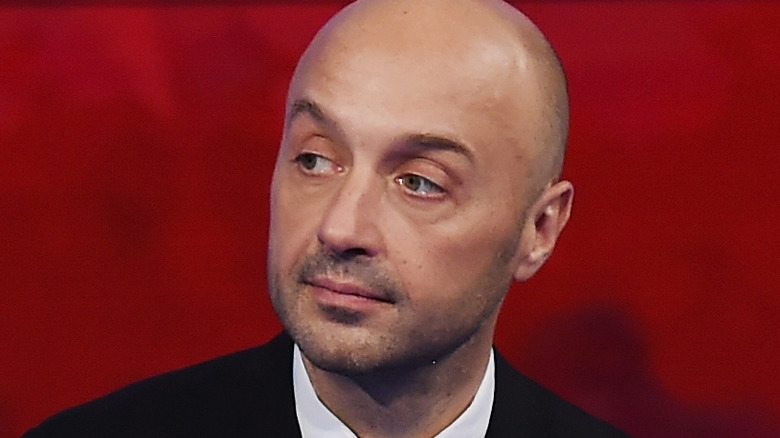 Stefania D'alessandro/Getty Images
We know a celebrity chef judging panel can be super intimidating (especially when Ramsay's there), but restauranteur and "MasterChef" judge Joe Bastianich takes it to another level. If you offend Bastianich with a subpar dish on elimination day he'll stare you down, say a few cutting words, and slam your food in the garbage. This little diva fit is harsh, but it became his calling card.
He may be playing it up for the cameras, but it turns out that this superior attitude is Bastianich's real personality — some might even say he's sort of a jerk. Season 4 contestant Howard probably wished Bastianich threw his cumin-dusted pasta in the garbage but instead was subjected to a verbal massacre, during which Bastianich referred to him as "a narcissist in full denial" and thanked him "for nothing."
Bastianich doesn't always get off scot-free for his behavior though. In 2021 he and his former partner — none other than Mario Batali — paid out a $600,000 settlement to compensate roughly 20 former employees who accused the problematic duo of sexual harassment, sexual discrimination, and unlawful retaliation.
Top Chef Nicholas Elmi needed to simmer down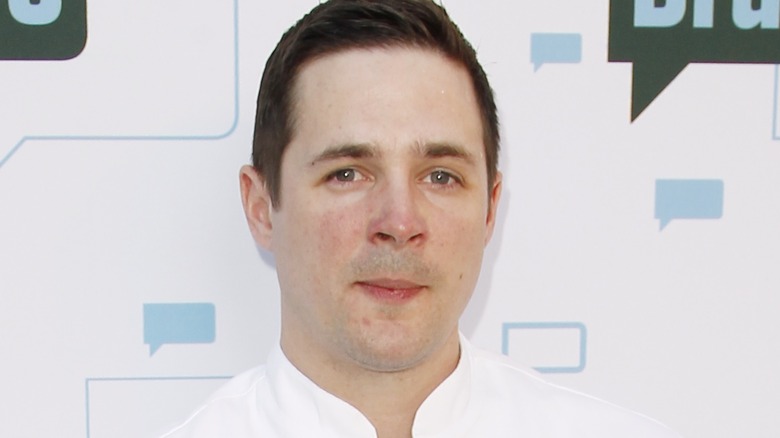 Joe Kohen/Getty Images
Season 11 winner Nicholas Elmi is widely considered one of the most unpopular "Top Chef" contestants to take home the grand prize. His victory raised eyebrows for a few reasons, but most of it had to do with how he carried himself. Elmi spent much of the finale screaming at his support staff — loud enough that the judges could hear him from the dining room.
We get it, the restaurant biz is full of nonstop pressure, but isn't that all the more reason to work as a team? Not if you're Nicholas Elmi. Earlier in the season, Elmi was criticized for refusing to relinquish his immunity and sending his teammate home despite the fact they were up for elimination for the dish he made.
Social media commentary after Elmi's triumph was so fraught with negativity that "Top Chef" judge Tom Colicchio tried to defend the decision by revealing how the votes were tallied in the final episode. Elmi went on to open the successful Laurel restaurant in Philadelphia as well as other eateries in the area, but even after all these years, his "Top Chef" win remains controversial.
Nico Ladenis will feed you his way or not at all
If at the heart of every tantrum is a stubborn kid embattled in a power struggle then perhaps Chef Nico Ladenis is a little too in touch with his inner child. The Greek chef was a hit in the U.K. with restaurants like Chez Nico, Deca, and Incognico, but if you want to eat his food you better play by the rules.
Ladenis is actually the originator of the "question me and I'll throw you out of my restaurant" routine that Marco Pierre White upheld so fervently (surprise, surprise, Ladenis was once White's boss). The thing is, Ladenis' rules are rather ridiculous, as is his reaction when he feels you've broken one. If you ask for salt and pepper, gather your things and go. Have concerns about the lighting? Leave — immediately. As if this weren't rigid enough, Chef Ladenis has also been known to kick the backs of diners' chairs if doesn't like their posture. Yikes!
Ladenis' aggression isn't only directed at pesky diners. Like Marco Pierre White, Ladenis also gave back his three Michelin stars due to his disdain for the haughty, fine dining scene. By the early 2000s, Ladenis turned his back on all of his famed London restaurants and retreated to a more peaceful life in the South of France.
Is Bobby Flay a primadonna?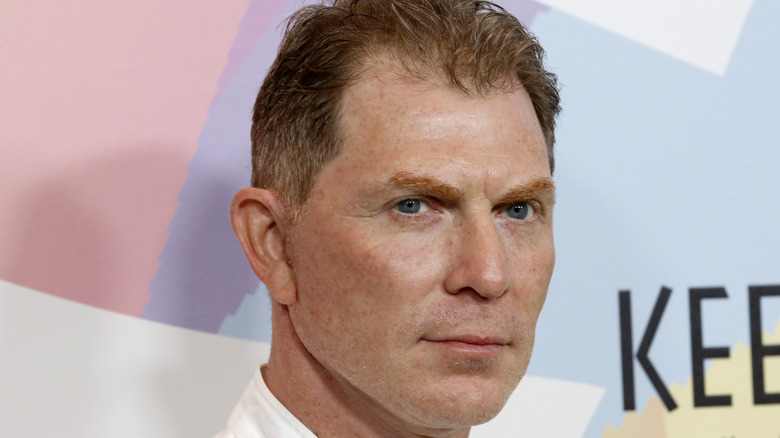 Gabe Ginsberg/Getty Images
Ask Gordon Ramsay, (who lovingly referred to the American chef as "Bobby f****** Flay" on a 2018 episode of the "Late Late Show") and the answer is yes. Like all of us, Bobby Flay has some character flaws, maybe even some controversy, but a little stunt he pulled on "Iron Chef Showdown" in 2017 did not sit well with Food Network — which has been Flay's literal bread and butter for decades.
According to food writer Allen Salkin who was an eyewitness to the drama, Flay opened up his chef coat as he was cooking to give live-audience viewers a glimpse at his t-shirt which read: "THIS IS MY LAST IRON CHEF BATTLE EVER". Flay was well aware that live segments of the show couldn't be edited and purposely put Food Network in a tricky spot.
Viewers weren't the only ones confused. At first, Flay brushed the whole thing off as a (weird) joke but later stated that he really was leaving Iron Chef. When Flay spoke to People shortly after the incident, he explained that he was experiencing burnout and described "Iron Chef" battles as "... exhausting physically but, even more so, they are exhausting emotionally."
Food Network still can't get enough of Flay. He tried to leave again in late 2021, but after some contract renegotiating, Flay inked a deal that would keep him on the channel for another three years. Can he keep his cool till then?
John Tesar is okay with being hated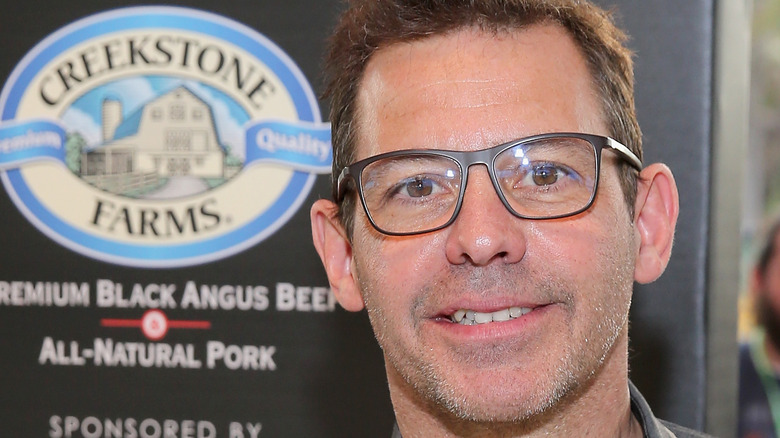 Neilson Barnard/Getty Images
There's no denying that John Tesar is a talented cook and restaurant owner, but he's not the easiest person to put up with. As the mouthy Season 10 and 14 alum of "Top Chef" and the only Dallas-baed chef to hold a Michelin star, Tesar has built a prestigious career for himself — but that's not the only thing he became known for. A 2011 profile in D Magazine described instances of Tesar being drunk at work, having petty arguments with other restauranteurs, and hurling pans and silverware at his staff. He posed on D's cover under the headline "The Most Hated Chef in Dallas."
Tesar's tantrums were partly behind his abrupt departure from five-star Dallas restaurant The Mansion in the upscale hotel Rosewood Mansion on Turtle Creek, and a string of short-lived restaurant stints before and since. His antics in the kitchen cooking alongside Anthony Bourdain in '90s-era New York City were the basis of the character Jimmy Sears in Bourdain's hit novel "Kitchen Confidential."Bourdain himself admits to launching a steel pan at Tesar recalling, "I wanted to kill him." Tesar laughs his behavior off as misinterpreted, or at best "provocative", telling D Magazine "I'm a badass, though."
Chef Jen Caroll should have dropped the mic
Oh "Top Chef," you never fail to keep it spicy! When Jen Carroll, a finalist from Season 6 appeared on the all-stars edition of Season 8, the Philadelphia-based chef and fan favorite was expected to be a front-runner. Carroll was also convinced she had the culinary expertise to take it all the way, which made her early exit (she was eliminated second) all the more maddening.
After getting lippy with the judges (especially Tom Colicchio), the panel delivered some shocking news: it was time for Carroll to pack up her knives. She put on a brave face for the cameras as she stomached the verdict and wished her fellow contestants well, but after bursting past the set door and going off screen Carroll let her true feelings be known. The only problem was that she was still miked up.
Carroll angry-cried over the injustice, saying she was "... not even f***ing close to being in the f***ing bottom" in what is still viewed as one of the most shocking and untimely departures in the history of "Top Chef." When TV Guide interviewed Carroll following the incident, she summed up the situation by saying, "I definitely got emotional, and it got the best of me that day."
What's your deal, Guy Fieri?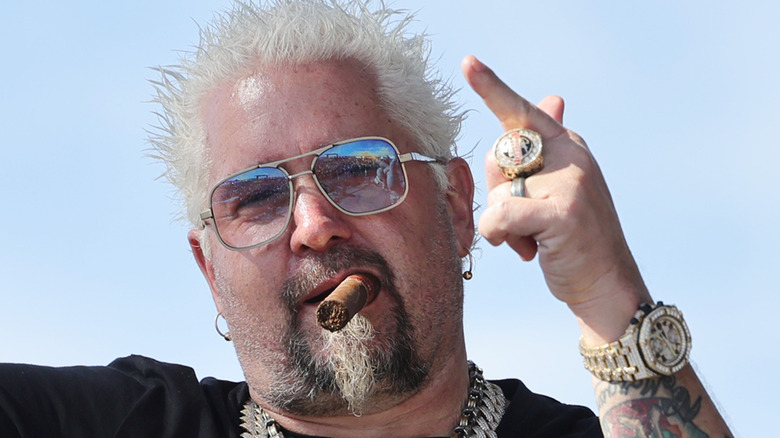 Ethan Miller/Getty Images
The riled-up chef persona most definitely gets played up in front of the cameras, but it turns out that TV chef Guy Fieri does most of his tantrum-throwing IRL. In 2013, Fieri was caught on camera having a kicking and slap fight with none other than his hairdresser.
That same year, word spread through the media that Fieri threw a fit when he couldn't get into the VIP section of a Maxim Super Bowl Party. Ultimately, one of Maxim's editors dispelled the rumor by posting photos with Fieri at the party (via Eater). Did people believe Fieri caused a scene because they weren't that surprised?
A superiority complex is par for the course for many celeb chefs, but Fieri has been accused of being just plain offensive. Accusations that Fieri is homophobic and sexist have been well-documented in the press. Plus, he's immature. Fieri and his boozed-up posse were once almost booted out of a hotel after jumping up and down in an elevator so hard that it broke, and a member of his entourage reportedly then thanked the hotel staff that untrapped them from said elevator by yelling at them.  
At least David Chang can admit when he's wrong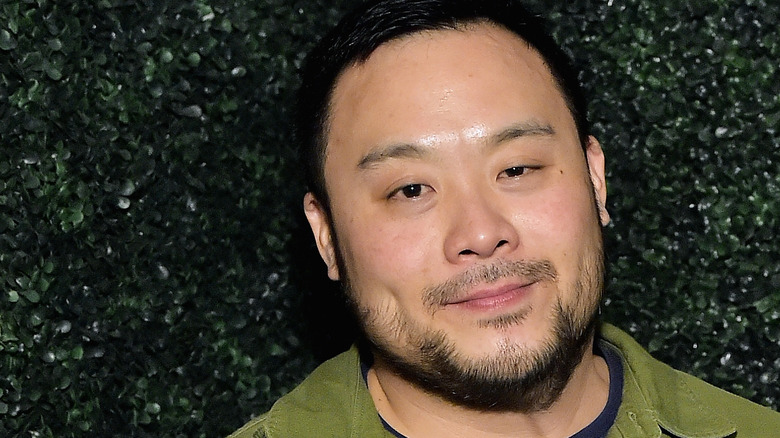 Stefanie Keenan/Getty Images
David Chang is the visionary chef who founded New York City's famed Momofuku restaurant group and star of Netflix's food travel series "Ugly Delicious." Early on in his success, Chang's media reputation was characterized by his hardcore outbursts. In his 2020 memoir "East a Peach" Chang recalls struggling to keep his anger in check, writing, "the only thing that could snap me out of my fits was punching a wall or a steel countertop, anything to cause me some kind of physical pain."
"Eat a Peach" largely explores Chang's latent awareness concerning his rage-forward behavior over the years. Chang was emboldened to shed the shame he felt over a recent bipolar diagnosis after losing his mentor and close friend Anthony Bourdain to suicide in 2018.
Although Chang's revelations signify his personal growth, former coworker and sommelier Hannah Selinger publicly questioned Chang's lack of acknowledgment for those who were on the receiving end of his unbridled tantrums, including a hotel employee in Australia Chang threatened with a knife and Selinger herself, whom he publicly berated during a staff meeting over a questionable wine paring. When asked to comment on specific instances Chang claimed, "While I do not recall these specific instances, they are entirely consistent with my behavior at the time ... The bottom line is that I'm sorry ... No one but me deserves to carry the burden of my past failings."
If you or anyone you know is having suicidal thoughts, please call the National Suicide Prevention Lifeline​ by dialing 988 or by calling 1-800-273-TALK (8255)​.
Gordon Ramsay, the undisputed tantrum king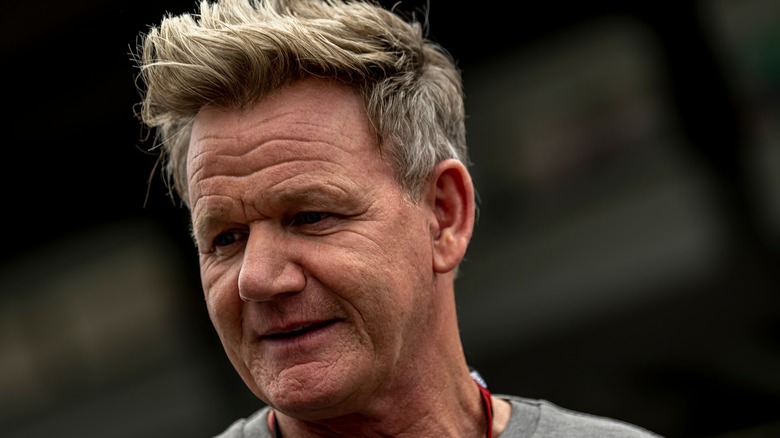 motorsports Photographer/Shutterstock
If Ramsay has tried to one-up Marco Pierre White as much as they say, he's certainly giving White a run for his money in the fit-throwing department. Trying to narrow down Ramsay's worst tantrum is like choosing which puppy you want from the litter — how can you pick just one?
Was it the time on the U.K. miniseries "Boiling Point" (that made Ramsay a household name in his native land) when he fired a waiter for drinking water in view of the customers? Wait, it's gotta be his face-off with Joe, boss of Mill Street Bistro on "Kitchen Nightmares." How about that French chef Ramsay destroyed, also "Kitchen Nightmares"? Or should we just talk about "Hell's Kitchen" where he did his best impression of the devil himself for 22 seasons?
Ramsay has admitted that his perfectionism and "all or nothing" mentality have been too much at times. "The jacket goes on and I become a different beast" he told Vegas Magazine. Yet the magnitude of Ramsay's rants has stirred up criticism. In 2016, fellow Michelin-starred chef Eric Ripert told ABC that shows like "Hell's Kitchen" and "Kitchen Nightmares" "... that promotes this behavior of screaming at people, insulting them and humiliating them ... is not something that should be on TV ..." But is Ramsay always this rough?
No. Other celebrity chefs like Richard Blais and Duff Goldman agree that while Ramsay is as intense as he comes off on television, he's a genuine guy with a good heart.