The Internet Leaves The Chat After Seeing The Viral Cheese And Peanut Soda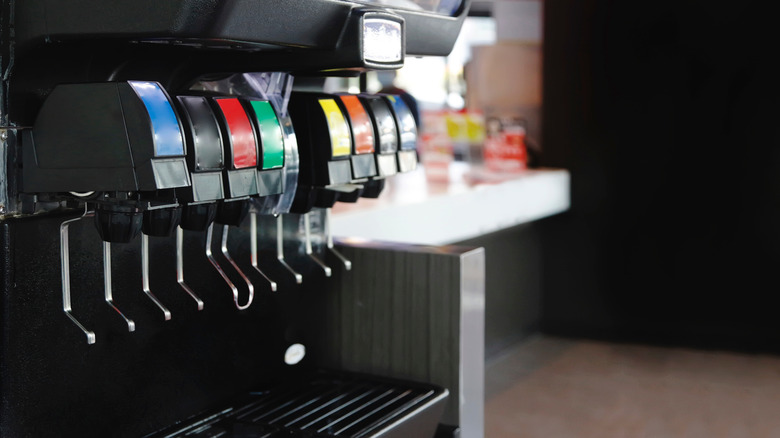 MR.Yanukit/Shutterstock
Whether it's as part of a cheesecake, pudding or dessert nachos, cheese undoubtedly has its place in sweet dishes. Sweet cheese dishes are popular all over the world, and many countries also have their own national specialties, such as Rasmalai — an Indian dessert made of paneer cheese balls smothered in milk. Cheese is also a common addition to drinks in some parts of the world, especially in Asia. For example, according to Talk Boba, cheese is a popular flavor of boba tea and combines a strong and fragrant tea base with a sweet or salty cheese foam — usually made from cream cheese, milk and whipping cream.
Despite this, we're not sure we've ever seen savory cheese grated over the top of a bright green soda before. But that's exactly what happens in this viral Instagram video — which has generated 24,000 likes and apparently made hundreds of commenters confused and angry.
What is the cheese peanut soda?
The soda went viral after a video was posted to Instagram by @foodie_addicted_ with the caption "First time in Surat cheese blast soda." The video shows someone requesting the drink at a market stand in Gujarat, India, after which a bartender proceeds to fill a glass with ice and peanuts. Then, they head to a soda machine and add a yellow and blue soda to the glass — resulting in a vibrant green mixture. Finally, and most controversially, the bartender grates cheese over the top of the drink before serving it to the customer who takes a sip.
Reactions to the footage were overwhelmingly negative. "Are you kidding me? Stop wasting cheese," one person said. "Surat should be banned from trying new things in food," someone added — with others suggesting that cheese is a popular addition to many dishes in this part of Gujarat. "Wait. How did you forget to add Ginger Garlic paste in it?" another user commented. We're not sure if they were being serious or not — but that would certainly be an even more confusing and divisive drink.