This Is The Best Cheese To Use For Dessert Nachos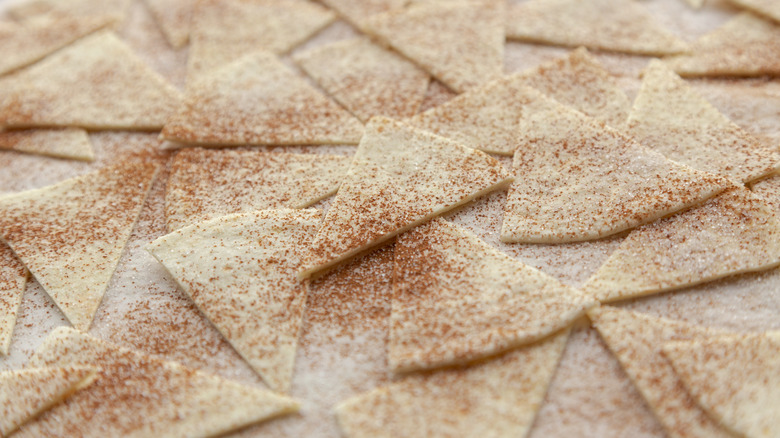 Shutterstock
Let's talk about guilty pleasures, people. Everyone knows that a gargantuan plate of nachos isn't complete without a generous helping of hot, zesty, ooey-gooey cheese, and all the garnishes your heart desires. No matter how you prefer to embellish your crispy, cheesy, spicy serving of tortilla chips, nachos are a classic ballpark staple that pretty much always hits the spot, without a doubt. But, have you ever feasted on nachos in the form of... dessert?! If not, prepare to have your mind — and taste buds — completely blown, because you are in for a treat. Literally.
In the same way that sugar cookie-crusted fruit pizza is a gift from the culinary gods and goddesses, dessert nachos fall into their own category of delightfully decadent post-dinner course. Dessert nachos are the newest indulgent recipe that you will find yourself preparing over and over again, and whether you enjoy them all by yourself or share them with fellow sweet treat enthusiasts is totally up to you.
This cream-based cheese will take your dessert nachos to the next level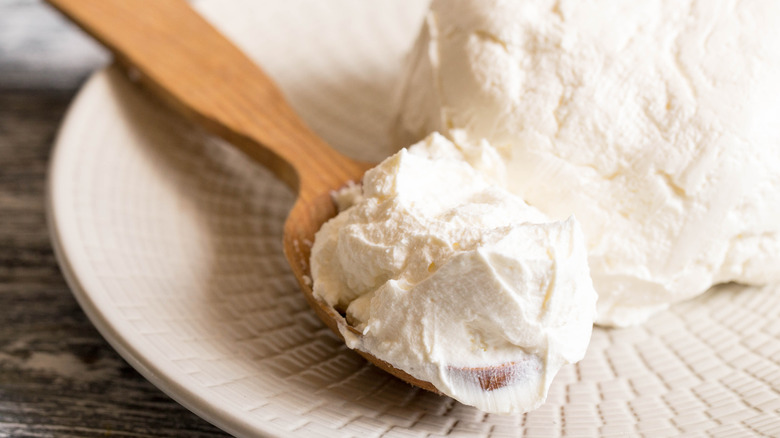 Shutterstock
The major difference between traditional nachos and dessert nachos is, of course, the key ingredients, which directly affect the flavor palate. Dessert nachos usually involve the basic elements of tortillas, chocolate, vanilla, cinnamon, juicy berries, and plenty of melted butter and sugar to create a sweet and savory combination you will dream about. But dessert nachos certainly still call for cheese — just not the typical golden yellow melty stuff to which we've all been exposed throughout our lives. So, what type of cheese is the top contender for this plate of goodness?
Crave Brothers Farmstead, a family-owned dairy farm and award-winning cheese brand based in Waterloo, Wisconsin, highly recommends using Italian mascarpone in your pile of swoon-worthy, crunchy dessert nachos. Why mascarpone? The cream-based cheese has a rich, velvety, easily spreadable texture and a bright, pleasantly milky flavor that pairs perfectly with both sweet and salty snacks. And whipping up the dip for the nachos is simple! All you'll need is an 8 oz container of mascarpone cheese, honey, ground cinnamon, vanilla extract, and lemon zest to balance out the flavor and preserve freshness. And as always, feel free to customize your toppings to make this dish your own! In the world of desserts, as we all know, the options are infinite.