Traditional Cucumber Sandwich Recipe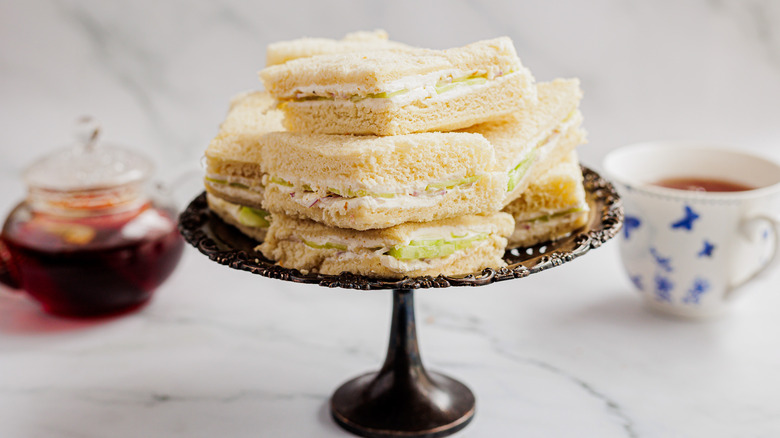 Ksenia Prints/Mashed
Feel like a British Royal with a tray of perfectly manicured traditional cucumber sandwiches — crusts off, please!
According to food Blogger Ksenia Prints of At the Immigrant's Table, cucumber sandwiches came about during the Victorian era, when British settlers in India sought a way to relieve the oppressively hot weather. Cucumbers were chosen for their crisp texture, high water content, and ease of transportation.
When the settlers returned to Britain, the cucumber sandwich made its way from the fields and onto the fine bone china plates of high tea. They were seen as a high-class food. Today, cucumber sandwiches are a staple of any high tea spread. Make our traditional cucumber sandwich recipe to experience life on the other end of the pond.
Gather the ingredients for making cucumber sandwiches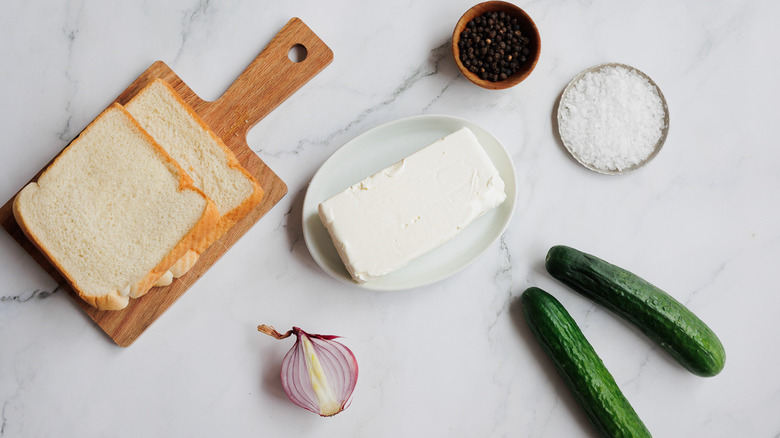 Ksenia Prints/Mashed
To make a traditional cucumber sandwich, take a trip to the nearest grocery store and purchase regular white bread, cream cheese (full fat or low fat is totally fine), Lebanese or English cucumbers, and a purple onion (if you'd like to add some sharpness to your sandwich). Salt and pepper will help season your sandwich.
Spread cream cheese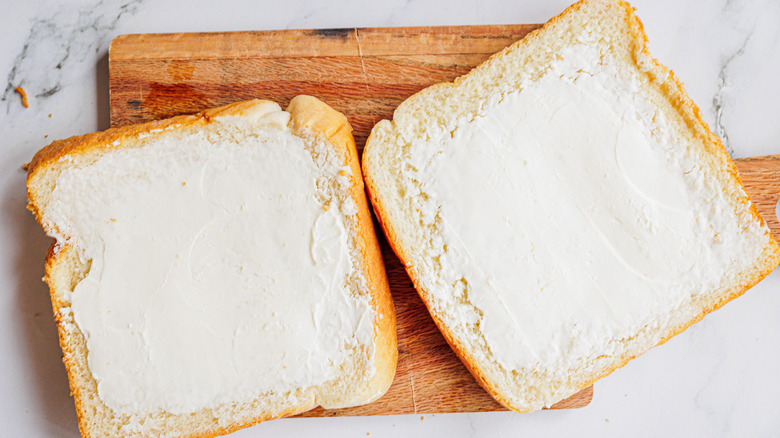 Ksenia Prints/Mashed
Begin by spreading a thin layer of cream cheese on your bread halves. We recommend smearing cream cheese on both sides of your sandwiches because it'll help the bread stick to the cucumbers, while also adding a good boost of flavor and creaminess to the sandwich.
Slice the cucumbers and onions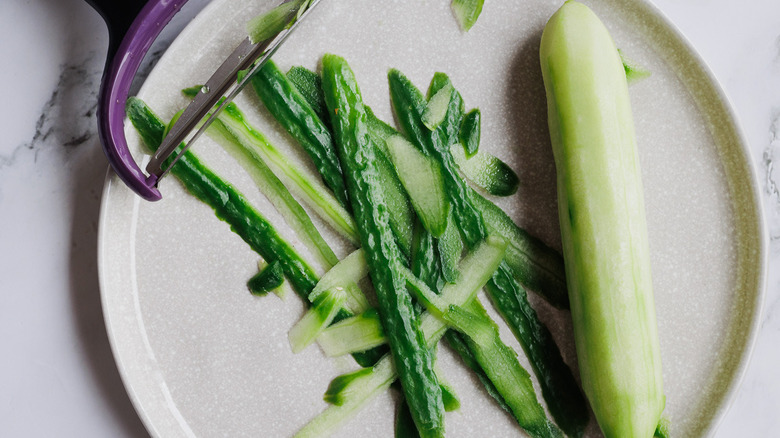 Ksenia Prints/Mashed
Using a sharp peeler, remove the peel from the cucumbers. This will make them more refined and elegant.
Thinly slice the cucumbers into circles. If using, slice the purple onion into slivers.
Layer cucumbers and onions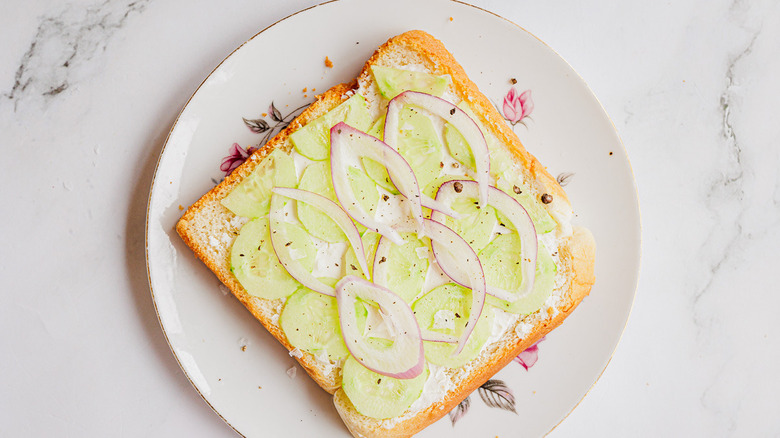 Ksenia Prints/Mashed
To create a delicious and flavorful sandwich, it's important to layer the cucumbers properly. Begin by placing one layer of thinly sliced cucumbers onto half of the bread slices.
If you're using onion, now is the perfect time to add it in! Arrange a few thin slivers of onion on top of the cucumber slices. This will give the sandwich a nice crunch and a slightly tangy flavor. After you've added the onion (if using), add another layer of cucumbers on top.
Finally, season the cucumbers with some salt and pepper. Prints notes that the salt will bring out the natural sweetness of the cucumber, while the pepper will give it a nice, subtle kick.
Remove the crusts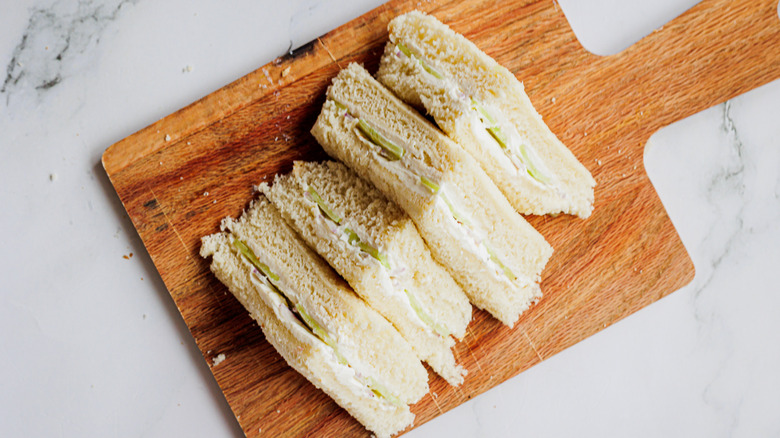 Ksenia Prints/Mashed
Top the cucumber layers with remaining bread slices. This will create a sandwich that is both hearty and filling, with a perfect balance of crunch and softness.
Now comes the important part that will really give this recipe its air of refinement! To prepare the sandwich for serving, Prints notes, "You simply must remove the crusts!" This can be done using a sharp knife or a serrated bread knife, which will ensure that the sandwich stays intact and doesn't become squished or flattened.
With the crusts removed, you can cut each sandwich into four triangles, making it easy to serve and share with friends and family. Or just eat a few yourself, saying you're "just having a snack."
Serve traditional cucumber sandwiches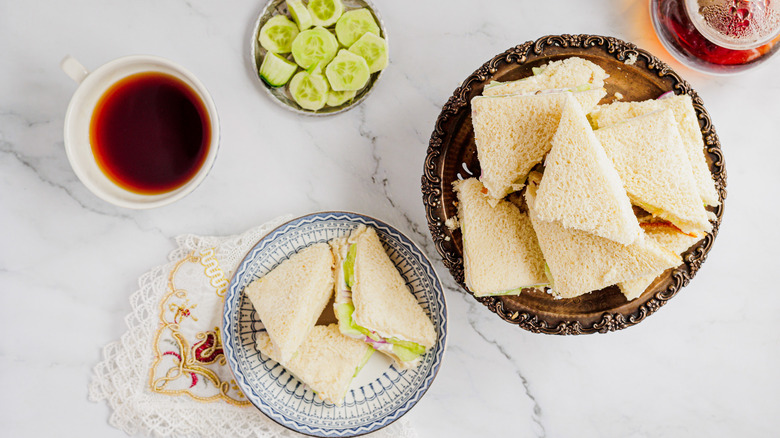 Ksenia Prints/Mashed
Serve cucumber sandwiches immediately. These bite-sized sandwiches are perfect for serving on a high-tea tiered tray, at picnics, or as a quick and easy lunch on the go.
Leftover cucumber sandwiches will keep fresh in an airtight container in the fridge for up to 24 hours.
Traditional Cucumber Sandwich Recipe
Cool down with this refreshing snack that's perfect for a spring afternoon. These cucumber sandwiches are quick and easy to make and are sure to hit the spot.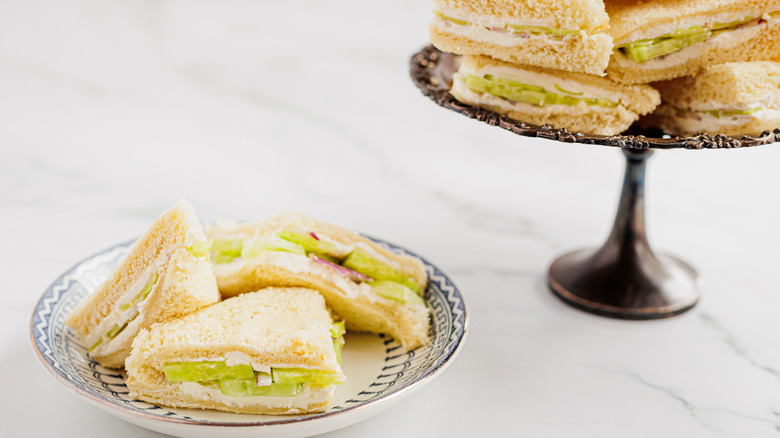 Ingredients
6 slices white bread
¼ cup cream cheese
3-4 Lebanese cucumbers or ½ English cucumber
Salt
Pepper
Optional Ingredients
Directions
Apply a thin layer of cream cheese onto all the bread slices.
Peel and thinly slice cucumbers into circles. Thinly slice the onions into slivers, if using.
Lay the cucumbers in two layers onto half of the bread slices. If using onion, arrange the thin slivers of onion between the two layers of cucumber. Season with salt and pepper.
Take the remaining bread slices and place them on top of the cucumber layer.
Using a sharp knife or a serrated bread knife, remove the crusts and cut each sandwich into quarters.
Serve cucumber sandwiches immediately. Leftover sandwiches will keep in an airtight container in the fridge for up to 24 hours.
Nutrition
| | |
| --- | --- |
| Calories per Serving | 208 |
| Total Fat | 6.7 g |
| Saturated Fat | 3.2 g |
| Trans Fat | 0.0 g |
| Cholesterol | 16.0 mg |
| | |
| --- | --- |
| Total Carbohydrates | 31.9 g |
| Dietary Fiber | 3.3 g |
| Total Sugars | 7.4 g |
| Sodium | 749.6 mg |
| Protein | 7.3 g |