Tom Kha Gai (Thai Coconut Chicken Soup) Recipe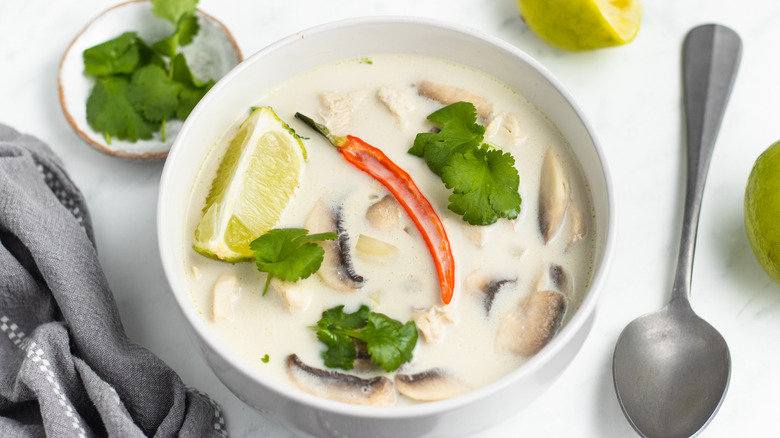 Catherine Brookes/Mashed
If you've never enjoyed a bowl of tom kha gai, then you've been missing out on a wonderfully aromatic, coconut-based soup. Tom kha gai, or Thai coconut chicken soup, also boasts bright and fresh flavors thanks to lemongrass, ginger, makrut lime leaves, Thai chiles, and a fresh squeeze of lime juice. "I love the punchy Thai flavors in this creamy soup," recipe developer Catherine Brookes describes. "Lemongrass and ginger are such great additions to the broth and pair perfectly with the chicken and mushrooms."
For those who haven't enjoyed much Thai food in the past, or for those who have never tried to cook the cuisine themselves, this soup is a great place to start. Requiring just 10 minutes of prep work and 23 minutes of cook time, tom kha gai comes together in one pot, which makes for stress-free cooking and cleaning. That said, this recipe packs in remarkable flavor depth in such a short amount of time, and according to Brookes, "The flavor is authentically Thai — aromatic, savory and with a slight sweetness from the coconut." 
Gather the ingredients for tom kha gai (Thai coconut chicken soup)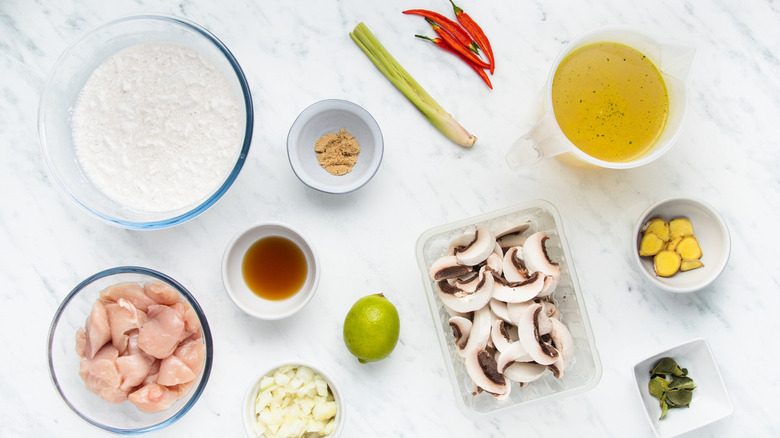 Catherine Brookes/Mashed
This recipe utilizes both chicken broth and coconut milk to achieve that perfectly creamy and savory soup base, so you'll need 3 cups of each for starters. As the name suggests, you'll also need some chicken — in this case chicken breasts, cut up into bite-sized pieces. You'll also need the aforementioned stalk of lemongrass (lightly bashed — you can use the flat side of a knife, a rolling pin, or any blunt object to get the job done), a sliced chunk of ginger, makrut lime leaves, brown (or palm) sugar, and small red Thai chiles. Finally, you'll need half of a white onion, sliced white mushrooms, fish sauce, and the juice of one lime. 
Infuse flavor into the chicken broth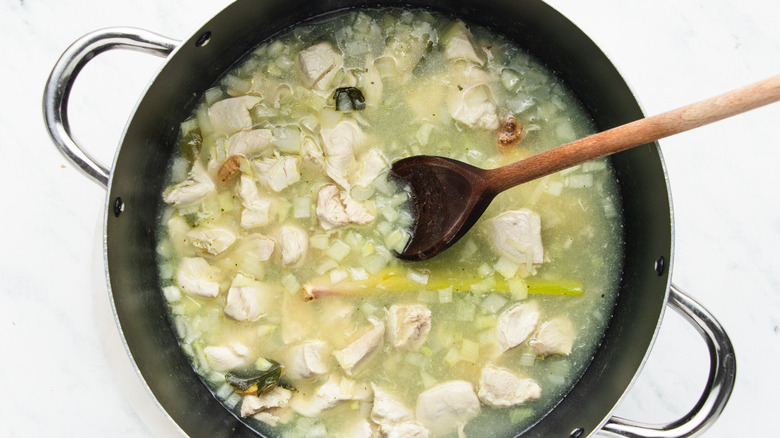 Catherine Brookes/Mashed
Place a large soup pot on the stovetop over medium-high heat, then add in the chicken broth, allowing it to come to a boil. Next up, add in the diced chicken, onion, sliced ginger, makrut lime leaves, and lemongrass stalk. Stir everything up then leave the ingredients to simmer for 15 minutes, during which the chicken will cook and the broth will take on some of those bright flavors. 
Add in the coconut milk and finishing touches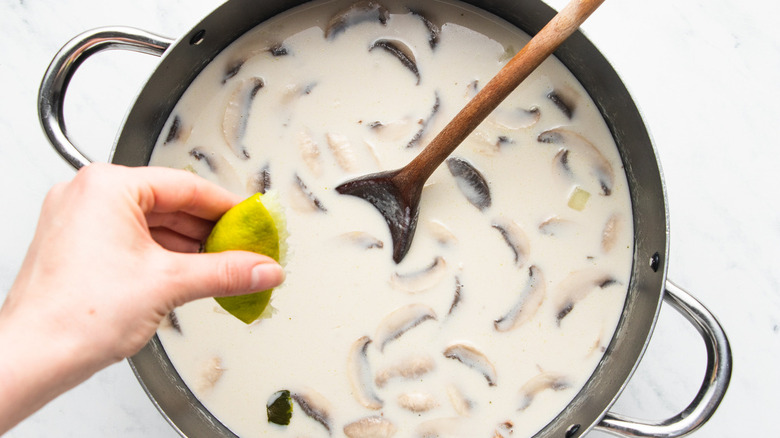 Catherine Brookes/Mashed
After the soup has had a chance to simmer, go ahead and stir in the brown sugar, halved chiles, fish sauce, sliced mushrooms, and coconut milk. Simmer for another 3 minutes, then remove the pot from heat and squeeze in the lime juice. 
Brookes emphasizes that the acidity from the lime juice is pretty crucial here, as is the timing. "Adding the lime juice right at the end when the pan has been removed from the heat helps to give that zingy flavor," she describes. "If lime juice is added too early, the citric acid can break down during cooking and the flavor can be lost."
Garnish with cilantro and lime wedges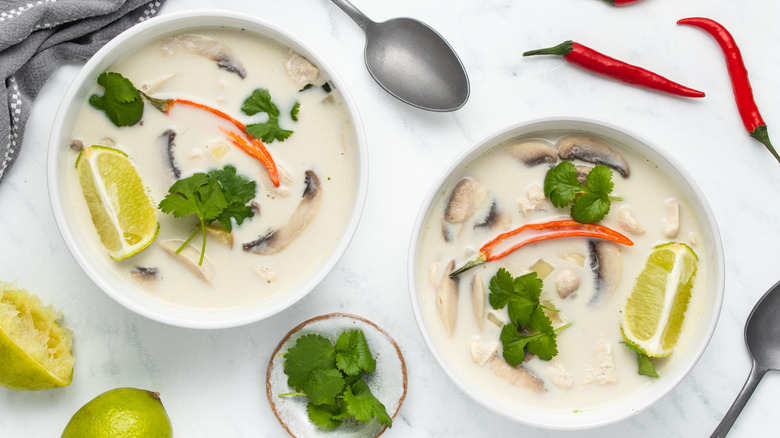 Catherine Brookes/Mashed
You're ready to serve up this tom kha gai — garnish with fresh cilantro and lime wedges as desired, though these are optional. As Brookes also notes, "The soup is great served with rice noodles or dumplings." Thanks to the hearty broth, tender chicken, and sliced mushrooms, however, this soup is also a fulfilling meal all on its own.
One final perk of this recipe is that you can hold onto leftovers for several days. "Leftovers will keep well in the fridge up to 3 days," says Brookes. "Simply reheat portions in the microwave."
Tom Kha Gai (Thai Coconut Chicken Soup) Recipe
This tom kha gai is great for Thai food lovers or newcomers to the cuisine because of its creamy texture, slight coconut sweetness, and aromatic flavors.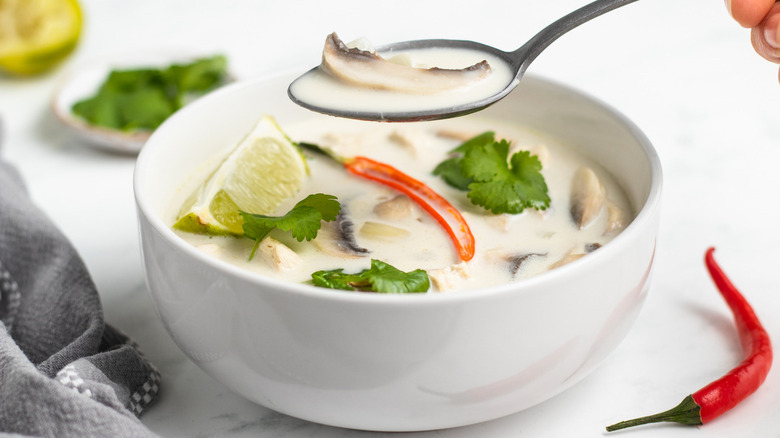 Ingredients
3 cups chicken broth
2 chicken breasts, diced into bite-sized chunks
½ white onion, finely diced
1 stalk lemongrass, lightly bashed
1-inch chunk ginger, thinly sliced
5 makrut lime leaves, roughly torn
1 teaspoon brown sugar
2 small red Thai chiles, halved
1 ½ tablespoons fish sauce
6 ounces white mushrooms, sliced
3 cups coconut milk
juice of 1 lime
Optional Ingredients
lime wedges, for serving
fresh chopped cilantro, for serving
Directions
Add the chicken broth to a large soup pot and boil over medium-high heat. Add the chicken, onion, lemongrass, ginger, and makrut lime leaves. Stir and leave to simmer for 15 minutes.
Add the brown sugar, chiles, fish sauce, mushrooms, and coconut milk. Stir well and simmer for another 3 minutes.
Take the pan off the heat and squeeze in the lime juice.
Serve the soup with lime wedges and cilantro, if desired.
Nutrition
| | |
| --- | --- |
| Calories per Serving | 809 |
| Total Fat | 56.4 g |
| Saturated Fat | 44.6 g |
| Trans Fat | 0.0 g |
| Cholesterol | 139.6 mg |
| | |
| --- | --- |
| Total Carbohydrates | 28.2 g |
| Dietary Fiber | 2.4 g |
| Total Sugars | 9.1 g |
| Sodium | 1,169.1 mg |
| Protein | 54.9 g |