Roasted Kohlrabi Recipe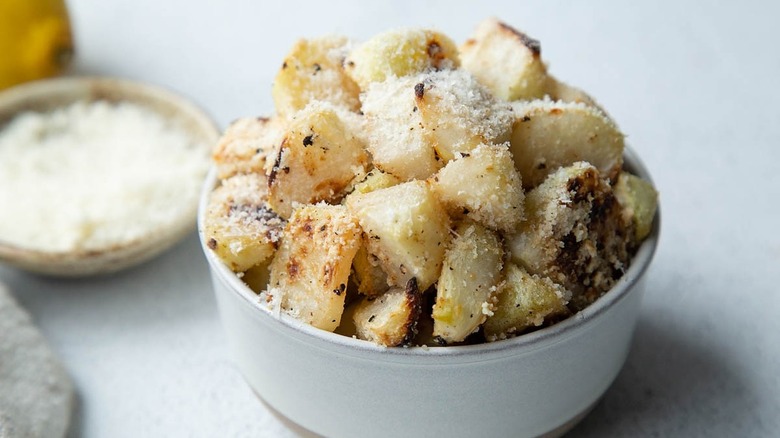 Kate Shungu/Mashed
If you're looking for a way to incorporate new vegetables into your diet, then this roasted kohlrabi recipe will definitely do the trick. At first glance, kohlrabi may look like a difficult vegetable to work with due to its hefty outer layer and long, leafy stems. Once you peel back those layers, however, you'll find a tasty little vegetable inside, one that can be cooked in various ways.
Recipe developer Kate Shungu opts to roast kohlrabi in this recipe, and says, "I love how roasting mellows the flavor of the kohlrabi, giving it a light sweetness as it roasts." If you were to steam the kohlrabi or even enjoy it raw, you wouldn't get that same mellow flavor on the inside, much less the attractive browning on the outside. On its own, kohlrabi has a subtly peppery flavor to it, and this recipe helps dress it up. "I love how the combination of lemon, garlic, and Parmesan complements the peppery taste of the kohlrabi," Shungu says of her additions. Something tells us you'll love the combination too, especially once the completed dish is paired alongside dinnertime favorites like roasted chicken or pork. 
Gather the ingredients for roasted kohlrabi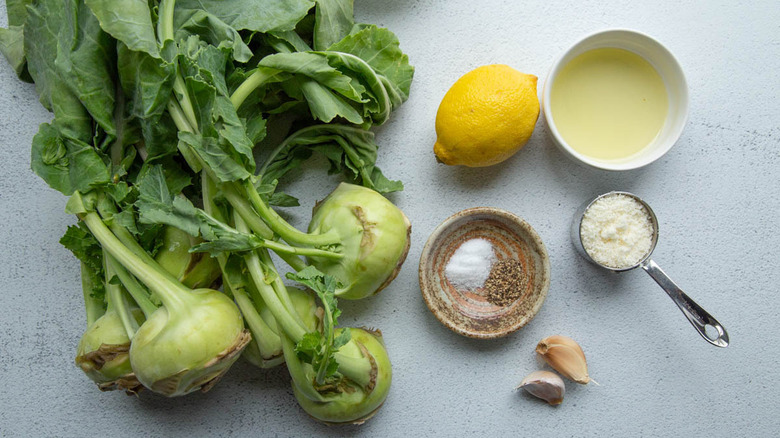 Kate Shungu/Mashed
The ingredients list is pretty minimal here — you'll need the kohlrabi itself, of course, along with olive oil, garlic cloves, salt, pepper, lemon juice, and grated Parmesan cheese. 
While there isn't an unusual or atypical ingredient in this list, Shungu notes that the kohlrabi itself provides a special opportunity to work with an oft-overlooked vegetable. "The kohlrabi itself is obviously not as popular as broccoli, asparagus, salad, and other veggies that we serve for dinner," she says, "but it's a really nice way to change things up!"
Prep the kohlrabi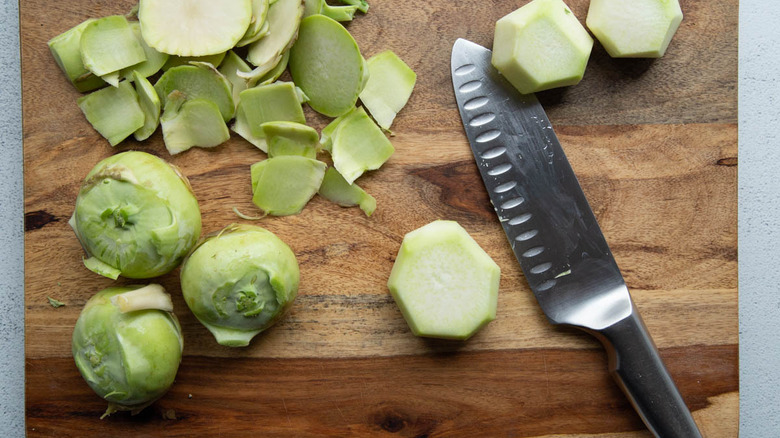 Kate Shungu/Mashed
First, get your oven preheating to 425 F and line a baking sheet with parchment paper or a silicone baking mat. Before you can roast the kohlrabi, there is a bit of prep work to do. First, peel off the leafy greens and stems — these can be consumed, but aren't needed for this recipe. Next up, peel the outer layer off of the bulb using either knife or peeler, revealing the solid white vegetable underneath; this is the part you'll be working with. Cut the kohlrabi into ¾-inch wedges or chunks. Then, toss the wedges in the olive oil, minced garlic, salt, and pepper. Lay out the kohlrabi wedges in an even layer on the prepared baking sheet.
Roast the kohlrabi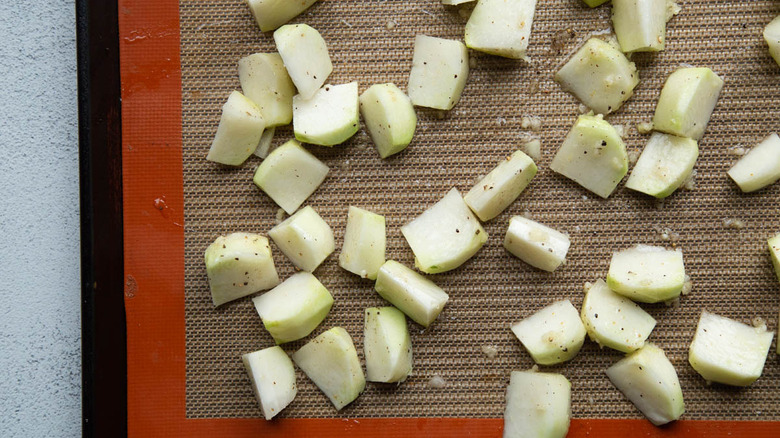 Kate Shungu/Mashed
Pop the kohlrabi into the preheated oven and bake for 25 to 30 minutes, or until each wedge is nice and tender. At that point, drizzle on the fresh lemon juice and sprinkle the Parmesan cheese. Finally, toss the kohlrabi to evenly distribute the cheese. 
Enjoy the roasted kohlrabi as a side dish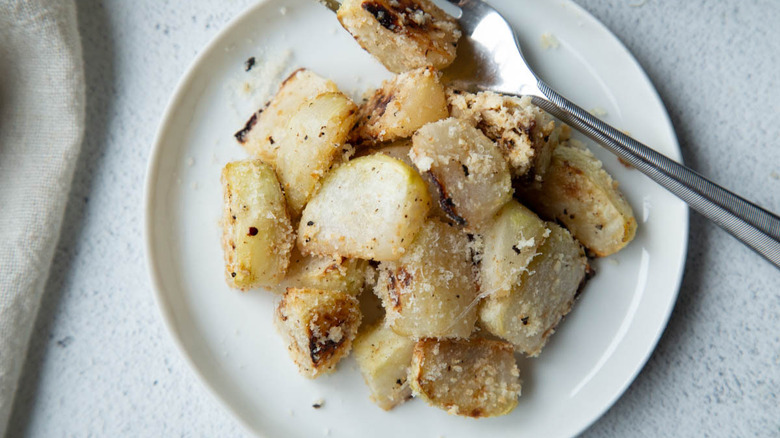 Kate Shungu/Mashed
Like most vegetables out there, this roasted kohlrabi is best enjoyed as a side dish. "I like this as a side dish for roast chicken or pork," Shungu suggests. "Add rice or mashed potatoes, and dinner is done!" That said, there really is no wrong pairing for such a tasty and versatile vegetable. Pair it with beef, fish, or even tofu — it tastes good no matter which way you plate it up.
Roasted Kohlrabi Recipe
Serve up an underutilized vegetable with this roasted kohlrabi recipe and serve a side dish with a slightly peppery taste seasoned with lemon and garlic.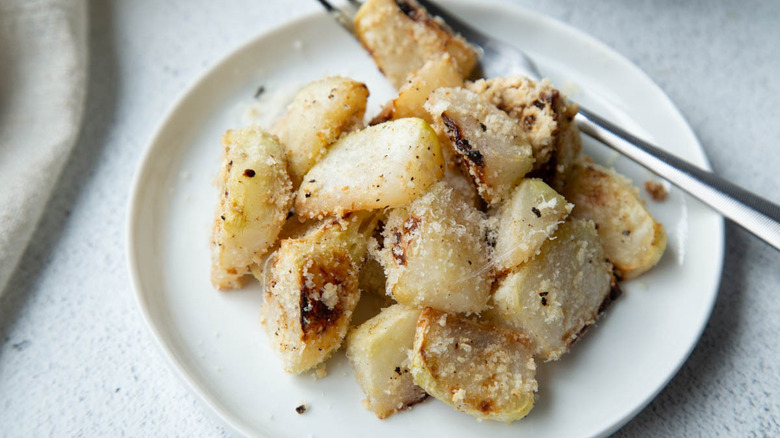 Ingredients
5 kohlrabi
2 tablespoons olive oil
2 garlic cloves, finely minced
½ teaspoon salt
¼ teaspoon pepper
1 tablespoon lemon juice
¼ cup grated Parmesan
Directions
Preheat the oven to 425 F. Line a baking sheet with parchment paper or a silicone mat.
Remove the greens from the kohlrabi. Using a sharp knife or vegetable peeler, peel the kohlrabi, then cut into ¾-inch wedges. Place the wedges on a baking sheet and toss with olive oil, garlic, salt, and pepper.
Roast for 25 to 30 minutes, or until tender. Sprinkle the lemon juice and Parmesan over the top, and toss to combine.
Serve the kohlrabi while warm.
Nutrition
| | |
| --- | --- |
| Calories per Serving | 150 |
| Total Fat | 9.4 g |
| Saturated Fat | 2.5 g |
| Trans Fat | 0.0 g |
| Cholesterol | 6.3 mg |
| | |
| --- | --- |
| Total Carbohydrates | 12.8 g |
| Dietary Fiber | 6.8 g |
| Total Sugars | 5.1 g |
| Sodium | 456.5 mg |
| Protein | 6.6 g |