14 Grocery Store Cookie Doughs Ranked From Worst To Best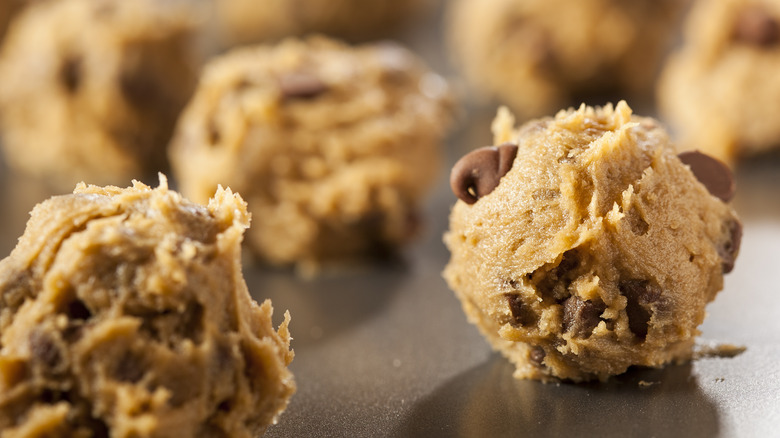 Bhofack2/Getty Images
Who doesn't love a good grocery store cookie dough? These packs are convenient and so doggone tasty. Still, getting your hands on the right brand can be tricky. From ever-changing ingredients to potentially unwanted additives, finding the perfect store-bought cookie dough is no small feat. But don't panic. As always, we've got your back!
We've perused the aisles to find you the very best grocery store cookie doughs currently available. From chocolate chip to peanut butter-flavored, we've also scoured the internet to uncover the latest on what customers love (or hate) about the most popular cookie doughs. We've also done a little digging to find out which brands are offering up stellar ingredients to match the equally stellar taste.
So, without further ado, join us as we blow the lid off of the best and worst grocery store cookie doughs to save both your time and your taste buds. Let's get into it. 
14. Toll House Chocolate Chip Lovers Cookie Dough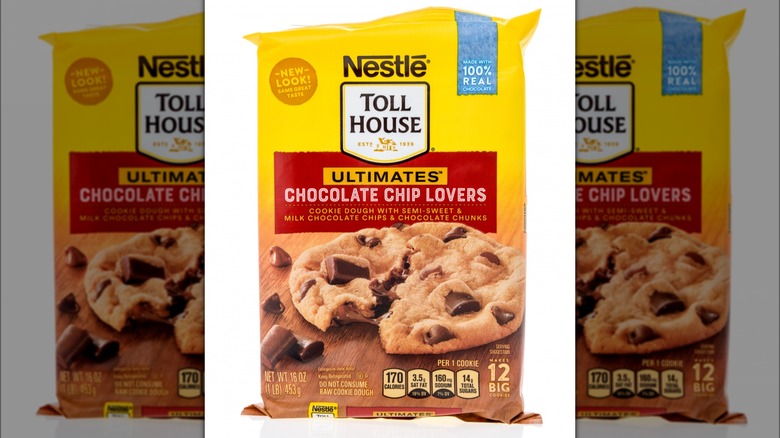 Keith Homan/Shutterstock
We know we're about to ruffle some feathers here, and honestly, we were pretty shocked that these ended up at the bottom of the pile ourselves. Unfortunately, Nestle Toll House Chocolate Chip Lovers has failed us for reasons unknown. Previously a fan-favorite, this popular grocery store cookie dough seems to have slipped out of favor with chocolate chip lovin' fans, with customers using words like "nasty," "inedible," and "chalky" among a laundry list of common quibbles.
While Nestle has made no statement about changing its recipe, we do know that its chocolate chips have received updates. In 2015, Nestle announced that it was removing artificial flavors and colors from its chocolate chip ingredients. The results? Customers are now accusing Toll House of rendering them flavorless, waxy, and unable to melt.
Can't get over the changes made to Toll House Cookie Dough? Stay cool. Several delicious homemade chocolate chip recipes are available online, many of which receive rave reviews. We recommend that if you're looking for that same nostalgic Nestle flavor but feel a bit panicky about picking up a pack of Toll House cookie dough, try whipping up a batch on your own to see if that'll tame your cravings instead.
13. Pillsbury Reese's Peanut Butter Cookie Dough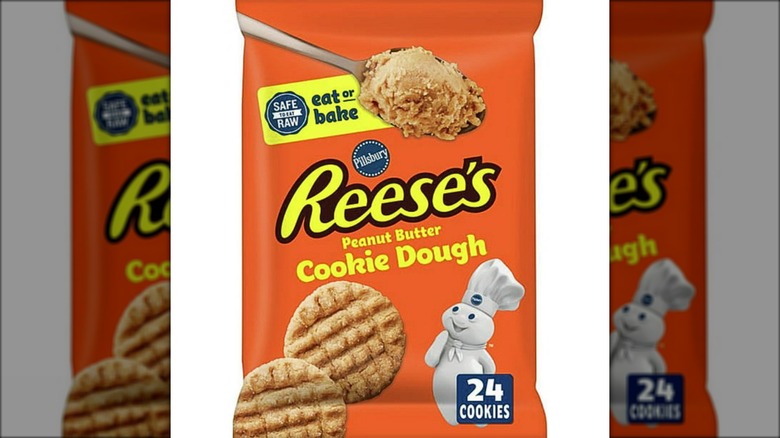 Pillsbury
The Pillsbury Peanut Butter Cookie Dough once commonly found in markets has gotten a face-lift, and dedicated fans aren't happy about it. 
Pillsbury has received quite a bit of backlash after replacing its old peanut butter cookie dough with the new Reese's cup version. The resistance to this update has become so strong that Pillsbury has taken to the comments section of its website to respond. Its replies usually begin by expressing disappointment for having failed the expectations of the customer while also commending shoppers for at least giving the cookies a try. Pillsbury then goes on to promise that it will let its development team know of the disappointing reviews while also failing to offer an actionable remedy for the situation.
The reasons for the switch remain largely unknown. However, we do know that Pillsbury has said that it's made changes to most of its cookie dough recipes to make them safer to eat. These newly developed cookie dough packages come with the phrase "safe to eat raw" stamped on them, but cookie devotees have been less than impressed. With such a strong negative reaction to the Reese's peanut butter flavor, who knows if the company will bring the old recipe back? Until then, disappointed customers will simply need to look elsewhere to get their peanut butter cookie fix.
12. Nestle Toll House M&M's Minis Cookie Dough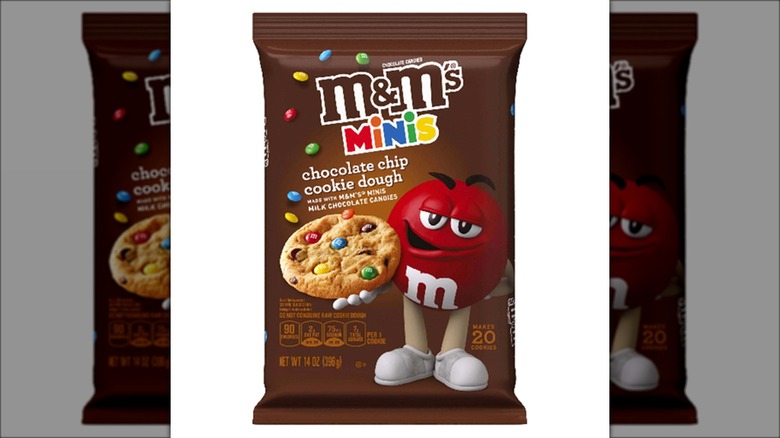 Nestle
Nestle's former cookie dough glory days seem to be coming to an end. We're sorry to announce that Nestle Toll House M&M's Minis Cookie Dough is yet another flavor from the brand that has taken an unexpected nosedive, and former Nestle buffs are speaking out.
As seems to be the trend here, Nestle Toll House M&M's Minis Cookie Dough once received rave reviews, but recently, commenters seem unimpressed by the lack of M&M's in the dough. According to Kroger and Walmart reviews, this much-sought-after M&M's-speckled ensemble has offered up only a scant number of M&M's per serving despite its promising name.
In addition, many allege that this candy-studded cookie dough has taken on a very strange new flavor. Several have described the Nestle Toll House M&M's cookie dough as generally tasteless, with even one going as far as to say that it tastes like wet dog. Of course, we're sure that wet dog-infused cookies with only a smattering of M&M's thrown in aren't exactly what you had in mind for your nighttime snack. In that case, we can only offer our condolences and hope Pillsbury ups the ante soon because loyal fans aren't pleased, to say the least!
11. Pillsbury Sugar Cookie Dough
Keith Homan/Shutterstock
With another "safe to eat raw" recipe reboot fiasco, Pillsbury has once again struck out by reportedly messin' with the original. People cite that the once-loved Pillsbury Sugar Cookie Dough now cooks up in clumps and "globs" rather than the soft, flat, and fluffy sugar cookies that they are used to.
What's even worse is that cookie connoisseurs claim that this once-beloved dough no longer has the delicate vanilla flavor of the old sugar cookies, but instead is seriously bland. This yields an off-putting and hugely unsatisfying surprise for those who are expecting to bake up a sweet treat.
Of course, much like the aforementioned chocolate chip cookie dough, you can easily find some delicious sugar cookie recipes that can be whipped up at home in a snap. Still, we can't deny the convenience of having pre-made cookie dough at the ready for when hunger strikes.
10. Great Value Chocolate Chip Cookie Dough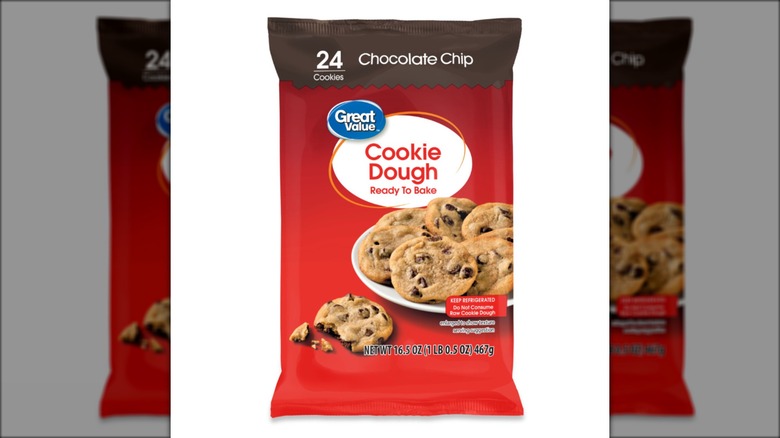 Walmart
Great Value Chocolate Chip Cookie Dough is distributed exclusively by Walmart and has received mixed reviews when it comes to its quality. Most consumers can't get enough of this awesomely-priced dough but still others claim it to be a hard pass. So, which is it?
After combing through scores of reviews, the truth seems to lie somewhere in the middle. Those who love the Great Value Chocolate Chip Cookie Dough say that it tastes similar to, if not better than, Nestle Toll House Chocolate Chip Cookie Dough. Still, others beg to differ. Those who detest the product remark that the dough bakes up greasy, burns easily, and yields a weird aftertaste. Even former fans claim that these Walmart-branded cookies used to be good, but that there seems to have been a sudden shift in both flavor and texture.
Ultimately, determining if Walmart's cookie dough is good depends on who you ask. It may be worth giving it a shot since it's sold at a lower price point than other cookie dough brands, but your final verdict is up in the air.
9. Pillsbury Refrigerated Ready-to-Bake Chocolate Chip Cookie Dough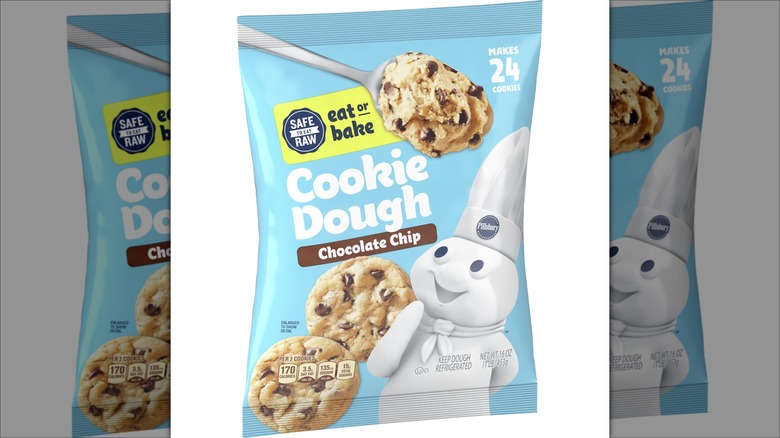 Pillsbury
If you thought it was time to officially call it quits with Pillsbury, think again. Though Pillsbury's new "safe to eat raw" recipes have aggravated plenty of devoted shoppers, not every Pillsbury cookie dough recipe has plummeted. Case in point: Pillsbury Chocolate Chip Cookie Dough.
Yep, that's right. There's actually a grocery store chocolate chip cookie dough still out there that can bring a smile to your face and gooey deliciousness to your plate. Pillsbury Chocolate Chip Cookie Dough remains a favorite due to its softness and fresh-tasting flavor. It also helps that the cookie dough is indeed safe to eat raw so you don't have to feel worried about licking it off of your spoon.
Though we love the fact that all Pillsbury cookie dough hasn't gone completely off the rails, we can't help but mention a few disappointments concerning the ingredients used here. While enjoyable, these cookies consist of a whole host of artificial flavors and ingredients that you may find undesirable. So while hungry fans swoon over the flavor of this popular grocery cookie dough, we're forced to place this one a bit lower on our best grocery cookie dough totem pole.
8. Private Selection Sea Salt Caramel Chocolate Chip Cookie Dough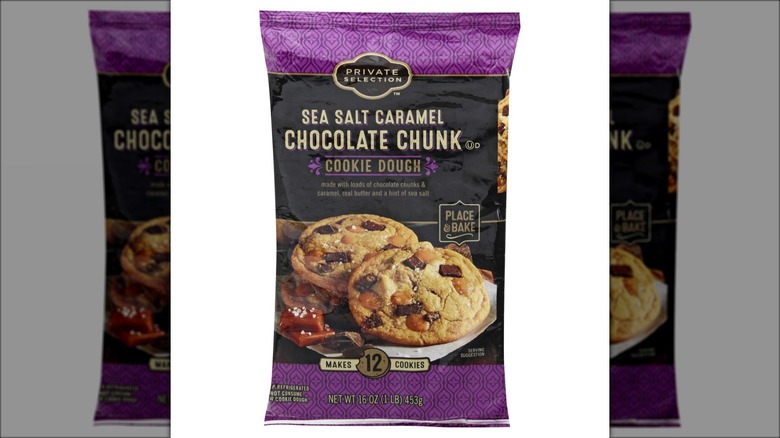 Kroger
Kroger's Private Selection brand is arguably the most underrated of all grocery store cookie doughs. It doesn't get nearly enough kudos considering the perks it offers. It's a shame that only long-time Kroger shoppers are likely aware the brand exists.
Nevertheless, Private Selection cookie dough remains one of the tastiest cookie doughs out there. Though many flavors exist, Sea Salt Caramel Chocolate Chip is a particular favorite. Not only is the caramel and chocolate combination an interesting take on the traditional chocolate chip cookie, but the flavor is out-of-this-world delicious.
Still, we must note that much like Pillsbury and other brands, Private Selection chooses to flavor its cookies with that prevalent "artificial flavor" you'd never find in a homemade cookie. And though fans say that Private Selection Sea Salt Caramel Chocolate Chip Cookie Dough tastes as good as homemade, a glance at the ingredients list leaves us wondering about the comparison. Grab 'em if you see 'em, but sadly, these won't make it to the top of our list this time around.
7. Toll House Pecan Turtle Delight Cookie Dough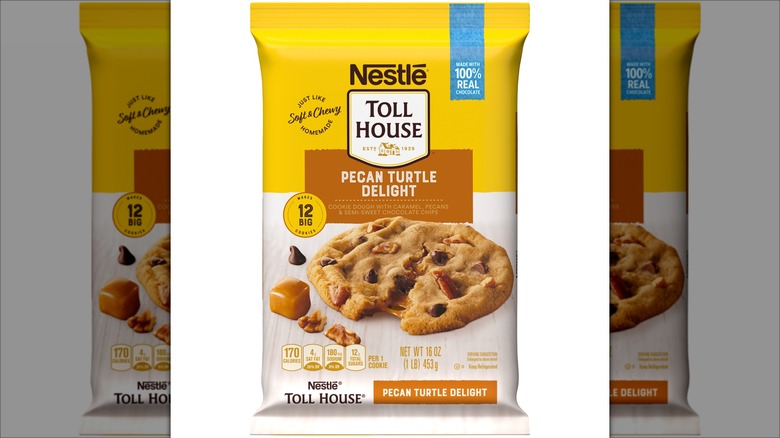 Nestle Toll House
Surprised to see a Nestle Toll House cookie dough appearing this high on our list? So were we! After reading the catastrophic reviews that plague Nestle's chocolate chip and M&M's flavors, we were delighted to find that Toll House Pecan Turtle Delight cookie dough stood out from the pack. This cookie dough flavor has been warming hearts and tummies for ages, and there seems to be no current change in the status quo. Chocolate chip, caramel, and pecan come together to formulate what seems to be the best-loved Toll House cookie dough flavor available right now.
Even so, there are some cookie aficionados out there who aren't quite ready to hop on the bandwagon. A few have reported that the Pecan Turtle Delight flavor tastes "cloyingly" sweet and that the caramel lacing the cookies is a bit too salty. We also noticed caramel coloring and modified food starch listed in the ingredients, which forces us to rank this cookie dough lower on our list. The reason? Though they are incredibly common in packaged foods, these potentially unwholesome ingredients can cause health issues over time.
6. Pillsbury Limited Edition Lisa Frank Cookie Dough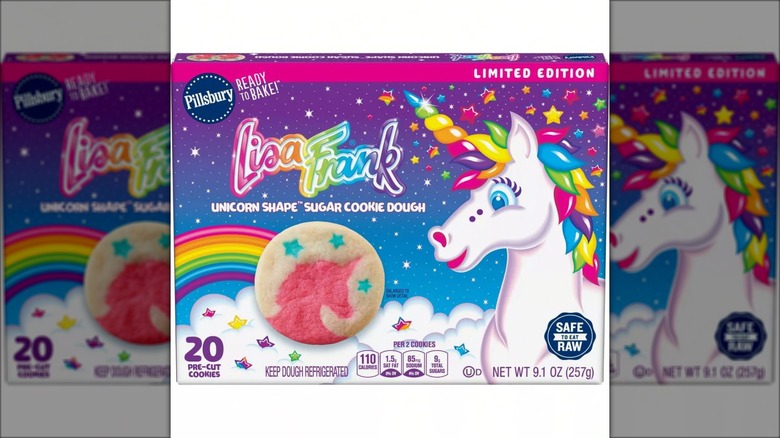 Pillsbury
According to shoppers, something magical is happening in store aisles and devoted fans can't seem to get enough. Evidently, Pillsbury's Limited Edition Lisa Frank Cookie Dough has been offering a one-two punch to tastebuds in the most amazing way. One reviewer claimed she ate two and a half packs of this cookie dough, all because the flavor was so insanely delightful.
So, what's the secret? Honestly, we're not sure. The cookie dough seems to have pretty average ingredients, and yet fans are losing their minds over how great these cookies taste. We're thinking it's probably the nostalgic flavor combined with the fashionable hot pink unicorn stamped in the middle of cookies that's getting everyone all shook up. Not to mention the fact that '90s kids and Lisa Frank go way, way back.
Though it's popular, this cookie dough contains artificial flavors and artificial dye. To be specific, the Red Dye 40 listed in the ingredients has been cited to potentially cause hyperactivity in children, intensified feelings of depression, and even migraines and allergy symptoms in certain people (via Cleveland Clinic). For this reason, we can't quite recommend this cookie dough as a top pick. But boy, is it delish.
5. Simple Truth Plant-Based Cookie Dough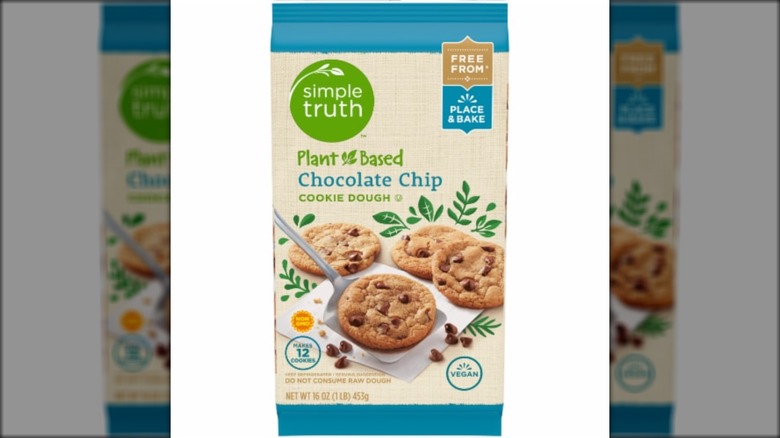 Kroger
Okay, okay, we know what you're thinking. Plant-based cookie dough? Really? But hear us out. Though this Kroger-branded cookie dough is marketed to those embracing a plant-based diet, you shouldn't discount the fact that this stuff can please virtually anybody, plant-based or otherwise.
After ogling the ingredients list, we can confirm that this cookie dough is indeed void of animal derivatives. Though the term "plant-based" does not necessarily mean something is vegan, this Simple Truth grocery store cookie dough is indeed labeled as such. Therefore, this is an awesome cookie dough substitution for those living a vegan, vegetarian, plant-based, or even dairy-free lifestyle.
So, how exactly do these "made from plants" cookies taste? Exquisite, of course! Actually, some customers who have taken their chances on the dough argue that it tastes just as good as Pillsbury but without all the additives. Still others agree that the cookies turn out thick and gooey with crispy edges, melty chocolate, and an overall delicious flavor. The only drawback is that you can't eat this dough without baking it first. Drat!
4. David's Cookies Gourmet Chocolate Chunk Frozen Cookie Dough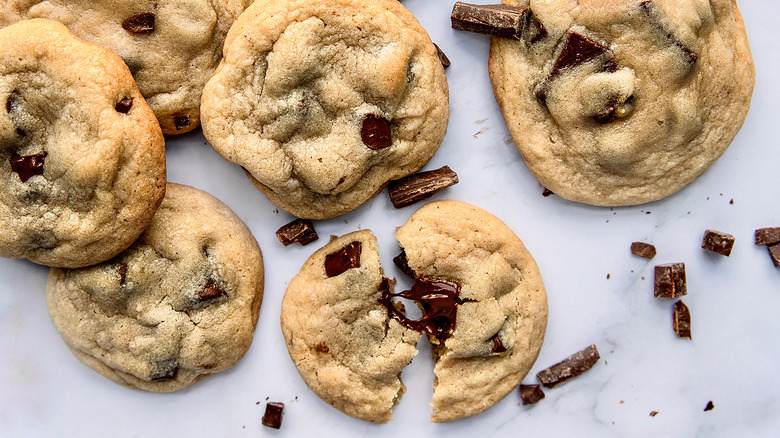 Kristina Saeli/Shutterstock
The uniquely low-priced bulk food giant that is Costco has outdone itself again, this time by offering a 90-piece frozen cookie dough to customers that couldn't have made us more pleased.
Though not exclusively sold by the Costco store brand, David's Cookies Gourmet Chocolate Chunk Frozen Cookie Dough has quickly gained popularity amongst Costco shoppers and it's easy to see why. The cookie dough appears to have no preservatives and is free from artificial flavoring and dyes. Most of the ingredients, like vanilla, brown sugar, flour, and of course, chocolate chunks resemble exactly what you'd put in your cookie dough if you made it from scratch.
With that said, rest assured that this mega-pack of cookies also tastes just like it would at home. According to customer reviews, David's Cookies bake up soft, yummy, and bursting with loads of decadent chocolate chunks. The only qualm buyers seem to have is that Costco doesn't sell these cookies in a smaller size package for a cheaper price. Instead, you have to buy the 90-piece pack for a price that could be higher than what you'd pay for a typical single pack of grocery store cookie dough.
3. Immaculate Organic Chocolate Chip Cookie Dough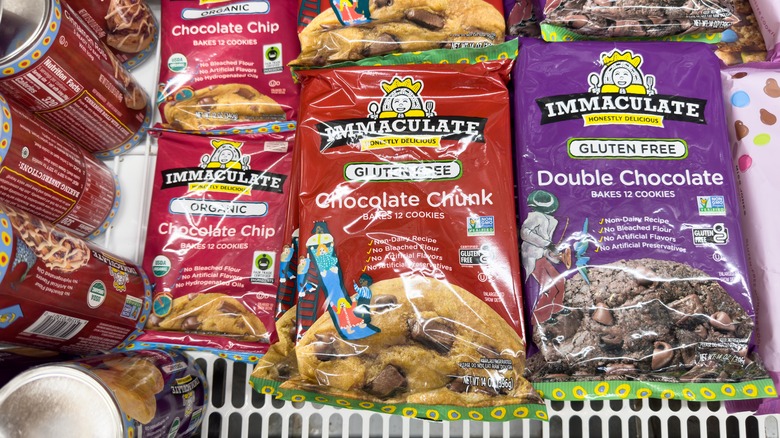 The Image Party/Shutterstock
Never heard of Immaculate Cookie Dough? Allow us to introduce you. Available at a variety of supermarkets, this cookie dough is packed full of flavor yet nixes some less-than-popular ingredients. Immaculate Organic Chocolate Chunk is a crowd favorite, but make no mistake that the brand's other varieties (including gluten-free, double chocolate, and peanut butter cookie doughs) are just as good.
At this point, you're probably wondering what the big deal is about Immaculate grocery store cookie dough. Apart from a relatively uncomplicated ingredient list, does it offer anything else? Surprisingly, yes. Those who have tried the Immaculate Organic Chocolate Chunk Cookie Dough say that it's moist and delicious, making it very similar to other brands out there but without all the artificial ingredients you might want to skip.
We do want to warn you that despite the ingredients, you shouldn't mistake Immaculate's cookie dough for something healthy. Similar to most other types of grocery store cookie dough, Immaculate cookies contain 140 calories and 10 grams of sugar per serving. If you're a fan of eating multiple cookies in one sitting ... ahem ... then you could easily see how this might be best relegated to a sometimes treat, like any other cookie dough.
2. Sweet Loren's Place & Bake Gluten Free Fudgy Brownie Cookie Dough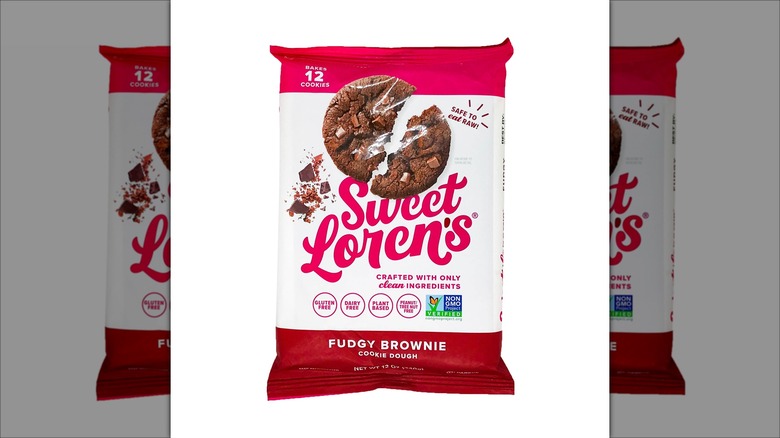 Sweet Loren's
We're willing to bet you wouldn't have imagined a gluten-free cookie could rank this high on our list. Don't worry, as these cookies are all that and then some. In case you don't know, Sweet Loren's Place and Bake Cookie Dough is a brand that produces deliciously gluten-free cookies that you'll be hard-pressed to distinguish from regular cookie dough. These "clean" cookies come in a variety of yummy flavors, but the fudgy brownie recipe is the one that gets us weak in the knees. They cook up soft, dark, decadent, and oh-so-moist. What's more is that the dough, like many from Pillsbury, is safe to eat raw, making it that much more appealing to die-hard cookie dough addicts out there. Whoop, whoop!
An even closer look at Sweet Loren's packaging offers yet another reason to smile. Besides being safe to eat without baking, the cookie dough is also peanut-free, plant-based, and dairy-free. Thus, if you're following a restricted diet, this awesome grocery store cookie dough might be an absolute game changer for you. Just be sure to eat these babies in moderation ... they're still cookies, after all!
1. Annie's Organic Chocolate Chip Cookie Dough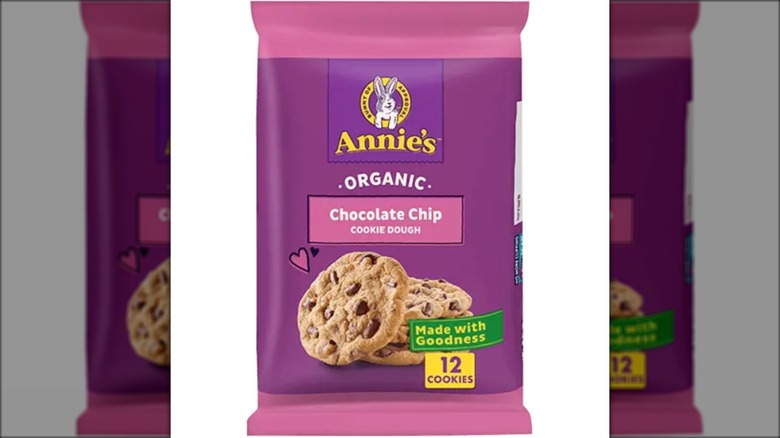 Annie's Homegrown
We've saved the best for last, and we're confident you're gonna love it. Annie's Organic Chocolate Chip Cookie Dough has won our hearts as the best grocery store cookie dough for a variety of reasons. Aside from packing astonishing flavor into the dough, these cookies also win points for all-around ease of baking and pristine ingredients. And though they aren't gluten-free, Annie's Organic Cookie Dough is made up of many of the same ingredients you'd use if you were baking your own cookies fresh from scratch. The only difference is that the ingredients are organic, making this dough that much better for many.
So, what do reviewers have to say? Most can't get enough, like parents who love offering them to their kiddos because of the simple ingredients list. Annie's Organic Chocolate Chip Cookie Dough bakes up plush and chocolatey and is void of hydrogenated oils that can raise your cholesterol levels (via Healthline). The Annie's brand is also quite popular, so you can find it at many grocery store locations across the United States, unlike other brands that are exclusive only to particular markets. We must say, we're impressed!