The Best Chocolate Chip Cookie Recipe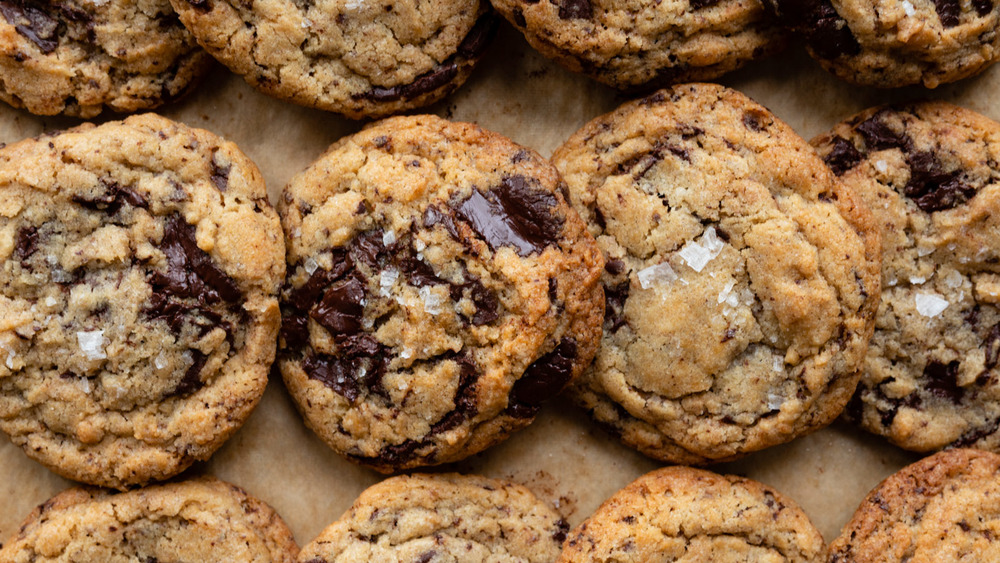 Mark Beahm/Mashed
Is there anything better than a freshly baked chocolate chip cookie from scratch? We'd be hard-pressed to find it. Of all the cookie flavors out there, there's just something about this classic that makes it the universal fave. Rather than relying on pre-made, store-bought dough or packaged (the horror) chocolate chip cookies, we think it's clutch to have a never-fail, go-to recipe for making them in your own kitchen. 
We turned to baker and recipe developer Mark Beahm of the Sunday Baker for the best chocolate chip cookie recipe possible, and he really delivers. "Everyone has their own ideals when it comes to the perfect chocolate chip cookie. This recipe is my version of the perfect chocolate chip cookie," Beahm says. "They've got crisp edges, but a soft and chewy interior. And there's some crunchy flaky sea salt on top for that sweet and salty combination." While we agree that everyone has their own ideals, it's hard to argue with crispy edges and a soft middle. 
Gather the ingredients for chocolate chip cookies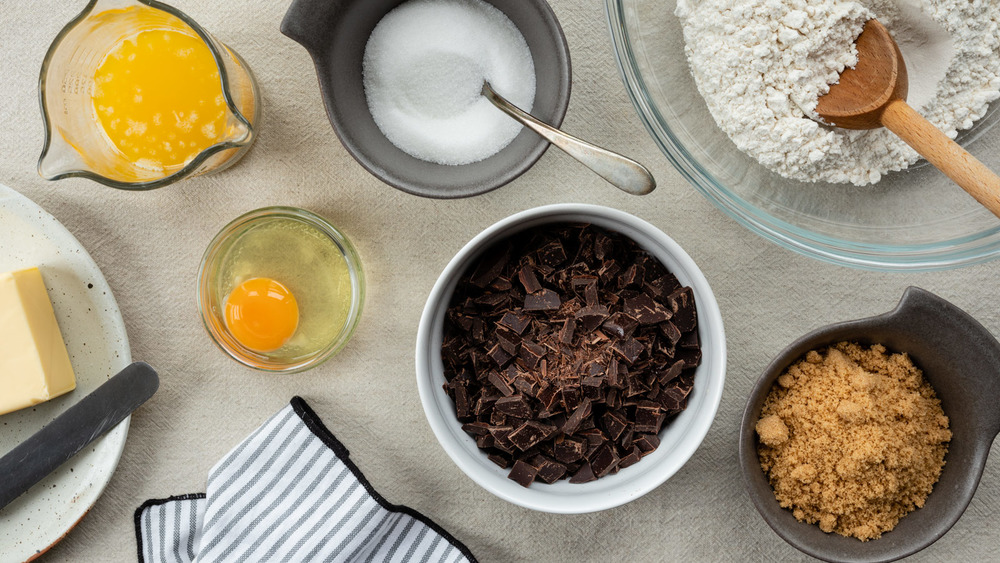 Mark Beahm/Mashed
If you want your baking foray to be a success, preparation is your friend. So have everything out and ready before you get to work. The ingredients for this chocolate chip cookie recipe are super simple. You've got your dry items — two cups all-purpose flour; 2/3 cups light brown sugar; a half a cup of granulated (white) sugar; a half a teaspoon of salt, baking soda, and baking powder, respectively; and, of course, your chocolate. For wet ingredients, you'll need 2/3 cup of unsalted butter, melted; an egg; and a tablespoon of vanilla extract.
Most cookie recipes call for softened butter but the melted butter here is actually an important step. We asked Beahm why this is and he explains, "When developing this recipe I also tested the traditional method of creaming room temperature butter with the sugar. If you're a fan of chewier cookies, this method with melted butter had the better texture by far." Melting butter in the microwave is certainly a better hit of instant gratification than having to wait for it to soften to room temperature so we're supportive of this method!
Combine the dry ingredients for chocolate chip cookies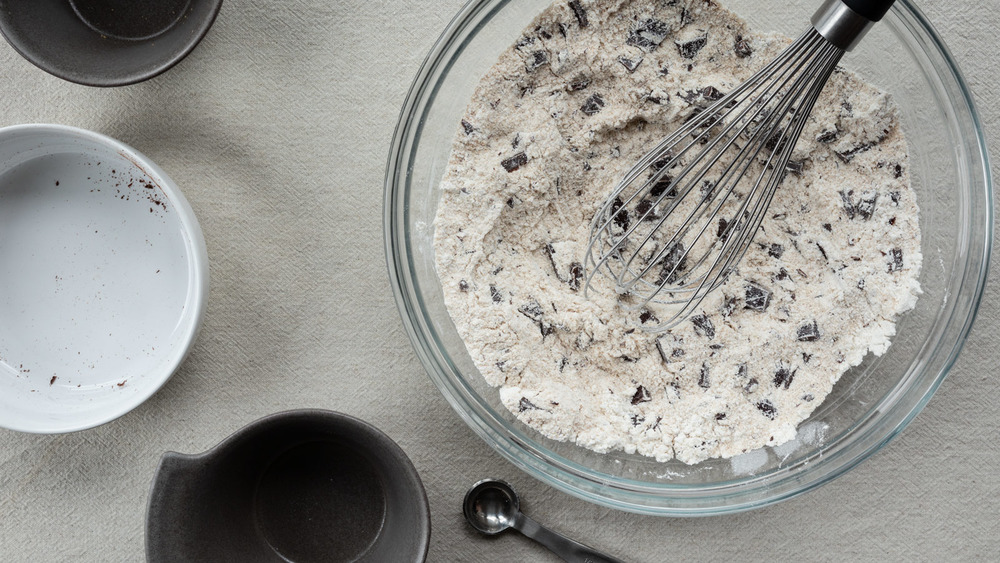 Mark Beahm/Mashed
Use a whisk to combine all of your dry ingredients — so that's flour, sugar, baking soda, baking powder, salt, and chocolate. This chocolate chip cookie recipe calls for light brown sugar. If you're in a situation where the only brown sugar you have on hand is dark brown sugar, it can still work! According to Beahm, "You can use dark brown sugar instead of light brown sugar if that's all you have. If you use dark brown sugar, the cookies will have a stronger toffee flavor and a darker color." 
In terms of the chocolate, that's also pretty flexible but Beahm prefers semi-sweet because it "has the best balance between the sugar in the dough, the slightly bitter chocolate, and the sea salt." He also prefers chopped chocolate over chips, telling us, "When you chop it yourself, you get a mix of large chunks of chocolate, and smaller bits that melt into the dough. I always seem to have leftover chocolate from other baking projects and this is a good way to use it up." This seems like a smart, delicious solution to leftover chocolate, no?
Add butter, egg, and vanilla to the dry mixture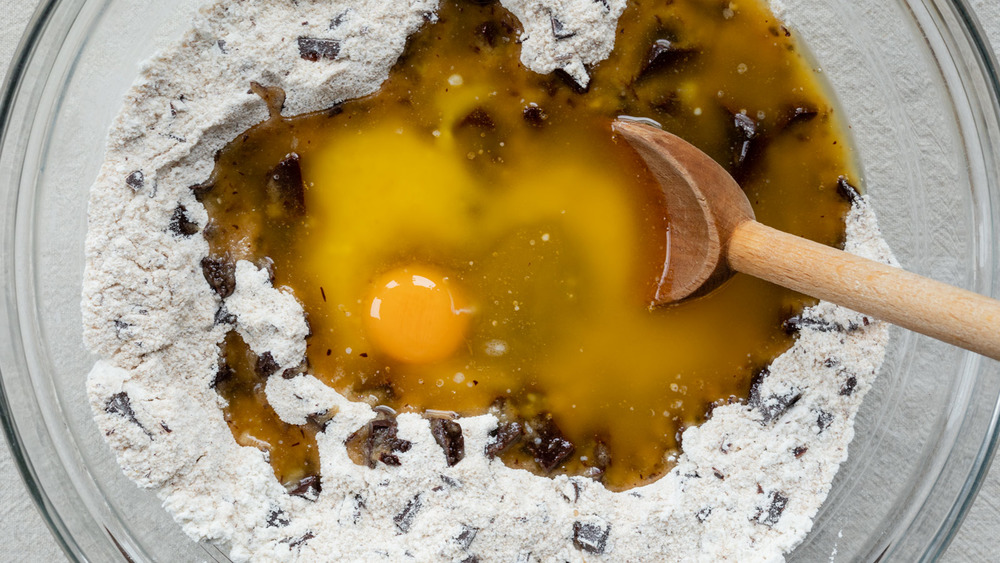 Mark Beahm/Mashed
Now you will incorporate the liquid or "wet" ingredients to the dry mixture. A note about the egg: oftentimes pro bakers recommend the egg(s) be room temperature before it's added into the recipe but that's not necessarily the case in this chocolate chip cookie recipe. Even further, Beahm suggests making sure the melted butter has been cooled and cracking an egg that's fresh out of the fridge. "This is one of the very few exceptions where the temperature of the egg isn't super important," he says. "In fact, it will probably even work better if you use butter that's cooled but still melted and a cold egg from the fridge. This keeps the cookie dough on the cooler side, so it won't spread out as much in the oven. When cookies spread too thin, they get crisp instead of soft and chewy."
As to how and when to add the butter, egg, and vanilla, we asked Beahm for specifics. One at a time? Mix them together first? He advises you to "add the wet ingredients all at once and mix until it's evenly combined and comes together to form a dough. This prevents over-mixing and developing too much gluten that could make the cookies tough." You don't have to tell us twice, as we all know by now, there is such a thing as too much gluten.
Refrigerate the chocolate chip cookie dough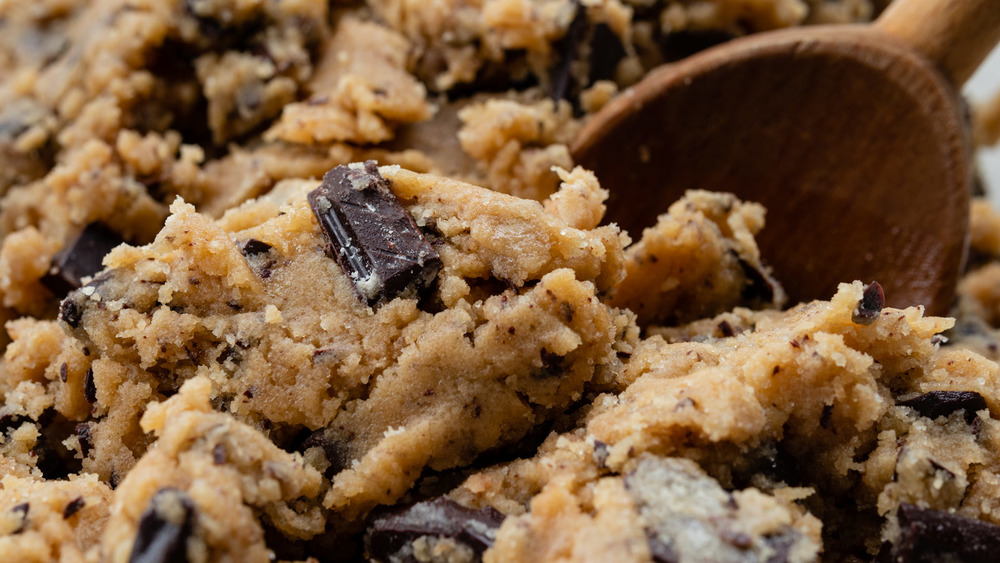 Mark Beahm/Mashed
When the dough has been mixed to just the right texture, it's time to cover it and put it in the fridge. You can preheat the oven to 350 degrees at this time, and line a few baking sheets with parchment paper. 
Not every chocolate chip cookie recipe calls for this step but Beahm deems it crucial. He insists that leaving the cookie dough to rest in the refrigerator prior to baking it improves the flavor and texture, and prevents the cookies from spreading too thin in the oven. So it takes more than great ingredients combined perfectly into dough for a great cookie. If you also want the best consistency and the ideal cookie shape, be sure to follow these instructions accordingly. 
Side note, when the dough is ready but you only want to bake a few, there are definitely dos and don'ts for freezing that dough to bake at a later date. 
Scoop the chocolate chip cookie dough onto a baking sheet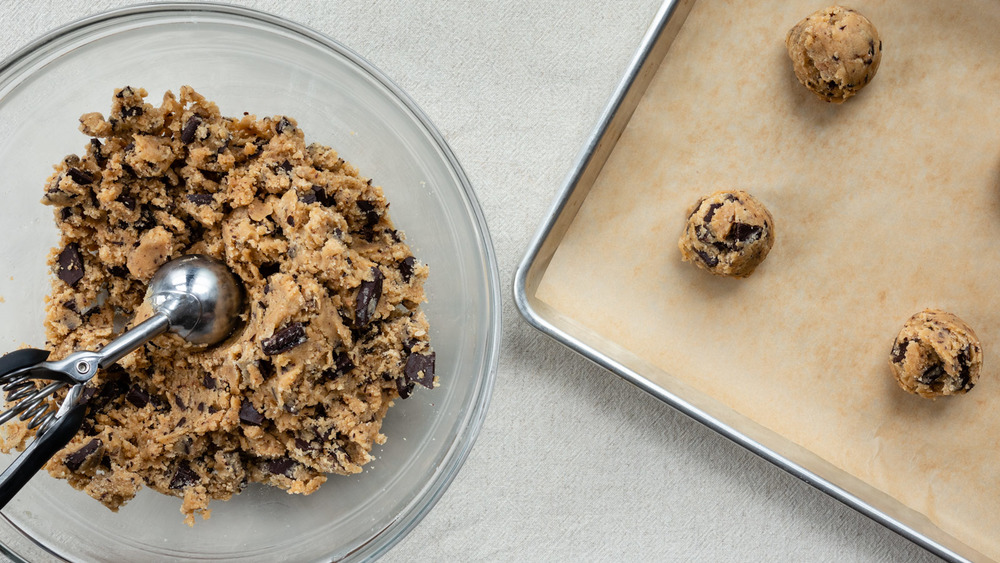 Mark Beahm/Mashed
After the dough has chilled in the fridge for at least 30 minutes, it's finally time to bake these babies. To get that perfect chocolate chip cookie shape (oh you know the one), Beahm suggests using an official cookie scoop. Did you know those were a thing? Well, you do now. While this is an excellent tool for helping you measure out the proper portions of dough for the cookies, it's not essential. "If you don't have a cookie scoop, you can portion the dough with a couple spoons instead. They should be about 2 tablespoons," he says. 
It is important (and perhaps essential) to make sure there are two inches between each ball of dough though, so the cookies don't get stuck together in the baking process. So no more than two tablespoons of dough, and at least two inches from any other cookie on the sheet, got it?
Sprinkle sea salt on the chocolate chip cookie dough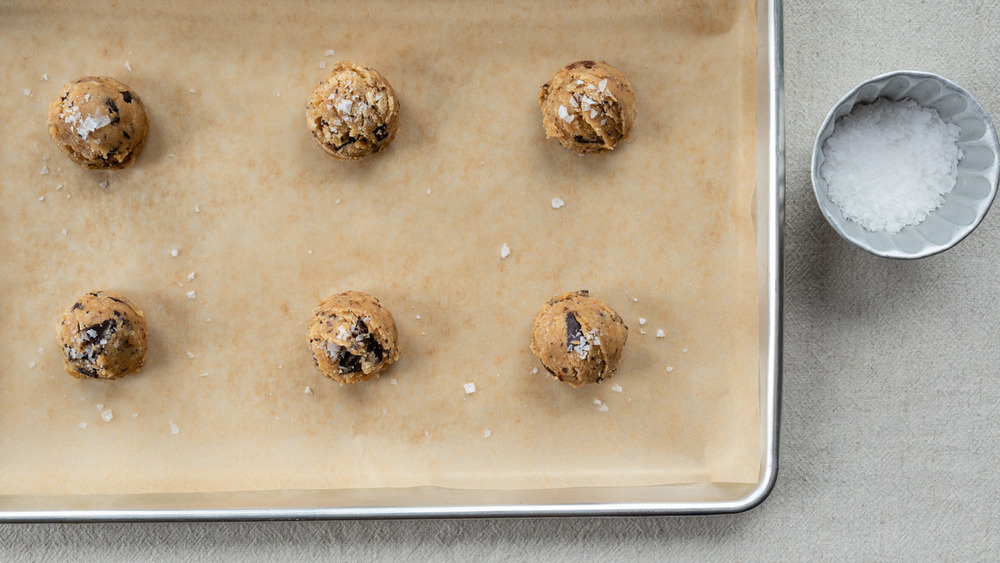 Mark Beahm/Mashed
Before sticking these chocolate chip cookies in the oven, don't forget the final step — a sprinkling of sea salt over each ball of dough. Salt, in general, is a necessity for baking, which might seem counterintuitive but Beahm agrees, "If you leave out the salt, even in something really sweet, it can taste bland."
And while salt is already in the dough for these chocolate chip cookies, the sea salt garnish you add in this step of the recipe is a savory twist that makes these cookies really pop. 
We checked with Beahm about the addition of this type of salt at the end and he breaks it down like this: "Chocolate chip cookies have a sweet toffee-caramel flavor and when you add the salt on top it's a lot like that magic salted caramel taste." We just love a good salty/sweet combo and have a feeling most cookie consumers are on our side.
Bake the chocolate chip cookies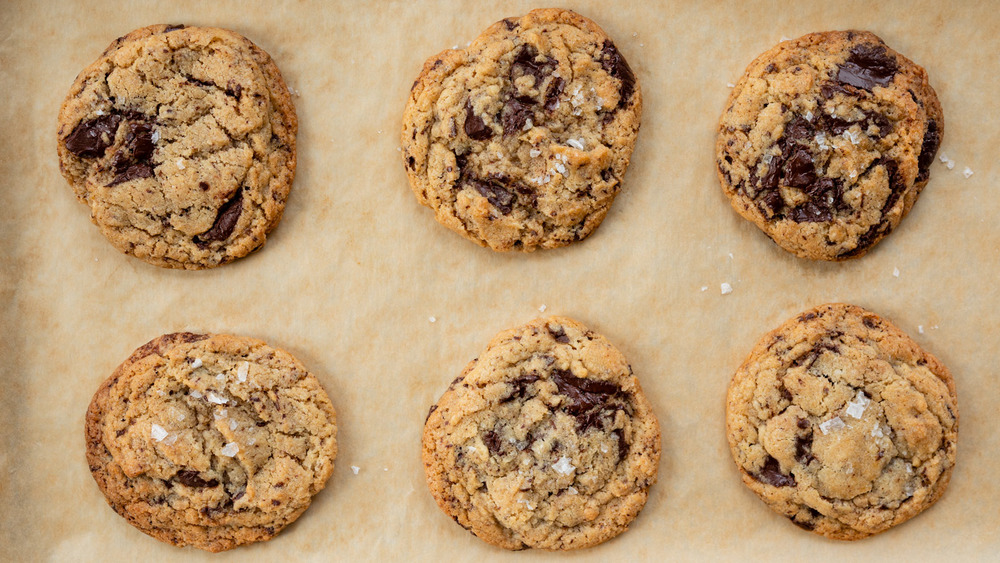 Mark Beahm/Mashed
After you've got your dough scooped onto the parchment lined baking sheet, it's time to put the [soon to be] chocolate chip cookies in the oven and bake them for approximately 12 minutes, although bake times can vary depending on the oven. Basically, you bake them until the edges start to brown but take into account whether your oven bakes on the slower side or the faster side.
Also, Beahm recommends only cooking one sheet at a time, and has the legit science to back up that recommendation. He explains, "The air in colder regions of the oven is denser than the air in warmer pockets of the oven. This creates an air current, even in a conventional oven, that circulates air from the colder areas to the warmer areas. An overcrowded oven disrupts this current and causes things to bake unevenly." Now THAT is a pro tip if we've ever heard one.
Allow the chocolate chip cookies to cool on the pan before transferring to a wire rack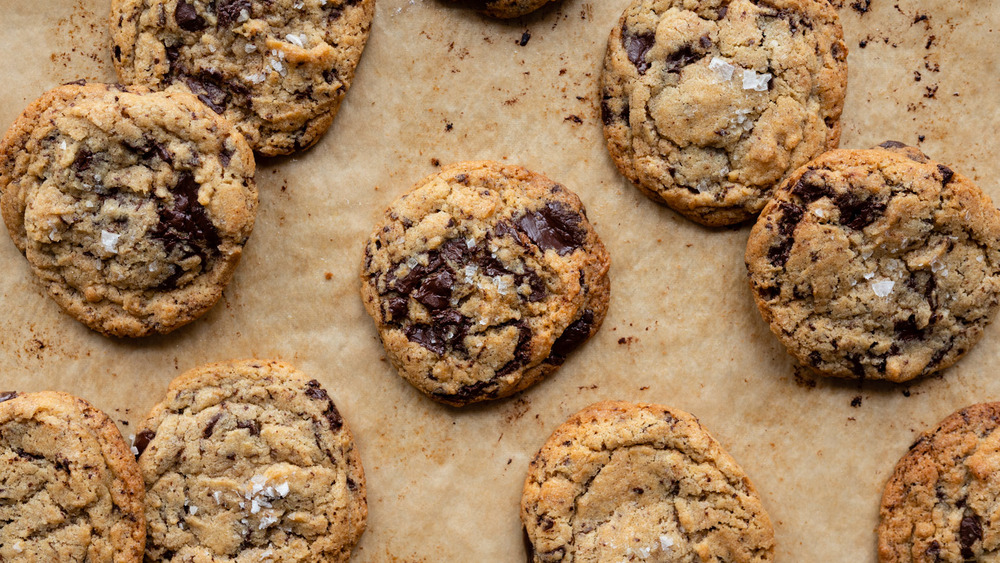 Mark Beahm/Mashed
After the edges are perfectly browned and you take the cookies out of the oven, this recipe directs you to let them cool in the pan for a couple of minutes, then transfer them to a wire rack to cool the rest of the way. There is logic behind this. Beahm tells us, "They should cool on the pan for a couple minutes so the cookies can set firm enough to be handled without breaking them apart. Then you want to move them to a cooling rack to finish cooling. Otherwise, the cookies will continue to cook on the hot pan." So don't skip the wire rack cooling step! You don't want to accidentally over-bake the cookies. If the cookies are still hot on the parchment, use a spatula. 
Cool them just long enough to not burn your mouth when you take a bite, but not so long that they no longer have that unmistakable fresh out the oven gooey warmth!
The Best Chocolate Chip Cookie Recipe
These cookies have crisp edges but a soft and chewy interior. And there's some crunchy flaky sea salt on top for that delicious sweet and salty combination.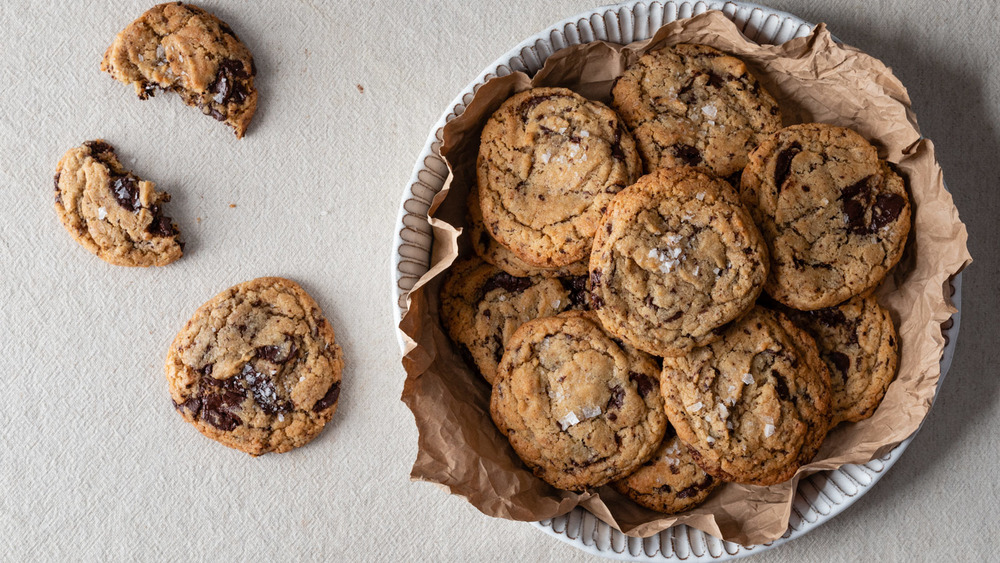 Ingredients
2 cups all-purpose flour
⅔ cup light brown sugar
½ cup granulated sugar
½ teaspoon salt
½ teaspoon baking powder
½ teaspoon baking soda
1 ¼ cups chopped chocolate or chocolate chips
⅔ cup unsalted butter, melted
1 large egg
1 tablespoon vanilla extract
Flaky salt, for sprinkling
Directions
In a large mixing bowl, combine the flour, both sugars, salt, baking powder, baking soda, and chopped chocolate or chocolate chips.
Pour in the melted butter, egg, and vanilla extract and mix just until the dough comes together. Be careful not to over-mix as that will overwork the gluten.
Cover and refrigerate the cookie dough for at least 30 minutes before baking.
Preheat the oven to 350 degrees Fahrenheit.
Use a cookie scoop to scoop the dough onto a parchment paper-lined baking sheet, leaving at least 2 inches between cookies.
Sprinkle each cookie with some of the flaky salt.
Bake for 12 minutes, or until the edges have just started to brown.
Allow the cookies to set on the sheet pan for a couple of minutes before moving them to a wire rack to cool completely.
Nutrition
| | |
| --- | --- |
| Calories per Serving | 213 |
| Total Fat | 9.8 g |
| Saturated Fat | 6.0 g |
| Trans Fat | 0.3 g |
| Cholesterol | 27.7 mg |
| | |
| --- | --- |
| Total Carbohydrates | 29.0 g |
| Dietary Fiber | 0.7 g |
| Total Sugars | 18.6 g |
| Sodium | 109.9 mg |
| Protein | 2.3 g |