Greek-Style Lamb Burger Recipe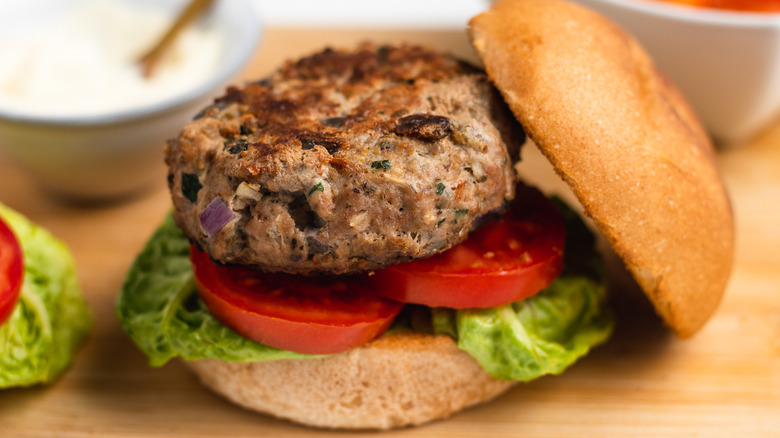 Catherine Brookes/Mashed
While popular in summertime, burgers are a staple year round. These hearty and versatile sandwiches can please a crowd without breaking the bank. Whether you top yours with the classic toppings of ketchup, mustard, mayo, lettuce, and tomato; or you get creative with yours including guacamole, macaroni and cheese, or shoestring fries; one thing is for sure, you can find something everyone will enjoy.
Recipe developer Catherine Brookes brings us this recipe for Greek-style lamb burgers. Have you ever had a lamb burger? These are full of flavorful ingredients like mint, cumin, oregano, and cumin, which are reminiscent of Greek cuisine.
Gather your ingredients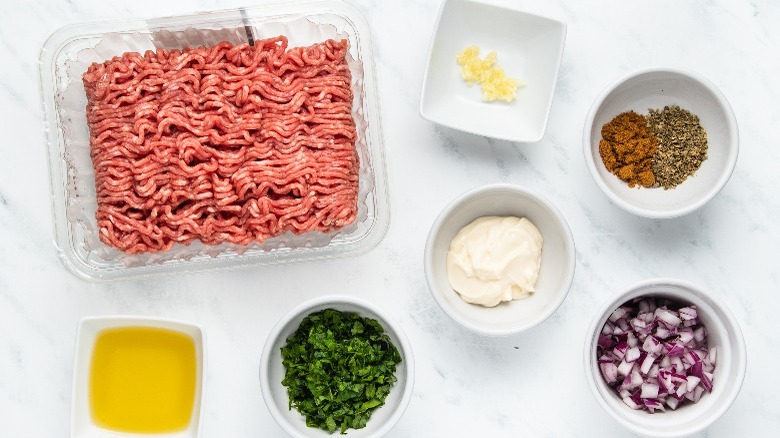 Catherine Brookes/Mashed
To make these Greek-style lamb burgers, you can start by gathering your ingredients. For this recipe, you will need ground lamb, red onion, oregano, cumin, garlic, fresh mint, mayonnaise, salt, pepper, and olive oil.
Mix ingredients in a large bowl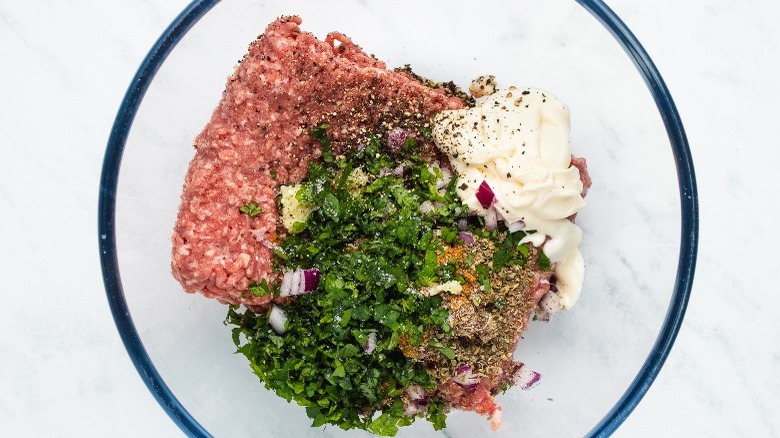 Catherine Brookes/Mashed
Wash your hands well because you will be mixing the meat. Grab a large mixing bowl. Add the lamb, onion, oregano, cumin, garlic, mint, mayonnaise, salt, and pepper into the bowl. Brookes notes that "fresh mint gives these burgers a delicious fragrant, herby, and almost sweet" flavor. Use your hands to mix the ingredients, ensuring that they are well combined.
Form into patties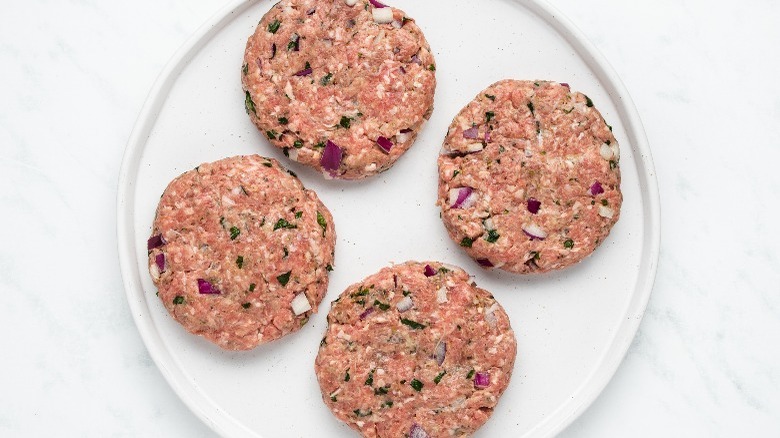 Catherine Brookes/Mashed
Form the mixture into four patties by using your hands. Set them on a large plate and then wash your hands again. This hand washing will ensure that you avoid cross-contamination of raw meat. Heat a large frying pan on medium heat on the stovetop to prepare for frying.
Fry burgers until cooked through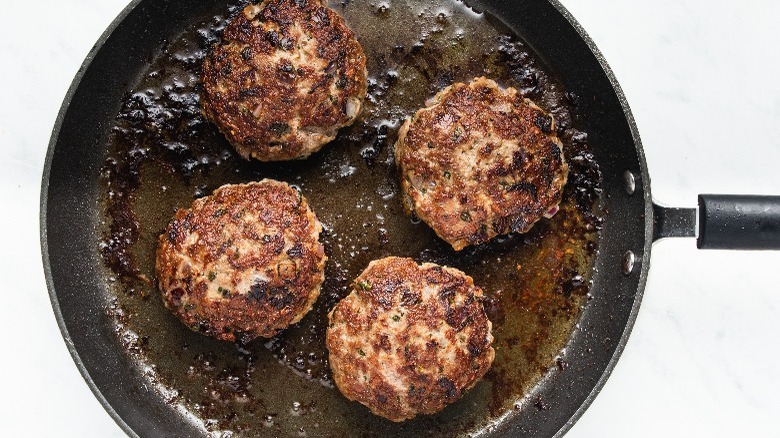 Catherine Brookes/Mashed
Add the olive oil to the frying pan. Once the oil is hot, fry each patty in the heated skillet for 5 minutes on each side, or until cooked through. Each patty should be nicely browned before removing from the skillet. Then, you are free to serve these however you like. Brookes notes, "My favorite sauce to add is mayo, but you could also go for mustard, ketchup, or a minted yogurt."
Don't forget the side dishes! Brookes adds, "I love to serve these burgers alongside fries and salad. You could also serve with some roasted veggies or even go bunless and enjoy with rice or quinoa." You may want to try quinoa zucchini salad or these classic roasted vegetables. If you want something more traditional, you can't go wrong with these copycat McDonald's fries.
Greek-Style Lamb Burger Recipe
Make a hearty spin on a classic lunch or dinner with this Greek-inspired lamb burger recipe that incorporates the flavors of mint, oregano, and cumin.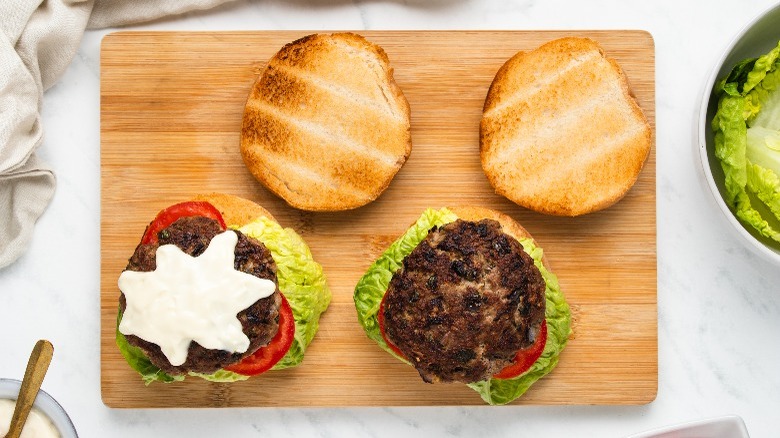 Ingredients
1 lb ground lamb
½ red onion, finely diced
1 ½ teaspoons oregano
1 teaspoon cumin
1 clove garlic, crushed
3 tablespoons chopped fresh mint
2 tablespoons mayonnaise
Salt and pepper to taste
2 tablespoons olive oil for frying
Directions
Add all ingredients minus the olive oil to a large mixing bowl.
Mix everything with your hands until well combined.
Split the mixture into 4 and shape into patties with your hands.
Heat the olive oil in a large frying pan on a medium setting. Fry the burgers for 5 minutes on each side or until nicely browned and cooked through.
Serve in burger buns with salad and your favourite sauce.
Nutrition
| | |
| --- | --- |
| Calories per Serving | 443 |
| Total Fat | 39.1 g |
| Saturated Fat | 13.4 g |
| Trans Fat | 0.0 g |
| Cholesterol | 85.6 mg |
| | |
| --- | --- |
| Total Carbohydrates | 2.8 g |
| Dietary Fiber | 0.9 g |
| Total Sugars | 0.7 g |
| Sodium | 347.3 mg |
| Protein | 19.3 g |