14 Ways To Save Even More Money At Costco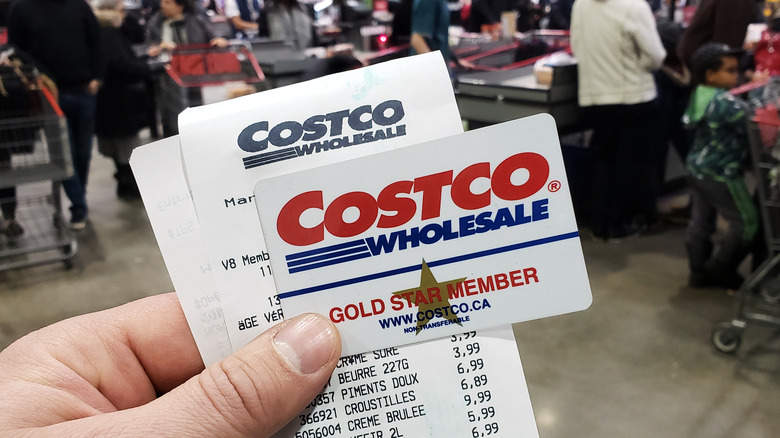 dennizn/Shutterstock
What's your favorite part of a trip to Costco? Is it the suspiciously cheap food court fares? The soft pretzels and frozen egg rolls beckoning to you in such insane bulk amounts you couldn't fathom needing? Or perhaps the intermingling of free sample aromas that leave you craving barbecue chicken and blackberry cobbler at the same time?
For us, it's all of that and more. There's no such thing as merely popping into Costco. Trips to this warehouse are excursions, ones you're best equipped for by wearing your comfiest sneakers and bringing your heftiest Visa card. Can you even shop at Costco on a budget, or do those two words mesh about as well as oil and water? It might be hard to imagine how you can stay financially conscious at a place that tries to beckon you with a dozen pounds of never-frozen colossal shrimp or a 100-count box of ready-to-eat crab rangoons. But as it turns out, there are ways that savvy Costco shoppers manage to keep the bucks down even when the bulk buys are running high. Read on for a collection of tips from the wholesaler's cult following for preventing heart palpitations at the Costco register while still stocking up on all your favorite bulk buys. 
1. Follow the price codes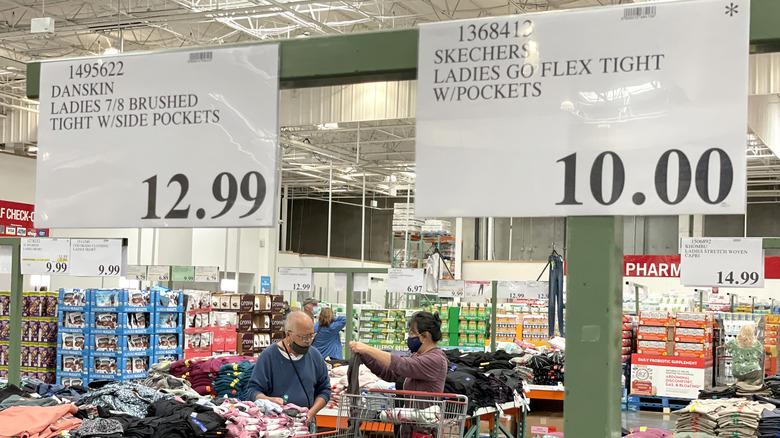 Justin Sullivan/Getty Images
This first hack won't necessarily save you hundreds during every Costco trip, but it's enough to make a little bit of a difference. The numbers that Costco prices end in aren't random; they can give you hints as to which merch is on sale. If the price ends in a nine — like $5.99, $10.49, $75.89, etc. — it means that product is more than likely still at full price. If you want to save some money on it, you'll want to hold off on buying it and check back later for it to be on sale. 
On the other hand, if you want to try and maintain a lower Costco bill by only shopping the marked-down stock, look for prices that end in a different odd number — usually a seven. This means that the product has seen a price reduction. And if the price tag is accompanied by an asterisk in the upper right corner,  you'll want to stock up on this item while you can, because that means it won't be restocked once it sells out. 
You'll find the best savings by seeking out even-numbered prices, usually ending in double eights or double zeroes, because these usually mean a manager has marked down the item in an attempt to quickly sell it. This happens for a variety of reasons, including if the item has been returned, is in an open package, about to expire, and more. 
2. Use Costco shop cards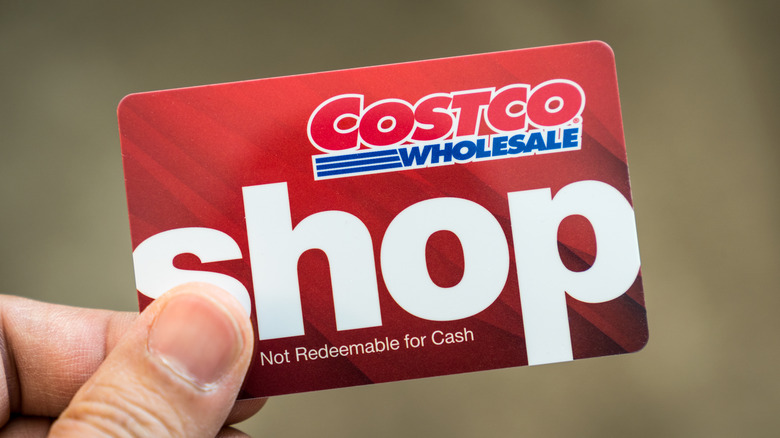 Kenishirotie/Shutterstock
Want to take advantage of Costco savings without footing the bill for being a member? A great way to dodge the membership cost is by having a friend or family member who is a member buy you a Costco shop card. These gift cards are a one-time ticket into the club wholesaler; all you have to do is flash your shop card at the entry attendant and you'll gain access, even if a Costco member isn't with you. Shop cards must be purchased by members, though, so befriending a Costco shopper is your first step.
The cards can be purchased in several increments: $25, $50, $100, $250, and $500. The variations are a great built-in budget helper, too. You could shop with only the cash card and stop adding items to your basket when the total on the card is reached. Although, you may want to withhold a couple of bucks on the card to buy your membership-holding friend a hot dog combo.
3. Get the Costco Visa credit card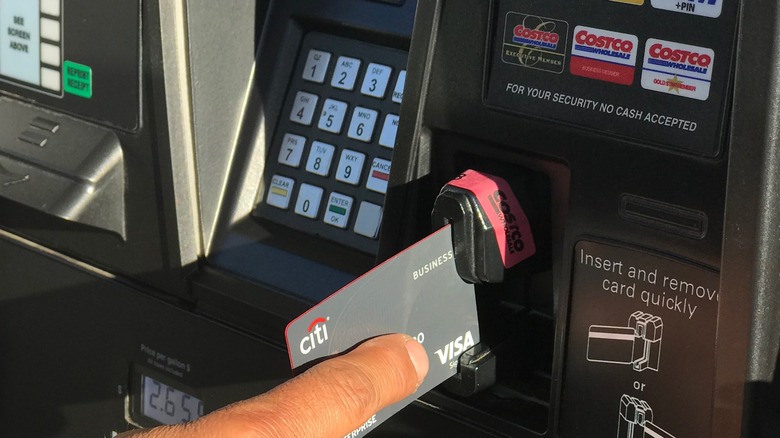 Cassiohabib/Shutterstock
If you're ultra-committed to shaving dollars off your Costco bill, consider signing up for the Costco Anywhere Visa credit card by Citi Bank. A credit card is a more significant commitment than the other tips on this list but it will save you a lot of money in the long run. While only available to Costco members, the card will reward you with cash back on purchases in the warehouse store and beyond. You'll earn 4% cash back on gas and electric vehicle charging (on the first $7,000 worth of charges every year), 3% on dining and travel expenses, 2% on all Costco purchases (both in the store and online), and 1% on everything else you buy.
A great perk of the Costco Visa is that there's no annual fee, thanks to your paid Costco membership. And your annual cash back rewards can also be redeemed right at Costco, applied to your credit card statement, or turned into a shopping credit for use at the wholesaler. Altogether, the Visa is a great way to save money on every trip, all while reaping the rewards of a super credit program. 
4. Avoid the weekend rush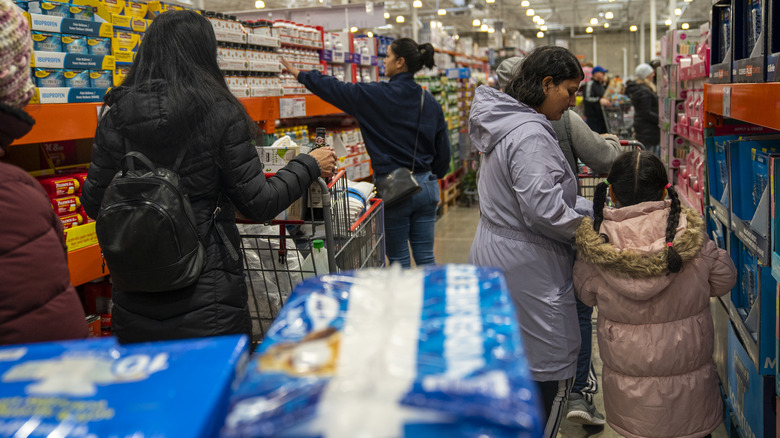 Robert Nickelsberg/Getty Images
The only way to make an overstimulated parent attempting to herd a massive cart brimming with a hundred pounds of groceries and an equally overstimulated toddler even more flustered is ... by having three more parents in the same exact scenario waiting behind you while you're trying to decide between russet and Idaho potatoes. It's not personal when the shopper in front of you takes five minutes to debate between Charmin and Quilted Northern toilet paper — but there's something about a crowded Costco on a Saturday afternoon that has the power to yank the manners right out of you. It's even more stressful when you're the habitual dawdler.
If you can help it, avoid the expensive decisions made under peer pressure by shopping when Costco is slow. That way, you won't feel rushed in to impulse purchases by the heavy sighs of a half dozen other exasperated shoppers behind you. In fact, some say the best time to shop at Costco is an hour before close, right when the doors open (snagging you the first pick on produce as well!), or in the late afternoon on Tuesday, Wednesday, and Thursday. Just be neat and courteous no matter what time you shop. 
5. Try to go to only one Costco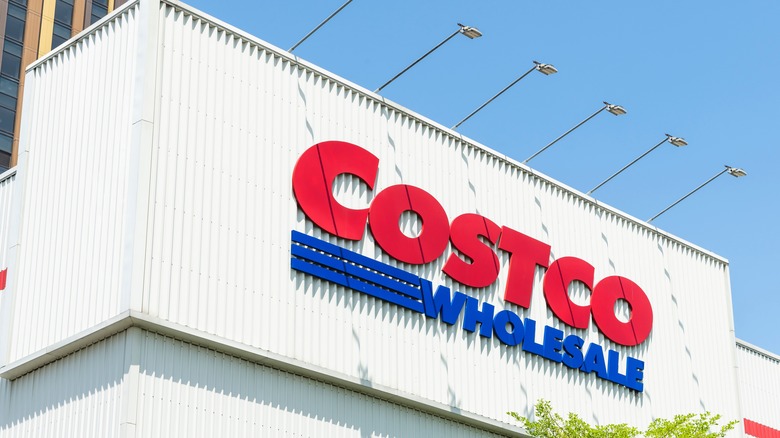 Jack Hong/Shutterstock
Have you ever felt like Costco is a maze? That's by design. The store wants you to wander up and down the aisles picking up things you didn't come for while hunting out what it is you came for in the first place. Costco is also known to shuffle inventory around to shake up shoppers' paths to keep you swimming in the sea of product and more likely to pick up something that catches your eye. While we will probably always be victims of the purposefully random inventory to some degree, you can try to combat it by always going to the same Costco location wherever possible. 
Most Costco layouts are different from one another, so getting familiar with the many twists and turns of your local store can put you at an advantage for saving money. And the longer you go to the same location, the more you may be able to pick up on your local store's inventory shuffling patterns and stay ahead of the aimless wandering. 
6. Stop at the food court first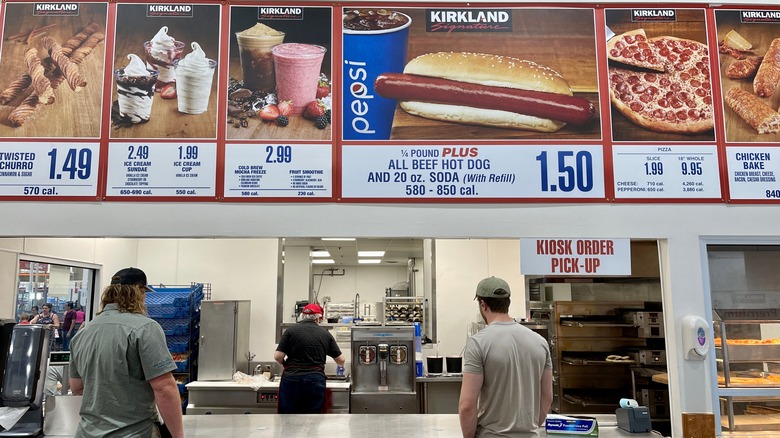 Ant DM/Shutterstock
It is scientifically proven that shopping while hungry can be more expensive. The stomach rumbles will zap your brain with hunger signals that compel you to add more grocery items to your cart than you would if your appetite had been satiated beforehand. You can prevent spending an extra $20, $50, even $100 on hunger-driven impulse buys by forking over a couple bucks at the Costco food court before you hit the aisles. A giant slice of pizza is only $2, while the famous hot dog and soda combination is $1.50. 
Of course, if you are trying to save as much money as possible with no exceptions, it would actually be wiser to eat at home before heading out for your shopping trip. After all, there are plenty of temptations even in the food court — ice cream, churros, and smoothies, we are looking at you — that will beckon you to spend money, and they all cost more than the classic hot dog meal. If you have a bigger family to feed, you could get a cheap Costco rotisserie chicken and bring it home, too. 
7. Shop the Kirkland brand as much as you can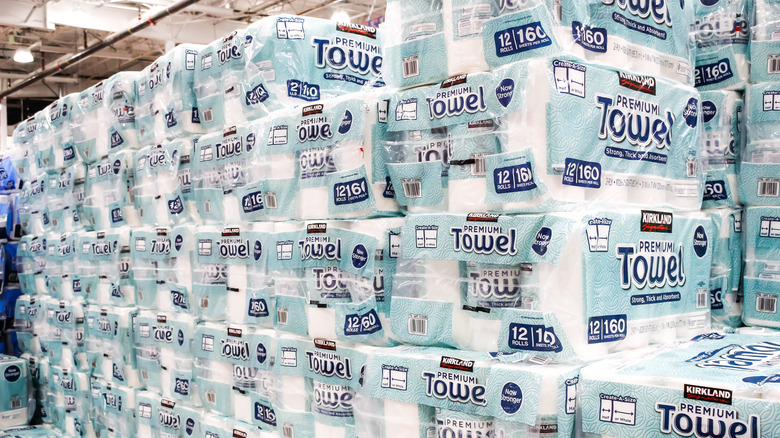 The Image Party/Shutterstock
One of the easiest ways to tame your Costco shopping bill is to opt for its private label brand, Kirkland Signature, whenever possible. Store brand products are almost always cheaper than name brands, and the same is true of Kirkland Signature. Kirkland products cost 20% less on averagte than competing name brand products,  and we strongly argue that there's not even that feeling of product quality sacrifice when shopping Kirkland. As longtime Costco shoppers, we've never felt that a Kirkland product was significantly lower quality than a competitor's. 
In fact, if you look closely, many Kirkland products share the same origin as a name-brand competitor. For example, Kirkland's espresso roast coffee is actually a Starbucks product, while its breakfast blend K-cups are from Green Mountain. The Costco brand's canned albacore tuna is from Bumble Bee Seafoods, and its jelly bean candies are from leading jelly bean company, Jelly Belly. So with many products, you can get a name brand item at a Kirkland Signature price. 
8. Check out the Costco liquidation auctions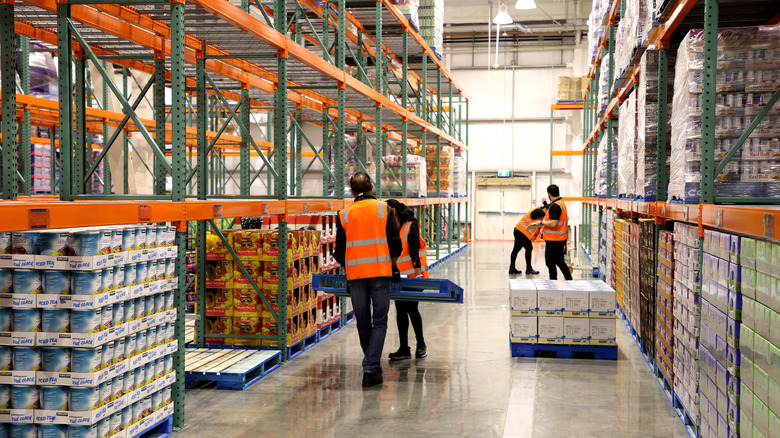 Phil Walter/Getty Images
While it probably doesn't suit the needs of every single shopper out there, a great way to find steep Costco discounts is to hawk the Costco Wholesale liquidation auctions, where bulk goods are sold at great deals. According to Costco, bulk items range from clothes to electronics, food, health and beauty items, luggage, toys, and more. Auctions are run daily, and local inventory pickup is available at locations in Georgia, Texas, Maryland, California, New Jersey, Illinois, Utah, Washington, Arizona, Michigan, and Florida. Auction purchases range from small packs (less than one pallet), to pallets ranging from one to 10 in quantity, to full truckloads.
Now, it's important to note that there are some restrictions as to who can participate in the auctions. This savings hack is specifically for small business owners, and you will need a resale certification from your state. Additionally, approved buyers cannot resell the inventory within five miles of a Costco. But overall, the price savings are significant, especially when reselling the excess that you don't need.
9. Avoid action alley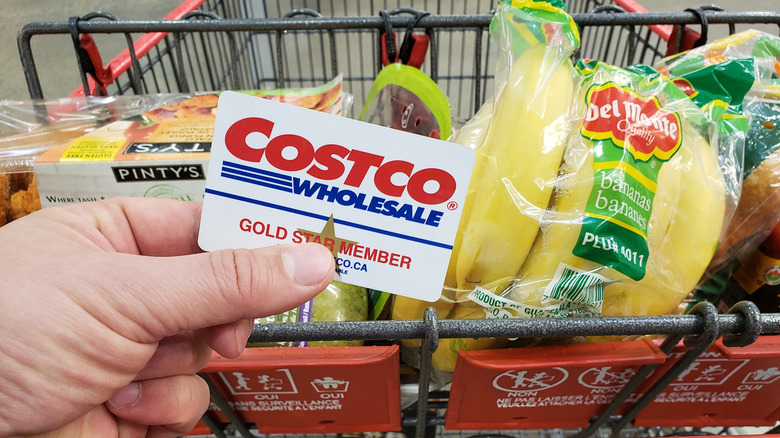 dennizn/Shutterstock
Shop at Costco frequently enough and you'll notice trends in the store's different sections. The center of a Costco, which you'll know by its use of tables and displays rather than aisles or shelves, is referred to as action alley because it holds the best deals. Compared to other sections of the stores, where products rarely go on sale, action alley is full of very competitive brand pricing and often unbeatable bargains. Many people recommend visiting action alley to find the best sales at Costco. 
However, the so-called treasures of action alley are rarely the essentials of shopping — think seasonal supplies like holiday decorations, clothing, toys, and other home non-essentials. So if you've ever scooped up something out of action alley that wasn't on your list and think you've scored a great deal, it's you who's been bested by Costco. The store is carefully strategized for you to meander through those unnecessary goods, get dazzled by their low prices, and rack up your shopping bill with a bunch of items you didn't actually intend to buy. 
10. Split bulk purchases with friends or family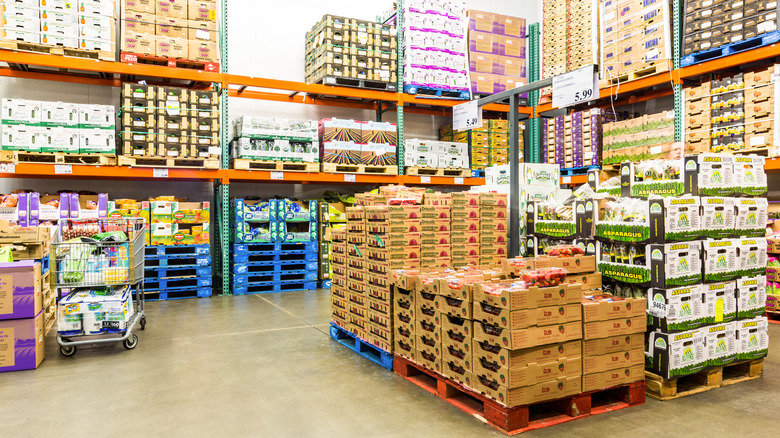 Mihai_Andritoiu/Shutterstock
Buying in bulk whenever possible tends to be cheaper than shopping in small quantities. But one of the quickest ways to deplete the value of bulk shopping is when your household can't consume all of the bulk goods before they spoil or expire. Plus, while buying in bulk will save you dollars in the long term, it still delivers a bigger blow to your wallet at the cash register. 
So given those two facts, it may make sense for you to have a Costco partner in crime with whom you can consolidate your shopping list and go halfsies on the things that you mutually need. This way, you're not only splitting the final bill and saving yourself some financial strain, but you're also preventing expensive food waste by bringing home less product that will potentially go stale or spoil before you're able to finish it. 
11. Avoid the products that aren't good deals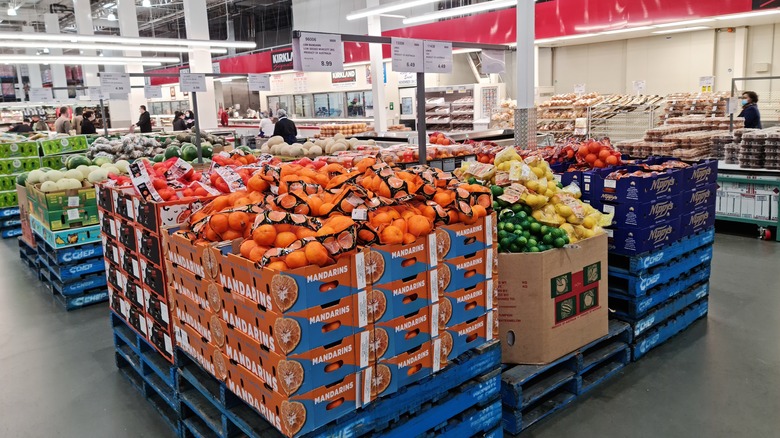 Graham Drew Photography/Shutterstock
As much appeal as Costco has, part of saving some green at the wholesaler may involve leaving a few things off your shopping list. There are some products that you may be able to find better deals on elsewhere. While Costco does offer unbeatable pricing on some many products including olive oil, prescriptions, alcohol, and diapers, it's also known to be a weak competitor when it comes to electronics, coffee, spices,  produce, and canned goods. 
In fact, in that lattermost category, you may be spending as much as 40% more per can as you would at a regular supermarket. However, at Costco, you can also purchase bulk-size cans, not just cans in bulk. And while the savings from those three- to five-pound cans of tomato sauce and baked beans are certainly alluring, you'll want to be sure that all of that food will go to use and not be thrown out in order to make the purchase worth it. 
12. Don't ignore Costco's weekly emails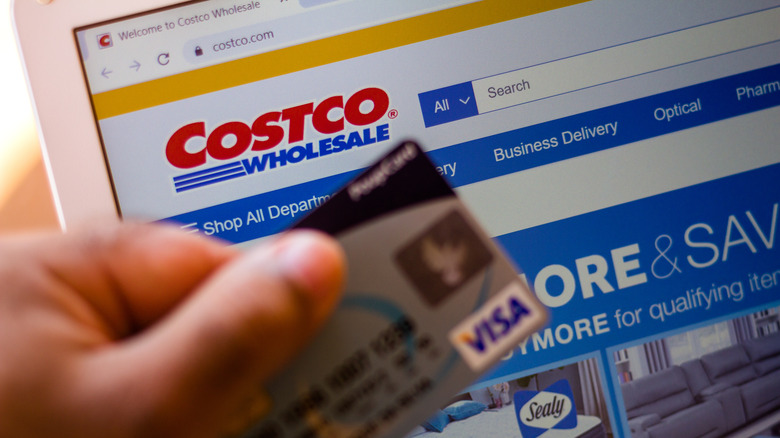 rafapress/Shutterstock
The endless barrage of email notifications can certainly get overwhelming, but you don't want to filter Costco communications to your junk mail if it's savings that you seek. As regular Costco visitors, we can personally attest to the importance of sniffing out gems in the marketing emails from the wholesaler. Costco emails often contain information on what's on sale, plus personalized coupon offers — giving you insight into deals on electronics, decor, food, and more. Giving the emails a regular looking through can help you determine good times to visit the store. Just be sure not to let the coupons and promos convince you to buy things you weren't actually looking for.
If you don't want to scour emails for the latest promos, there is another way to keep tabs on the hottest Costco deals. The Costco mobile app contains some great sales as well, but navigate it at your own risk; we've found it to be a glitchy and not very user friendly. You may also find some sales on Costco's website, but there is a 5% fee for shopping online which could negate any savings you accumulate. 
13. Stop at a crateful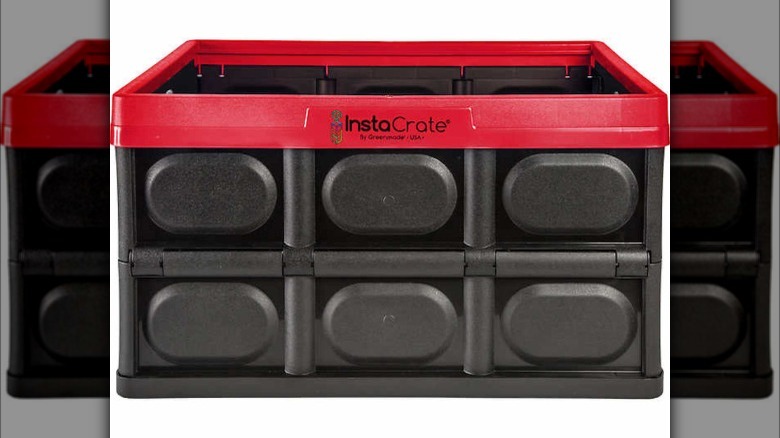 Costco
Costco shopping carts are dangerously big. One second you're tossing dinner rolls and chicken breasts into your cart by the half-dozen, and next thing you know you've got a $500 Costco bill on your hands. One popular Costco impulse-curbing hack is to only buy what will fit into one of the reusable, collapsible shopping crates available for purchase at Costco (Our advice as Costco shoppers is to be sure to mark your crate so the Costco attendants know it's not something you need to purchase every time you bring it back). Don't want to buy a crate? Just use a laundry basket or large plastic storage tote instead.
The idea is simple: Set up the crate in your cart, put groceries in the crate, and stop when the crate is full. This will help discourage you from wandering through Costco, and force you to trade out non essential buys for important things that you need to purchase. As a bonus, once you have used the cart trick several times, you'll start to have a good idea of how much each refill costs, so there will be less surprises at checkout. 
14. Make recipe substitutions to buy fewer ingredients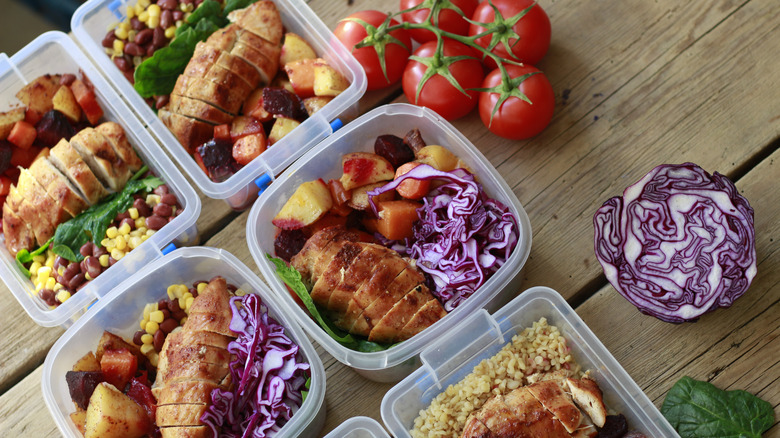 Fevziie/Shutterstock
Save money on your Costco runs by making some swaps in your meal planning. Buying fewer ingredients will mean a cheaper bill and less potential food waste. For example, you can buy all chicken instead of beef (or even swap out your protein entirely for cheaper black beans), and cut out some produce varieties like different colored peppers. Sure, some substitutions might change a recipe too much, but many will only make tiny alterations to flavor. 
Here are some more great examples of swaps to save you money: use oil or applesauce instead of butter, cottage cheese instead of ricotta cheese (just blend the cottage cheese when you need a smoother texture), whole milk instead of cream or half and half, and chicken thighs instead of chicken breast. You can also restrict the types of cheeses you buy to cheddar, mozzarella, and jarred Parmesan. And even in the event that you have too much of one ingredient on hand, there's a chance you can just freeze the excess for later.