Jack In The Box Vs Taco Bell: How Far Will $10 Go?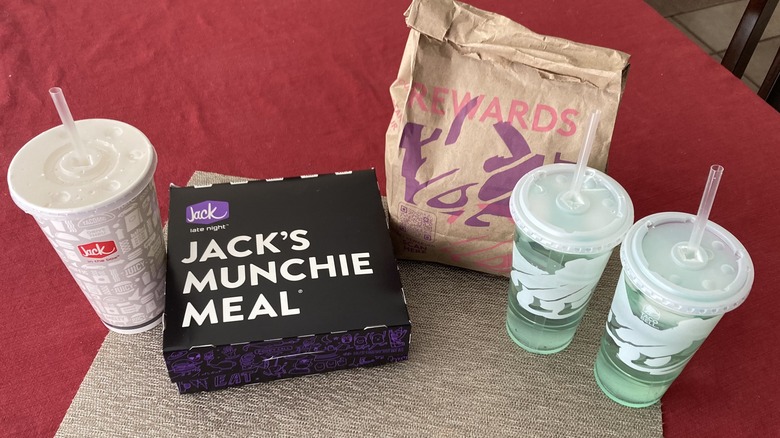 Steven Luna/Mashed
It makes sense to think that $10 would go pretty far at both Jack in the Box and Taco Bell. Some of Jack's most popular items appear on the company's rotating value menu, while Taco Bell's dollar menu was one of the earliest examples of a fast food outlet dropping its prices to lure in hungry diners. While defining "value" may be subjective, grabbing a satisfying spread at either of these fast food titans should be a no-brainer, even if higher-end items on both menus reach upwards of $8.00. Fast food fans with an eye for a tasty bargain can use their cash much more wisely in both restaurants.
With affordable food at both chains, which one provides more meal for the money? We cruised past drive-thru windows and ordered our best take on combo meals to see how much food $10 can get you at each. But, though both Jack and The Bell offer tacos, the similarities between the menus end there. To even the stakes as much as possible, we opted for deals that included two tacos as side pieces to sandwich-style entrées. In the end, we found a clear winner in the battle for our fast food bucks. Here's what we learned.
Jack in the Box Stacked Grilled Cheeseburger Munchie Meal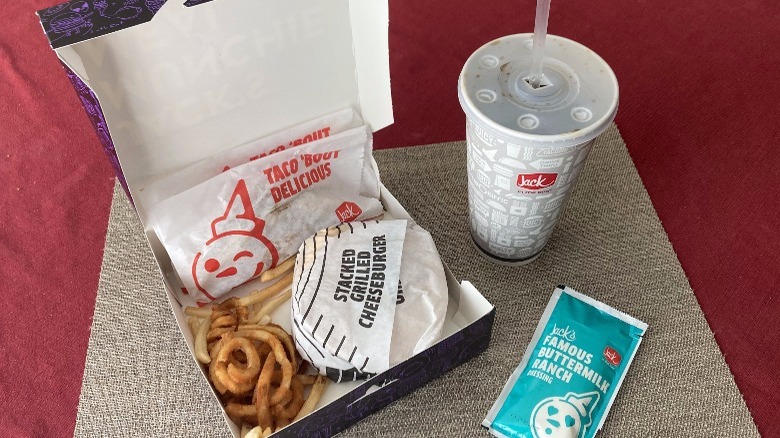 Steven Luna/Mashed
The Munchie Meal Menu from Jack in the Box is intended for late-night snacking, but these specials are available round the clock. We opted for the Stacked Grilled Cheeseburger version, which features an oversized sourdough cheeseburger, small Halfsie fries, two tacos, and a small drink (which is actually quite large). That leaves you with plenty of food to split with a friend, though the single drink identifies this as a one-person party in a box. At $8.00 plus tax, this generously jacked box even left us with a little pocket change.
As for the food, the special touch of sourdough instead of a bun provided a bit of deli flair to the burger, even measured against a menu as diverse as that of Jack's. The tacos were of a fast food standard (which is to say sub-par for tacos in general), while the Halfsie fries were a blend of curly seasoned and regular. A sparkly and refreshing Diet Coke was our choice of beverage.
As individual items, a Stacked Grilled Cheeseburger costs $6, two tacos cost about $1, a small Halfsie fries costs $3, and a small Diet Coke costs $2.99. Ordered a la carte, this brings the total to 12.99, substantially higher than the combo.
Taco Bell Cheesy Gordita Crunch and Crunchwrap Supreme Combo Meals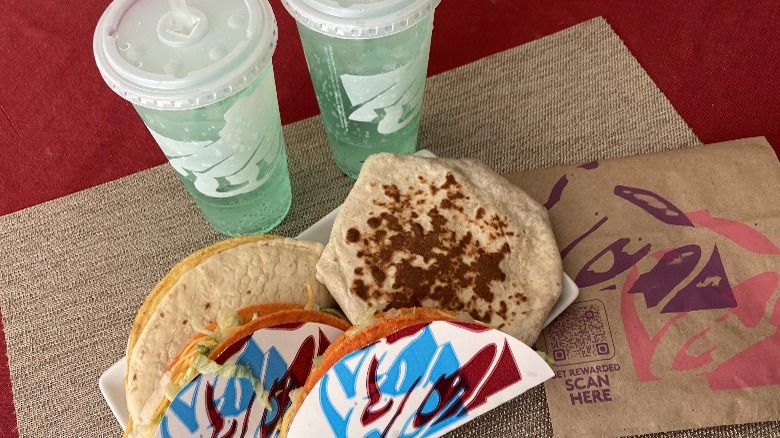 Steven Luna/Mashed
The days of Taco Bell's .59-.79-.99 menu may be long gone, but its ever-evolving bargain menu includes the $5 Cravings Box. With two selections and a drink in the bag, Taco Bell packages quite a bit into these meals while keeping the price at a more than reasonable $5. Hitting our $10 price point plus tax, our order included two separate meals featuring the Cheesy Gordita Crunch and the Crunchwrap Supreme.
The Cheesy Gordita Crunch Cravings Box included two crunchy tacos, one with a Doritos shell and one wrapped in a layer of cheese and a soft taco shell — what amounts to a quesadilla covering. The Crunchwrap Supreme Cravings Box included one Doritos shell crunchy taco and a Crunchwrap Supreme, which is an overstuffed burrito folded into a hexagon through the magic of culinary origami. 
A Cheesy Gordita Crunch and a Crunchwrap Supreme are both priced around $5 as single items, sending these magnificent deals off the charts when it comes to making the most of your meal money. Both combos included a medium Mountain Dew Baja Blast, which for Taco Bell means a generous 30 ounces of beverage.
What's the nutrition of the Jack in the Box food?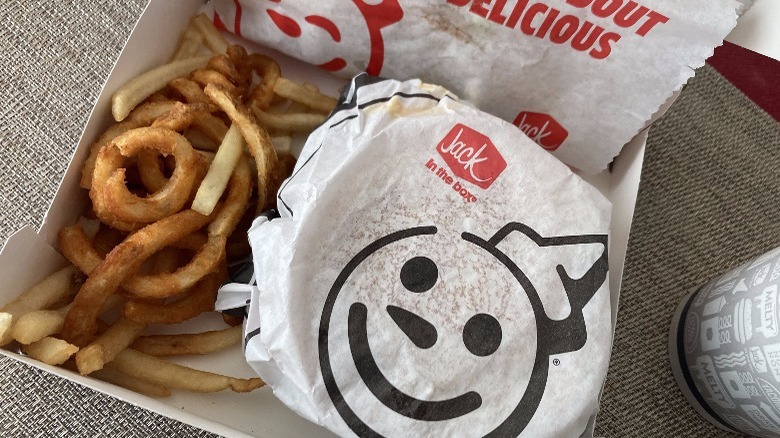 Steven Luna/Mashed
Not surprisingly, the nutritional facts for a Jack in the Box tend toward the dicey side of health and wellness. In total, the Stacked Grilled Cheeseburger Munchie Meal weighs in at 1640 calories. A full 840 of these calories are attributed to fat, which equates to a staggering 93 grams of fat, 27 of which are saturated. You do get 55 grams of protein here, at least. Whether it balances out the less-nutritional macros depends on your sensibilities. With a Diet Coke as the beverage, there are no additional calories or sugar added, a wise decision considering the other numbers on the food.
It's worth noting that the calories, fat, and sodium counts on this Munchie Meal are the second-highest on the whole Jack in the Box menu. While it does get quite a bit of food for your hard-earned cash, there are healthier options to be had, even on the same menu. For a once-in-a-while treat, you may be able to justify stretching your buck at the Box with this combo. But even if the price is attractive, the cost in nutrition is a substantial sacrifice.
What's the nutrition of the Taco Bell food?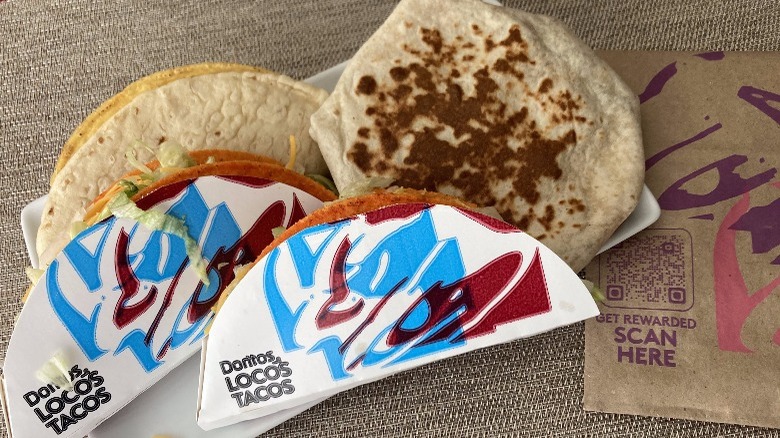 Steven Luna/Mashed
The total nutrition in Taco Bell's Cravings Boxes requires a bit of math. A Cheesy Gordita Crunch and Doritos taco total up 670 calories, 37 grams of fat, 13.5 of which are saturated, and 870 milligrams of sodium. The Crunchwrap Supreme and Doritos taco nutrition facts vary quite a bit, with 710 calories, 30 grams of fat, 10.5 of which are saturated, 1560 milligrams of sodium, and 23 grams of protein. Mountain Dew Baja Blast on both meals adds 280 calories and 74 grams of sugar. So while no dietician is likely to be patting us on the back for our Taco Bell choices anytime soon, the overall numbers for a shared $10 worth of food are less than half the nutritional expense of the Jack in the Box Munchie Meal. The only exception is the skyrocketing sodium of the Crunchwrap Supreme.
Because the Taco Bell double deal is more than enough food for two people, splitting an already low bill in half also means splitting the sketchy nutrients. Taco Bell racks up bonus points for having fair prices and sharable meal deals that minimize the impact on your health. 
How does the Jack in the Box food fare?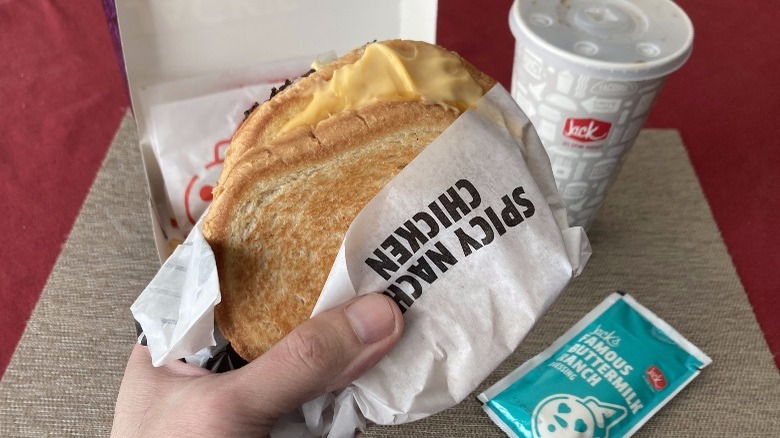 Steven Luna/Mashed
With so much variety in its line-up, Jack in the Box is practically guaranteed to provide winning food for under $10. Fresh, hot, and gooey as advertised, the Jack in the Box meal was mediocrity at its best, if such a paradox is possible. The sourdough bun on the cheeseburger lends more flavor to the bread layer than the usual double-stack burger, though everything else on the sandwich is standard Jack fare. The blend of curly and straight fries in the Halfsie pack provided just enough to satisfy the taste for each. 
Jack's tacos may be beloved by many, but they're a lesser creation when compared to Box burgers, and they were the weak spot in this meal — greasy yet dry, mushy yet flavorless. Somehow, these tacos defy the laws of food physics, which brings the enjoyment factor down by several degrees.
Fast foodies familiar with what Jack in the Box offers will find no surprises in the bag, and lovers of bad tacos are sure to be in their element. But for a so-called value meal that clocks in at just under $10, the quality is less than desired.
How does the Taco Bell food break down?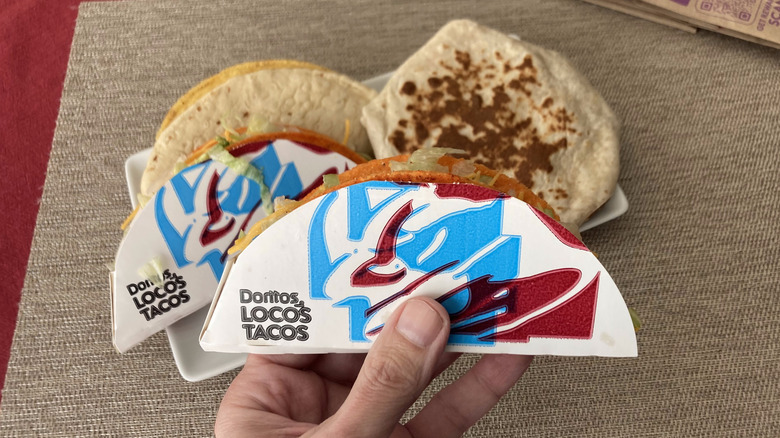 Steven Luna/Mashed
The Taco Bell food was beyond filling and deliciously familiar, yet each piece has its own winsome twist. The Doritos shell on the tacos, the double-layering of the Cheesy Gordita, and the overstuffed goodness of the Crunchwrap Supreme made the boxes feel like a treat rather than just a repackaging of standard Taco Bell items. The tacos, of course, were superior to Jack in the Box, with a more authentic Tex-Mex style. Having a nacho cheese twist on the taco shells added a hearty dose of familiar flavor and fun zing, too, like getting a tortilla chip bonus without adding food or cost to the meal. 
The Cheesy Gordita is a brilliant spot of fast food creativity, combining the oozy fun of a quesadilla with the crunch of a traditional taco. And for all its daunting and mysterious geometry, the Crunchwrap is a good time, like a sandwich and a burrito all in one.
Aside from tasting better, the Taco Bell meals were satisfying without being heavy. Though there was plenty of food and none of it was particularly light, the additional vegetables made a difference in overall edibility. It may be strange to say, but these bites were both comfortable and comforting fare.
Which restaurant came out on top?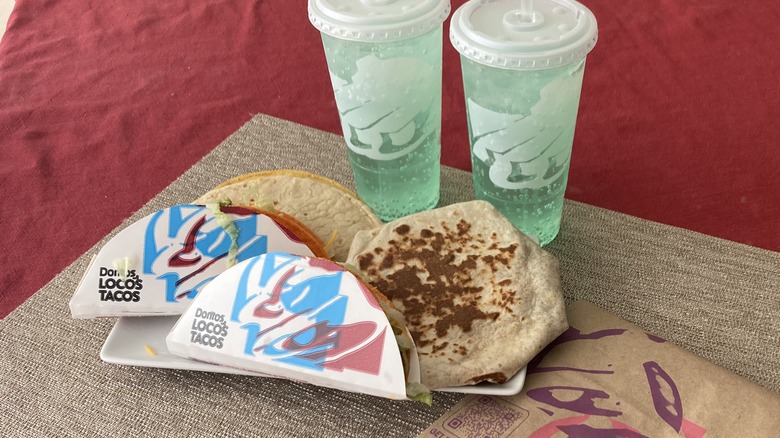 Steven Luna/Mashed
Though both deals offered tempting options, Taco Bell was able to feed two people for only a few dollars more than Jack in the Box. The variety of $5 combo meals available at the Bell gives a wider variety of mix-and-match elements, expanding the possibilities for how far a ten spot can take you. As a satisfying fast food meal for under $10 is the golden-horned unicorn of the drive-thru eating world, being able to get not one but two meals without taking out a second mortgage marked a pinnacle moment.
Taco Bell also wins on the nutritional front, even with the added sodium from the Crunchwrap Supreme. Both Cravings Box meals offered manageable calorie and fat contents. Choosing zero-calorie beverages would have tilted the scales even more in Taco Bell's favor, knowing that two people can eat happily at The Bell for about the same price as one person at The Box. 
In this savory showdown of the $10 throwdown, Taco Bell is the clear victor, with Jack in the Box merely an also-ran. If you're looking for affordable fast food fun for two, making a run for the border is your best bet.