5-Ingredient Greek Dressing Recipe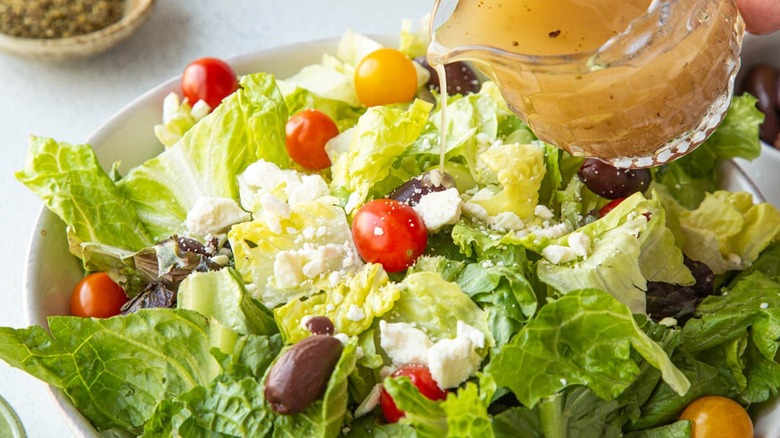 Kate Shungu/Mashed
Greek salad is such a wonderful one-plate lunch or light dinner. While there are a number of different ways to make this dish (what do you know, there's a Greek salad recipe right here!), many will include a base of lettuce topped with onions, olives, tomatoes, and feta cheese. One thing that's de rigueur for a superb salad, though, is a tasty, tangy dressing like the one from this recipe.
One of the best things about this dressing, besides its flavor, is just how simple it is to make. As recipe developer Kate Shungu tells us, "I love how you can create a quick and easy homemade dressing using only five ingredients from your pantry." Don't worry if you don't have the ingredients on hand to make a Greek salad, though, since she says this dressing makes for "an easy way to dress up leafy greens" even if they're otherwise plain. Not only is this dressing great for salads, but it can also be put to use as a marinade for chicken or a sauce to brush over grilled vegetables as they cook. It would also work well in a Mediterranean-style pasta salad.
Assemble the ingredients for the Greek dressing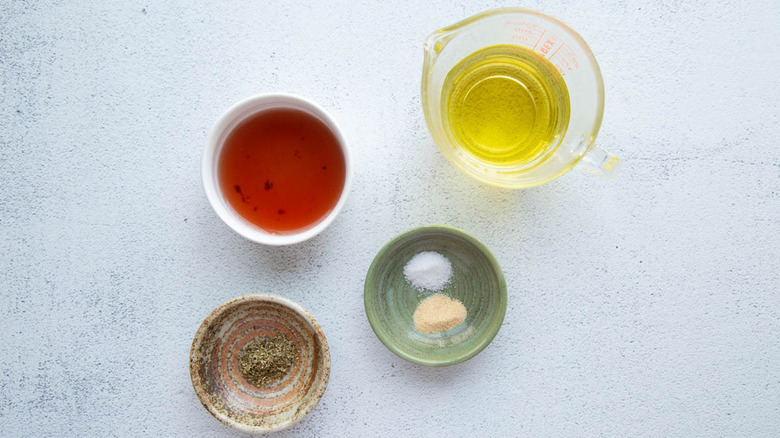 Kate Shungu/Mashed
As advertised, this dressing requires only 5 ingredients. The base of the dressing is a simple blend of olive oil and red wine vinegar, while the seasonings consist of oregano, garlic powder, and salt.
If you would prefer to use fresh garlic, Shungu says you may feel free to do so, but recommends, "Grate it on a microplane or mince it very finely with a knife." This will allow you to avoid the disconcerting sensation of biting into a chunk of raw garlic.
Choose the olive oil based on its flavor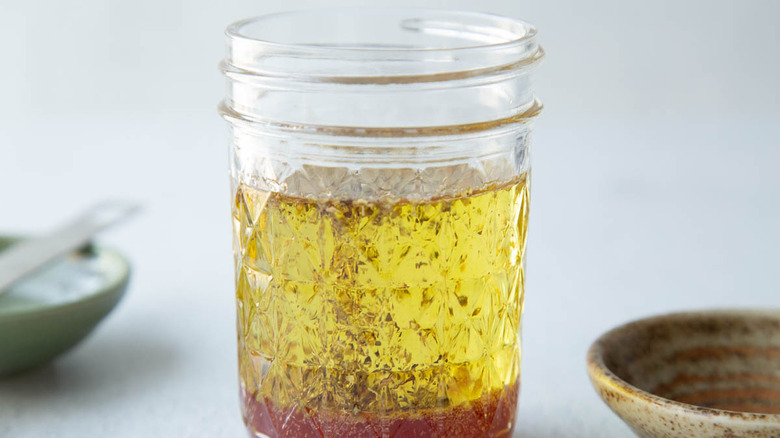 Kate Shungu/Mashed
Many recipes will insist that you use only extra-virgin olive oil for a salad dressing, but Shungu leaves the choice up to the cook. Her only advice, she says, is to "Choose one that you enjoy." If you're a fan of the more strongly-flavored EVOO, then by all means, go ahead and use it here. If you prefer a less-assertive (not to mention, most likely cheaper) virgin or pure olive oil, however, there's no reason not to go with one of these, instead.
The dressing should be shaken, not stirred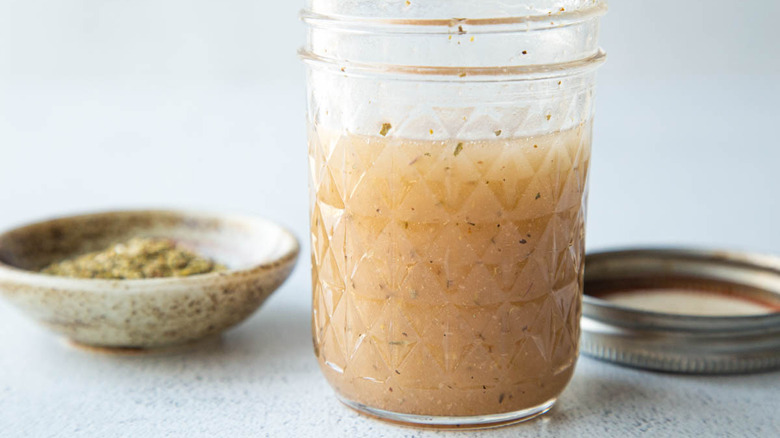 Kate Shungu/Mashed
While James Bond's famous martini-making advice is something that's been pooh-poohed by numerous mixologists, it applies pretty well to salad dressings. "Since this dressing doesn't contain an emulsifier like Dijon mustard," explains, Shungu, "shaking the dressing is the easiest way to quickly emulsify the olive oil and vinegar."
In order to do so, she advises measuring the salad dressing ingredients (all 5 of them) into a jar with a lid, screwing the lid on tight, then shake-shake-shaking until everything is well-combined.
Use the dressing within a week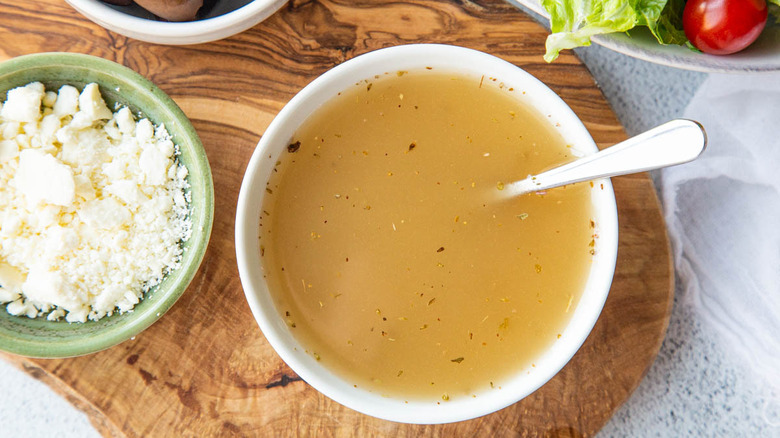 Kate Shungu/Mashed
Once you've shaken your dressing, it's all ready to pour over a salad should you happen to have one to hand. If you won't be needing it right away, though, Shungu says, "You can store the dressing in the same jar that you use to shake it." It should be good in the fridge for up to a week, but she cautions, "You'll need to shake the dressing again as it sits, as the oil and vinegar will eventually separate."
5-Ingredient Greek Dressing Recipe
The dressing is the key ingredient that can make or break a salad and this easy Greek dressing made with just five ingredients is a great option.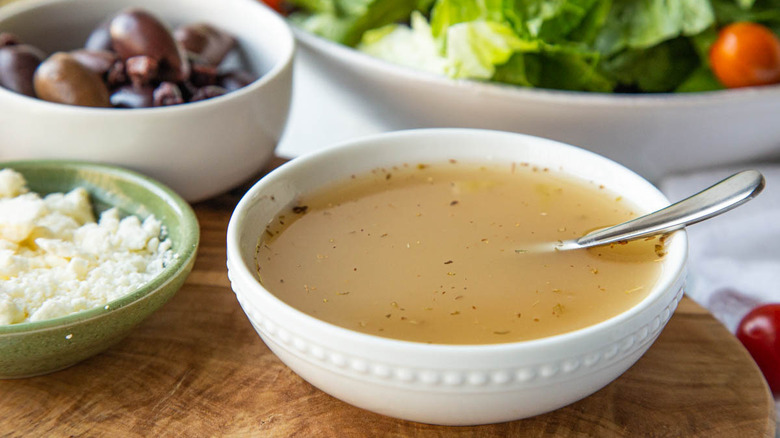 Ingredients
½ cup olive oil
3 tablespoons red wine vinegar
½ teaspoon dried oregano
¼ teaspoon garlic powder
¼ teaspoon salt
Directions
Place all of the ingredients in a jar with a tightly-fitting lid.
Secure the lid and shake the jar to combine the ingredients.
Serve the salad dressing right away or store it in the refrigerator for up to a week.
Nutrition
| | |
| --- | --- |
| Calories per Serving | 161 |
| Total Fat | 18.0 g |
| Saturated Fat | 2.5 g |
| Trans Fat | 0.0 g |
| Cholesterol | 0.0 mg |
| | |
| --- | --- |
| Total Carbohydrates | 0.2 g |
| Dietary Fiber | 0.0 g |
| Total Sugars | 0.0 g |
| Sodium | 59.7 mg |
| Protein | 0.0 g |