This Pastrami Martini Is Weirdly Perfect For The Marvelous Mrs. Maisel's Finale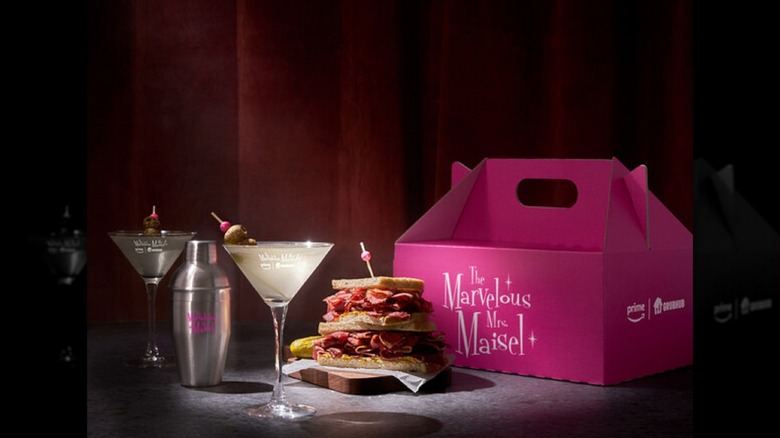 Kalina Georgieva/Shutterstock
The beloved Netflix series "The Marvelous Mrs. Maisel" is coming to a close, and to celebrate, Grubhub has teamed up with a renowned New York City mixologist to celebrate two things that Midge Maisel can't seem to get enough of: Classic Jewish deli food and a nice strong cocktail.
Beginning on Friday, April 14, when the fifth and final season of the show debuts, fans in Manhattan can order a Maisel Tov Martini Kit from Marvelous Cafe, a ghost kitchen concept created by Grubhub for the promotion. This spin on a classic gin martini recipe was created by Pamela Wiznitzer, who worked to capture all the flavors of a pastrami sandwich into the classic cocktail without having to actually soak pastrami in liquor.
The vermouth used in the martini has hints of caraway in a nod to the rye bread in a pastrami sandwich, and the kit comes with an oil infused with the spices found in a pastrami brine. When you shake the cocktail mix with the oil — the kit also includes branded martini glasses and a cocktail shaker — you end up with a drink that tastes of pastrami but is actually vegetarian. Finally, the martinis are topped off with olives seasoned with the same spices that comprise a traditional pastrami rub. If the thought of a sandwich-inspired drink makes you hungry, a press release notes the kit also includes a deli sandwich, pickle, black and white cookie, and mini knish.
The show has always centered food and drink
Over the show's previous four seasons, "The Marvelous Mrs. Maisel" has always kept food and drink at the forefront. Even the pilot episode featured Midge bribing the manager of a New York City cafe with brisket so that her husband Joel could get a slot on stage to practice his standup comedy routine. Throughout the show, Jewish food and food traditions — along with plenty of drinks — have helped lubricate the cast and move the storyline along.
This partnership with Grubhub seems like a natural move for the show. It's part of an ongoing collaboration between Prime Video and Grubhub called "Tune In & Takeout". They've done food pairings for the premiere of "Harlem" and "Shotgun Wedding", and plans are underway for another takeaway collaboration to go with the forthcoming spy thriller series "Citadel."
Of course, you don't have to live in Manhattan to have a "Marvelous Mrs. Maisel" experience of your own. You might not have access to the city's famed Jewish delis, but you can always whip up some homemade hot pastrami sandwiches or cook up a nice brisket to enjoy with the show. Though the Maisel Tov Martini kits might not be available for everyone, we seriously doubt Midge would have a problem with you opting for a good old classic martini as you raise a glass to one last run with the Maisel family. While you're at it, why not play a drinking game to celebrate the final season?