The Single Ingredient That Buddha Lo Imports To Make His Grilled Cheese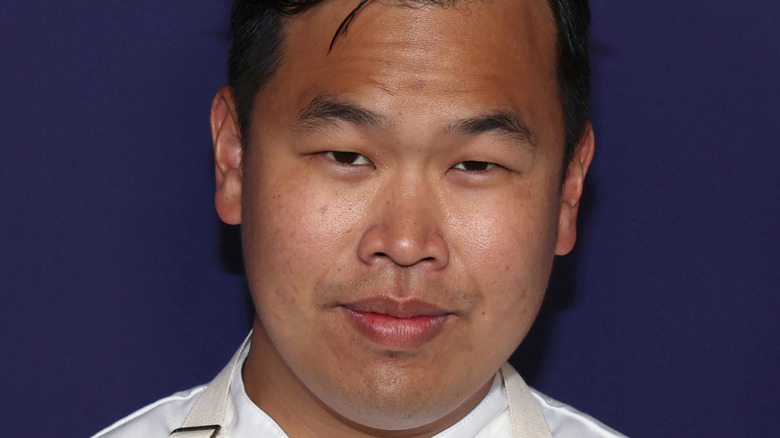 David Livingston/Getty Images
Caviar miracle worker Buddha Lo's menu at Huso is, according to its Michelin Guide review, full of "boldly" begun meals with "delightful[ly]" presented desserts. This is a space where it's easy to imagine the Anna Delveys of the city. Yes, the restaurant will serve you a hot dog, but not the sort of – is it a sandwich? – that you'd get at Yankee Stadium. The Huso dog is stuffed with king crab legs and topped with pickled mustard seeds, kewpie, avocado, and (need we even mention this?) caviar. Huso's version of potato and leek soup comes with a soft hen's egg to boot. Its short rib is wagyu. Its Maine lobster is brought to life with Tokyo turnips.
As for Huso's grilled cheese? Lo exclusively dished to Mashed that you're in for a decadent mix of marinated truffles, bechamel, comté, Muenster, sharp cheddar, and parmesan. Let it be known – Lo is not a chef who recommends mayo to brown grilled cheese. The "Top Chef" all-star chef imports butter from France to toast the sandwich. Don't roll your eyes before you hear him out.
Buddha Lo's case for French butter on grilled cheese
"Top Chef" champ Buddha Lo swears that real, straight-from-France French butter is worth your while. "French butter has got so much flavor. It's like the home of butter," he told Mashed. "We get our butter imported, and seriously, the butter by itself with some bread or crackers is amazing."
The secret to serving grilled cheese at a Michelin Guide restaurant isn't the cooking techniques you'd only pick up working at Restaurant Gordon Ramsay. Yes, Buddha Lo did that. He also staged at Michelin-starred restaurants all over Europe, but that's not the only reason Huso's grilled cheese tastes good, either. According to Lo, his version of a grilled cheese sandwich owes its decadence to the fact that the restaurant dishes out a little extra for top-of-the-line, luxurious ingredients. "That really elevates it, using quality products. We're not reinventing the wheel here," Lo affirmed. "If you take all those things [you'd usually need to make grilled cheese] and sub out the processed cheese slices [with] real cheese, and [sub out] a slightly less expensive butter with really good butter, it makes a world of difference."