Giada De Laurentiis' Bright Fregola Is Made For Spring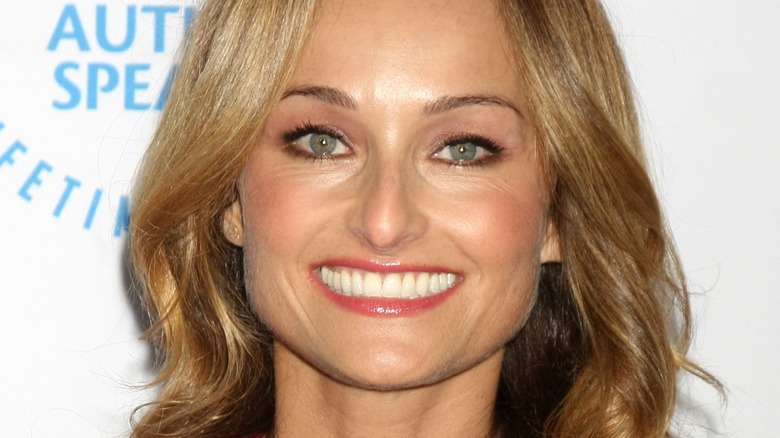 Kathy Hutchins/Shutterstock
What do you typically make for dinner when you aren't sure what to cook? For a lot of people in the U.S., the answer is pasta. Americans eat almost 20 pounds of pasta per person every year, which comes out to nearly 5.95 billion pounds total, more than even Italian eat (via USA Today). But if you're tired of eating the same old penne and spaghetti all the time, Giada De Laurentiis has the recipe for you. Now that spring is here, De Laurentiis is reaching for fregola to make "bright seafood-forward dishes" like you would find in the south of Italy, which is where fregola comes from.
Fregola is a toasted pasta from the island of Sardinia, so it's only fitting to pair it with something coastal. This dish transports us to the south of Italy with all of the bright seafood-forward dishes – it's wonderful for spring dinner parties! https://t.co/YbSsAHchWI pic.twitter.com/RYI76du33Q

— Giadzy (@Giadzy) April 6, 2023
Fregola is a round pasta from the island of Sardinia that looks an awful lot like Israeli couscous, but with one big difference: Fregola is toasted. That gives it a subtle nutty flavor, but it's still as versatile as any other pasta shape. De Laurentiis uses the fregola as the base for a tomato and seafood stew that's similar to the traditional Sardinian dish "fregula con le arselle," or fregola with small clams. It's an easy spring or summer meal — and one that will teach you to always cook your pasta in stock moving forward.
Cook fregola in broth for maximum flavor
How does De Laurentiis maximize her fregola's already toasty flavor and al dente texture? Instead of boiling it in plain water, she cooks it in a mixture of water and salted chicken stock. This trick doesn't just work with fregola; you can take a page from De Laurentiis' book and cook any pasta shape in broth to give all of your favorite Italian dishes more flavor. You could double down on the seafood flavor of the "Everyday Italian" host's recipe by using clam juice or seafood stock, or even create vegetarian dishes with fregola cooked in mushroom stock or vegetable broth.
De Laurentiis prepares a topping of littleneck clams and mussels that are steamed in a marsala tomato sauce. She pours all of the juices and cooking liquid from the seafood mixture onto the fregola before topping it with the shellfish. The same method can be used with the toppings of your choice, from chicken or sausage to sauteed vegetables. The key is getting all of the flavor from the cooking juices in your pan into the pasta. Using fregola makes this meal a bit more interesting than your typical linguine with clams, and once you try it, you may find that nutty, toasted fregola becomes one of your weeknight dinner staples.