The Untold Truth Of Eric Ripert
Eric Ripert is one of the classiest chefs to hit the culinary scene in recent memory. Born in Antibes, France, Ripert developed a passion for cooking at a young age and became an internationally renowned chef by his 20s. Ripert is not just recognized for his cooking talent and his restaurant. He hosts the PBS show Avec Eric, frequently judges on Top Chef, and has authored several books. The chef is also known for his enduring friendship with fellow celeb chef Anthony Bourdain. It was Ripert who discovered Bourdain after his apparent suicide. The two had been friends for years, with Ripert making frequent appearances on Bourdain's show Parts Unknown — another of which they had been filming at the time.
Sadly, the death of one of his closest friends is not the only tragedy Ripert has endured in his lifetime. In spite of this, the chef has lived a fascinating life, never letting his hardships cloud his optimism. Let's get to know the real Eric Ripert. 
He had a full-on bromance with Anthony Bourdain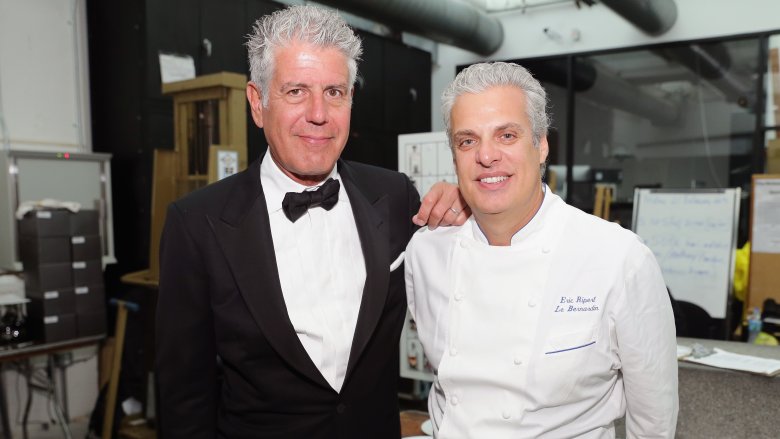 Getty Images
Ripert's friendship with Anthony Bourdain was one of the most notable in the industry. The cooking world can be cutthroat and competitive, but Ripert and Bourdain managed to strike up an incredible bromance that was based on mutual respect and trust. Ripert explained his rapport with Bourdain to Explore Parts Unknown: "It's very simple. We're very good friends. We laugh and it's comfortable because we can be calm, and sometimes we don't speak at all and we'll be happy together. I think he likes that a lot."
Bourdain's untimely death at the age of 61 had a profound impact on Ripert. "Anthony was my best friend," he said on Facebook. "He was an exceptional human being, so inspiring and generous. One of the great storytellers of our time who connected with so many... I pray he is at peace from the bottom of my heart."
He grew up in an abusive home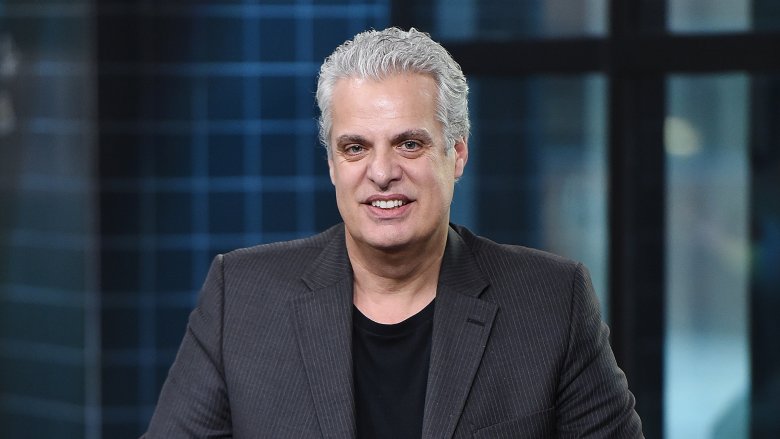 Getty Images
Ripert's childhood was a troubled one. His parents divorced when he was young, and his father, with whom Ripert was close, died when he was 11. His stepfather was a cruel man who mistreated Ripert. "He was a parasite," Ripert told The New York Times. "It was a disaster for the family. He basically destroyed our life."
With Ripert's encouragement, his mother eventually kicked his stepfather out of the house, but the damage had already been done. Ripert kept quiet about his childhood for many years, keeping the details of it even from his close friends until he published his memoir, 32 Yolks: From My Mother's Table to Working the Line, in 2016.
"I had no idea," said Anthony Bourdain about his friend's youth. "I knew it wasn't a happy childhood, but I had no idea how dark. You just don't see evidence of that darkness."
Teachers said he should be a waiter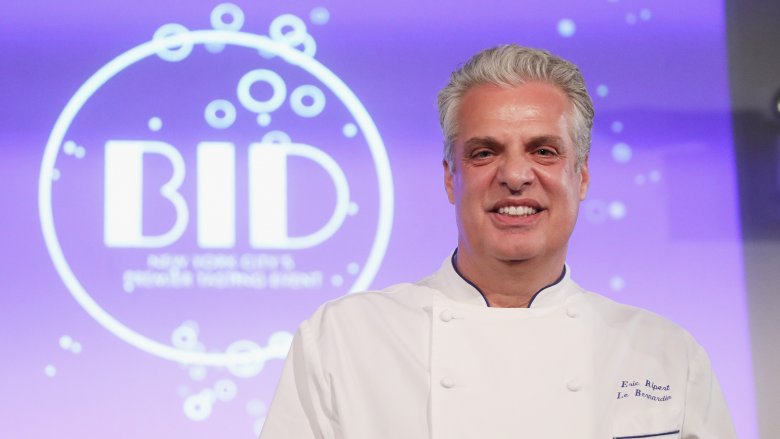 Getty Images
Ripert was sent to boarding school at the age of 15 where he learned his craft. The rigorous two-year program trained him not only in how to cook, but also how to serve. "I was actually very good at being a waiter, and the teacher wanted me to choose that path even though I wanted to be in the kitchen," he told Inc.
Ripert may have only been a teenager, but he knew that his future was definitely in the kitchen, not waiting tables. Being at the school wasn't easy for him, but he was so focused on his career path that it was worthwhile. "It was the first time I left my family for a long period of time," he said. "It was emotionally difficult, but the excitement of going to culinary school, being accepted in the program, and being able to cook, which was my passion already at the time, was so strong."
His childhood meals were pretty amazing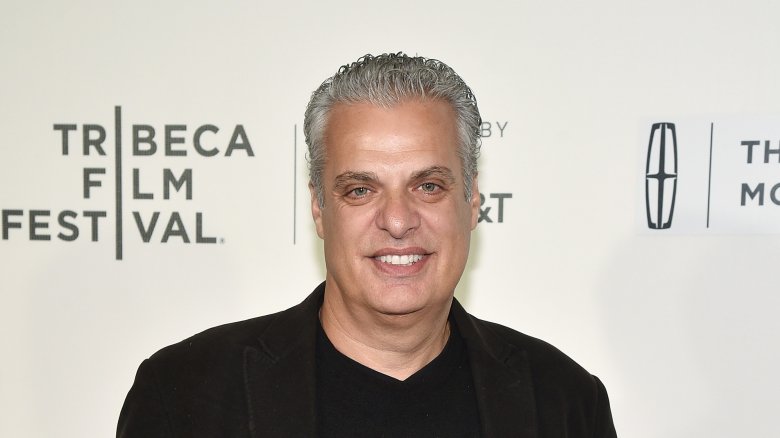 Getty Images
Ripert comes by his cooking skills honestly. He grew up watching his family members cooking and fell in love with the process. One of his earliest cooking role models was his mother. "She would not only prepare not only a great breakfast, but also lunch and dinner and appetizer, main course, cheese, dessert on a different table cloth, a different china platter, different flower arrangements and candles at night," he told Esquire. "I thought every kid in the world was eating like me, but it wasn't the case."
Ripert added that watching his mother cook instilled "passion for great food" in him. His grandmother was also a skilled cook who specialized in Italian and provincial soul food. It wasn't just the flavors that drew Ripert, though. He also loved the way people would sit at the table for a meal. "For me, it was a special moment because food brings people together and it was very special at a very young age," he said.
A psychic predicted his future restaurant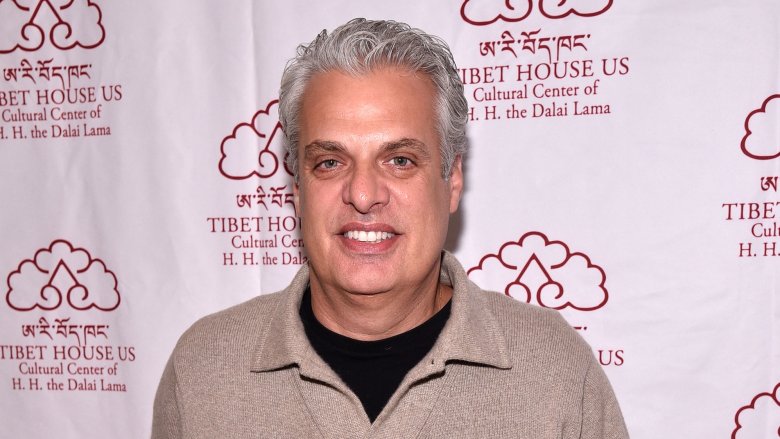 Getty Images
Believe it or not, Ripert's future as the head chef and then co-owner of Le Bernardin was told in an eerily accurate prophecy. Earlier in his career, a psychic foretold that he would one day have a restaurant surrounded by water. Spookily, Le Bernardin is in Manhattan — an island. Coincidence? Ripert isn't so sure.
"When I moved to Paris at a young age for my first restaurant — it was in the center of Paris where you have the Île Saint-Louis and I was like, 'That's it, that's the place,'" Ripert told The Talks. "But it wasn't! I was looking for cities all over the world... I don't know why I never thought about New York, but it's obvious, it was right in front of me. But after all that, when I'm cooking I'm not thinking about the ocean."
Whether or not the psychic truly foresaw Ripert's future, it was definitely fate that led Ripert to  Le Bernardin.
He completely underestimated American cuisine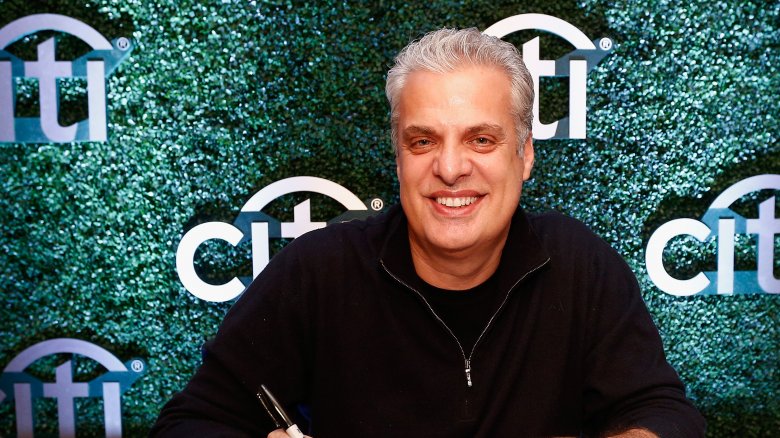 Getty Images
It can be easy to write off American food as a combination of fatty and sugary foods, especially if you are a highly trained European chef. When Ripert first arrived in the US, he had a plan to revolutionize the American food industry. "I thought I was coming from the best kitchens," he told Esquire. "I worked really hard and I was like,'You know I am going to save America — those poor Americans eating burgers everyday.'"
It turned out, though, that America's cuisine wasn't as doomed as Ripert had anticipated. He had been expecting to save American cuisine, but ended up learning a lot himself.  "A lot of American chefs were really talented already," he said.  "For me it was kind of like a wake up call. 'Dude, wake up... This country doesn't need you.'"
He used to be an angry chef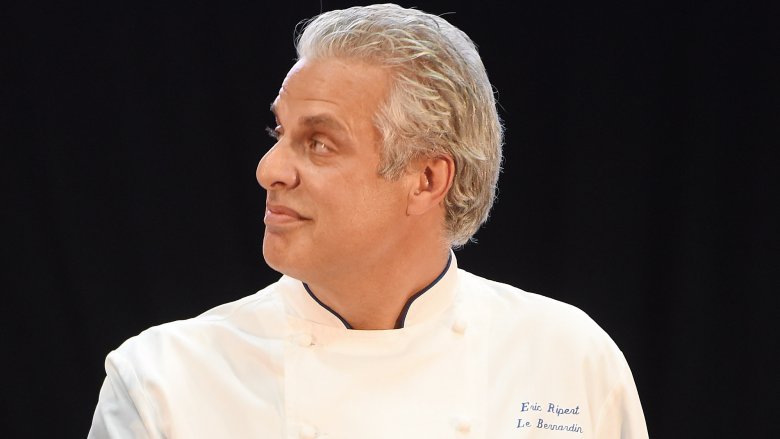 Getty Images
Ripert publicly denounces chefs like Gordon Ramsay who are notorious for shouting at people. Ramsay's antics on his shows like Kitchen Nightmares were derided by Ripert in a now-deleted tweet shared by Eater. "Nothing personal against Gordon Ramsay but he is a poor inspiration for professional chefs in his shows," wrote Ripert.
Ripert protested the way Ramsay yells and insults others. "Ultimately I believe in the goodness of Gordon but he is very wrong," he said.
While Ripert typically displays a calm demeanor these days, there was a time when he, too, had a quick temper. The chef told Foodion that when he was younger, he was more prone to acting out of anger. "But one day I realized that when I was in a bad mood, people around me were not happy neither," he said. "It is not possible to be angry and happy at the same time, and happiness is never born from anger."
Serving meat dishes is a struggle for him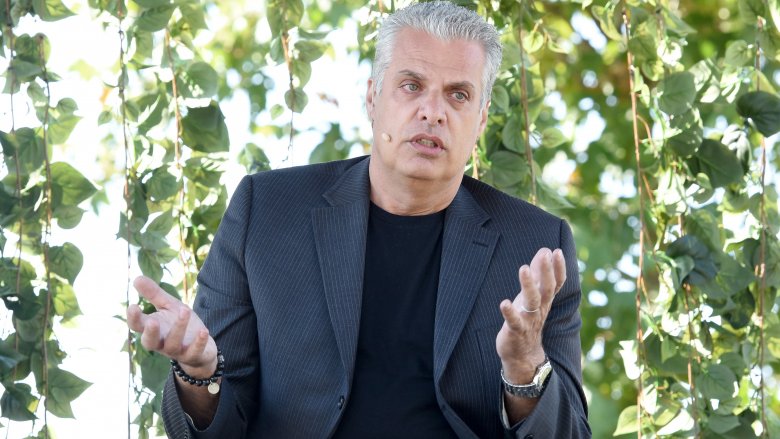 Getty Images
Ripert is very conscious about not harming others, so serving meat in his restaurants is something of a burden on his conscience. "I know the nature of human beings is to be omnivores, and very few of us can be vegetarian or even vegan," he told Tricycle. "I believe the Dalai Lama himself cannot be on a strict vegetarian or vegan diet, he needs some animal protein. But this is something that I'm really struggling with."
Ripert admitted that he doesn't have a solution, but for now he is taking "the middle way." He said, "My middle way is to try to encourage farmers to raise animals in a more humane way."
While Ripert acknowledges that living a vegan lifestyle isn't for everyone (and said that his favorite Indian dish is chicken curry), he does believe that not relying on animal-derived products has major benefits. "I strongly believe that a vegan/vegetarian diet is definitely helpful in having a clear, focused mind and healthy body," he told Thrive Global.
Worldwide travel has influenced his dishes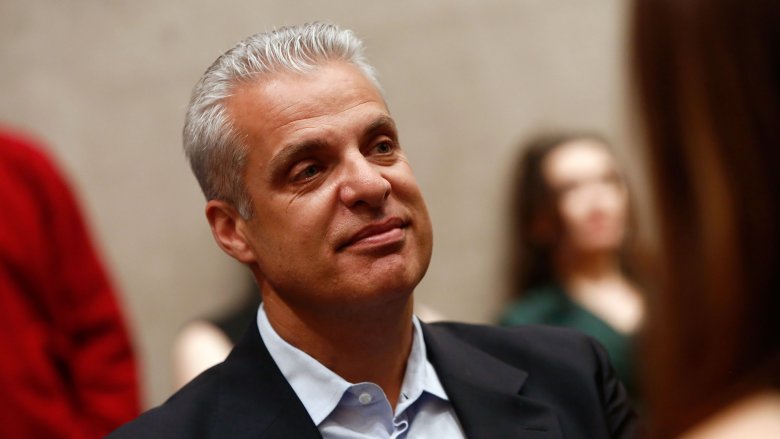 Getty Images
Like his friend Anthony Bourdain, Ripert is a seasoned traveler. One of his big inspirations has been Japan, and he incorporates many Japanese ingredients in his dishes. While Ripert is no stranger to traveling solo, some of his most epic adventures were with Bourdain. Together, the two chefs traveled to several countries including China, Peru, and Ripert's native France.
"I am there to make him [Bourdain] look good, [so] he makes me suffer eating things I am uncomfortable with," Ripert told Explore Parts Unknown. Ripert added that Bourdain liked to push his limits, especially as Ripert is a notoriously relaxed person. "Basically I have to tell myself how to stay calm," he said. It was all in good fun though, and something that Ripert understood. "That's the game... No matter what, I really understand the spirit of his show; it is his show, he's the hero of the show," he said.
You'll probably never see him open a Las Vegas restaurant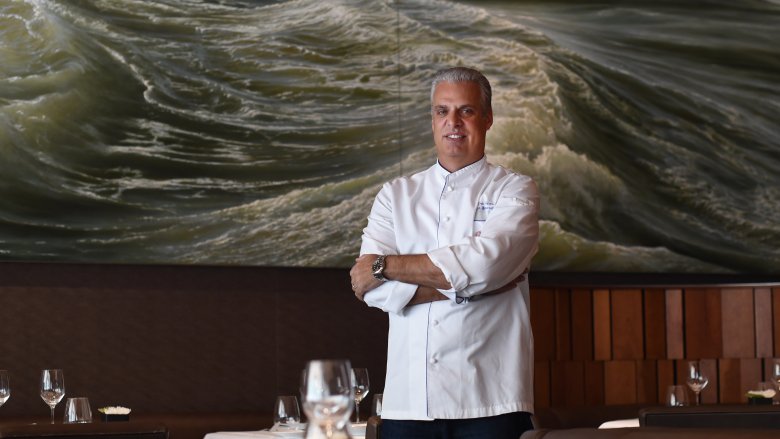 Getty Images
A lot of chefs dream of having a landmark restaurant in Las Vegas but — in spite of his love for travel — Ripert is probably never going to open one. "I have nothing against Vegas," he told Inc. "It's just that personally it doesn't please me to be there."
It's unlikely that he'll branch out to other cities, either. Unlike many famous chefs who have a string of restaurants, Ripert is content with having just one. "Maybe [other chefs would] be bored to death in my situation," he told Esquire. "I would be stressed to death in their situation. But every day I walk in Central Park. I see my family. I see my team. It makes me happy. I don't want to be in an airport and flying to one place to another."
Buddhism changed his life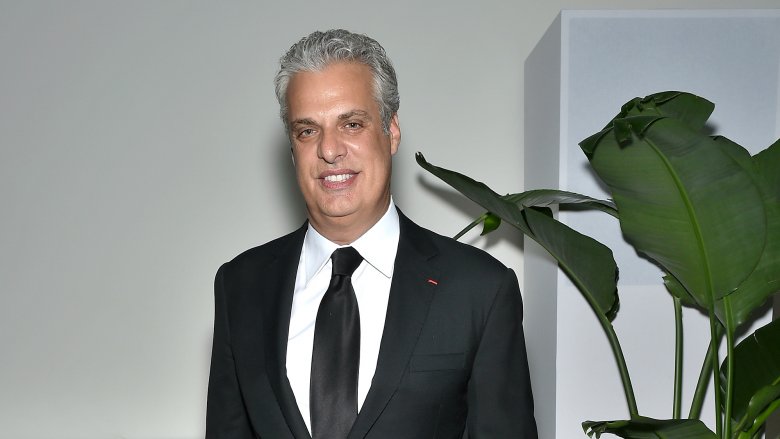 Getty Images
In his search for a better way of living his life, Ripert came upon Buddhism. The chef grew up in a Christian home knowing very little about Buddhism until reading a book about Tibet in 1989, which led to him reading a book by the Dalai Lama. "After that, I was like 'Wow! Buddhism!'" he told Tricycle. "It was a revelation."
Buddhism changed everything for Ripert, having a major impact not only on his personal life but also on his career. The chef applies Buddhist teachings to his life as well as to his kitchen. "It gives me respect for the lives of the products that we are using, and I try to create an environment that is as peaceful as I can and to promote Buddhist principles of tolerance and compassion," he said. "It's an exercise that I practice for myself, then for my team and for the restaurant."
He says success is not about achievement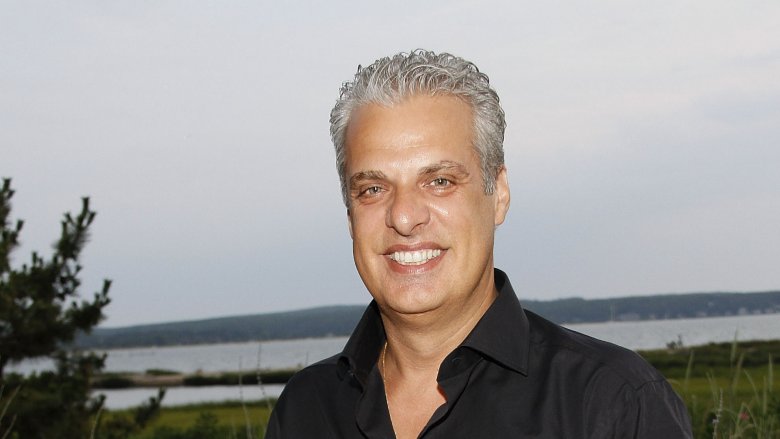 Getty Images
Ripert's laid-back attitude has helped him deal with some of the pressures of being a celebrity. To him, success is about more than his professional accomplishments. "Success is very subjective," he told Inc. "It means a lot of things for a lot of people."
Ripert's personal idea of success is simple: He just wants to be happy. "I think about a level of contentment that brings balance," he said. While Ripert has dedicated quite a bit of life to his career, he makes sure not to spend too much time working. He also makes sure to prioritize his family. "That is very important because as much as I give I also receive — from the team and from my family," he said.
The chef also pays his success forward by giving back to the community. "You cannot be successful and look at people around you that are in need and not share," he said. "That doesn't make sense."