Stock Up - A Sriracha Shortage Is Coming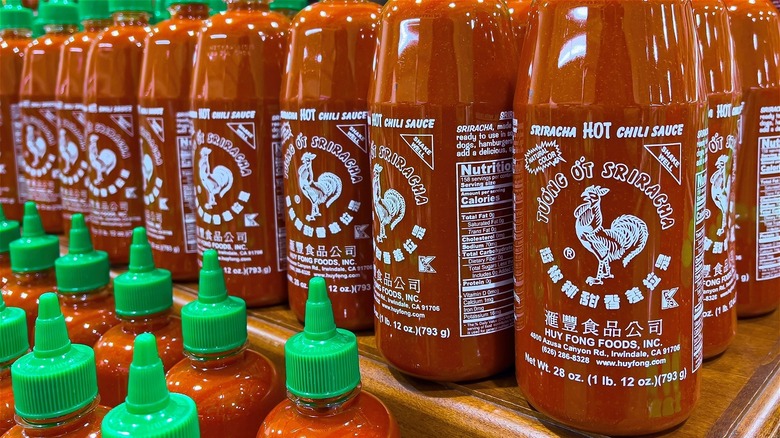 calimedia/Shutterstock
Hold onto your spice, because climate change is coming for America's favorite hot sauce brand once again. Made by the California-based company Huy Fong Foods, the iconic green-capped bottle of sriracha with the rooster on the label might be a rare find in grocery stores for a hot minute. Ironically, it's simply way too hot (and dry) for the sauce's signature chili peppers to thrive. The drought is heavily affecting the company's rate of production, which normally cranks out 3,000 bottles per hour. As Huy Fong struggles to keep up with the high demand for its beloved sriracha sauce, producers have advised that there are likely to be widespread shortages across the nation.
Droughts have unfortunately plagued Huy Fong's inventory each year since the coronavirus pandemic, and it isn't just the classic Sriracha that's being impacted. In a corporate statement released in April 2022, the company candidly disclosed the details of the situation to its customers in full. "Unfortunately, this is out of our control and without this essential ingredient we are unable to produce any of our products (Chili Garlic, Sambal Oelek, and Sriracha Hot Chili Sauce)." The product shortages brought on by last year's drought have rolled over into this year's red jalapeño supply, and the adverse weather conditions are still a problem where the chilis are grown.
Chili quality is tanking during Mexico's unprecedented droughts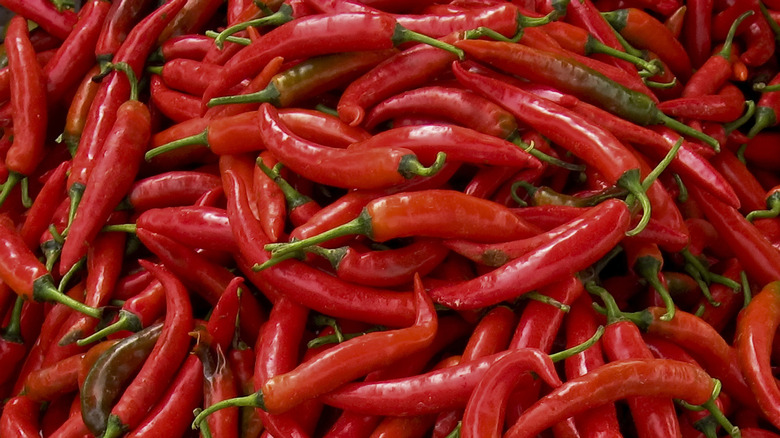 donsimon/Shutterstock
Huy Fong's huge Californian factory typically receives a whopping one hundred million pounds of peppers yearly to keep business booming for all its flavorful sauces. However, these numbers have taken a hit due to the consistent droughts in Mexico, which is where the company gets its supply of red jalapeño chilis. Thankfully, sriracha as we know it will not cease to exist due to this unfortunate circumstance. Huy Fong Foods didn't invent the stuff, after all. For now, you can stock up on Amazon while it's still available.
Fans can, of course, find other tasty hot sauce brands to spice up their meals until the rooster bottle makes a full return to shelves. Tabasco and Frank's Red Hot have their own sriracha varieties, and there are plenty of lesser-known brands you can try if you're feeling adventurous. Be sure to hit up your local Asian market to see what's in stock. Who knows, maybe you'll walk away with a new spicy favorite.
But if you aren't willing to risk a new purchase or decide that no other version can quite compare to Huy Fong's, there is another option. You can actually make your own sriracha easily, that is, if you can get your hands on red peppers yourself. Besides the chilis, you'll need garlic, vinegar, sugar, and salt, and the best part is that you can make it as spicy as you can stand.