TikTok Is Using Cottage Cheese To Make Ice Cream, And We Can Only Ask — Why?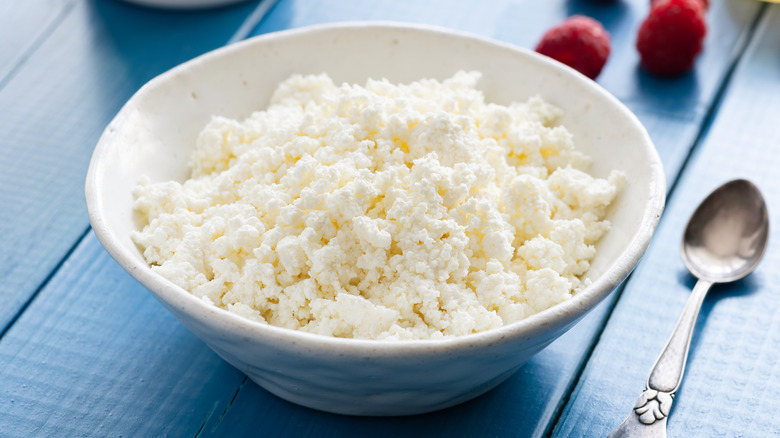 Arx0nt/Getty Images
Although TikTok contains more ice cream recipes than we could ever imagine, the app's current favorite uses cottage cheese. Yes, we all know that TikTok can't get enough of cottage cheese, but making ice cream with it crosses a line. Maybe we just drew the line, but that's beside the point.
As Lifehacker points out, cottage cheese doesn't take too kindly to the freezer and becomes "almost rubbery on the teeth," which definitely isn't something we look for in ice cream. What's more, cottage cheese is typically kinda salty and sour — again, not really something most people look for in ice cream.
However, we have to give credit where credit is due. Cottage cheese ice cream contains fewer calories than regular ice cream, and the infinite possibilities for add-ins make healthy eating more fun and accessible to the masses. TikTok even addresses cottage cheese's tangy flavor by focusing on recipes that complement it, like banana cream pie, cheesecake, and churro.
TikTok's favorite cottage cheese ice cream flavors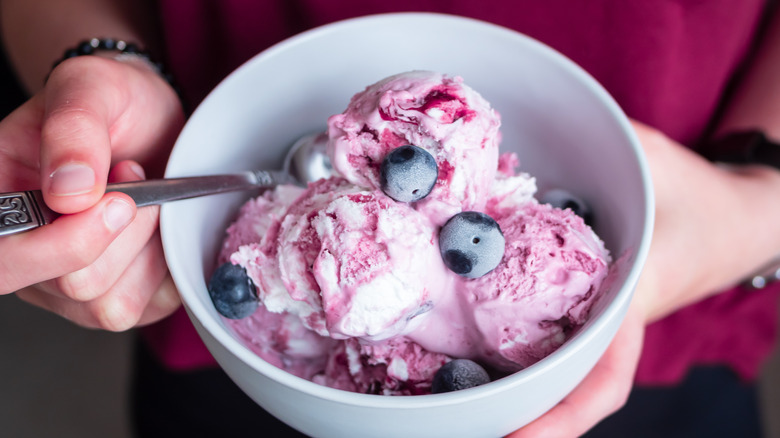 Sonja Rachbauer/Getty Images
In the event cottage cheese ice cream doesn't sound completely disgusting to you, TikTok has a few recommendations for flavors that work well together. 
TikTok user Paige Lindgren shared her favorite recipe, which uses cottage cheese, maple syrup, vanilla extract, and a banana. She blends her ingredients together before freezing the ice cream for an hour or two. For the ultimate banana cream pie experience, she suggests topping it off with graham cracker crumbs.
Others on TikTok sing the praises of a strawberry cheesecake recipe, which can be made by adding strawberries, graham crackers, and honey to cottage cheese. 
Per Yahoo! Life, another fun recipe to try is the churro version of cottage cheese ice cream. Simply add cinnamon, sugar, vanilla, and honey for "the perfect foil" to tangy cottage cheese. 
Of course, this trend is super adaptable to personal taste. The Washington Post points out that the only real guideline is adding some kind of sweetener — maple syrup, honey, jam, etc. — but otherwise you can play around with other ingredients to your heart's content.