Grocery Store Antipasto Bars Are Your New Magic Trick For Hummus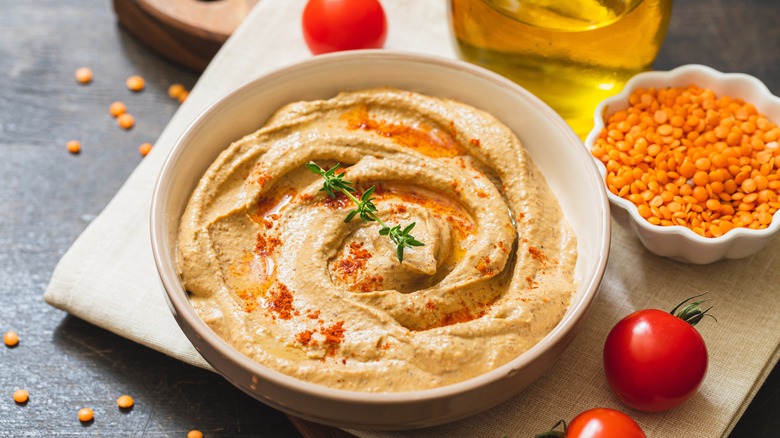 Ivanna Pavliuk/Shutterstock
Although hummus may have originated in 13th-century Egypt, in the United States, it wasn't a ubiquitous snack food until roughly 2008 when Pepsi released Sabra hummus to American retailers. Sabra offers an original flavor as well as other varieties decked out in luxurious toppings and mixes, such as everything bagel, spicy pepper, spinach, and artichoke. If you've ever wanted to take your own hummus up a notch without relying on a pre-mixed container at the grocery store, there's an easy solution – just stop off at your store's antipasto bar.
Many grocery stores offer antipasto bars along with their typical salad and soup bars. They tend to offer Mediterranean and Middle Eastern-inspired sides and toppings, such as marinated artichokes, olives, and other cold veggies. Thankfully, these selections also pair well with hummus, and making them work together is as easy as buying the ingredients, unpacking, chopping them if you prefer, and assembling everything.
What ingredients pair well with hummus?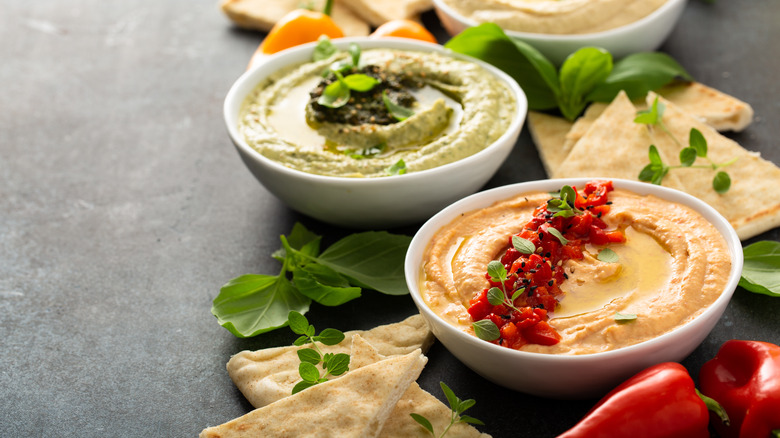 Elena Veselova/Shutterstock
If you have a gathering of friends or family and want to serve fresh-made hummus, this tip can really come in handy. After all, Ina Garten, AKA The Barefoot Contessa, offered the party hosting wisdom, "One of my rules is [to] make two things and assemble everything else" (via Food Network Canada). Using an antipasto bar to elevate your hummus spread is a stress-free way to cut down on dinner party pressure. Sun-dried tomatoes, spicy and sweet pickled peppers, and a variety of olives (be sure to buy pitted or manually pit them before serving) are great additions.
To serve, you have a few options. You can put the hummus in a large, shallow bowl and spread it to all sides, or follow the tips for making those trendy butter boards with your own hummus board. You can also consider making a few smaller servings with different toppings of each – this is ideal if you have picky eaters in your group. After you've added your toppings, give the hummus a healthy drizzle of olive oil, a sprinkle of paprika, and a pinch of flaky sea salt, and maybe toss a few toasted pine nuts on top. Serve with crackers, veggies, and fresh pita and pita chips, or ask the bakery to pre-slice a baguette for perfect and easy, dippable crostini.