12 Tips For Making The Perfect Butter Board
Brent Hofacker/Shutterstock
It wasn't easy to knock charcuterie boards off their perch as the internet darling of the dining world, but butter boards managed to steal the crown. Butter boards have made their presence known on the bougie culinary scene, giving charcuterie boards a run for their money. Instagram foodie Justine Doiron, known on social media as Justine Snacks, started a sensation when her butter board video went viral, the world wide web had found its next culinary trend. An appearance on Rachel Ray solidified the movement, and a new craze was born. Doiron credits Joshua McFadden and his cookbook "Six Seasons: A New Way With Vegetables for the idea."
But there's no need for rivalry. These displays of whipped butter and toppings are a perfect accent for their artful cheese-and-cracker predecessor, a distinctive way to add more flavor to your small bites array. Socially friendly snacking arrangements like butter boards draw people together, whether you're entertaining a few friends for wine and noshes or throwing a full-blown bash that calls for a special touch. Here are some helpful tips for putting together your own butter board. Get in on the action before the next TikTok food trend pushes it out of the top spot.
1. Choose the right board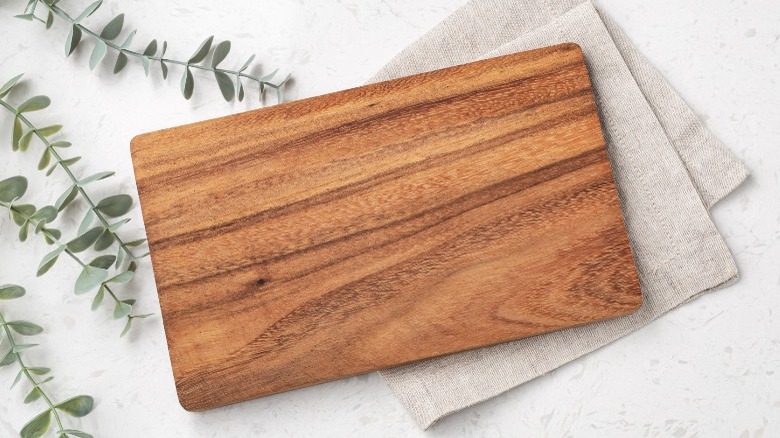 everydayplus/Shutterstock
If you're tempted to slather butter on the cutting board you use for all your other daily kitchen needs, think twice. Cutting boards aren't guaranteed to be the safest surfaces for serving food (via Eat Right). Bacteria can hide in the crevices, causing culinary problems you'd rather avoid. Add to that the scars and scratches littering your utility cutting board and you have all the reasons you need to leave it in the drawer. A dedicated snack serving board is your best bet for making a butter board your guests will adore. Just like you would for a cheese board or serving platter, select a board that will suit your style while ensuring the health of your guests.
As for the substance of your board, plastic will work as an inexpensive option, though it isn't the most elegant choice. Slate and marble are excellent possibilities, as their surfaces are easy to clean. If you choose a wooden board, make sure you clean it well before and after use. And don't put it in the dishwasher. As Real Simple points out, the dishwasher is too rough for wooden cutting boards and may damage them. Oil from the butter may also cause your board to stain.
2. Use high-quality butter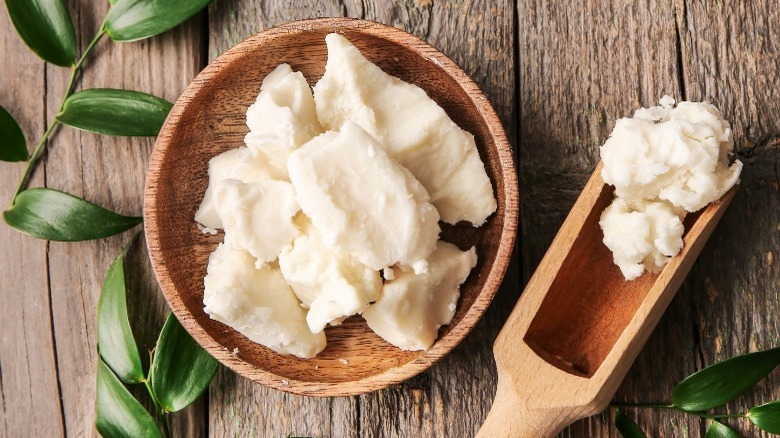 Pixel-Shot/Shutterstock
If butter is the point of a butter board, then high-quality butter is the key foundation to build upon. Fancy butters can make the difference between your board being the centerpiece of your spread or a dismal dish that stays on the party sidelines. Though there may be added expense for the high-grade butter options, the return you'll get in flavor and creaminess should more than compensate. After all, you're creating a butter board as a comfort food for your loved ones to enjoy. If you're going to the trouble of making something this special, skimping on the namesake ingredient isn't the best move.
Consider what you'll be adding to your board when you choose your butter. If you favor flaky salt or salty ingredients, opt for low- or no-salt butter to avoid overwhelming your other flavors with excessive sodium. If you'll be adding sweeter flavors or drizzling your board with honey or balsamic vinegar, you'll want to choose a butter with a flavor that will complement those sweet toppings. Using an herbed compound butter you create yourself is a great way to add another layer of flavor. Think about how you can enhance the butter with flavors that won't compete with your toppings.
3. Add cheeses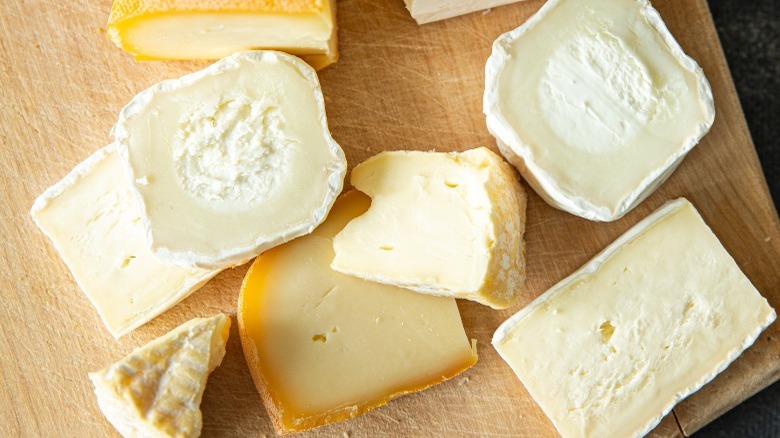 Alesia.B/Shutterstock
Cheeses are a welcome addition to snack boards of any kind, and butter boards hold the potential to hold a host of gourmet crumbles and shreds in the mix. Creamy cheeses like brie and Roquefort are invited to the party to lend a touch of French pizzazz. Crumbles of feta will add a salty tang to the other elements, especially for Greek-style boards. And of course, mozzarella is a prime choice for a butter board that leans deeply into the Old-World charm of Italian seasoning and Mediterranean veggie toppings. You can even consider using soft cheese like mascarpone as the base for your butter board to make cheese the star of the show and take things in a sweeter direction.
Since butter boards are built in layers, adding shredded cheese as a finishing touch will give you a decorative sprinkle in addition to a flavorful ingredient. But feel free to mix cheese into the butter itself or drizzle melted cheese over your board before the final topping goes on too. The rules for butter board are fast and loose, and as long as you're thinking about the end result and choosing your cheeses accordingly, you're bound to have a successful mix.
4. Use fresh herbs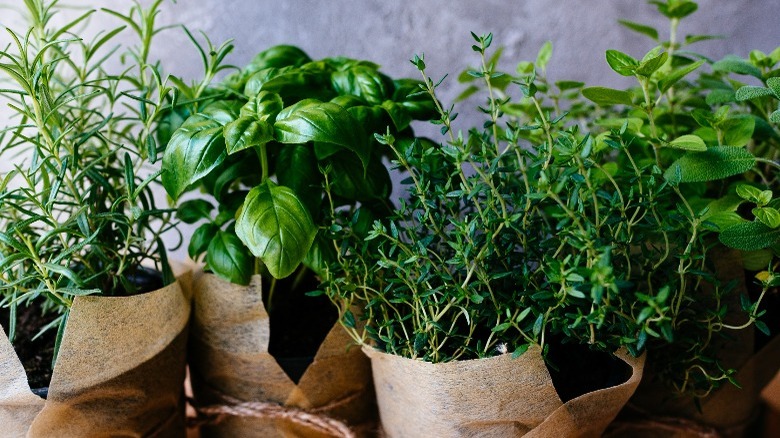 Chupryna.nataliia.photo/Shutterstock
Though dried herbs have their place in the culinary world, a butter board is not that place. Leave the dried herbs in the spice rack and use fresh herbs to add a blast of fresh flavor to your creation. Basil, mint, chives, and others in their fresh forms provide robust goodness that dried herbs are missing. Choose a blend that accents your other ingredients, such as oregano and basil for a board with zestier flavor, or rosemary and thyme for a blend of earthy elements. You can buy packets of fresh herbs in the produce section of your local grocer, or even better, buy a few pots and grow herbs to keep on hand for future boards.
Decorating with herbs makes it easy to add color and visual punch to your creation, and snipping and sprinkling your herbs over the other elements is an easy finishing touch. You can also start your board with fresh, homemade herbed butter to put the herbal flavor into every bite. If you opt for a combination of herbed butter and fresh herbs in your board, make sure your choices are complementary to keep from overwhelming the other ingredients and your guests' palates.
5. Experiment with crunchy ingredients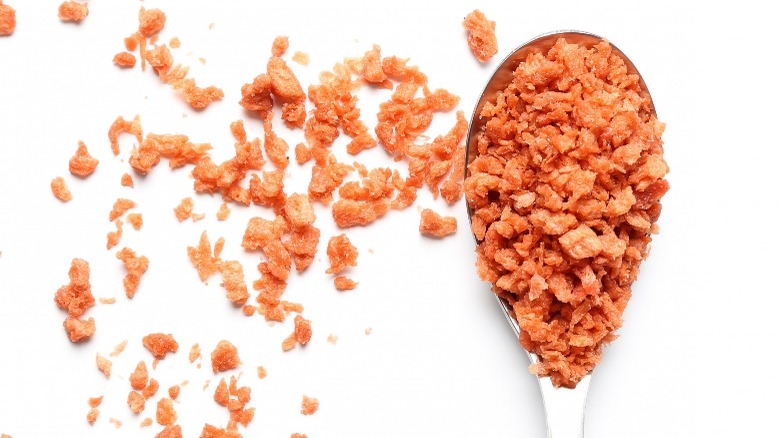 Icatnews/Shutterstock
With butter as a base, there's bound to be a lot of smooth elements in every butter board swipe. This makes adding crisp ingredients that lend crunch to the blend an important consideration. Red onions and slivers of bell peppers are sure to add crispiness to the smooth butter, and plenty of other toppings can bring in new layers of flavor while lending complexity to the texture profile. You can balance both taste and texture in one stroke by choosing crunchy flavor bombs like smoky bacon bits, sunflower, and sesame seeds. Slivered almonds, walnuts, and pistachios are all good candidates as well. If your board is of the sweeter persuasion, candied nuts can triple their influence with crunch, sugar, and nutty goodness.
Since the base of your butter board is essentially a fat-heavy dairy ingredient, crunchy toppings are your opportunity to bring in a few healthful layers. Make sure there are plenty of veggie bits for nutrient-filled freshness and seeds or nuts for a touch of protein. You could even take Mind Body Green's advice and mix in some concentrated vegetable powder for a vitamin-filled boost. There's no mistaking a butter board for health food, but a few well-chosen crunchy toppings can provide at least a little redeeming nutritional value while imparting taste and texture.
6. Use spices and seasonings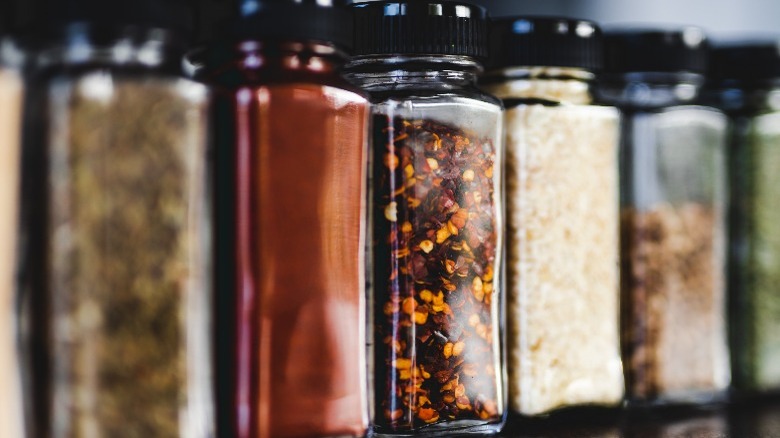 faithie/Shutterstock
When you use seasonings and spices on your butter boards, layers of flavor begin to appear as if by magic. You can define the personality of your board by deciding on a blend that suits your toppings, or jazz things up by experimenting with unexpected seasoning mixes. Consider cultural mixtures like French, Italian, and Mediterranean to start thinking in the right direction. It's best to try them out before you prepare the final product to keep your guests from becoming your unwitting kitchen test subjects. This gives you a perfect opportunity to tinker with your combinations and try a little kitchen-based mad science to find the right formula for butter board seasoning success.
Some seasonings will do nicely as a sprinkle among your other elements. A dusting of paprika or lemon pepper is a sensible way to deliver savory flavors if done carefully. Spices with stronger flavors may do better mixed into your butter layer as a way to soften their presence. A bold spice like cumin, for instance, will likely make a better mix-in, as would onion and garlic powders. You can add these to your butter as you whip it to make sure they incorporate properly.
7. Go for a mix of flavors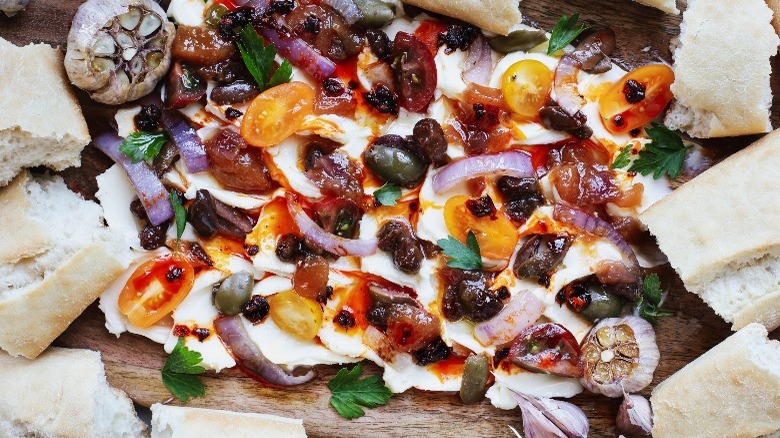 Stephanie Frey/Shutterstock
Though butter is the foundation for your board, it should be a platform for the other add-ins, a background color on the culinary canvas you're building. Layering flavors above the butter is key for achieving pleasing tastes that complement the buttery flavor underneath. For example, there's room for jams or coulis to bring in fruit flavors. You can add a bit of heat over their sweetness with chipotle or jalapeno for a fun and surprising kick. If you think of your butter board as a deconstructed dip, you'll see the potential for putting together a blend of flavors that excites and delights your guests, keeping them guessing how you got so much culinary magic to fit on the tray.
Enterprising foodies are even experimenting with super-tangy fermented ingredients like kimchi (via The Guardian). However, you have to be cautious with ingredients like this. These powerful flavors can easily overtake the rest of the elements, turning your butter board into a one-note wonder. For the best results, run a few tests to see if the ideas in your head make sense when they hit your tongue. If you aren't sure they hit the mark, pull in friends and family as taste testers to help you make the final decision.
8. Be artful with your plating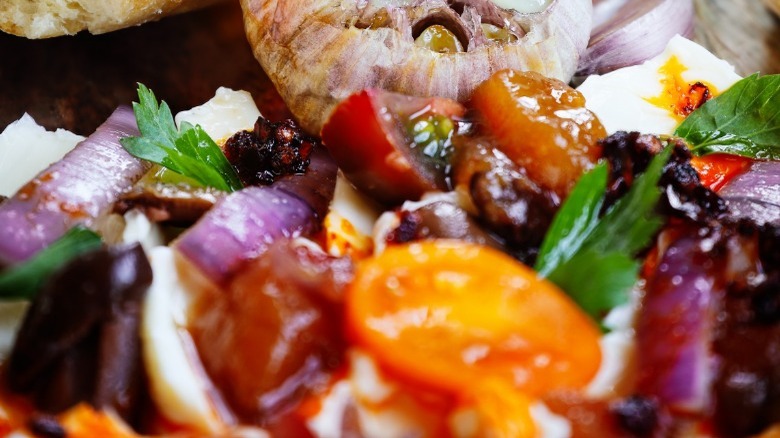 Stephanie Frey/Shutterstock
If you eat with your eyes first, then your butter board should be a work of art for your guests to devour visually before devouring it literally. By choosing colorful toppings like red onions and leafy greens, you can begin building an aesthetic for your board with artful flair and a sense of gourmet creativity. Fresh herbs are a great choice for introducing delicate dimensions of flavor. They also come in a variety of shapes and colors that add flavor and flash. And edible flowers sprinkled throughout lend an air of magic that can make your board the centerpiece of your spread. Choose carefully when selecting flowers for your board and make sure they're all of the edible sort (via Teleflora).
Per Julie Blanner, you can also get creative with the shape of your butter board, creating simple Christmas trees, Jack-O-Lanterns, and other recognizable forms for whimsical holiday displays. Softer fruit butters like pumpkin and apple make intriguing options for your base, providing bold color and a sweeter flavor. If you use fruit butters to ramp up the aesthetics of your board, remember to choose toppings and seasonings that suit the foundational flavors, such as cinnamon, nutmeg, and other warm spices.
9. Prepare your butter board the day of your party
Stephanie Frey/Shutterstock
To ensure a proper reception for your butter board, it's best to prepare it that day of your party to keep the flavors fresh. The texture of your vegetable or fruit toppings will be well-preserved too, preventing you from serving wilted herbs or weeping onions that can add liquid to the butter and make a soggy mess. Some toppings may not fare well if prepared too early, possibly discoloring or losing flavor while waiting for their big debut. The cutting and arranging may take a while depending on how fancy you get, so be sure to leave yourself plenty of time in the day to get all the elements ready.
While assembly is a day-of task, preparation of your toppings may require some prep work ahead of time. This is true of marinated or home-pickled items that may need time to soak up flavors. If your butter board aspirations include these sorts of goodies, make a plan to prepare the elements and store them in the fridge until you need them. You can set up a schedule the week before the event to allow yourself proper time for each layer if needed.
10. Consider food safety when preparing and serving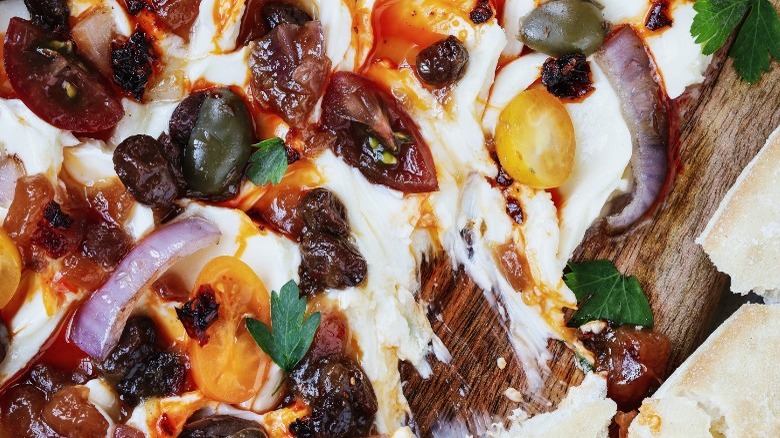 Stephanie Frey/Shutterstock
To minimize unnecessary food safety risks, store your butter board in the fridge until party time so it stays firm and flavorful for your guests. A swipe of half-melted butter with warm, soggy toppings isn't the effect you're going for. Serving your board cold will give eager snackers the best impression of your thoughtful work. And while butter may be safe to consume at room temperature per the USDA, it can go rancid if left out for too long. It's also less appetizing and just not worth the risk. Other base elements used in place of butter may hold up better unrefrigerated, but for the sake of food safety as well as presentation, your best strategy is to keep your butter board chilled until you're ready to serve it, especially if it's topped with ingredients that aren't safe at room temperature for long periods of time.
There are other food safety concerns to be aware of as well. The possibility of bacteria build-up on the board as the party rolls on is a big one (via HuffPost). If the idea of your guests cross-contaminating the board by dipping their bread directly into it grosses you out, you can place spreading knives around the board to keep the touching to a minimum.
11. Try a sweet butter board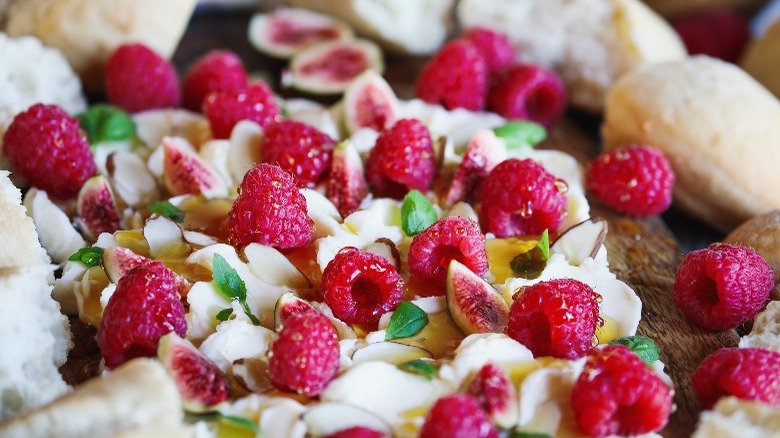 Stephanie Frey/Shutterstock
While you're thinking up ways to use a butter board as part of your party spread, why not factor in sweet butter boards, too? With an ingredient as versatile as butter for your base, there's no reason to restrict yourself to only butter board toppings from the savory side of the kitchen. A sweet butter board can be a tasty surprise for anyone who loves do-it-yourself sugary snacks. These boards can use the usual butter base with a bit of sweetness added in from a drizzle of maple syrup on top or a bit of powdered sugar or honey blended in. But they can also utilize a spreadable soft cheese like Neufchatel or mascarpone instead of butter to become a dessert board. Imagine a deconstructed cannoli board with chocolate chips and pistachios sprinkled on top, served with flaky pastry rounds.
Nut butters are another option for sweetening up your butter boards. Try a peanut butter board swirled with chocolate sauce and dusted with cinnamon and served with graham crackers and pretzel sticks. You can even venture into the realm of full-on dessert butter boards with a creation that reimagines baklava as a board-style treat.
12. You can even make vegan butter boards
For anyone looking to join the celebration while continuing their cruelty-free eating journey, a vegan butter board is as easy to prepare as a non-vegan board. With the right combination of ingredients, flavors, and textures in your recipe, you can create a fully plant-based butter board for your entire party to enjoy. The results can be so convincing that even your carnivorous friends will be satisfied without realizing they've gone vegan for the night.
Adapting butter boards to make them vegan-friendly means removing any animal-based ingredients, which in the case of butter boards is largely the butter and cheese. Plant-based butter like Country Crock and Earth Balance are easy to find in most grocery store dairy cases and make great replacements. Grocery giant Whole Foods has even gotten in on the vegan butter board action, taking to Twitter to promote boards made with vegan cream cheese in place of butter. Any savory toppings that include meat should be replaced, too, with either plant-based meats or meatier vegetables like portobellos and other mushrooms. And for devoted vegans, honey is taboo, so consider making a vegan honey substitute.