Louisiana Chicken Gumbo Recipe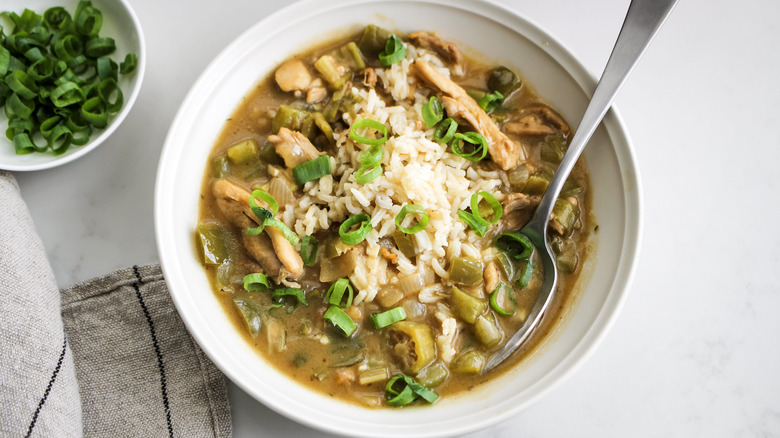 Feta Topalu/Mashed
Gumbo is one of the all-time classic Cajun foods, right up there with jambalaya, crawfish, and boudin. While gumbo is somewhat similar to etouffee, the latter is typically only made with seafood while the former can include main ingredients like the more budget-friendly chicken that we're using here. According to recipe developer Feta Topalu, "This Louisiana chicken gumbo has heat, spice, and hearty, southern flavors." While there are numerous different gumbo recipes varying from region to region and cook to cook, she notes that the one thing they all have in common is "a rich, dark roux [made] out of equal parts oil and flour."
Gumbo is often eaten over a bed of rice, with Topalu observing that "white long-grain rice is the most common rice." She does say, though, that brown rice, jasmine rice, or dirty rice would all work, too. You could even opt out of the extra carbs and ditch the rice altogether since this gumbo can also be eaten as a thick, hearty soup.
Gather the ingredients for Louisiana chicken gumbo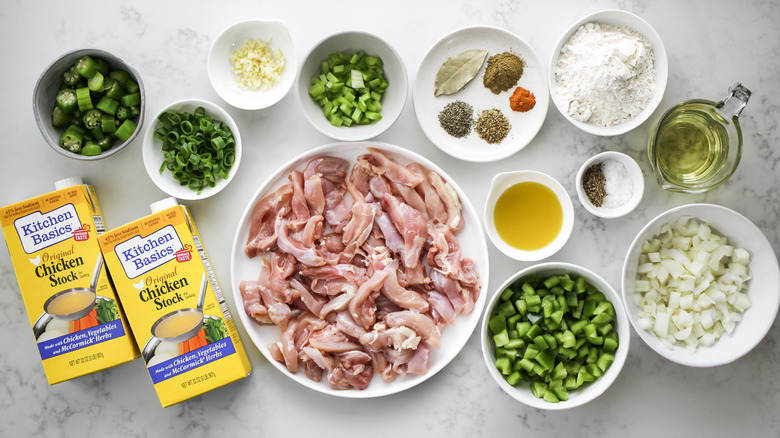 Feta Topalu/Mashed
You're going to need quite a few ingredients to make this gumbo: 18 in all. For starters, you'll need some chicken (Topalu favors using thigh meat, cut into strips), plus olive oil for cooking and salt and pepper for seasoning. You'll make a roux from canola oil and flour, while the gumbo vegetables consist of an onion, bell peppers, celery, and okra. These are cooked in chicken stock seasoned with garlic, thyme, oregano, cayenne, a bay leaf, and gumbo filé powder, then the finished dish is garnished with green onions.
Cook the chicken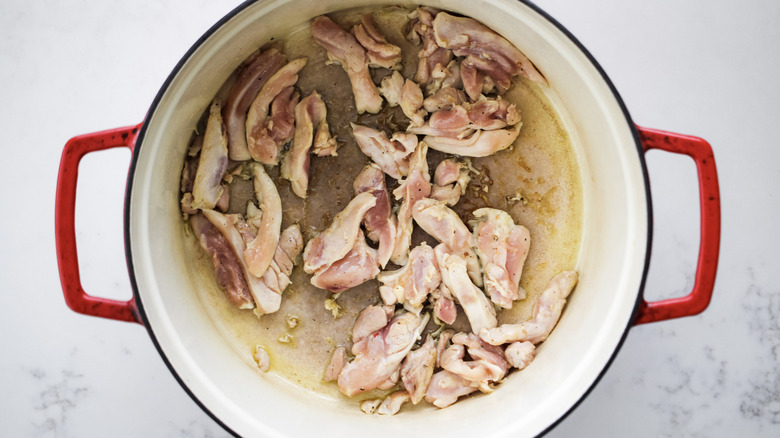 Feta Topalu/Mashed
Use 1 tablespoon of olive oil to coat the raw chicken strips, then sprinkle them with ½ teaspoon salt and ¼ teaspoon pepper. Heat the rest of the olive oil over medium-high, then stir-fry the chicken for 6 to 8 minutes. You'll probably need to do this in two batches unless you have a really large pot since the chicken won't be adequately cooked if it's too crowded.
Make the roux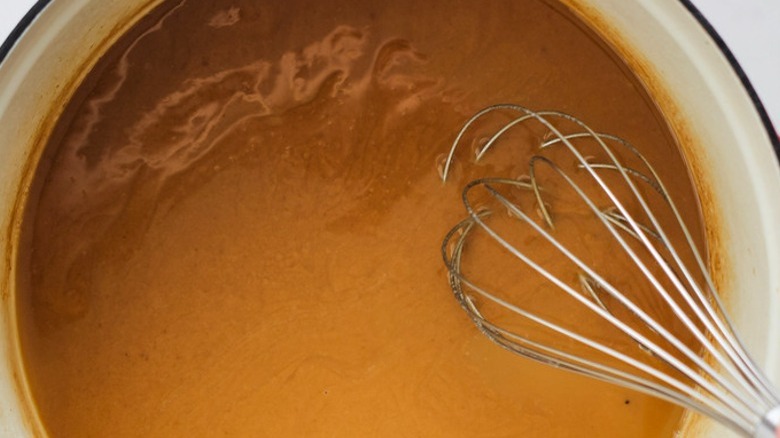 Feta Topalu/Mashed
Once the chicken is cooked, take it out of the pan. At this point, Topalu even likes to wipe out the pan as she uses a different type of oil to make the roux, but you needn't follow suit if you don't mind a few drops of olive oil in your canola.
Turn the heat down to medium-low and pour the canola into the pan. Add the flour and cook it, stirring all the while, for 15 to 20 minutes. By the end of this time, the roux should be dark brown but not burnt.
Sauté and simmer the vegetables
Feta Topalu/Mashed
Turn the heat back up again, this time to medium. Put the vegetables in the pan, along with the garlic, and stir-fry them for 10 to 12 minutes. Once the vegetables are tender, add the stock as well as the rest of the salt and pepper and all of the seasonings except for the gumbo filé powder. Bring the stock to a boil, then turn the heat down once more to medium-low. Let the soup simmer for half an hour.
Add the chicken to the gumbo
Feta Topalu/Mashed
Put the chicken in the gumbo along with the filé powder, then let it cook for 10 minutes. Once the gumbo is done, you can go ahead and garnish it with green onions, then dish it up with a side of rice (or not).
Leftover gumbo, Topalu says, can last for up to four days in the refrigerator if you keep it in an airtight container. You can also freeze it, but if you do, Topalu advises "leaving about 1 to 2 inches of room from the top [of the freezer container] for liquid to expand."
Louisiana Chicken Gumbo Recipe
This hearty Louisiana gumbo is loaded with juicy chicken, vegetables, and lots of spice.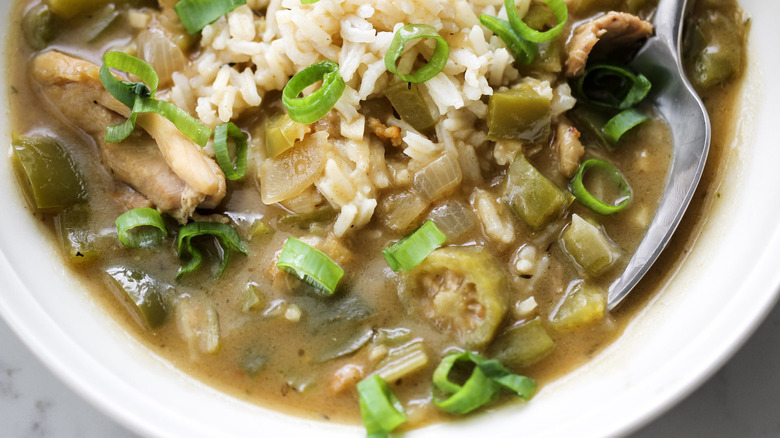 Ingredients
3 tablespoons olive oil, divided
1 ½ pound boneless, skinless chicken thighs, sliced into strips
1 ½ teaspoons kosher salt, divided
¾ teaspoon freshly ground black pepper, divided
¾ cup canola oil
¾ cup all-purpose flour
1 yellow onion, diced
1 green bell pepper, diced
1 celery stalk, diced
1 cup fresh okra, sliced
2 cloves garlic, minced
8 cups chicken stock
½ teaspoon dried thyme
½ teaspoon dried oregano
¼ teaspoon cayenne pepper
1 bay leaf
1 teaspoon gumbo filé powder
¼ cup sliced green onions
Directions
Drizzle 1 tablespoon of olive oil over the chicken. Season with ½ teaspoon of salt and ¼ teaspoon of pepper.
Heat the remaining 2 tablespoons of olive oil in a large pot or Dutch oven over medium-high heat. Add half of the chicken and cook for 6-8 minutes, stirring frequently, until chicken is cooked through. Repeat with remaining chicken, then set aside.
To make the roux, reduce the heat to medium-low. Add the canola oil to the same pot and whisk in the flour. Continue to whisk for 15-20 minutes until the roux is a deep brown color.
Increase the heat to medium and add the onion, bell pepper, celery, okra, and garlic. Stir to combine. Cook for 10-12 minutes, stirring frequently, until vegetables are tender.
Add the stock, thyme, oregano, cayenne, bay leaf, 1 teaspoon of salt, and ½ teaspoon of pepper. Bring to a boil. Reduce the heat to medium-low. Simmer for 30 minutes.
Add the chicken back to the pot. Stir in gumbo filé powder. Simmer for 10 more minutes.
Optionally serve the gumbo over rice, topped off with sliced green onion.
Nutrition
| | |
| --- | --- |
| Calories per Serving | 475 |
| Total Fat | 32.1 g |
| Saturated Fat | 4.0 g |
| Trans Fat | 0.1 g |
| Cholesterol | 87.1 mg |
| | |
| --- | --- |
| Total Carbohydrates | 21.4 g |
| Dietary Fiber | 1.5 g |
| Total Sugars | 5.2 g |
| Sodium | 783.8 mg |
| Protein | 24.7 g |