McDonald's Is Making Some Small (But Mighty) Changes To Its Hamburgers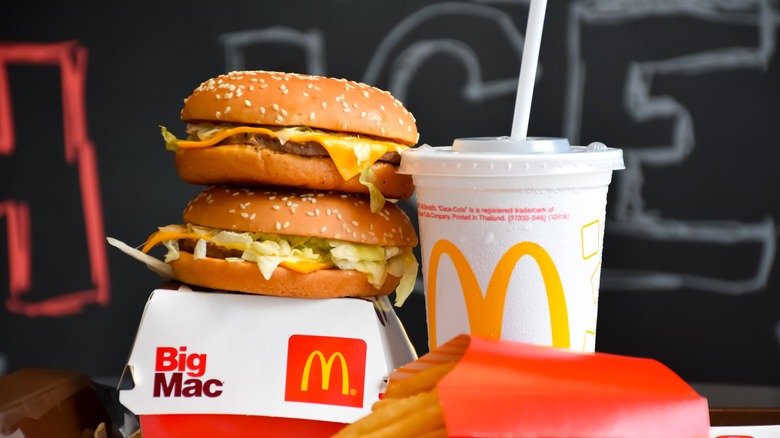 Patcharaporn Puttipon4289/Shutterstock
Even the biggest burger snobs in the world can't deny the nostalgia and deliciousness of a classic McDonald's burger. The burger chain didn't invent the cheeseburger, but offerings like the Big Mac and its classic Double Cheeseburger continue to be among the most popular items on its menu. McDonald's has only made small changes to menu items since its first restaurants opened in the 1940s. The most recent change happened in 2018 when the company announced it would remove artificial preservatives and flavors from its items. In 2023, McDonald's is making some small but mighty changes, specifically to its burgers.
According to Cision PR Newswire, McDonald's plans to release its "best burgers ever" to the masses in select cities, with the changes going nationwide by the end of 2024. The new changes include adding white onions to burgers while the patties cook, resulting in a more caramelized flavor punch. Buns will be toasted golden brown, and the cheese is guaranteed to be ooey, gooey, and meltier than ever via new cooking processes. For the Big Mac, each burger will contain even more Mac sauce than before, which is a win for sauce lovers. The new changes have already rolled out in Australia, Canada, and Belgium — and are ready to land stateside in select locations, too. 
Where to find the improved McDonald's burgers in the United States
These changes are already popular with audiences in international markets, which is a positive sign. The first United States cities where customers can try the improved recipe burgers are on the West Coast and surrounding areas: Sacramento, Los Angeles, Portland, Las Vegas, Phoenix, Seattle, Boise, San Francisco, Tucson, Denver, and Salt Lake City. In true McDonald's fashion, the chain brought back the iconic Hamburglar for a TV commercial featuring the updated burgers (via YouTube). According to McDonald's, a Hamburglar spotting is a sign that the burger changes have officially rolled out in a new city, so fans should be on the lookout. 
Just because McDonald's is upgrading its existing burgers doesn't mean the chain will stop innovating and releasing new menu items. The Big Mac's international cousin, the Chicken Mac, seems likely to become another U.S. menu item. The Chicken Mac replaces the beef patties with tempura fried chicken patties topped with shredded lettuce, cheese, pickles, and Big Mac sauce. When it launched in the U.K., it was so popular that it only had enough product to last ten days instead of the intended six-week run. While those in the U.S. anxiously await the Chicken Mac's TBD arrival, they can enjoy the changes to their favorite existing burgers and decide whether they live up to the claims.