The TikTok Chick-Fil-A Hack For Easy Hot Honey Chicken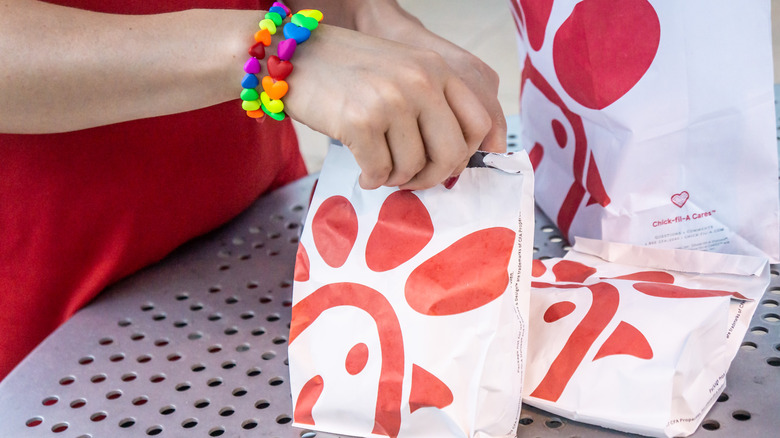 Jaimieandkyleshootstock/Shutterstock
If there's one thing that TikTok excels at, it's starting viral trends. And contrary to popular belief, it's not just choreography and face filters that gain popularity on the social media app. TikTok is also a hub for fitness tricks, fashion tips, and life hacks galore. And good news for foodies, the social media platform is also a hot spot for exciting recipes, cooking advice, and menu hacks.
When it comes to eating at Chick-fil-A, options are somewhat limited. Despite being ranked as one of the most popular fast-food restaurants in America with beaming customer service ratings across all of its locations, Chick-fil-A generally sticks to the fried chicken basics. Aside from seasonal items like spicy chicken tortilla soup, the fried chicken hot spot is best known for its chicken sandwich, nuggets, and other traditional classics.
While it does offer some eclectic items like grilled chicken wraps and a Cobb salad, you won't find souped-up chicken dishes like buffalo chicken sandwiches, cajun drumsticks, or hot honey chicken. But thanks to one Chick-fil-A customer on TikTok, hot honey fans can have their way next time they're eating out at the popular fast-food franchise.
The Chick-fil-A hot honey menu hack couldn't be easier
If you're craving Chick-fil-A with a hot honey twist, soul food chef and TikToker @Kitchensaintco has the menu hack you need to enjoy the best of both worlds. In a recent video, the home chef says that if you want hot honey chicken at Chick-fil-A, it starts with your usual order. But instead of Chick-fil-A sauce or ketchup, you should order a side of buffalo sauce and honey. Simply combine the two condiments for a sweet and spicy fried chicken flavor that you won't find on the menu's surface.
The menu hack seems to work best with chicken strips or nuggets so that you can combine the two condiments and shake them up for an evenly-spread coating. However, If you want to add the makeshift hot honey to your chicken sandwich, it's as simple as removing the bun and adding the honey and zesty buffalo sauce.
Thank goodness for TikTok trends and culinary innovation!