The Tangy Ingredient People Are Adding To Espresso Martinis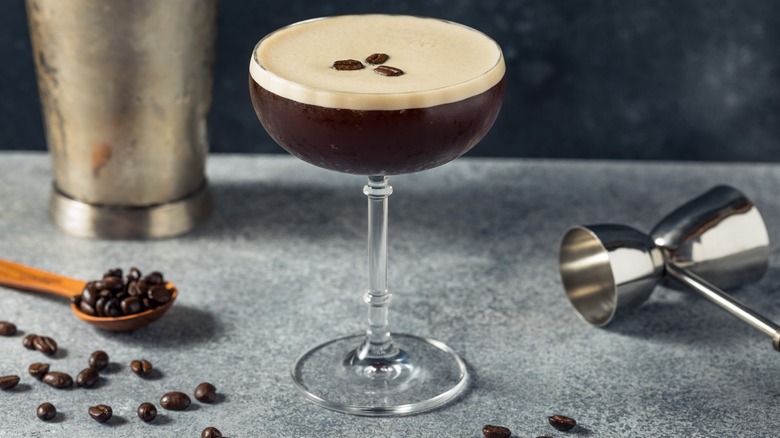 Brent Hofacker/Shutterstock
Are you ever in the mood to get tipsy and wildly caffeinated simultaneously? Skip the Jägerbombs. Espresso martinis are your ticket to paradise. While the combination of vodka, liqueur, and coffee has the power to trigger a potentially brutal hangover if you toss back way too many of these beloved libations, their bold flavor and elegance are buzzworthy. Espresso martinis hit the scene in the early '80s when a Soho, London bartender named Dick Bradsell whipped up the first batch of this deep brown masterpiece. Since then, the jolt-inducing beverage has appeared on menus all around the globe, much to the delight of coffee lovers. 
In an espresso martini, the bitterness from espresso is balanced by the sweetness of coffee liqueur, while vodka adds a mild, boozy kick. Plus, the crown of creamy foam provides a smooth finish, not to mention a stunning presentation. The recipe for a classic espresso martini is simple, so a unique ingredient addition has even some of its strongest loyalists scratching their heads: Sprinkling a touch of Parmesan cheese atop the glass offers a pleasantly surprising taste. Yep, you read that right. For some reason, daring bar patrons far and wide have been requesting grated Parmesan cheese as an ingredient in their espresso martinis. However, this order falls under the "don't knock it till you try it" category, as those who have tried it are often shocked by its delicious flavor profile. 
Parmesan cheese offers a new flavor profile to espresso martinis
Cheese and coffee certainly is not a brand new pairing (hello, tiramisu!), but in liquid form, curiosity is warranted. So, why Parmesan? Well known for its nutty, zesty palate and gritty texture, this Italian icon has historically been featured in pasta dishes, salads, sandwiches, and other savory eats. But when mixed with espresso, another form of magical alchemy occurs. 
The cheesy cocktail's recipe has gone viral on social media, with many users transforming from skeptics to believers upon the first sip. As TikToker @highproofpreacher aptly stated, "I regret to inform you that was kind of awesome." And when the creators of @crudeculinary tried the "pretty" concoction on their "F— Around and Find Out" series, their reaction was also of bewilderment. "The coffee flavors are already so intense, and the nuttiness of the cheese is like a soft little finish at the end."
The next time you feel like indulging in a chic and adventurous drink, opt for an espresso martini with some grated Parmesan on top. Salute!