32% Of People Want An International Costco Food Court Item In The U.S.- Mashed Survey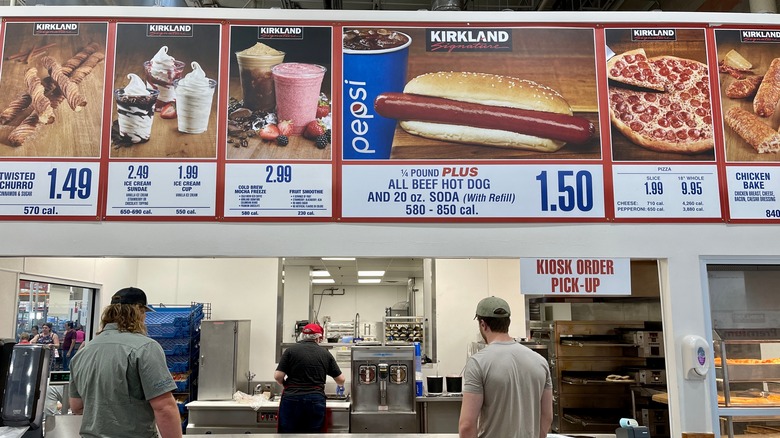 Ant DM/Shutterstock
The Costco food court is an essential part of the entire Costco experience. After you've wended your way through the store, tried all the samples, waited in line to check out (and probably bought more than you really needed), a stop at the food court before leaving is a must. Maybe you grab a hot dog or perhaps you snag a pizza to take home to the kids (and if you have trouble making up your mind, we've ranked every Costco food court item).
But did you know that not all Costco food court menus are the same across stores? The offerings depend on the location of the store, with different menus for different countries. There is a whole world of Costco food court treats out there that aren't available in the United States. But what if they were? Which international Costco snack would you want?
We asked that very question in a Mashed survey on our YouTube channel, and out of more than 8,000 respondents a whopping 32% voted for the Korean BBQ beef bake that can be found at Costco food courts in England, Japan, and South Korea. Based on the popular Chicken Bake, the beef bake is a bulgogi-style skirt steak with onions, mozzarella, and Caesar dressing, rolled in pizza dough and topped with parmesan before being baked.
Other international items our readers wanted
Coming in at a close second, with 29% of the vote, on our must-have Costco international eats survey was poutine from Costco Canada. The poke bowls found at Costco Hawaii came in third place with 18% of the vote, followed by banh mi sandwiches from Costco Australia (12%) and bulgogi pizza from South Korea in last place with 9% of the vote.
Any changes made to the Costco food court menu usually cause a shock, which is one reason that famous hot dog and soda combination has remained at $1.50 since 1985. We don't think that's going to change, as Costco founder Jim Sinegal reportedly told CEO Craig Jelinek that if he tried to raise the price, "I will kill you."
Costco is also known for surreptitiously testing out new food court items, like the new ice cream flavors they've been quietly testing at an Ottawa, Canada area Costco. The Korean BBQ beef bake supposedly also got the secret test treatment — a Hawaiian food blog wrote about trying it at a Honolulu Costco all the way back in 2009. We're not sure of the results of that particular test, but if the final tally of our poll is any indication, American members of the chain are ready and willing to chow down on this foreign Costco staple.