Gordon Ramsay's Quick-Cooking Salmon Hack That Doesn't Skimp On Flavor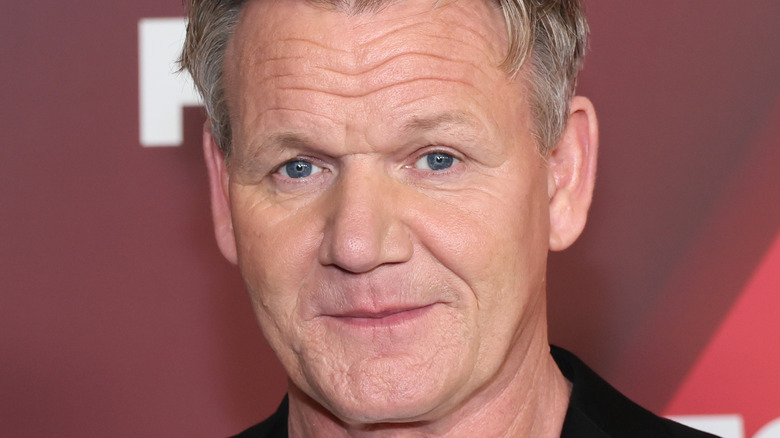 Dia Dipasupil/Getty Images
Being short on time doesn't have to mean you have to sacrifice a delicious meal. Dinner is the one meal most of us can enjoy leisurely and, if we're lucky, surrounded by family or friends. We are a nation on the go, so now more than ever, we need quick-cooking weeknight meals like this salmon dish courtesy of Chef Gordon Ramsay to add to the dinner rotation.
Even on Instagram, Ramsay seems to be in a rush, so it makes sense for the celebrity chef to have a cooking hack for flavorful salmon in minutes. First, Ramsay cuts salmon filets lengthwise into three thin strips. Cutting the salmon into strips increases the surface area of each portion, meaning more flavor and a quicker cooking time. Then, the salmon is seasoned with a pastrami rub which traditionally contains black peppercorns, coriander, brown sugar, paprika, garlic powder, onion powder, yellow mustard seeds, and mustard powder.
Ramsay cooks the salmon strips in plenty of oil to crisp the outside. Before juicing a lemon, he uses a rasp to zest the skin, imparting a bright citrus flavor without introducing liquid that prevents a crust from forming. Since the fish is so thin, it cooks within a few minutes, making this one of the fastest ways to get a healthy, high-protein meal. Salmon is considered one of the most nutritious foods, containing omega-3 fatty acids, B vitamins, and other vital nutrients the body needs (via Healthline).
Be mindful of technique when cooking salmon
Overcooking salmon is a common — and avoidable — mistake. In a clip from "The F Word," Gordon Ramsay suggests bringing the salmon to room temperature before cooking to speed up the cooking process and avoid drying out the fish (via YouTube). To prevent the oil from burning in the pan, allow it to heat up first. The fish should only be added once the oil is hot. If your fish has skin, gently score it to prevent the salmon from curling as it cooks. Use a spatula to gently press the filets in the pan, ensuring the entire surface is making contact with the hot pan. If pastrami rub is not your thing, another of Ramsay's salmon recipes features a blend of cajun seasoning, garlic, and thyme. 
Despite being easy to cook, salmon prices could pose problems for consumers' budgets. Per The Shelby Report, the cost of farmed Atlantic salmon has risen by 12% since 2022. Norwegian salmon has also increased in price during the first ten weeks of 2023, which could cause salmon prices to exceed all-time high rates (via SeafoodSource). 
If you're looking for a more budget-friendly choice, shop for wild sockeye salmon from Alaska. Thanks to a surplus of stock, the price of wild sockeye has decreased by 7% since 2022. In some locations, Sam's Club is selling wild sockeye salmon for $12.48 per pound, and some Safeway stores have previously frozen filets for $14.99 per pound.