Here's The Absolute Best Day To Shop For Groceries At Target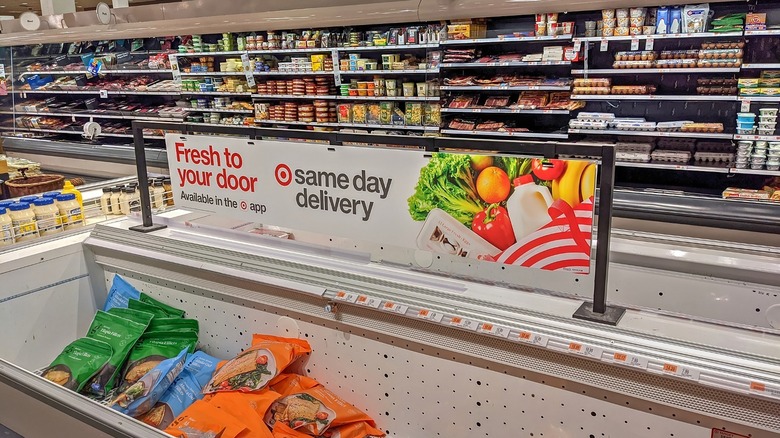 It's unnerving to watch your grocery bill during this unpredictable time of fluctuating food prices. Shoppers who are determined to get the most for their money are willing to go that extra mile to score a good deal, but aside from maximizing coupons, what's a strategic shopper to do? Picking the right day for your shopping trip can actually make a real difference. At Target, that day is Tuesday.
Target stores are on a schedule that assigns each department a markdown day of the week. All Things Target's mother-daughter blogger team has noted that grocery markdowns generally happen on Tuesdays, along with price cuts to women's clothes, pet supplies, and discounts on sheets, towels, and other domestics. Although this schedule is not set in stone, shopping bloggers like Gather Lemons have found that their Target stores routinely stick to this plan.
That handy bit of information can make all the difference for buyers who want to get the stuff Target food aisles have to offer in one trip and at a cost. The store restocks its grocery aisles daily, so shoppers have a chance to grab the freshest of the fresh if they go early in the day, which also means they beat the mid-day crowd. Whether grocery prices skyrocket or return to relative stability, grocery shopping on the right day means money in your pocket. Then you can stack that strategy with coupons and price matches if you know the ins and outs of Target guidelines.
Capitalizing on Tuesdays at Target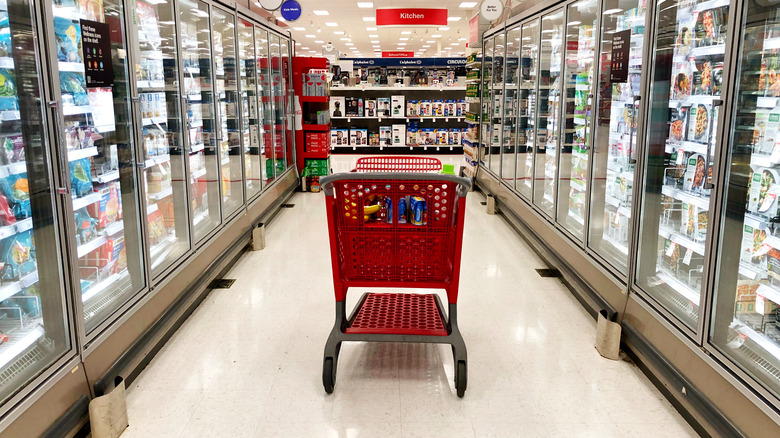 ZikG/Shutterstock
So, how do shoppers make the most of a Tuesday? For those who like to check prices at other stores, Target tries to woo them with its price match guarantee. It states that if you find a lower price on an identical item with a competitor or Target.com, you can request that price and Target will match it in-store on any lane. Target is also said to have a coupon stacking guideline that, according to The Krazy Coupon Lady, means people can combine a manufacturer coupon with a Target coupon on any item, including gift card promos.
All of that can sound like a grocery shopping trip tied up in a bow, which is good news for savvy consumers who leverage those Target sales without sinking in the mire of accidentally overbuying. That's a serious enough cautionary tale at Target, according to NBC News, that it has earned the superstore the moniker "Target Effect." It involves a notorious compulsion to overbuy, thanks to the chain using the bright colors, specific lighting, and cross-selling techniques that get consumers to come in for a set of items and walk out with a bulging cart they never intended to buy. According to psychologist Kevin Chapman, it's possible to resist the "Target Effect" by sticking to a pre-made list. That you get it on sale, at its peak of freshness, and can also pick up a set of sheets at a discount because it's Tuesday at Target? All the better.