12 Best Aperitifs To Drink In 2023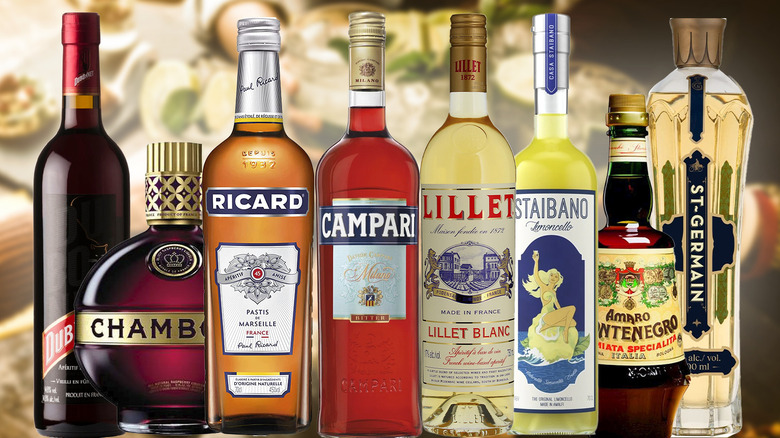 Static Media / Shutterstock
The origin of aperitif culture is closely related to Italy. The ancient Romans were fond of having a drink before a big meal, but modern aperitif culture was born in 18th century Turin when Antonio Benedetto Carpano released his now legendary Antica Formula. This spiced and fortified wine was the first vermouth and set the stage for a variety of aperitifs that followed. Unlike the Roman version reserved for the affluent, the contemporary aperitif was a drink for everyone. It was an opportunity to socialize over drinks, sometimes accompanied by a small snack and usually followed by a heavier meal. Sipping a drink before a meal is certainly not limited by borders, but the tradition is the strongest in Italy, France, and Spain, where it makes an essential part of everyday life.
Nowadays, vermouth isn't the only option for an aperitif. Traditionally, the category is dominated by lighter, fruitier, and more refreshing drinks that work best at opening your appetite and preparing your palate. Heavy, full-bodied options are usually enjoyed as digestifs.
The choice of your ideal aperitif will depend on your taste and the meal that will follow, but some labels stand out from the rest. These are currently the best available options, including reliable classics and some surprising but equally fantastic newcomers.
1. Best fruity: Chambord
Chambord is the intensely fruity French liqueur from the Loire. Its base has several dominant ingredients, but fresh raspberries, blackberries, and blackcurrants craft most of its character. They provide sweetness and a distinctly fruity aromatic profile.
Along with berries, other dominant ingredients include XO Cognac, plenty of Madagascar vanilla, and some zingy citrus zest. Vanilla perfectly complements the fruit, while the potent Cognac provides a firm backbone and a sturdy base that does not let the liqueur become syrupy sweet. The final touch is delivered by the citrus fruit that brings a much-needed kick of bitterness and freshness. This is a rich and concentrated liqueur, and though it is usually thought of as a staple cocktail ingredient, Chambord can also make an excellent aperitif.
Serve it neat, preferably well-chilled or simply poured on the rocks. The ice will help tone down the sweetness and allow all those wonderful aromatics to open up. Feel free to top Chambord with a splash of soda. This is a sweet liqueur that has a strong aromatic profile that a mixer will help to balance out. Also, do not overlook the Kir Royale, in which Chambord can be topped with sparkling wine to make one of the best French-style aperitifs.
2. Best mixed with soda: Campari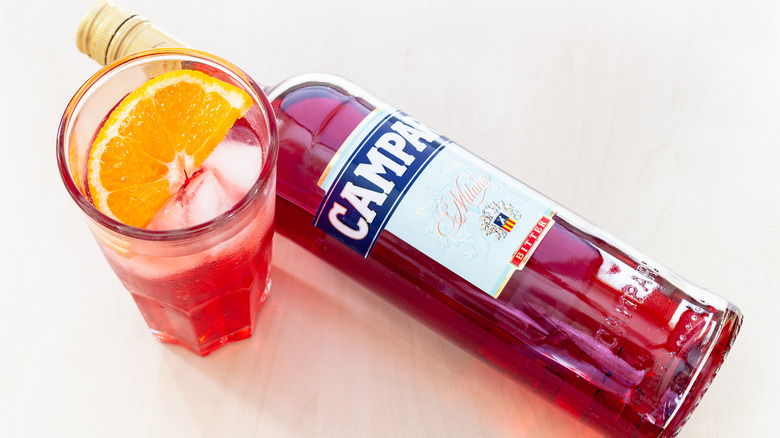 vvoe/Shutterstock
Campari does not need much introduction. This crimson-colored liqueur set the standard for all aperitifs that came afterward. Though its origins go back to 1860, Campari is still hip and manages to remain relevant. You will rarely find a respectable bar that does not stock this legendary label.
The formula for Campari has never been revealed, but the drink is still produced according to the original recipe devised by Gaspare Campari. This bitter soon gained attention, and Gaspare's son David expanded business and production. Campari became the signature aperitif in Milan and cemented its reputation after the invention of Americano and Negroni, two signature Campari cocktails.
Though we often associate Campari with cocktail culture, its true character best comes through when paired with soda. This is how you will see it served in Italy, usually sipped with snacks before a bigger meal. The pairing of Campari and soda is great as is, but topping it with an orange wheel is even better as the orange aromas will complement the dominant orange notes found in the liqueur. The typical herbal bitterness inherent to Campari will mellow down with the addition of soda, but it will remain a strong, bittersweet aperitif that will open your appetite for any food that comes later.
3. Best amaro: Amaro Montenegro
Amari are bitter Italian liqueurs with a strong aroma and a rich flavor profile dominated by herbal and citrusy notes. Because of their robust character, they are sometimes enjoyed as after-dinner tipples, but Amaro Montenegro is one of the subtle versions that will work as a bittersweet interlude before dinner.
Amaro Montenegro an old-school label whose history dates to 1885. The original recipe is still a closely guarded secret, but this amaro was built on a base of citrus, spices, and herbs. Though it is a slightly lighter amaro, it still has the spicy bittersweet characteristics typical for amari liqueurs. You will find more floral notes and almost caramelly qualities inside, but what dominates is a distinctive orange note that lingers on the nose and the palate. Amaro Montenegro is an easy-drinking liqueur with a smooth, almost silky texture and a long finish that closes with a bittersweet kick.
Because of that dominant orange note, this amaro is best served on the rocks and partnered with an orange slice. Perhaps you would want to gently squeeze the wheel to release juice or just express the zest over the drink. Amaro Montenegro would also be great with a splash of tonic or soda water, and you can even incorporate it into more elaborate aperitif cocktails.
4. Best mixed with fruit: Pimm's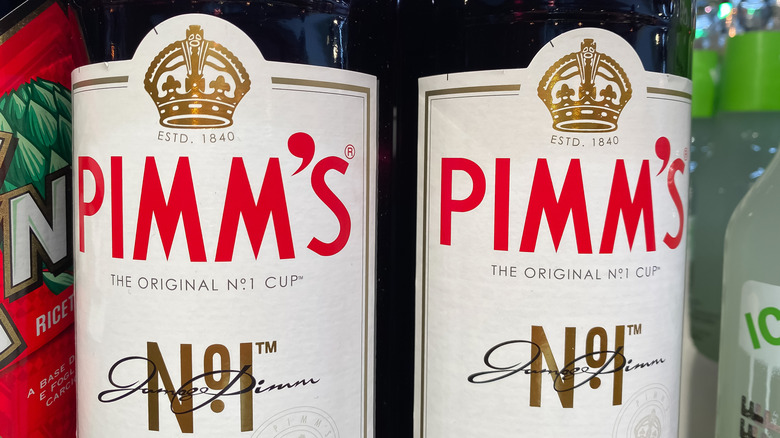 Ralf Liebhold/Shutterstock
Pimm's is a legendary name in the booze business. This old-school British liqueur originated in the mid-19th century when its inventor James Pimm first mixed it up and served it at his bar. At the time, gin was the drink of choice, but it was mainly sipped neat and was not mixed into the gin and tonics we are used to seeing these days. Pimm based his recipe on gin but enriched it with a mix of spices and herbs, which to this day remain secret. The final result is an amber-hued drink with a strong aromatic profile and a bittersweet flavor that reveals the use of warming spices and citrus.
Pimm's is rarely sipped on its own, but it plays a major role in the British-style Pimm's Cup, in which the liqueur is balanced with herbs and plenty of sliced fruit. The classic option would be to top with lemonade and pair with oranges, cucumber slices, and mint or borage, but arguably anything works here. You can mix Pimm's with a soft drink and pack it with any fruit that suits your taste, but always serve it with a lot of ice — Pimm's works best as a refreshing summer aperitif. For the classic version, go with Pimm's No.1, the original version whipped up by its inventor.
5. The most versatile: Lillet Blanc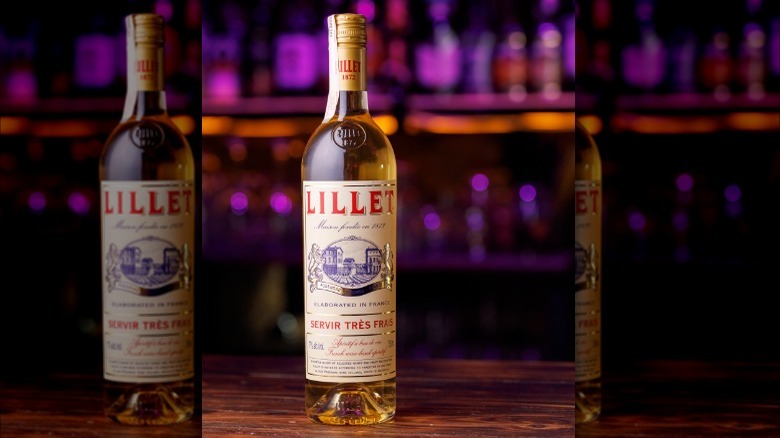 Bystrov/Shutterstock
Lillet Blanc is an aromatized and fortified wine that hails from France. The first version released in 1887 under the name Kina Lillet was a creation of the Lillé brothers from Bordeaux, who infused their wine with bitter-tasting chinchona bark. The new, lighter version that is currently available was introduced in 1986 after the company changed hands. Lillet Blanc has a white wine base made from Semillon and Sauvignon Blanc varieties. The base is fortified with a spirit and infused with a mix of botanicals, resulting in a very aromatic drink with 17% ABV, which makes it slightly stronger than regular wine.
Apart from the white version, Lillet comes as a slightly heavier red version and a Lillet rosé that falls somewhere between the two styles. All varieties can work in cocktails or on their own, preferably served well chilled over ice. As for Lillet Blanc, a dash of tonic, soda, or even a splash of sparkling wine would make it a perfect aperitif. Lillet Blanc is not overly potent but has enough strength and body to come through in a regular spritz. In cocktails, it perhaps shows its best qualities when paired with gin.
6. Best old-school: Dubonnet
Dubonnet is as old school as it gets. This French liqueur is often associated with the late Queen Elizabeth II, who was allegedly a big fan of the drink. Though it is now often overshadowed by new and flashy contemporary labels, Dubonnet is a classic that needs to be given more credit.
Officially named Dubonnet Rouge, this now legendary aperitif was invented in 1846 by Joseph Dubonnet, who wanted to create a pleasant and easy-drinking aperitif that would also include quinine — an extract from the South American cinchona tree that was mainly used to help fight malaria. The problem was that quinine had a sharply bitter flavor, so it was generally unpleasant to drink. To disguise the bitterness, Dubonnet used red wine as a base that he sweetened with cane sugar and infused with a mix of various botanicals.
The process results in a richly flavored dark red liqueur brimming with powerful aromatics. On the nose, you will be able to immediately feel the prevailing fruit punch and recognize all the warming spices. The flavor follows in the same direction offering a delicious combination of jammy fruit, spices, and earthy notes, closing with a subtle bitter finish. Dubonnet is a great aperitif that you can simply serve on the rocks, but it also partners well with a touch of soda or sparkling wine. You can also pair it with gin to make a classic Dubonnet cocktail, which was the preferred tipple for Queen Elizabeth.
7. Best floral: St‑Germain
If you like your aperitifs light and floral, then elderflower-scented St‑Germain is the ideal choice. This unique liqueur is not as old or traditional as some other names on the list — it was launched in 2007 — but it soon became a staple in bars worldwide. Robert Cooper is the man who brought St‑Germain to life. He found inspiration in Paris and wanted to capture the atmosphere of the legendary St-Germain-des-Prés neighborhood.
St‑Germain has a distinctive floral note from a natural infusion of fresh elderflowers. The flowers are picked at their peak so that the aromas remain as intense and potent as possible. Hints of honey and some notes of white fruit are also detectable in the spirit's flavor.
St‑Germain is a light, sweet, and easy-drinking liqueur. Though many consider it as nothing more than a subtle cocktail ingredient, St‑Germain can be the star of its own drink and make an excellent light aperitif. Serve it well chilled and over ice, or complement it with a dash of soda and some sparkling wine for a refreshing mix that will make it more mellow.
8. Best anise-flavored: Ricard Pastis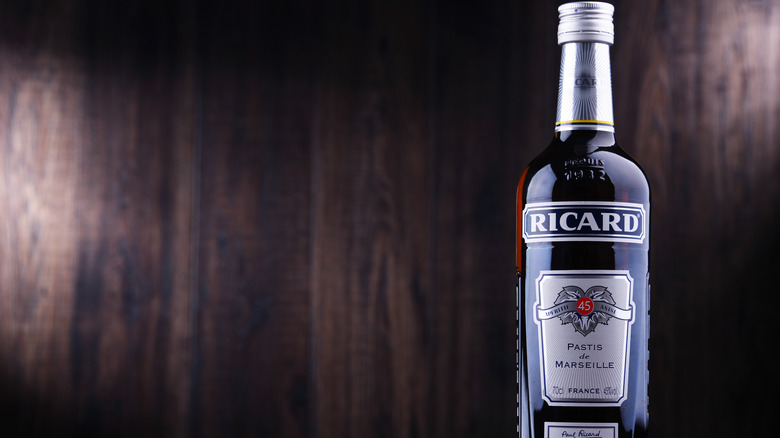 monticello/Shutterstock
Pastis is a legendary anise-flavored French drink synonymous with long summer days in southern France. Ricard is the original pastis introduced in Marseille, so it's the most traditional pastis brand there is.
Pastis is a drink that stems from the old absinthe tradition. It appeared after absinthe was banned due to its supposedly hallucinogenic properties and presented as a perfect alternative to the popular wormwood spirit that also had some anise in its formula. Paul Ricard was the first to commercialize this anise-infused combination and launched his Marseille-style pastis in 1932. The fragrant pastis base is dominated by anise, but the aromatic blend also includes fennel, traditional Provencal herbs, and licorice. This is a drink with a distinctive herbal aroma and flavor that come off as bright, clean, and refreshing.
Drink your pastis ice cold, preferably served over ice and a splash of water. When mixed with water, this clear spirit will attain its signature cloudy look. Pastis would also work well paired with lemon and tonic water. Ideally, you would have pastis as a refreshing summer aperitif.
9. Best for summer: Staibano Amalfi Limoncello
Limoncello is a classic Italian lemon liqueur that originated in the Amalfi coast, a region that produces some of the best Italian lemons. Staibano's Limoncello hails from the same region, and it is your go-to solution for an ideal summer aperitif.
Staibano is a company with a long tradition dating to the 1930s. However, its founder apparently enjoyed too much of that Italian dolce vita, which eventually resulted in neglected lemon groves and a temporary interruption of production. His great-grandson gave new life to the groves and the company and continued with the old liqueur tradition. Limoncello is one of its classic labels. It is an entirely natural limoncello made with local, protected Amalfi lemons. This is not one of the mass-produced limoncellos that are often overly sweet and lack zest and flavor. The company makes small batches and relies on local products to maintain consistency and high quality.
Staibano is the ideal summer sipper as it needs to be served completely chilled. With an alcohol content of 25%, the liqueur is not too potent, but it still has some strength that is balanced with sweetness and an incredibly refreshing character. This limoncello is smooth and easy to drink, and you will find a typical citrusy note on the nose and the palate. You can sip it neat, but it also works in light cocktails and mixed drinks.
10. Best vermouth: Carpano Antica Formula
Carpano Antica Formula is the original aperitif and one of the top-quality vermouth labels. It is a perfect all-rounder that will go well in long drinks and cocktails, but this vermouth has enough body and complexity to stand on its own. If you prefer vermouth for an aperitif, you can't go wrong with Carpano.
Antica Formula is a sweet vermouth. The base of the wine is made with a blend of white wines sourced from several Italian regions. The wines are then infused with a secret blend of botanicals, giving the vermouth that typical spicy, herbal, and citrusy character. Though the exact recipe has never been disclosed, some ingredients include burnt sugar, vanilla sourced from several international locations, Iranian saffron, and wormwood from northern Italy.
Antica Formula is a dark vermouth that opens with a complex aromatic profile filled with notes of warming spices, citrus, nuts, and dry fruit. You will find similar tastes on the palate, accompanied by a smooth mouthfeel and a distinctive bittersweet finish. This vermouth can make a fantastic standalone drink, preferably served on the rocks and paired with some orange zest. Alternatively, add a splash of tonic or soda, but also feel free to use it in cocktails. Carpano is your reliable, go-to vermouth for all occasions.
11. Best strong aperitif: Morin Calvados
Calvados is a traditional fruit brandy usually made from apple and sometimes pear cider that originates from Normandy. It can be made from several hundred apple varieties, and as it is aged and blended, the final flavor profile can vary. Because of its strength, which typically stays around 40% ABV, Calvados is mainly enjoyed as a digestif, but some younger, more mellow versions can be served as a pleasant aperitif, especially if it's followed by a hearty meal.
Morin is one of the old-school Calvados producers with a history that goes back to 1889. The distiller's range includes regular and limited labels that are considered some of the best from the region. The best for an aperitif is the young Calvados Selection, which is the entry-level label. The spirit is aged for up to three years in oak. It displays distinctive apple aromas complemented by brawny smoky notes, clean flavors, and a bright finish. Morin Selection delivers some complexity but is still subtle and refreshing enough to make a good aperitif. This is also one of the Calvados labels that would work well in cocktails and mixed drinks.
12. Best non-alcoholic: Sanpellegrino Chinotto
If you want to break from the standard practice of having alcoholic drinks for an aperitif, your safest option would be to go with some traditional Italian sodas. These are often modeled on typical aperitif drinks, so expect light and refreshing drinks packed with flavor. Among the group, Sanpellegrino Chinotto is an ideal choice as it delivers all the qualities of an aperitif with no alcohol.
The term chinotto can be used to describe all sodas made with chinotto fruit — a unique citrus that is too bitter to eat on its own, but will often be used in liqueurs, sodas, and bitters. The soda style first appeared in Italy sometime in the 1930s but fell victim to competition from Coca-Cola. However, in more recent times, it has made a comeback.
Looking at a glass of chinotto you might easily mistake it for a classic Coke. It shares a similar dark brown color and plenty of fizziness, but the aroma has a very distinctive citrusy note. On the palate, you will get a strong bittersweet flavor, accompanied by herbal and spice-like accents. This is a drink you want to serve chilled, preferably with lemon zest to help that citrus character to come through. Chinotto can be sipped before a meal, but it would also make a nice accompaniment to simple appetizers.