Superb Succotash Recipe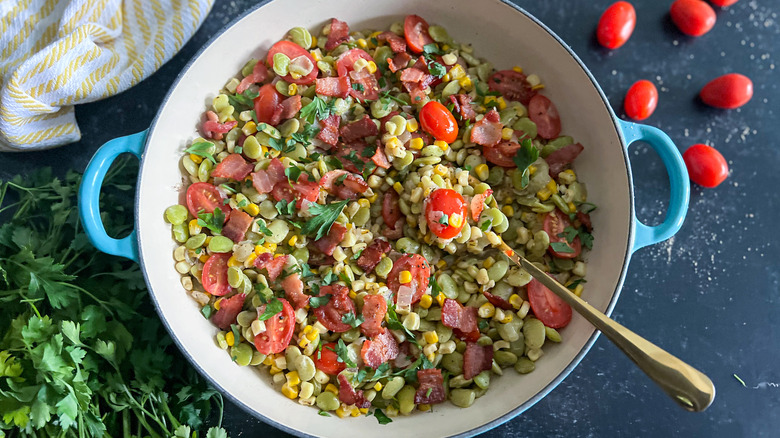 Erin Johnson/Mashed
Most traditional dishes are influenced by various cultures and communities. Often, these aren't immediately clear and we miss the true origins at first. Locally, succotash is believed to have come from the Northeast, Midwest, or Southern U.S. — depending on who you ask. However, none of these explanations take into account the fact that the Narragansett and Wampanoag Native American tribes are responsible for introducing the dish. Its name even comes from the word "msickquatash," which describes the dish as a pot of corn cooked with other ingredients. 
Thanks to an abundance of corn, often dried and preserved for later months, succotash evolved into a versatile preparation that typically contains beans and corn. The other ingredients vary, making it a great option to customize and serve with a range of main dishes. Mashed recipe developer Erin Johnson brings us this superb succotash recipe, which she describes as "the perfect spring and summer side dish." As she highlights, "It pairs well with almost everything, can be heated warm or [served] at room temperature, and makes the perfect cookout side dish." Read on to whip up this delicious dish brimming with centuries of tradition.
Gather the ingredients for this superb succotash recipe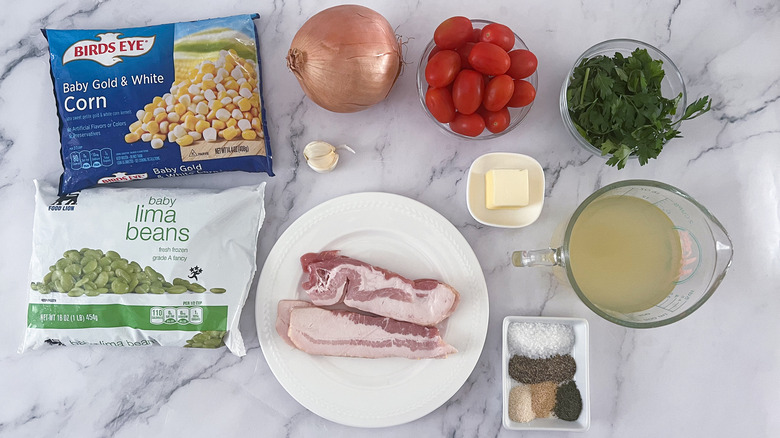 Erin Johnson/Mashed
This superb succotash calls for strips of thick-cut bacon, chopped beforehand. You'll also need to chop an onion and get a pound each of lima beans and corn. Johnson notes, "Using fresh lima beans and corn is ideal, but not always readily available," in which case she recommends to "opt for frozen." 
To season the dish you'll need kosher salt, ground black pepper, dill, and both garlic and onion powder. Additionally, chicken broth is used to prevent the succotash from drying out as it simmers. Minced garlic cloves, butter, and halved grape or cherry tomatoes finish it off. Finally, if you want extra greenery, use fresh parsley leaves to garnish.
While this recipe relies on bacon to infuse plenty of saltiness and flavor to the dish, Johnson acknowledges that, "If you want to make this vegetarian friendly, omit the bacon and use olive oil instead of the bacon drippings."
Cook the bacon and onion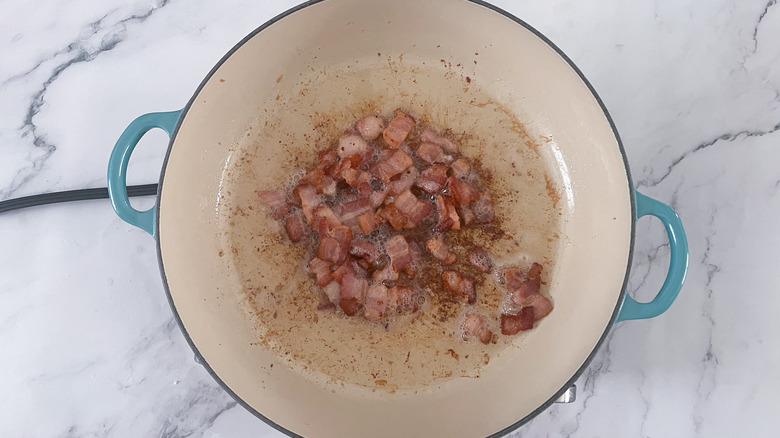 Erin Johnson/Mashed
Place a large skillet or Dutch oven on the stovetop and cook the chopped bacon until it starts to crisp up. Transfer it to a plate but be sure to leave the drippings as they provide lots of flavor. Next, add the chopped onions to the skillet and cook them until they begin to soften.
Add the beans, corn, seasonings, and stock then simmer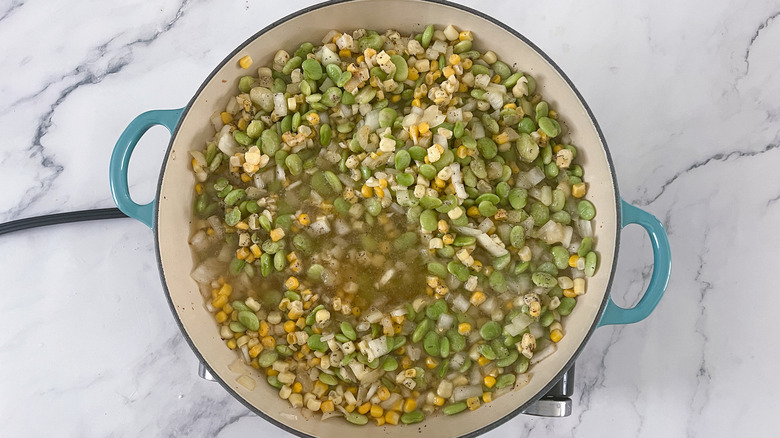 Erin Johnson/Mashed
Toss in the lima beans and corn, stirring to coat them in the grease. Then, sprinkle in the salt, pepper, dill, garlic powder, and onion powder, mixing to distribute the seasonings evenly. Pour the chicken broth in next, then add the minced garlic cloves and stir properly to combine. 
Cover the pan and bring the contents to a boil. Then, decrease the heat to a simmer and keep cooking for another 20 minutes minimum until the beans are nice and tender.
Add the remaining ingredients and serve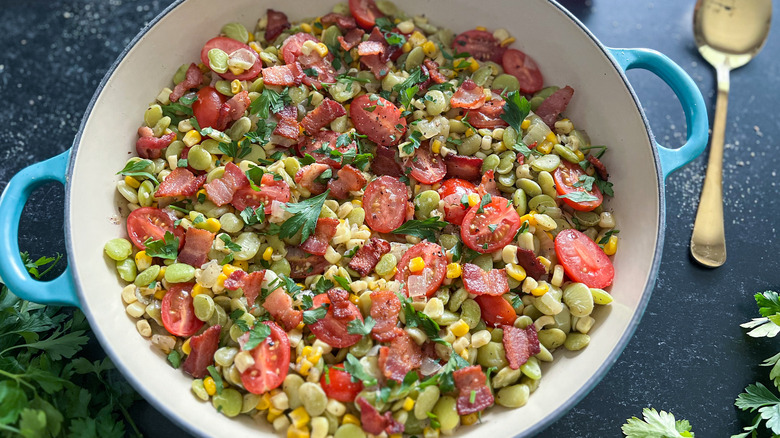 Erin Johnson/Mashed
Toss in the butter and cherry tomatoes, stir, and cook the succotash for another five minutes or so to heat the tomatoes. Finally, mix the cooked bacon back into the dish and add some fresh chopped parsley to garnish if you want.
Succotash makes an excellent side dish served with Southern favorites like fried catfish, blackened salmon, Cajun shrimp, pork chops, and fried chicken. Or keep it simple and include it as a side dish with burgers or steak at your next outdoor grilling session.
As for leftovers, Johnson recommends: "Keep this in the fridge for up to three days," and "Reheat [it] in the microwave or on the stove."
Superb Succotash Recipe
This succotash recipe is absolutely loaded with fresh vegetables, making it a superb summery side dish.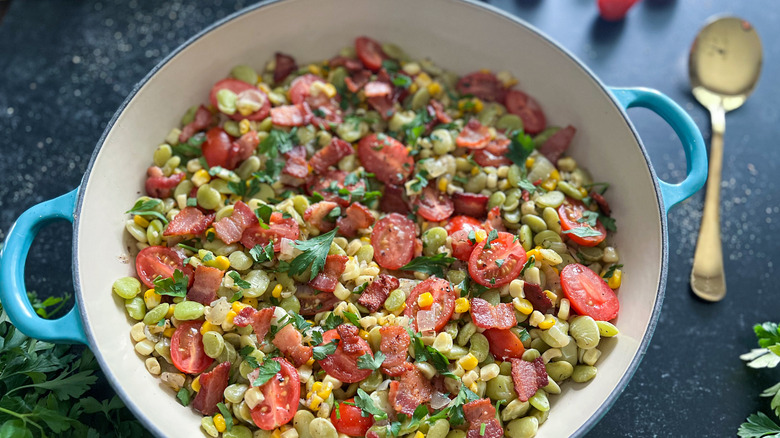 Ingredients
4 strips thick-cut bacon, chopped
1 onion, chopped
1 pound lima beans
1 pound corn kernels
1 teaspoon kosher salt
½ teaspoon ground black pepper
¼ teaspoon dill
¼ teaspoon garlic powder
¼ teaspoon onion powder
1 cup chicken broth
2 cloves garlic, minced
2 tablespoons butter
1 cup grape or cherry tomatoes, halved
Optional Ingredients
fresh parsley, for garnish
Directions
In a large skillet or Dutch oven, cook the bacon until crisp.
Remove it from the pan, leaving the drippings.
Add the onion and cook until it begins to soften.
Add the lima beans and corn to the pan.
Season with salt, pepper, dill, garlic powder, and onion powder.
Pour in the chicken broth, add the garlic, and stir well.
Cover and bring the contents to a boil.
Reduce the heat and simmer for at least 20 minutes or until the lima beans are tender.
Add the butter and tomatoes and cook for an additional 5 minutes or until the tomatoes are heated through.
Add the bacon back to the dish and garnish with chopped parsley if desired.
Nutrition
| | |
| --- | --- |
| Calories per Serving | 247 |
| Total Fat | 10.4 g |
| Saturated Fat | 4.1 g |
| Trans Fat | 0.1 g |
| Cholesterol | 18.1 mg |
| | |
| --- | --- |
| Total Carbohydrates | 30.1 g |
| Dietary Fiber | 4.9 g |
| Total Sugars | 4.6 g |
| Sodium | 383.3 mg |
| Protein | 9.0 g |