Utah Scones Hit A Little Differently
If you've ever had the pleasure of dining in a down-home Utah restaurant and ordered a scone, you may have been shocked to find a piping hot slab of deep-fried dough set down in front of you, usually topped with a gloriously fluffy scoop of honey butter. Most of the world thinks of a scone as a crumbly biscuit or pastry, often with raisins or currants baked in and sometimes served with clotted cream and jam. But as with many other things, Utah does scones a bit differently. 
Also known as fry bread, Utah scones are made from a stretchy wet dough that's been tossed in hot frying oil. (House of Nash Eats recommends opening up a can of Pillsbury biscuits for a shortcut.) And though it may not be what you'd expect from your average scone, it is certainly delicious, and sure to be loved by any fan of homey, unfussy eats. And best of all, you can dress up a Utah scone to be savory or sweet. We always recommend a dollop of honey butter for first-timers.
How to eat a Utah scone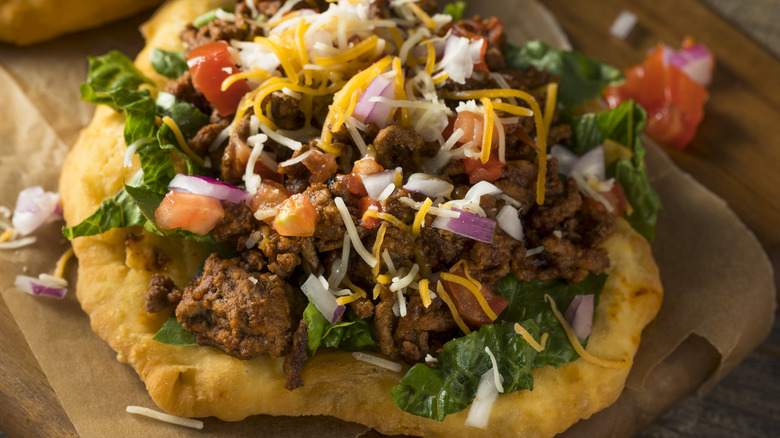 Bhofack2/Getty Images
Nearly anyone who has driven through a small Utah town has probably seen a sign at a restaurant or diner offering a Navajo taco. This is one of the most popular ways to enjoy fry bread. Instead of stacking your favorite toppings into a shell or tortilla, you heap them on top of the scone. It's savory, indulgent, and has a delightful texture, especially if the bread is served fresh out of the fryer. For extra deliciousness, add a sprinkling of cheese to the still-hot scone. 
But the honey-butter option is beloved both as a snack or dessert. For premium Utah honey butter, try adding marshmallow fluff to a softened stick of butter, then whipping it until you have a frothy mixture to slather on top of the scone. Some like to add a drizzle of honey or a dusting of powdered sugar, as one might with a beignet. 
Keep in mind that Utah scones are usually pretty big, so plan on ripping bits off of the scone for dipping and eating. If you're local, you'll be accustomed to just using your hands, but a knife and fork are also acceptable.