Freddy's Frozen Custard Reese's Peanut Butter Concrete And Shake Review. It's Pure Peanut Butter Goodness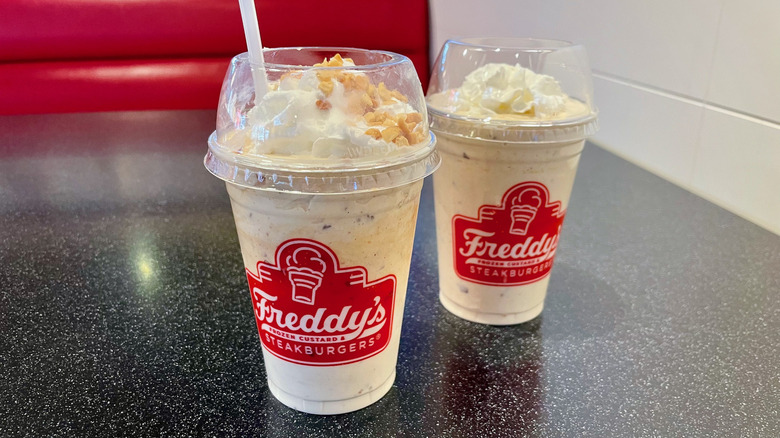 Crawford Smith/Mashed
If you're lucky enough to live near a Freddy's Frozen Custard & Steakburgers location, you know the chain excels at old-fashioned fast food with a dairy-heavy Midwestern spin. The brand's '50s-inspired décor broadcasts its wholesome retro charm, and the food tastes like it's made by humans instead of machines.
We love Freddy's burgers, which are smashed so thin on the griddle that they get crunchy, lacy edges. But as indicated by the chain's name, the frozen custard (which, if you're not familiar, is basically soft-serve with extra eggs in it) is the star of the show.
On April 19, Freddy's unveiled two new, limited-time-only custard creations in collaboration with everyone's favorite peanut butter-chocolate candy brand. The Reese's Creamy Peanut Butter Shake and Crunchy Peanut Butter Concrete both seem like can't-miss prospects — how can you go wrong by adding peanut butter and chocolate to ice cream? We headed down to our local Freddy's to see if these frozen treats are worth checking out.
What's in Freddy's Reese's Peanut Butter Concrete and Shake?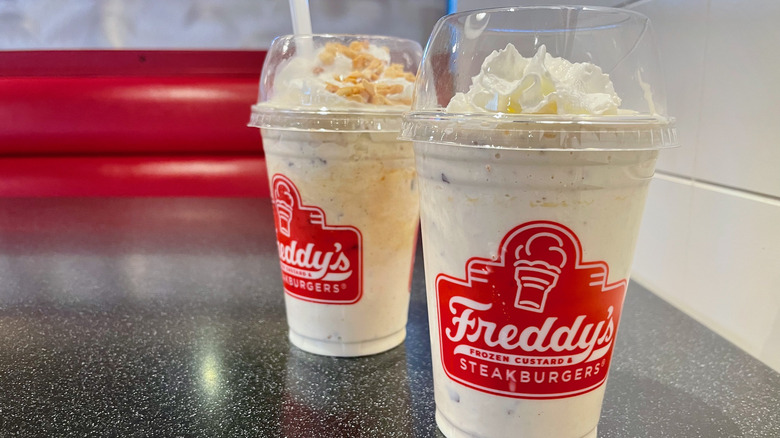 Crawford Smith/Mashed
These two items are variations on similar themes. The Reese's Creamy Peanut Butter Shake starts with a base of freshly-churned frozen custard blended with milk, Reese's Peanut Butter Sauce, and Reese's Peanut Butter Cups. The drink is topped with whipped cream and is just thin enough to be sipped through one of Freddy's extra-wide milkshake straws. The peanut butter cups get pulverized into very small pieces by the blending process.
If you've never had a concrete before, it's pretty similar to a Dairy Queen Blizzard. The custard is blended up to make it softer, but no liquid is added, so you eat it with a spoon rather than drinking it like a milkshake. The Reese's Crunchy Peanut Butter Concrete has all the same ingredients as the shake except with chopped peanuts instead of milk. Either the shake or the concrete would be a great accompaniment to some hot, salty french fries.
How long will these be available and how much do they cost?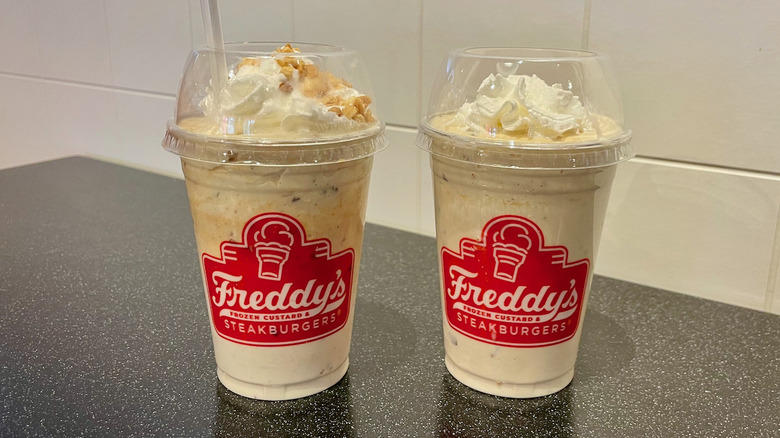 Crawford Smith/Mashed
Unfortunately for Reese's fans, these special frozen custard treats aren't long for this world. They're sticking around until June 20, so you only have around two months to try them. Freddy's released a limited-time-only burger to go with its Reese's custard creations. Per Freddy's, "The cooked-to-order Steakburger Stacker comes with three sizzling steakburger patties, American and White Cheddar cheese, lettuce, tomato, pickles, and homemade Freddy's Fry Sauce." It's also available from now until June 20.
At our local Freddy's, the new shake costs $6.09 for a mini, $6.89 for a regular, and $7.89 for a large. A mini concrete is $6.29, a regular is $7.09, and a large is $8.09. You're definitely getting more ice cream in the concrete than the shake, so the slightly higher price makes sense. The Steakburger Stacker costs $10.99 for just the sandwich and $14.49 for a meal with a side and a medium drink. Prices may vary depending on your location.
How do the Reese's treats compare to other items from Freddy's?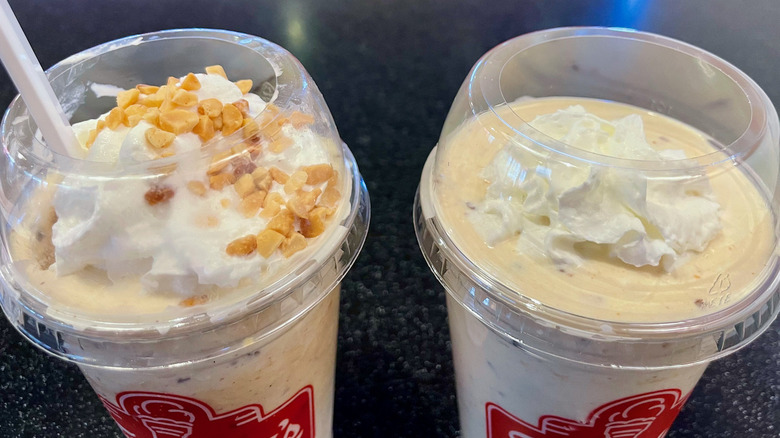 Crawford Smith/Mashed
If you're ordering off of the regular Freddy's menu, you can customize your concrete with a long list of toppings. You can even hack something like the Reese's Crunchy Peanut Butter Concrete by adding Reese's Peanut Butter Cups, Reese's Pieces, and peanut butter, though chopped peanuts aren't on the normal toppings list — the closest substitute is chopped pecans. There are also other topping options form famous candy and cookie brands, including Snickers, Oreos, Heath, and Butterfinger. That's not to mention the other toppings like cheesecake, brownies, gummy worms, and hot fudge. You can really go wild with your concretes at Freddy's. If you don't feel like building your own, there are several signature concretes as well.
As for shakes, they start as a chocolate or vanilla base, with or without malt added. You have the choice of up to five mix-ins from the same options as for the concretes. There aren't any signature shakes on the year-round menu, so the Reese's Creamy Peanut Butter Shake is something of a novelty for Freddy's.
Freddy's Reese's Peanut Butter Concrete and Shake nutrition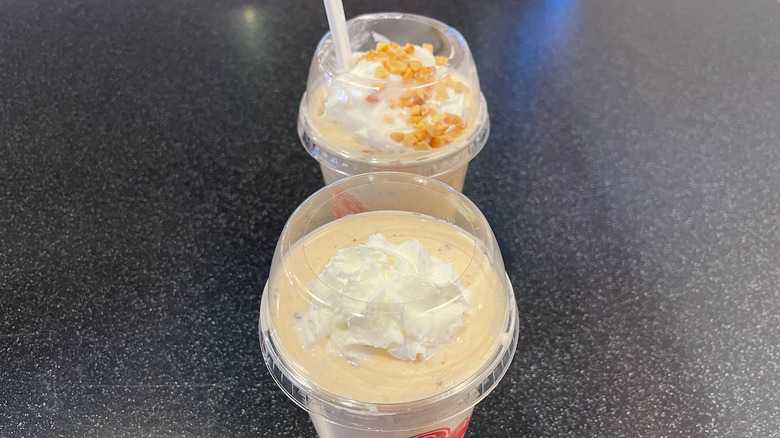 Crawford Smith/Mashed
The Freddy's site doesn't provide any nutritional information for the Reese's special items beyond calorie counts. The Reese's Creamy Peanut Butter Shake ranges from 630 calories for the mini to 1280 for the large. The toppings add a lot of calories; a mini vanilla shake sans toppings comes in at only 370 calories, while a large has 770. A mini vanilla shake also contains 19 grams of fat (11 of which are saturated), 38 grams of carbs, 31 grams of sugar, and 9 grams of protein. We would expect all of those totals to be significantly higher in the Reese's version.
The Reese's concrete delivers 820 calories for a mini and 1780 for a large. There's a somewhat comparable item on the normal Freddy's menu: the PBC & B, which includes Reese's cups and sliced bananas. The PBC is a little lighter, at 650 calories for a mini and 1410 for a large. Clearly, the Reese's Peanut Butter Sauce and chopped peanuts add more calories than bananas do. A mini PBC & B contains 32 grams of fat (17 of which are saturated), 78 grams of carbs, 63 grams of sugar, and 12 grams of protein. Once again, the numbers for the Reese's concrete are probably slightly higher. Neither the shake nor the concrete is a particularly low-cal or diet-conscious option, but the shake does have slightly fewer calories.
The verdict: both are great, but we like the concrete a little better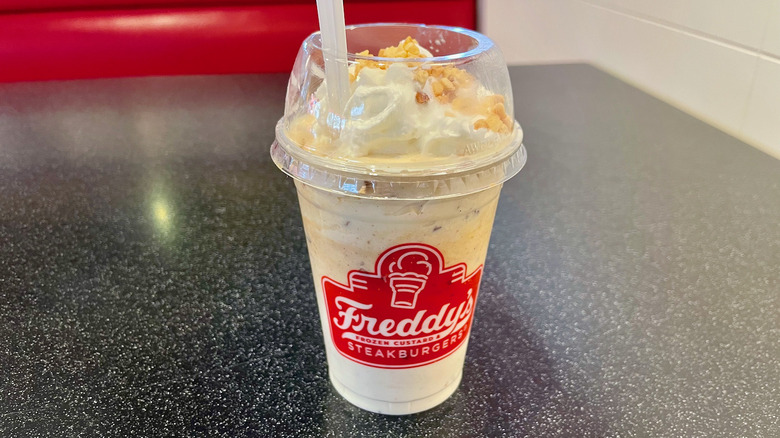 Crawford Smith/Mashed
Freddy's frozen custard is perfect on its own. It's theoretically vanilla-flavored, but we don't taste that much vanilla in it. Instead, it tastes like fresh milk, with a mild dairy sweetness that's just incredible. It makes a wonderful base for both the Reese's shake and concrete.
The shake is just the right texture: incredibly thick, but not so dense that you have to bust out a spoon to eat it. It has a strong peanut butter flavor and is incredibly smooth, with no ice crystals. The blitzed-up chocolate from the Reese's cups freezes inside the shake, turning into little crunchy chocolate chips. We have nothing bad to say about the shake.
The thing that puts the concrete over the top for us is the crunchy peanuts. The savory roasted nuts cut the sweetness of the dessert a little bit and add some textural variation, which is nice. Without added milk, the flavor of the custard comes through more in the concrete as well. We will say that real Reese's fanatics may prefer the shake. The concrete is less uniformly mixed, so not every bite has a ton of peanut butter flavor. There are fewer chocolate bits in the concrete as well.