Ben & Jerry's Is Supporting Its Scoopers' Desire To Unionize (For Now)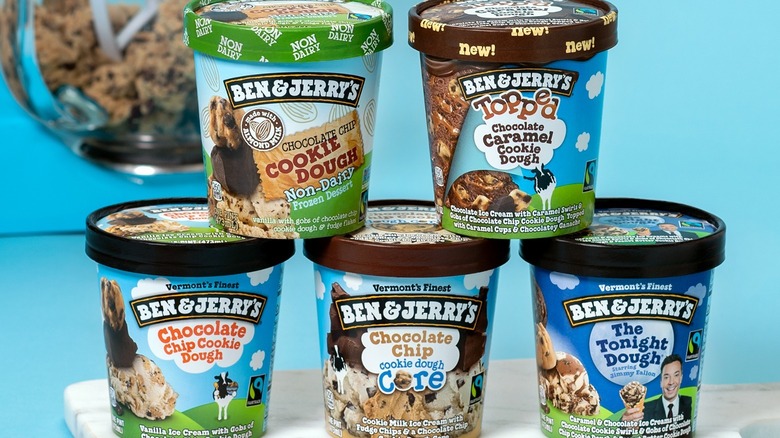 Ben & Jerry's
On Monday, talk of a new union came blowing in from the Green Mountain State. Workers at the flagship Ben & Jerry's store in Burlington, Vermont made headlines when they submitted a request to the National Labor Relations Board (NLRB) for an election (via ABC News). The newly formed "Scoopers United" at the Burlington shop is a group of around 40 workers, or "herd members," that want to claim their seat at the table. They would be the first corporate-owned Ben & Jerry's to unionize.
On Tuesday, Ben & Jerry's offered a prompt response (via The Takeout), coming out in favor of the newly formed union. The brand has long espoused a commitment to social justice along with its memorable flavors and creamy product. Its website documents its mission and values, and boldly claims, "we use ice cream to change the world." They also write in their mission statement that the company is "dedicated to a sustainable corporate concept of linked prosperity," a value that seems directly connected with empowering its own employees.
The effort comes in the wake of mounting frustrations, especially surrounding a "Free Cone Day" in early April where the managers removed the tip jar (via Seven Days). The store's employees recognized the power of collective action when they pushed back to restore the jar. The union wrote in its initial official statement that it wanted workers' voices to be heard, framing their mission in terms of the company's own mantra of "Peace, Love, & Ice Cream."
Peace, Love, & Unions?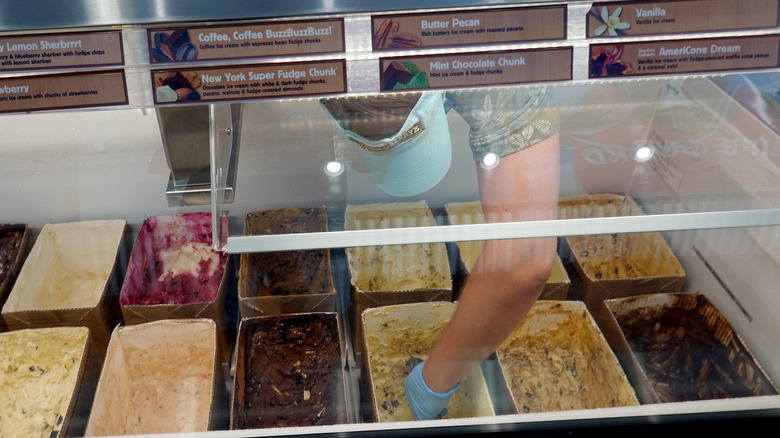 Joe Raedle/Getty Images
So far, Ben & Jerry's decision has been met with both praise and skepticism. Restaurant Workers United wondered on Twitter if this was the smart play other companies against unionization have been missing. They wrote: "No need to waste millions of dollars on union busting, destroy your brand, and lose talent. Sitting down at the table with your workers will cost less in the long run."
The Burlington store's union reported that upstate New York and Vermont chapters of Workers United, the organization behind the successful unionization of Starbucks in Buffalo, New York, have also pledged support (via AP). The Starbucks campaign, which came after decades of attempts, got (and continues to get) dirty. The NLRB reported that the coffee conglomerate used some questionable methods including threats, surveillance, and store closures to discourage unionization. 
So far, it seems unlikely Ben & Jerry's will go down the union-busting road. However, as unionization efforts likely spread to other Vermont stores and beyond, eyes will be on the company to see if it will hold true to its justice-centered, progressive values. Scoopers United wrote on its official Twitter page on Wednesday that they were still "calling on Ben & Jerry's for their formal recognition of [the] union and response regarding the Fair Election Principles."