The Easiest And Mess-Free Way To Remove Sausage Casings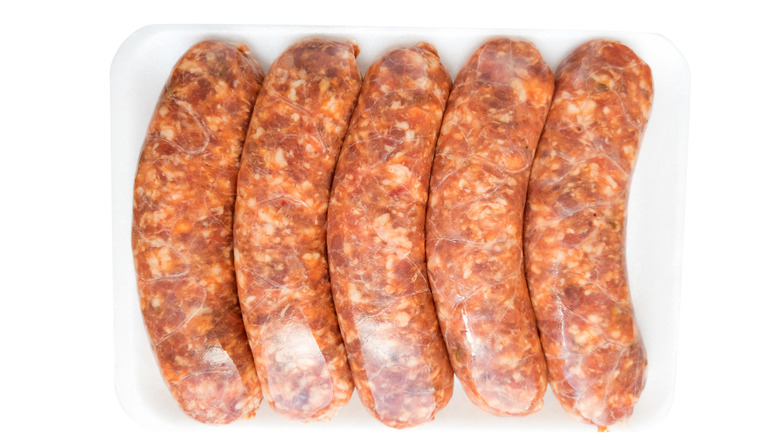 Garuna Liu/Shutterstock
There's a reason the idiom "how the sausage gets made" has survived for over a century. Knowledge is a welcomed missing link, and carnivores are happy to claim ignorance, as there may be fewer people willing to eat hot dogs, chorizo, or kielbasa if they knew how they were made.
There are thousands of types of sausage out there. And, they all involve different proteins and spices depending on their use and region of origin. Traditionally the ground meat (which can be anything from pork or lamb to plant-based protein) is squeezed into an edible tube that's either "natural" or man-made. The latter casing type is sometimes crafted from animal hide collagen, but can also be manufactured from cellulose or plastic, which must be removed before eating. On the other hand, "natural sausage casings are made from the submucosa of the intestines of meat animals (beef, sheep, and swine)," according to the USDA. We warned you.
Unless you're making your own sausage, you're probably purchasing it pre-formed. Removing the casing at home can be a slippery, messy task — until now. As it turns out, freezing the links on a baking sheet for 20 minutes allows the meat to harden enough to peel off the casing easily. Use the tip of a chef's knife to pierce the length of the link, then grab hold of the casing and pull it off the meat. If the casing sticks, return the links to the freezer for another 10 minutes.
Freeze or parboil the sausage for easy removal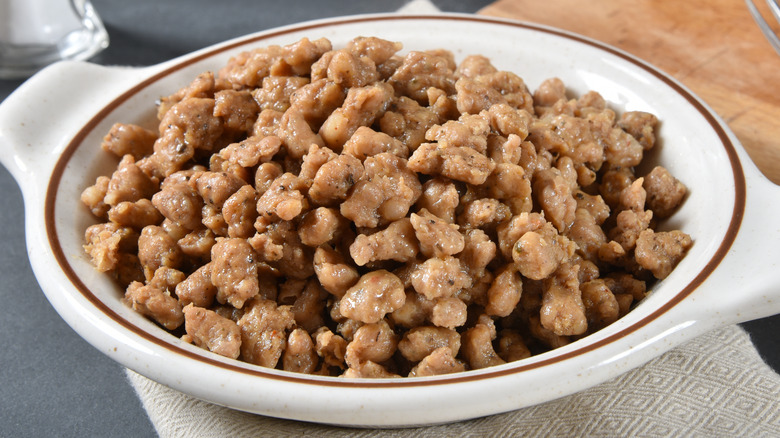 MSPhotographic/Shutterstock
Another method for removing the casing involves parboiling the meat. Place the links in boiling water for a few minutes until the surface turns grey. Remove the sausage and rinse the meat under cold water to stop the cooking process. Dry the casing with a paper towel, then cut a small slit on one end and roll it off the meat. Depending on the mouthfeel or size of sausage pieces the recipe calls for, you can continue to cook the sausage in link form or use the back of a wooden spoon or spatula to break it into crumbles.
Sausage is an excellent addition to many recipes, instantly infusing any dish with flavor and protein. Among one of the most popular varieties, Italian sausage adds fennel seeds and red pepper flakes and is used to flavor soups, sauces, and stews, or can be grilled with peppers and onions for a fantastic sandwich. Chorizo is flavored with chilis and garlic and is traditionally found in Mexican-inspired dishes like tacos and burritos. The Polish have kielbasa, and there are over a dozen types of German sausage. That's just a taste of the many meat tubes out there, and with this casing removal tip, it just got a bit easier to try them all.